---
comForte launches new security solution at Technical Boot Camp
The Technical Boot Camp is coming closer and closer and we are looking forward to another great event yet again.
As a Diamond Sponsor comForte will run two pre-conference workshops on Sunday afternoon and two vendor presentations during the week (date/time to be confirmed).
Join Stephen Tuska, Solution Architect, for the first workshop on 'Enterprise tokenization and encryption powered by NonStop and comForte - we show you how its done'.
Next up on Sunday afternoon will be Brad Poole, Senior Solution Architect, and he will talk about 'High speed data transfer using NSADI'. Brad will be joined by Justin Simonds, HPE, and Susan Raye from DataExpress.
The highlight though will be the launch of our new enterprise tokenization and encryption solution. Details of which will be shared at TBC in San Jose. Don't miss the presentation by Henning Horst, SVP Security, who will unveil the new solution.
And finally, Brad will present on comForte's experiences with YUMA/NSADI in practice.
We'd like to invite you to stop by our stand, attend our workshops and presentations to find out more about the latest product solutions on offer. Catch up with the comForte team on anything NonStop (and beyond) and challenge them with your particular requirements.
The TBC will also be a great opportunity to meet and greet with comForte's new CEO, Michael Deissner, and other key members of comForte's senior management team.
In the meantime, please check out our TBC event page for the latest updates.
We're very much looking forward to seeing you at the TBC.
---
ROKU Reality Check
I recently discovered the ROKU Streaming Stick. This is a cool thumb drive device that plugs into the back of a TV and gives you "on screen" access to all of your cable channels. This lets you access your home cable service, and your Netflix account, and your HULU account, and your Amazon Prime movie account, and just about any other streaming service you subscribe to. When I travel and find myself with bad TV service in a smelly hotel room I plug my ROKU into the back of the TV and it's just like I am at home. I can binge watch my favorite shows.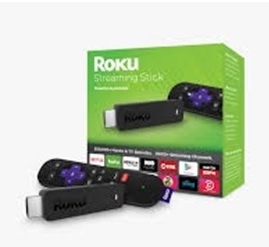 I know this device has nothing to do with the Tandem but I found it so cool I wanted to share it with my Tandem friends. I know this description doesn't do it justice so I have decided to give a bunch of them away at the upcoming trade shows.
We will be giving away 10 ROKU streaming sticks at Boot Camp. Every couple of hours during the conference we will draw a name. We will post the winners. You can enter by stopping by our table and dropping your name in the hat. I know that not everyone will be attending Boot Camp in San Jose so you can also join in the contest via email. Read the following short articles, look for the magic phrase (in red), and email it to our Marketing team. The following three short subjects each contain a chance to win.
Here are the contest rules:
· We will give away 10 ROKU devices during Bootcamp.
· You can enter in person by stopping by our Boot Camp booth.
· You can also enter by emailing us and asking to get in the drawing. You get one chance for each of the THREE PHRASES you send us (included in the text).
· You can only win One ROKU per person
The ROKU works in North America, Canada, and the UK. If you win and are from some other place in the world we will email you an Amazon gift card of equivalent value.
Yep, you have three shots at winning from the online pool, and one additional chance if you stop by the booth. Everybody is welcome to enter. This means HPE, Vendors. Competitors, and End Users. Hopefully I have not made this too convoluted
FIRST POINT ================================
Zero Downtime Migration does not mean Zero Downtime
ZDM procedures are built upon Data Replication technology. You combine advanced Data Replication technology with very advanced Engineering Consulting to migrate platforms with zero downtime. The first step is the installation of the DR software. If your application uses Unaudited Enscribe then you have to intercept the IO's from the application to track the IO traffic. Binding in the intercept library requires the application be stopped and restarted. This means you have an application outage. It's hard to justify the implementation of a DR project for a Zero Downtime Migration when you first have to have an application outage.
I know some of the recent presentation's HPE has been showing describe a magic process where migrations happen without an outage, but that's deceptive. I keep hearing from HPE that Enscribe IO is not the focus of the Tandem. They overlook the point that millions and millions of online transactions each day are performed using Unaudited Enscribe IO. Applications like Base24 and CONNEX are built upon Unaudited Enscribe IO. These applications must take an outage to link in the intercept technology needed to replicate that traffic. The good news is that once you install DRNet into your first platform you will never have to have another outage again. Our ZDM Engineering Team will guide you thru your future upgrades with no down time.
It's been my experience across our worldwide install base over the past 3 decades that not a single customer made the decision to implement DR software for ZDM. They implement for DR and have the added bonus of ZDM technology in place when they are ready to upgrade platforms.
Zero Downtime Migration is a complex activity and was first introduced to the Tandem community by NTI in 1992. The good news is with 25 years of experience we can show you ways to implement with minimal impact on your production environment.
SECOND POINT ================================
ZDM software is not a quick installation
As I mentioned, if you are interested in a Zero Downtime Migration then you first start with a Data Replication solution. The good news is this is what we do. In fact, this is ALL we do.
Over the past 30 years NTI has perfected a process to guide our customers thru a DR implementation. Just a few structured steps that we know will guarantee your success. We take our customers down this proven path, ensuring their success.
All projects begin with a Project Kickoff Conference Call. Our Technical Director conducts these calls with his Engineers in attendance.
During this call we will define the project goals, timelines, platforms, applications, and test environment. We will also ask the Customer to choose a technical contact within your organization for our Engineering group to work with.
NTI will select a Senior NTI Engineer to work directly with the Customer thru the evaluation process.
We will discuss the Project and Data Replication requirements with your team.
Software and manuals can be immediately downloaded from our FTP site.
We will ask the Customer to send us the NonStop data file formats. From this information we can plan your project.
Once we have had an opportunity to review the data, NTI will ask the Customer a series of clarification questions. We will use this information to better understand your environment.
NTI will assist the Customer in building the DRNet configuration environment to meet the Customer's goals. We will electronically send these configuration files to you for installation.
NTI will work with the Customer, remotely, during the evaluation period to support your testing and evaluation. Our Engineering group will be available for all support calls.
How long does this take? A DR proof can happen in as short as 30 days, but it's been our long experience that our customers take from 3 to 6 months to implement and fully test a DR solution before going into production.
And how much does the NTI Engineering Professional Services cost? Nothing. Zero. Nada. It's our practice to provide engineering PS at no charge to our customers. The goal of a DR project is to implement DR, not to roll up PS fees.
We were first to market with Data Replication for the Tandem. We were the first to introduce ZDM's 25+ years ago. We were the first to implement a structured implementation program. And, crazy as it sounds, we are the only ones to give away Engineering Professional Services for free. DRNet is the number one NonStop DR product on the planet.
THIRD POINT ================================
Zero Downtime Migration IS NOT a reason to by DR software
We installed our very first DRNet customer way back in the late 1980's. At that time we thought data protection was the most important value. It's pretty important, but our Customers over the years have surprised us with another value we never contemplated.
Survey Says:
· #1 - DR is a critical requirement of the business. No data means no business. We all can understand that.
· #2 - Software Maintenance Flexibility is an important benefit to the IT department. A system with proper DR protection allows our customers to switch platform traffic, swap in new software, and switch traffic back. All without any transaction loss or customer impact.
· #3 - Way way way down on the list is the benefit of implementing a "fork lift upgrade" of the Tandem hardware with zero downtime. Tandem customers keep their platforms an average of 4 years and 9 months. When they upgrade platforms they want to avoid destroying that perfect uptime record they have been maintaining since the Tandem was turned on. NTI's ZDM Engineering Team makes that possible. One of our customers has performed 3 fork lift upgrades over the past 20 years. Each upgrade was a total system swap out. Each performed during a peak business day. Each performed with zero customer impact or transaction interruption.
What makes each of these benefits work for our customers? Our Refreshingly Real-Time Support from Real Engineers. NTI product support is AWESOME. Smart folks who know the software answer the phone 7x24 solving your critical problems when they happen.
==================================================
WOW… my above points were so long and serious that I've decided to give away 20 ROKU's at Boot Camp J
In case you missed it in the above short points, and jumped to the last page like I sometimes do, email us and send us these three phrases and we will put your name in the ROKU drawing 3 times.
1. Zero Downtime Migration is a complex activity and was first introduced to the Tandem community by NTI in 1992.
2. DRNet is the number one NonStop DR product on the planet.
3. NTI product support is AWESOME.
Send us your contest entry email to:
Kate Nee
Subject: ROKU
List the 3 phrases
We will confirm your entry and come back to you after Boot Camp with either your prize or a note letting you know who won.
And finally, a Jim McFadden TandemWorld article always has a shameless product plug, so here it comes:
DRNet is the coolest replication product on the planet. If you are not already a user you should call me so I can fix that.
DRNet® is world class NonStop Data Replication technology.
· Real-time Active/Active Data Replication
· Real-time Tandem to OPEN Data Replication
· Real-time File Synchronization
· Refreshingly Real-Time Support from Real Engineers
Cheers
+1 (402) 968 3674
---
Boot Camp is coming



Please join XYPRO at the HPE NonStop Advanced Technical Boot Camp this November 13–16, 2016 in San Jose, California. This event is designed specifically for HPE NonStop professionals and anyone interested in learning more about XYPRO's extensive line of Compliance, Access Control, Audit, Authorization, Encryption, Tokenization, Security Intelligence and Professional Service offerings.

As a proud Diamond sponsor we've created a special landing page to keep you updated on all the XYPRO, HPE & User Presentations! www.nonstopbootcamp.com

---
Exciting times for NonStop!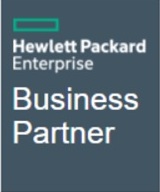 Make sure you are ALWAYS ready!
First, we would like to take this opportunity to thank our NonStop customers and partners for their continued trust in BrightStrand. We really appreciate your continued business and your references Thank you.
There is no doubt that this is a very exciting time in NonStop. With the ongoing and more recent developments, customers will be able to rely on this platform to deliver their business-critical applications for many, many years to come

The platform is the best available but there is an increasing need to ensure you have the people skills you need in future. Whether it be for cost cutting reasons or the increasing dearth of skills available for this technology platform, or indeed both, there is a way to ensure this won't be a problem or a challenge for you
HOW?

For nearly twenty years, BrightStrand International Limited has been delivering life cycle services to NonStop customers. Whether that is our remote, onsite, discrete or ongoing managed services, our highly skilled people continue to gain excellent references from customers. We become a strategic partner with our customers, not just a supplier. This enables us to understand our customers' continuing business drivers, and to work with them to deliver - and crucially - add value to their businesses.

There are many areas of service that NonStop customers require during the lifetime of their NonStop infrastructure and we believe we have those covered. For example, we know Security is at the forefront of most NonStop user concerns. Also whether your NonStop infrastructure is operating at its most effective. Your Data Storage strategy. Migration, Project Augmentation and many others.

With the additional and ever present issues of cost cutting and ongoing availability of trained NonStop resources, the challenges are there. These challenges are international so we operate across the world. This can be with the provision of onsite or remote services, or indeed a hybrid. We have references proving our success in all these areas. A few of these references are on our website, please ask to see more.

In order to illustrate how we can help you, we recommend an initial meeting or conference call at your convenience, to outline our credentials and expertise and explore your goals and challenges. A workshop format is also an effective method to exchange views and ideas.

We are proud to be the premier provider of NonStop services and skills so please use this opportunity to contact us and see what we can do for you. There's nothing to lose and a lot to gain, as our expertise, skills and references will demonstrate.

The challenges above will not go away, BrightStrand will enable your business to get the best from your NonStop investment.
---
NonStop Technical Boot Camp 2016

Click here to LEARN MORE AND REGISTER NOW:
Registration Information:
EARLY BIRD: $1295 (before 9/29/16)
REGULAR FEE: $1595 (after 9/30/16)
Pre-Conference Seminar Registration: $150 SPECIAL EVENT!
Guest/Spouse Pass for Evening Events and Receptions: $100
Hotel info:
Fairmont San Jose 1-800-346-5550
Available online! (see Travel link)
The room rate for Boot Camp attendees is $239 per night (plus taxes).
The cutoff date for our special room rate is Friday, October 21, 2016. Please reserve your room before 10/21/16 to secure the special room rate.
Example Sessions:
APPLICATION DEVELOPMENT

HPE NonStop X application migration overview

Introduction to Python on NonStop

NonStop Development Environment for Eclipse

NonStop Languages and Tools Product Portfolio Technical Update

Towards Modern Architectures

DATABASE

Database compatibility futures

Database Multi-Tenancy

NonStop Database Product Portfolio Technical Update

MANAGEABILITY

HPE vNonStop deployment and manageability

NonStop Console and OSM Update

NonStop Manageability Product Portfolio Technical Update

NonStop Performance Update

MIDDLEWARE

NonStop Middleware Product Portfolio Technical Update

OTHER

HPE NonStop Support Program Options

PROTECT

Don't be Afraid of the Brave New World! [More Info]

NonStop and PCI compliance

NonStop Security Product Portfolio Technical Update

SOLUTIONS

HPE Shadowbase Synchronous Replication Feature Rollout [More Info]

Practical Use Cases of Integrating NonStop with REST and Other Web Services [More Info]

Solutions for IT Problems [More Info]

The OmniPayments Financial Transaction Switch - High Capacity, Continuous Availability, Immense Scalability: All for 50% Less than Your Current Transaction Processing Costs [More Info]

TRANSFORM

HPE NonStop X NSADI (NonStop Application Direct Interface) overview

HPE NonStop X technical overview

HPE vNonStop technical overview

Open System Services (OSS) and NonStop OS update

Talk with Your NonStop: Integrating NonStop with Modern Devices [More Info]
29 Sponsors:
| | |
| --- | --- |
| 4Tech Software | ACI |
| Ascert | BlackWood Systems |
| comForte | CSP |
| ETI-NET | FSS Technologies |
| Gravic | HPE NED |
| HPE Security – Data Security | Idelji |
| Infrasoft Pty Limited | IR |
| Lusis Payments | Marshall Resources |
| Merlon | Network Technologies |
| NuWave | OmniPayments |
| QSA Enterprises | Resource 1 |
| Striim | TANDsoft |
| TCM | Third Data |
| TIC Software | Tributary Systems |
| XYPRO | |

The Partner SIG is making plans for a great NonStop Boot Camp! We look forward to seeing you!
Kathy Wood
NonStop Partner SIG/Vendor Chair
kwood@blackwood-systems.com
---
Ascert

We, Ascert, have an upcoming User Group meeting in London

The event is at the Museum of St John in Clerkenwell on the 17th November.

Please

EMAIL Mike Wainwright for further details
---
What to expect at this year's NonStop Technical Boot Camp

The NonStop Technical Boot Camp (TBC) is now only weeks away but already there are numerous exchanges and conversations taking place in online forums, including LinkedIn. Last year there were numerous surprises coming from HPE, none greater than the disclosure that there would be a NonStop release capable of running in virtual machines. Virtual NonStop (vNonStop) opens the door to greater options for enterprises as the former shackles of proprietary hardware are discarded. With vNonStop you will be able to run a NonStop application practically anywhere.

However, this is just one more piece in a puzzle that the NonStop community is beginning to see take shape. At DataExpress we have been observing these changes with more than passing interest as we have products that support more than just NonStop. Having both a DataExpress for NonStop (DXNS) and a DataExpress for Open Platforms (DXOP) any moves by HPE to close the gap between these two worlds is something we welcome. Furthermore, it opens the doors to possible further product development on our part to better exploit the much faster connections between the two environments that HPE is now providing.

We are always driven by customer needs but that doesn't mean we aren't keeping a watchful eye on technology. It's a fine line to walk, of course – investing in technology that may or may not find acceptance among users is always risky, but sometimes the upside is so positive that there is motivation to ensure a product can take advantage of a new technology. Such is the case today for DataExpress. We have two projects in plan with the first already being tested and evaluated. Like many of our clients, we too have sat through HPE NonStop presentations where new products and services were introduced and then supported with examples from NonStop partners already working up prototypes capitalizing on what was just being released as product.

The two projects being worked on are somewhat interrelated. With the primary message coming from HPE about IT transforming to a hybrid infrastructure, it makes sense that there will be new and faster interconnects and when we heard that NonStop X would be supporting industry-standard InfiniBand (IB) we knew that it was only a matter of time before different HPE development teams began looking at exploiting IB as a hybrid interconnect fabric. Following the announcements of the Yuma project and then the NonStop Application Direct Interface (NSADI) it made sense to look at our two products and determine whether there would be value from capitalizing on NSADI.

Last year comForte demonstrated sending messages over an Infiniband connection using their Client Server Link (CSL) product between a Linux system and Nonstop X. It all worked extremely fast as anticipated. We have enjoyed a business relationship with comForte for many years as we take advantage of their security offerings and have integrated them with DataExpress. This year comForte and DataExpress are working together to test sending files over an Infiniband connection between DataExpress on a Linux (DXOP) and DataExpress on Nonstop X (DXNS). DataExpress is replacing FTP over TCP/IP with FTP over IB connections via an intercept library on NonStop. As for Linux, DataExpress is simply using IBM's Java Sockets over RDMA (JSOR).




One immediate observation on our part is that in doing this first project, we do see IB being useful in moving sizeable Big Data files around an organization whether they originate, or simply end up, on NonStop. Furthermore, given that HPE's move to support hybrid infrastructure within the data center also embraces the integration of traditional IT with private clouds, at some point there may be use cases whereby files are moved off NonStop and into a private cloud in support of external users that are only given access to the private cloud.

When it comes to our second and somewhat related project, we have been paying attention to the Converged Infrastructure (CI) work HPE has been doing and where NonStop most likely will participate at some point. So a combination of both DXNS with DXOP seems to be a logical next step – not just passing files between them as is the case with our first project but rather, with the introduction of a new gateway product, taking a combined DXNS and DXOP and interfacing it to public clouds. This we would be doing via a new DataExpress product, DataExpress Cloud Access (DXCA).

While it's too premature to write about the specifics of such a capability, suffice to say, it builds on an earlier gateway product DataExpress developed for a different opportunity. With DXCA, NonStop users will still run DXNS on NonStop but have DXCA available running inside the cloud. Any cloud, public or private. What this would support is the ability to deploy files into the cloud, safely, securely and in a fully automated fashion under the oversight of DataExpress and from there, files could be moved anywhere applications or users need to access them.

TBC will be where we openly talk about the work we have been doing as part of our first project. We will be participating in a workshop together with comForte so plan on coming by and hearing even more about our experiences using NSADI and yes, if you have cloud computing in your future, by all means, feel free to discuss any requirements you may have for moving files – DXCA may just be what you need!

DataExpress, Inc.
1401 Shoal Creek, Suite 250, Highland Village, TX 75077

972-899-3476 (sales)
972-899-3460 (corporate)


www.dataexpress.com
---
BITUG NEWS
Coming soon:
· Autumn Newsletter - will be issued in the next few days - make sure you register for your copy by joining the BITUG mailing list at www.bitug.com
· Little Sig – Thursday 8th December 2016 at Barclays, Canary Wharf - This event will take the form of an education/training session in the morning from 09:00, user and HPE presentations in the afternoon, BITUG AGM and a social evening. The Agenda is work in progress, but see current draft below.
Canary Wharf

DRAFT AGENDA - STATUS @ 19th October 2016

Start

Duration

End

Plaza 15/16

8:45

0:15

9:00

Registration & Welcome

9:00

1:45

10:45

XYPRO

TBC

Education Session Part I

10:45

0:15

11:00

Coffee

11:00

1:30

12:30

XYPRO

TBC

Education Session Part II

12:30

1:00

13:30

Lunch

13:30

0:45

14:15

User

TBC

DR

14:15

0:15

14:30

Coffee

14:30

0:45

15:15

ComForte

TBC

Security Session

15:15

1:00

16:15

HPE

Iain Liston-Brown

NonStop Roadmap

16:15

0:15

16:30

AGM and Prize giving (sponsored by NTI)
Little Sig registration is now open – Secure your seat and see more detailed information here http://www.bitug.com/little-sig-2016
·
The European NonStop Conference and Exhibition and the BIG SIG rolled into one major event (eBITUG):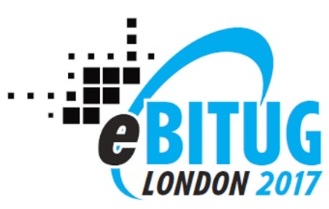 Do Not Miss Out - Mark Your Diary Now
9th and 10th MAY 2017 at the DoubleTree Hotel – Tower Of London
Vendor Members – Sponsorship opportunities will be emailed to you directly in the next few days.
For the latest information on all BITUG activity and to ensure you are first to know when event registration is open for the above events (there will be limited spaces – so registration will be on a first come, first served basis) please visit http://www.bitug.com and join the BITUG mailing list. Any questions please email chairman@bitug.com
Kevin Poultney
Chairman, BITUG.
BrightStrand International Limited
---
LightWave Server™ 1.0 Now Available




NuWave is excited to announce the general release of their latest product, LightWave Server, is now available for everyone!

LightWave Server is middleware that allows applications running on virtually any platform to securely access NonStop applications through a RESTful Web service interface.


Download available here:

http://support.nuwavetech.com/download Documentation here: http://docs.nuwavetech.com
---
Secure Data and Accelerated Applications

888-301-2431 / sales@thirddata.com

Third Data Corporation provides numerous products which can reside on HP Nonstop and other HP hardware platforms. In addition we provide custom high performance software design and development for our clients. Don't forget to download the latest version of Sysbusy. It's FREE at www.thirddata.com/dwnlds.html

Accelerated Development of High-Speed Applications

NxLib

– NxLib provides a platform and utility libraries for developing a high performance multi-threaded applications on NonStop Guardian. The platform provides threading, queuing and network capabilities. This enables development of an application written single threaded style to perform as multi-threaded. Extensible command processing and help are supported. Development time can be cut to a fraction of the time it would normally take. This results in fast application development with consistent look and feel across multiple projects.

FastBuild Switch

– When building a switch be it ATM-POS, Wire Transfer, EFT, Medical, or any other type of data that needs to get from one place to another, you are usually faced with three choices. Take an existing package and modify your system to match it. Get the vendor to "enhance" their system to meet your needs. Write a new system from scratch. The FastBuild Switch integrates with your existing system, or if you are building from scratch gives you a great start. The switch is also built around the latest HP technology to maximize performance. It integrates several of our other products to maximize cost savings and security in a fault tolerant manner. In a cross platform environment it also runs on other non-Guardian HP supplied platforms.

Securing Data at Rest

SecureStore

– If you are security conscience trying to become compliant (PCI, HIPAA, etc) then you know that you can not leave sensitive data readily viewable. SecureStore encrypts the data for your application so that you can become compliant. As part of disaster recovery your data is sent to multiple locations so it will be available when you need it. As a bonus for those having trouble with Guardian 4K limits there is no record size. It can also integrate with SQL systems (SQL MX/MP, Oracle, Postgres etc).

TokenStore

– TokenStore supports multiple formats. From generation and storage of Tokens per EMV specifications to translation and non-storage of full or partial customer PCI data.

Securing Data in Flight

NxSSL

– NxSSL is an SSL proxy which may be used to provide SSL encryption and authentication services to TCP/IP connections. It provides full support for certificates and multiple encryption standards. It has been carefully tuned to provide the highest performance available for any NonStop SSL connection.

NxWeb

– A high performance web server which provides support for NxLib applications. It also can be used without NxLib. It provides for secure connections, virtual domains, full http support and interfaces to pathway and IPC communications.
---
Gravic Presents HPE Shadowbase Sessions at the HPE NonStop T.B.C.
Please stop by Gravic Booth #8 at the HPE NonStop Technical Boot Camp during November 13-16 at the Fairmont Hotel in San Jose. We look forward to meeting you at the show and sharing ideas regarding how the HPE Shadowbase product suite can provide solutions to your most pressing business issues for business continuity, data integration and synchronization, and application integration. We hope to see you at one or all of these presentations:
· HPE Shadowbase Product Suite Update, Mark Pollans, Paul J. Holenstein
· Business Continuity for Vital Applications, Mark Pollans, Paul J. Holenstein
· HPE Shadowbase Synchronous Replication Feature Rollout, Paul J. Holenstein, Keith B. Evans, John R. Hoffmann
· A BASE24 Classic Migration from a Legacy Data Replication Product to an Advanced HPE Shadowbase Solution Using HPE Shadowbase Zero Downtime Migration Technology, William G. Holenstein
· Recent Developments in Improving Mission-Critical System Availability, Bill Highleyman, Bruce D. Holenstein
Gravic Presents on HPE Shadowbase Zero Downtime Migration Technology at
CTUG Conference and NENUG Meeting
This month, Gravic attended the CTUG Conference in Toronto and the NENUG Meeting in Andover, MA. We congratulate each organization for creating a powerful forum for customers, partners, and HPE executives to share success stories and best practices, learn about each other's latest offerings and future technology, and network with one another. It takes a special effort to do all of the planning and preparation for these meetings, and we heartily thank these organizations and the attendees that support them for creating such a valuable experience.
At both shows, we presented on Improving Uptime and Eliminating Risk for Disruptive Migrations with HPE Shadowbase Zero Downtime Migration (ZDM) Technology. If you are interested in discussing our presentation's content or would like us to present this or other HPE Shadowbase topics to your staff, please contact us.
To speak with us about your data replication and data integration needs, please visit us at www.ShadowbaseSoftware.com, email us at SBProductManagement@gravic.com, or call us at +1.610.647.6250. Hewlett Packard Enterprise directly sells and supports Shadowbase Solutions under the name HPE Shadowbase. For more information, please contact your local HPE account team or visit our website.
Please Visit Gravic at these Upcoming Events
Connect NonStop TBC—San Jose, CA, 13-16 November 2016
SunTUG Sunshine Summit—Tampa, 17 March 2017
MATUG Meeting—Herndon, VA, Spring 2017
eBITUG—London, 9-10 May 2017
HPE SPAC-OZTUG Summit—Sydney, June 2017
---
comForte - Dr Michael Rossbach Steps Down as CEO of comForte 21
comForte 21 GmbH announced that its CEO, Dr Michael Rossbach, has retired from the company as planned effective 30th September 2016. Great leader and visionary.
Dr Michael Rossbach began his long career in the software business in 1973. Back in 1979, he laid the foundations of comForte when he started his business providing consulting and development services for Tandem systems (HPE NonStop today) in Germany. He has been the CEO of comForte since its foundation in 1998.
Building a highly skilled and motivated team, which worked together successfully for many years, has been key to the development of strategic software solutions fuelling comForte's growth.
During all this time Michael has been the visionary and strategic architect of comForte's continued growth and business strategy until today.
Dr Michael Rossbach's retirement follows the appointment of Michael Deissner as his successor as the CEO. Michael Deissner's appointment was announced on July 4, 2016.
Dr Michael Rossbach will remain close to comForte in his new role as a member of comForte's advisory board.
Read more
---
My Time at XYPRO and How it got me Where I am Today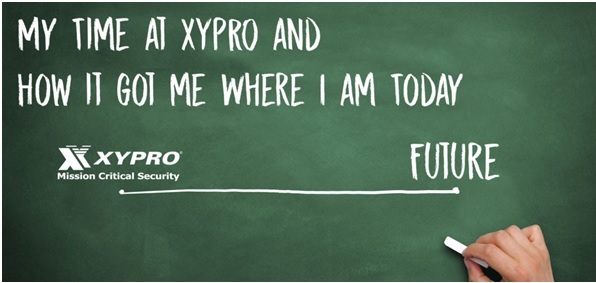 My name is Brady and I am a proud former intern of XYPRO Technology. Currently, I am a Graduate Student at UCSC studying Machine Learning and Data Mining in hopes to apply this knowledge towards making cybersecurity more effective and adaptive. Little did I realize how I would be ultimately led to this point as a result of my experience at XYPRO.
Prior to my time at XYPRO, I was just beginning to take a huge dive into the world of computer science, starting a Master's program at Cal State Northridge and somewhat clueless about the direction I wanted to take. At the time, I was self-taught in the basics of Java and had a few pet projects, the most complex of them an implementation of minesweeper themed on picking up dog poop in one's backyard. I did not have a formal computer science education as I had just recently decided to do a complete 180˚ turn from my previous aspirations as a researcher in the field of nanomedicine.
So here I was one day, at a career fair at CSUN, mostly throwing my resume every which direction. However, XYPRO caught my attention in particular as not only did they specialize in cyber security, which was an area I was pretty interested in at the time, but they also were looking for interns that could program in Java. I was pretty thrilled to hear that they were working on a project involving the use of Spring, a framework which I had been pretty eager to learn about for my own sake. I spent a bit of time at their booth talking to the former interns and representatives from the company and happily left them my resume.
Fast forward past the part of the interview process and whatnot and I get my call from the Development Manager congratulating me and telling me that I got accepted as an intern for the XYGATE SecurityOne project (codename: Tesla). At this point I'm totally ecstatic that I'm about to get my first real experience of working in the industry as a software developer.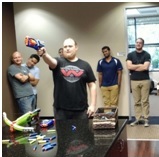 My first day in I'm greeted by a few nerf shots from the current development team, immediately giving me the sense that I'll be working in a pretty fun and friendly environment. At the time, SecurityOne was in its infancy. It was nothing more than a basic CRUD application that served as a backbone for upcoming features. Aside from getting our hands dirty with the latest web technologies, what made the project particularly interesting was that we were the guinea pigs of a company experiment to implement SCRUM in an environment that was traditionally waterfall. This proved to be a very useful learning experience and provided our team with a lot of freedom to control our strategies to execute our goals.
As time went by, my role in the project evolved from simply writing unit/integration tests and adding new API calls to being deeply involved in one of the core features of the product, Security Intelligence. It was working on this feature that provided me the greatest inspiration for where I'm at now, by opening the doors to so many new and interesting problems worth solving.
That inspiration was not my only takeaway from my two years at XYPRO. I gained an immense knowledge of various big-time Java technologies such as Spring, Hibernate, Apache Camel, and Esper. I gained a strong understanding of the SCRUM process, and got to learn firsthand it's strengths and weaknesses. Most importantly, I got to be part of turning a bare-bones research & development project into a product we've already started shipping to customers for beta-testing.
All of these things plus working with a wonderful team and having tremendous creative freedom were what made the internship at XYPRO worthwhile and one-of-a-kind. This experience truly sealed the deal in regards to my love for computer science.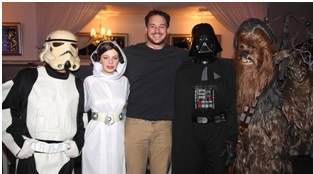 About the Author: Brady Goldman joined XYPRO as an intern in 2014. Brady impressed us so much that we made him permanent part-time while he finished school. Much to our delight and dismay, Brady decided to pursue his post-graduate studies in Machine Learning and Data Mining at the University of California Santa Cruz, where he hopes to apply that education to further his career in cybersecurity. It is important to note that Brady came to us with an open and curious mind but even more importantly, an excellent work ethic and spirit of team success. Needless to say, we would have loved to have Brady stay on full time and were sad to see him go but we're not surprised at his desire to continue his pursuit of knowledge and celebrated with him when he was accepted to UCSC!
---
TANDsoft's OPTA2000 Dynamically Handles DST Transition Tables Without Impacting a Running Environment

TANDsoft's Jack Di Giacomo received a panicked call a short while ago. A long-time OPTA2000 customer accidentally had entered the incorrect Daylight Saving Time (DST) transition date into the company's consolidated system. The result? Thousands of applications would change from Daylight Saving Time to Standard Time a week late. When the customer corrected the DST transition date, he discovered to his horror that only newly started processes accepted the new DST transition date. Those already running continued to reflect the incorrect date and would be off by an hour come the fallback from DST to Standard Time.

Fortunately for this customer and for all OPTA2000 customers, this virtual clock- and time-zone simulator from TANDsoft has a backup plan in case of such a disaster-in-the making. Created for every OPTA2000-connected process is a transition table that may remain constant for years unless a new date/time change is entered. When a process first starts, OPTA2000 instructs it to load its DST Transition Table and operate under the table's specified times. Processes that do so have no need to communicate again with OPTA2000. The date and time transitions automatically take place without any need to shut down the system.

But when an update error to the transition table is made after the processes already have loaded their transition tables, invoked can be an OPTA2000 utility that instructs running processes once again to contact the OPTA2000 manager, which will instruct them to reload their transition tables that now, of course, will reflect the correct transition date. The processes continue to run, there is no interruption to the system; and in the case of the panicked customer, a potentially catastrophic situation is averted.

OPTA2000 virtual clock- and time-zone simulator allows existing backup, test, development, and production systems to support worldwide consolidated applications. It is user-friendly, easily installed, cost-effective, and requires no application modifications. Via OPTA2000, a single system can host thousands of applications, each with its own virtual system clock. OPTA2000 is the only NonStop solution available for such time-critical simulation. It is one of TANDsoft most popular products and represents TANDsoft's expertise in interception technology.

OPTA2000 provides date/time simulation and time-zone simulation for all HP NonStop applications and data bases. Date and time simulation allows organizations to "time travel" their applications in the future or past to test all date and time-sensitive logic. OPTA2000 eliminates the need to change system clocks for time-sensitive testing. Time-zone simulation allows applications to operate in any virtual time zone. With regard to data center consolidation, OPTA2000 becomes increasingly valuable by allowing applications to operate in local date and time, independent of the current physical location or time zone of their data center.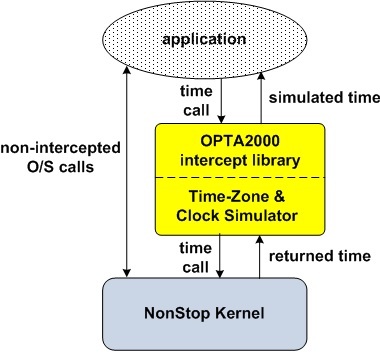 TANDsoft's OPTA2000

● Time-sensitive applications operate with virtual time zones in consolidated data center

● Applications sitting on a server in one time zone can accurately timestamp local transactions generated outside that time zone

● Applications run in "user" time, not "system" time, without interrupting normal system operation

● No need to ever change the system clock. Multiple virtual system clocks on a single NonStop server

● All Nonstop Guardian and OSS programs, programming languages and data bases (Enscribe, SQL/MP, SQL/MX) are supported

● Date and time testing with future time, past time and frozen time

● Accommodates Daylight Saving Time (DST) transition tables

● Requires no application source-code modifications

● Supports in-house, HP, and major third-party solutions, even those where source code is unavailable

● Available for NonStop X and all other NonStop servers.

In addition to OPTA2000, TANDsoft solutions include FileSync for automatic file synchronization, replication, and data deduplication; Sensitive Data Intercept (SDI) for protecting sensitive data-at-rest in Enscribe, SQL/MP, and SQL/MX databases; the OPTA suite of interception and trace utilities (OPTA-Trace Online Process Tracer and Analyzer, Recycle Bin, Low Pin Optimizer, and EMS Alerts Online Startup and Termination Capture Utility); Stack Monitor, which alerts developers to the impending threat of a stack overflow; Command Stream Replicator, which logs and automatically replicates TMF-audited/unaudited FUP, SQL/MP and SQL/MX DDL structure and other environment changes to target systems; AutoLib, which automatically loads a user library or a DLL for executing processes; the Enscribe-2-SQL and TMF-Audit Toolkits and the Enscribe-2-SQL Data Replicator, all of which offer flexible, affordable alternatives to more expensive conversion products or manual conversion techniques; and E2S-Lite, which permits efficient, low-cost Enscribe modifications without the need to change a program's source code.

For information about TANDsoft solutions, contact Jack Di Giacomo at +1 (514) 695-2234. Free trials are available. www.tandsoft.com.

TANDsoft will exhibit in the Partner Pavilion at the NonStop Technical Boot Camp, 13-16 November, San Jose, California USA. Visit us at Booth #36. TANDsoft also is a co-sponsor of the Boot Camp's Casino Night on Tuesday, 15 November.




---
Availability Digest Tells the Story of High Availability, 1970s Style


In 1972, Digest Managing Editor Dr. Bill Highleyman started MiniData Services, Inc., a payroll processing company. To service MiniData's thousands of customers, Dr. Bill and his team purchased two modern, top-of-the-line minicomputers – PDP-8s from Digital Equipment Corporation.

Each PDP-8 had 4K (yes, kilos) of memory, and each system processed different payrolls. Additional 4K memory banks could be added. If one PDP-8 failed (and the MiniData PDP-8s never did), the company was confident that they could move the customers off the failed system and could process all the payrolls on the surviving system. Back in the day, such confidence was all that constituted the concept of high availability. There was no data replication and no active/backup or active/active configurations.

"High Availability, 1970s Style" is Dr. Bill's own account of how his MiniData team operated a successful payroll company with mere kilos of memory, no operating system, and software developed in-house. The PDP-8s eventually were upgraded to PDP-11s, and MiniData was sold to Control Data in 1991.

In addition to "High Availability, 1970s Style," read the following articles in the Availability Digest's October 2016 issue:

Can a Country Shut Down Its Internet? – A government's ability to shut down its country's Internet depends upon its control of the Internet Service Providers. If a government assumes the authority to do so, it can force its ISPs to power down routers, change routing tables, or do other damage that will deny Internet access to the country's citizens. There are sixty-one countries in which only one or two ISPs connect to the outside world. As has been the case in Syria and Libya, it is not that hard to flip the switch.

Large Hadron Collider (LHC) Is Running Out of Disk – As the largest machine in the world, the LHC smashes protons together in order to study the effects of proton collisions. Its designers anticipated that a certain amount of disk space would more than cover activities for years to come. Unfortunately, the designers wildly underestimated the machine's success and durability. The challenge now for the LHC team is to recalculate the need and to upgrade their systems for continued use into LHC's projected lifespan of another two decades.

Airlines' Aging IT Technology is Taking Its Toll – First it was American Airlines in January 2015. Then it was United Airlines, then Southwest Airlines, then Delta Air Lines, then British Airways, then Jet Blue. All suffered major outages that caused their customers grief and huge losses to company profits. What is happening to the airline industry's IT infrastructure? The short answer is that the airlines have to deal with aging and complex legacy systems.

@availabilitydig – The Twitter Feed of Outages - Our article highlights some of our numerous tweets that were favorited and retweeted in recent days.

The Availability Digest offers one-day and multi-day seminars on High Availability: Concepts and Practices. Seminars are given both onsite and online and are tailored to an organization's specific needs. We also offer technical and marketing writing services for a variety of industries as well as consulting services on risk assessment and system architecture. We ghostwrite for others and have years of experience in writing patent disclosures.

Digest Managing Editor Dr. Bill Highleyman will speak at the upcoming NonStop Technical Boot Camp on the following topic - "Recent Developments in Improving Mission-Critical System Availability." The Boot Camp will take place in San Jose, California, USA from 13 November to 16 November.

Published monthly, the Digest is free and lives at www.availabilitydigest.com. Please visit our Continuous Availability Forum on LinkedIn. We're at 782 members and counting. Follow us as well on Twitter @availabilitydig.

---
Banco Agrario is New Customer for HPE NonStop AND the OmniPayments Financial Transaction Switch

Banco Agrario de Colombia S.A. is a new HPE NonStop customer AND a new OmniPayments Inc. customer. It is a state-run financial institution focused on financing activities related to the development of Colombia's rural, agricultural, livestock, fishing, forestry and agro industrial sectors. Headquartered in Bogota, Banco Agrario has 742 branches nationwide. Banco Agrario payment systems have been operating on a Unix-based financial transaction switch. However, the bank's requirements for increased fault tolerance and extreme reliability impacted its decision to replace its existing payments solution with the OmniPayments switch on NonStop X. A key consideration of this migration story was that HPE was able to compete successfully with the UNIX price point.

César Cruz, Banco Agrario's CIO, will present "Banco Agrario Replaces UNIX-based Financial Transaction Switch with NonStop X Solution" as a breakout session at the upcoming NonStop Technical Boot Camp (13-16 November). Mr. Cruz will introduce attendees to the bank's decision-making process, its cost considerations, and the strategies undertaken to implement a successful, disruption-free migration to both a new platform and a new switch.

The OmniPayments Financial Transaction Switch is a switching solution for the financial and retail industries. It is deployed on NonStop for the highest availability and offers all the requisite functionality to manage credit/debit-card transactions. It manages multiple devices, hosts application interfaces, and interoperates with third-party products or other systems if required. OmniPayments easily expands to provide additional functionality when needed and supplies complete security functions for every financial transaction handled, including encryption-at-rest and encryption-in-flight. Available 24x7, OmniPayments will survive any single fault, requires no downtime for maintenance or upgrades, and supports a range of disaster-recovery solutions.

OmniPayments can be installed either as a complete, off-the-shelf solution or can be enhanced with customer-requested modifications and features to improve cost-effectiveness, efficiency, and risk mitigation. Our team of 100-plus NonStop specialists are skilled at rapid project turnarounds and meeting deadlines.

50% Less Guarantee - OmniPayments sells its popular NonStop-based financial transaction switch at a price that guarantees you 50% off your current transaction costs. Unlike other switch providers, who base your costs on transaction volume, OmniPayments sells its customers a one-time, perpetual software license. That is what makes the "50%-Less" difference. No volume fees. No transaction fees. No surprises. No penalties for company growth. It's just that simple.

OmniCloudX - OmniPayments also distributes OmniCloudX on NonStop X. OmniCloudX hosts numerous OmniPayments instances at a pay-for-use price so attractive that mid-size retailers and financial organizations now can enjoy the benefits of having their own high-capacity transaction switches. Starts at only $5,000 USD per month.

Preauthorization Services - The OmniPayments Preauthorization Engine is used by financial institutions in conjunction with the OmniPayments Financial Transaction Switch or as a seamless interface to other providers' switches via a custom support module (CSM). We call it the Fraud Blocker!

OmniPayments systems in production today process 700 million transactions per month, generated by point-of-sales terminals and over 14,000 ATMs. A single OmniPayments system supports up to 10,000 transactions per second. Multiple OmniPayments systems can cooperate to provide any capacity required by an application. From our seven worldwide locations, we serve as a 24×7 managed services provider for remote production monitoring.

To learn more about OmniPayments, contact Yash Kapadia at +1 408-446-9274 or at yash@omnipayments.com. We invite you to attend our partner presentation and to visit with our staff in the Exhibit Pavilion at the NonStop Technical Boot Camp (13-16 November) San Jose, California (USA). OmniPayments is a co-sponsor of the Boot Camp's Partner Hospitality Reception (14 November) and Casino Night (15 November). Immediately after the Partner Hospitality Reception, OmniPayments will host its own gathering in the Fairmont Hotel's Gold Room.

OmniPayments customers and others interested in our solutions are invited to join the OmniPayments Discussion Group on LinkedIn at

http://bit.ly/2bB1AGh. OmniPayments also has formalized its plans for the new OmniPayments Customer Council. OmniPayments customers interested in participating should contact Yash at the number / email address listed above.
---
Am I Secure? Test your Security Knowledge
To ensure you and your security team are equipped with the right tools and knowledge, we have designed a security quiz to ready you and your team for battle. Be one of the first 100 people to take the test and get entered for a chance to win an Amazon Echo!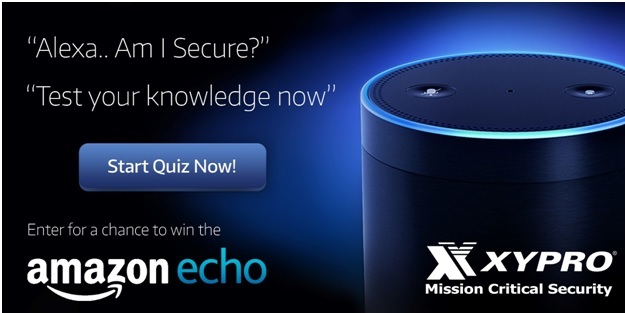 Steve Tcherchian, CISSP
Chief Information Security Officer
XYPRO Technology
steve@xypro.com

---
comForte - Key Dates that Impact Data Security in the Payments Industry
Large-scale breaches that expose payment card data have increased the need for efficient, effective protections on payment processing platforms globally. Many regulations, laws, and compliance requirements influence information technology investments aimed at minimizing future exposure.
Organizations must determine data protection solutions in which to invest and then implement, as well as when to do so. Minimizing customer impact is always top of mind, but coordinating with other business-critical projects is also very challenging to many organizations. Projects to implement new payments functionality, in addition to performing routine maintenance and upgrading existing systems, can fill change management schedules.
Meanwhile, new and updated policies, laws, and regulations are proliferating worldwide. It can be a challenge just to track everything. This is the first of two blog posts that will cover what you need to know about seven important dates to the payments industry. In this post, we cover:
· The U.S. Europay, MasterCard, and Visa (EMV) Standard
· The National Automated Clearing House Association's (NACHA) Same-Day Automated Clearing House (ACH) Payments Requirement
· The Compliance with Court Orders Act, a proposed U.S. Senate bill that would mandate encryption backdoors
Read full story
---
XYPRO looks forward
to seeing you throughout 2016
GTUG SIG October 26, 2016 October 27, 2016Bad Homburg v. d. Höhe, Germany
NonStop Technical Boot Camp 2016 November 13, 2016 November 16, 2016San Jose, Ca.
PCI Asia Pacific 2016 November 16, 2016 November 17, 2016Singapore
---
comForte - Transforming proven NonStop Applications with SOA

Service-oriented architecture (SOA) and web services have been with us for more than a decade, and of late, we are seeing microservices making a bold statement. However, all too often, our minds switch off when we hear SOA and web services referenced in webinars or presented on PowerPoint slides. For many within IT, it's all talk of SOA and web services seems akin to magic, as if embracing this single solution can solve all of our modernization issues. Despite good intentions of SOA and web services evangelizers, what's often overlooked is just how important the services-oriented paradigm has become – particularly for modernizing applications on the NonStop platform.

At its core, SOA and web services represent an opportunity to re-use legacy applications' underlying business logic in new and, yes, very modern ways. SOA and web services not only make the presentation modern, they also create new ways to use existing and proven software, with no changes to applications' underlying business logic. For the most part, modernization with SOA and web service entails configuration changes, along with support for enhanced communication. A contract becomes necessary when service level agreements (SLAs) are needed to ensure that the business logic will retain certain thresholds, such as functionality, availability, and quality of service.

Read full story
---
Musings on NonStop!
October, '16
The opinions expressed here are solely
those of the now self-employed author
Weighing heavily on my mind this month has been virtualization and with more information emanating from the HPE NonStop development team, it seems as though the time is fast approaching when we can just as easily run NonStop in the virtual world as we do today in the real world. I have always been a big believer in having choices and so I welcome the arrival of vNonStop. However, real world deployments are going to come down to just how big an appetite we have for risk. Fortunately, there are some very smart minds in NonStop development working on documenting the reference architecture for vNonStop and this should ease the pain as customers contemplates embracing something entirely different.

By the time Tandemworld October reaches you I will have wrapped up a couple of presentations that I am giving at several upcoming RUG events. Sure, I would have liked to have made it to VNUG of course – something about Scandinavia that I always find attractive. I have joined the VNUG group on several occasions and yes, I have even participated in the VNUG and FINTUG winter ferry crossing event, an experience I chronicled in an early post to the NonStop community blog, Real Time View – I've got to find a safe haven ... It is at RUG events worldwide that you gain insights into NonStop vendors' products and features and these events continue to be a "must attend" time for Margo and me.

This month it's more a case of spanning the Americas as first-up it is Scottsdale, AZ, down in the southwest for DUST and then, just two weeks later, it's Mississauga ON (just outside Toronto), up in the northeast for CTUG. And we continue to take these trips by car as we still enjoy the rides immensely. The theme of both of my presentations will have been virtualization and the potential impact of vNonStop on the NonStop community. Expressed as simply as I can, I am fully expecting to see future growth for NonStop coming from vNonStop, even as NonStop in the real world continues its steady climb back to decent numbers, a couple of upgrades at a time, all driven by increasing transaction volumes. vNonStop will likely prove attractive to solutions vendors who have shied away from supporting NonStop in the past, but now, even as we look at private clouds within the data center, vNonStop will bring with it a level of availability not expected from cloud-based solutions.

However, when it comes to the themes of the posts and commentaries for September, 2016, it's been a case of musing on virtualization but just as importantly, they have been peppered with observations about the growing importance of managed service providers. There's no hiding from the fact that as a community we are aging and as we age, there is an ever-widening skills gap developing. All the while, I know of no business prepared to invest in educating its staff on NonStop – so regionally, I am seeing a lot of interest in simply leveraging the skill sets already in place at managed service providers. Shortly, I will have a lot more to say on this topic so, as they say, stay tuned.
But for more about my observations including a couple of interesting conversations I had last month, check out the complete list of posts and commentaries below:
Real Time View:
And this month I wrote a fourth post as I celebrated the commencement of my tenth year of blogging!
http://itug-connection.blogspot.com/2016/09/the-song-remains-same-major-events-of.html
http://itug-connection.blogspot.com/2016/09/changes-for-better-hpe-to-focus-on-what_15.html
http://itug-connection.blogspot.com/2016/09/changes-in-procedures-changes-in-models.html
LinkedIn blog / Pulse:
https://www.linkedin.com/pulse/hpe-sells-its-software-having-already-sold-enterprise-richard-buckle?trk=mp-author-card
https://www.linkedin.com/pulse/what-rug-events-telling-us-nonstop-vendors-forefront-whats-buckle?trk=mp-author-card
https://www.linkedin.com/pulse/hpe-nonstop-systems-open-letter-cios-worldwide-who-have-buckle?trk=mp-author-card

ATMmarketplace:
http://www.atmmarketplace.com/blogs/mobile-not-a-unique-channel-but-an-integral-part-of-every-delivery-channel/
ComForte:
https://comforte.com/blog/blog-article/transforming-proven-nonstop-applications-with-soa/
Striim:
http://www.striim.com/blog/2016/09/data-data-everywhere-but-still-not-enough-information-striim-does-the-analysis-just-in-time/
DataExpress:
https://dataexpress.com/2016/09/21/clouds-horizon-dataexpress-embraces-hybrid-computing/
TCM Solutions:
To read more about my conversations – check out the LinkedIn group, TCM NonStop Experts – HPE NonStop / Tandem Services and Solutions and watch for some breaking news from Margo and me next month!
Tandemworld (Musings on NonStop):
Where you will find a collection of posts and articles in support of DataExpress, TCM Solutions as well as my monthly Musings on NonStop:
http://www.tandemworld.net/newsletter_sep16.htm
Buckle-Up-Travel:
http://buckle-up-travel.blogspot.com/2016/09/getting-ready-for-fall-bring-it-on.html

Richard Buckle
Cofounder and CEO
Pyalla Technologies, LLC
Email: richard@pyalla-technologies.com
---
comForte - Events near you
| | | |
| --- | --- | --- |
| EMEA | | |
| GTUG National group | Bad Homburg, Germany | Oct 26-27, 2016 |
| BITUG - Little SIG | London, England | Dec 8, 2016 |
| PCI London | London, England | Jan 26, 2017 |
| E-BITUG European NonStop Event | London, England | May 9-10, 2017 |
| USA | | |
| HP Technical Bootcamp | San José, CA | Nov 13-16, 2016 |
| DUST | Scottsdale, AZ | Dec 13, 2016 |
| SUNTUG | Tampa, FL | Mar 17, 2017 |
---
TCM Solutions - providers of HPE NonStop On-Site & Remote Systems Management for 20 years without fail
Last month I opened with the observation about just how much we were learning of late from our customers, as well as from HPE! There has been so much information for the NonStop community to digest over a relatively short span of time that I am finding it difficult to keep up. On the other hand, it's always reassuring to sit down with NonStop users where we get a more accurate indication of what is truly influencing their decision making.

It's no secret that the NonStop vendor community prizes Regional User Group (RUG) meetings highly – they are among the principle vehicles for collecting intelligence on these NonStop users. Most recent for us was the trip north some of the TCM team took to participate in VNUG. This is a particularly well-organized RUG with a long history dating back decades, so everything we hear resonates with the TCM team. Not surprisingly, when the TCM Team next gets together the observations we make at RUG events is discussed and returning from VNUG, the conversations were indeed lively.

What aroused our attention were two very clear trends we observed. Whether it's something you observe or only hear anecdotally, the NonStop "skills shortage" is a reality. But more of that a little later in this article. On a more positive note, among the NonStop user community there is an expectation that there will be a resurgence in NonStop deployments with the onset of NonStop X together with a practical way to interconnect NonStop X with other systems via NSADI (formerly, Yuma), and now the anticipated vNonStop and with it, potentially a need for NonStop-as-a-Service. Markets such as FinTech and Healthcare are markets that are good examples where such resurgence may become visible – indeed, it's our hope that all of the NonStop community begins re-examining their options when it comes to further deployments of NonStop systems – real or virtual.

When you consider the attention the press is giving to clouds and their impact on data centers there is considerable hype that doesn't always sit well with CIOs. Pressure from above to "cloud everything" often times misses the point – on premise systems are still needed as there will be customer relationships that need a degree of security and plain old fashion integrity maintenance that public clouds simply don't address with a level of confidence acceptable to these CIOs. And no manner of argument detracts from just how expensive public clouds can become as user needs scale up. On the other hand, modelling a modern data center after public clouds will likely generate more interest and as the techniques become better known, HPE's vision of hybrid infrastructures combining traditional IT with on premise private clouds makes a lot of sense.

As for the skills shortage within the NonStop community – a situation that will be exacerbated as sales of NonStop X grow and new users are added – even the skilled staff on hand is going to have to acquire additional skills as well. NonStop is no longer a standalone system but an integral part of something much bigger – software defined everything? Just how will the NonStop user community become proficient in all aspects of not just the new NonStop but everything it touches? After years where vendors providing products held center stage, momentum seems to be shifting to where it will be those vendors like TCM that provide managed services.

Next month, the NonStop community will be heading to San Jose for the annual NonStop Technical Boot Camp (TBC). TCM will be among the many vendors supporting this event and there will be plenty of opportunities to discuss managed service offerings in detail. However, perhaps the more important component when it comes to addressing the skills shortage is to consider leveraging the skillsets of companies providing managed services. In our presentation at VNUG – Adapt or Die: The NonStop Skills Gap – a light hearted look at a potentially serious issue facing NonStop we highlighted that one outcome from all that we have learnt of late from HPE is that the widespread perception that NonStop would slowly be phased out and that NonStop would be just another legacy system is dead wrong.

We are planning to provide a follow-up presentation at the TBC in San Jose so if you are concerned about the options available to you when it comes to filling your skills gap this is likely to be among the highlights of the event. Should you have more pressing needs and TBC is simply too far away, please contact me as below – I'm always open to discussing just how well we can remedy any skills gap situation you may be experiencing today.

Kind Regards
Tony Craig
Managing Director
TCM House, NonStop Centre of Excellence,
Saltire Centre, Pentland Park, Glenrothes, Fife, KY6 2AG
www.tcm.uk.com
+44(0)1592 770081
---
Find out more about us at
www.tandemworld.net
---