Gravic Announces First Synchronous Software Replication Product for HPE NonStop: Shadowbase ZDL™
Ascert Releases Automated Testing Solution for Green Screen Legacy Systems
comForte - Key Dates that Impact Data Security in the Payments Industry Part 2.
comForte - IBM and comForte to provide IBM MQ v8 on HPE NonStopcomForte - Events near you in 2017
TCM Solutions - providers of HPE NonStop Remote Systems Management for 20 years without fail
---
NTI's Surprise Christmas Announcement
It's Christmas and it's always a special time of the year for me. When I was a young child we would wake up very early, sneak down the stairs, and check for presents under the Christmas tree. We had to wait until our parents got up to start tearing into them. I never thought a clock could tick so slowly. Each season the anticipation would just about kill me. My kids are all in their 20's now and have busy lives, but we manage to get together throughout the holiday season and get caught up. And, no matter what the age, everyone loves to unwrap a gift.
So its's Christmas and NTI has put something special under the Tandem tree. Everyone works hard to reduce costs, and we all know how important business availability is. Wrapped up in a special package are some new approaches that will drive down costs, increase availability, and increase Tandem satisfaction.
So, here goes, spoiler alert… wrapped up, under the NTI Tandem tree is #############.
Whoops. You will have to wait until January when we make our announcement.
Until then, from everyone at Network Technologies International, to all of our Tandem friends around the world, have a blessed holiday and the best of fortunes in the New Year.
Cheers
+1 (402) 968 3674
---
Wishfully Thinking About a 50% Savings Off Your Current Transaction Processing Costs?
Think OmniPayments!
Some wishes do come true! Unlike other financial transaction switch providers, who base your costs on transaction volume, OmniPayments offers you a one-time, perpetual software license for its flagship solution. That is what makes the "50%-Less" difference from what you pay right now. No volume fees. No transaction fees. No surprises. No penalties for company growth. All of our prices are presented to customers up front. It's just that simple.
In addition to OmniPayments' standalone switch, OmniPayments also distributes OmniCloudX on NonStop X. It's the world's first cloud powered by NonStop. OmniCloudX hosts numerous OmniPayments instances at a pay-for-use price so attractive that mid-size retailers and financial organizations now can enjoy the benefits of having their own high-capacity transaction switches. Starts at only $5,000.00 USD per month.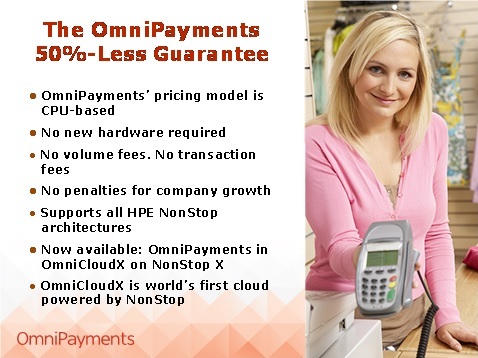 The OmniPayments Financial Transaction Switch is a switching solution for the financial and retail industries. It is deployed on NonStop for the highest availability and offers all the requisite functionality to manage credit/debit-card transactions. It manages multiple devices, hosts application interfaces, and interoperates with third-party products or other systems if required. OmniPayments easily expands to provide additional functionality when needed and supplies complete security functions for every financial transaction handled, including encryption-at-rest and encryption-in-flight.

Available 24x7, OmniPayments will survive any single fault, requires no downtime for maintenance or upgrades, and supports a range of disaster-recovery solutions.

OmniPayments can be installed either as a complete, off-the-shelf solution or can be enhanced with customer-requested modifications and features to improve cost-effectiveness, efficiency, and risk mitigation. Our team of 100-plus NonStop specialists are skilled at rapid project turnarounds and meeting deadlines.

Preauthorization Services - The OmniPayments Preauthorization Engine is used by financial institutions in conjunction with the OmniPayments Financial Transaction Switch or as a seamless interface to other providers' switches via a custom support module (CSM). We call it the Fraud Blocker!

OmniPayments systems in production today process 700 million transactions per month, generated by point-of-sales terminals and over 14,000 ATMs. A single OmniPayments system can support up to 10,000 transactions per second. Multiple OmniPayments systems can cooperate to provide any capacity required by an application. From our seven worldwide locations, we serve as a 24×7 managed services provider for remote production monitoring.

To learn more about OmniPayments, contact Yash Kapadia at +1 408-446-9274 or at yash@omnipayments.com. OmniPayments customers and others interested in our solutions are invited to join the OmniPayments Discussion Group on LinkedIn at http://bit.ly/2bB1AGh. OmniPayments also has formalized its plans for the new OmniPayments Customer Council. OmniPayments customers interested in participating should contact Yash at the number / email address listed above.
---
BrightStrand International
BrightStrand International would like to wish all Customers and Users of NonStop(tm) Seasons greetings and a prosperous and Happy New Year.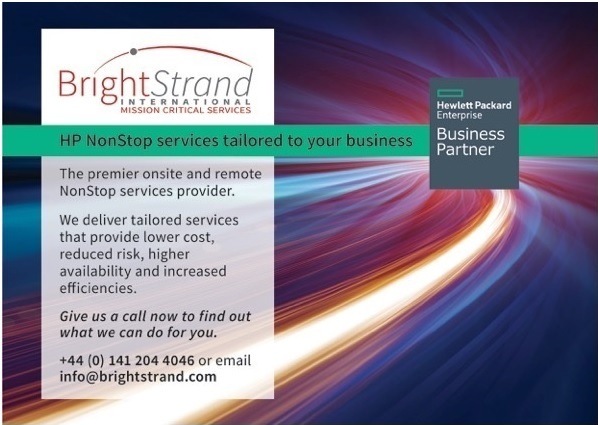 Visit our new website www.brightstrand.com
---
Gravic Announces First Synchronous Software Replication Product for HPE NonStop: Shadowbase ZDL™

Our first synchronous replication product for HPE NonStop environments, Shadowbase Zero Data Loss (ZDL), is scheduled for release. This release initially is available from Gravic as a Controlled Availability (CA) product. We want to stay plugged into early customer deployments to ensure proper configurations and gather valuable real-time analysis. It is also available to HPE Shadowbase customers as a "TCD" release (this availability means that it should only be used in customer environments for testing purposes, and not for production usage, until FCS).

Shadowbase ZDL provides zero data loss protection for NonStop to NonStop business continuity and data and application integration purposes. This initial release is limited to active/passive architectures; additional architectures (e.g., Sizzling-Hot-Takeover, Active/Active) will be available in the future. We know that many of you have been waiting for our synchronous technology. We cannot always foresee the various hurdles we have to cross ahead of time, but we believe that it was worth the wait!

To find out more about our new Shadowbase synchronous replication products, or to discuss any of your other business continuity, and/or data replication and data integration needs, please visit us at www.ShadowbaseSoftware.com, email us at SBProductManagement@gravic.com, or call us at +1.610.647.6250. Hewlett Packard Enterprise directly sells and supports Shadowbase Solutions under the name HPE Shadowbase. For more information, please contact your local HPE account team or visit our website.

[Please always keep in mind that delivery dates and capabilities for future functionality are not guaranteed and may change without notice.]

All of Us at Gravic Wish You and Your Family

a Joyous Holiday

Season and a Happy New Year!

Please Visit Gravic at these Upcoming 2017 Events

SunTUG Sunshine Summit—Tampa, 17 March

HPE Asia Pacific Technical Boot Camp—Singapore, TBD March

MENUG—Riyadh, Doha, Dubai, 26, 28, 20 March

GTUG—Hanover, Germany, 26-27 April

KNUG—South Korea, TBD May

EBITUG—London, 9-10 May

MATUG Meeting—Herndon, VA, TBD Spring

HPE SPAC-OZTUG Australasia Summit—Sydney, TBD June
---
DataExpress
The two HPE Discover events have run their course as have numerous regional events extending from Toronto to London to Tampa and beyond. From all the reports, we have seen it's very clear that the NonStop community is willing to travel to wherever there is an event focused on NonStop systems. There were reportedly 450 attendees at the 2016 NonStop Technical Boot Camp and after years of uncertainty about NonStop these numbers are encouraging to vendors such as ourselves.
Back in May, 2016, the HPE NonStop team invited DataExpress to participate in the inaugural Partner Symposium. At this we were introduced to the creation of a new HPE supported partner program - Partner Ready for Technology Partner Program – which looks very promising for the future. It is our hope that as this new partner program gathers momentum, NonStop doesn't get lost in the bigger picture, as the relationship between HPE NonStop and partners is quite different to that between HPE and other partners.

When it comes to NonStop, the NonStop product management and development teams are more dependent upon their partners in terms of providing products and features critical to the commercial success of NonStop. For other products in the HPE product portfolio this isn't the case. We know that this is understood within HPE NonStop so we will be watching to see how this program unfolds and how helpful it will prove to be to the NonStop vendor community.

As we head into 2017 our DataExpress NonStop (DXNS) product has been validated on NonStop X and it's now only a matter of time before we see one of our customers migrate to NonStop X. For the moment it would appear that our customers are continuing to pursue upgrades that keep them on NonStop Blade System (Itanium). In discussions with HPE field folks it would appear that this isn't a situation that will change in the near term, as commercially it's easier to justify the addition of a couple more blades than it is to undertake a forklift upgrade to an entirely new architecture.

However, even as we are coming to appreciate that it will take time for NonStop X to trickle out into the marketplace, the promise of virtual NonStop (vNonStop) is extremely interesting for a development house like ourselves. DataExpress, as we expect it is with other NonStop vendors of similar size, has always been concerned about the costs associated with each NonStop system purchased and these concerns have led to the price of NonStop middleware and solutions from NonStop partners reflecting the impact of the costs associated with purchasing NonStop systems have on bringing any partner's product to market.

With vNonStop running on commercial, off-the-shelf hardware, if all goes well for HPE product management, they could have a material impact on the pricing of solutions and middleware offered by the partners in the future. Equally important to DataExpress is the ability to build out useful hybrid configurations combining NonStop with Linux as DataExpress has products for both platforms and we are anticipating that hybrid configurations will likely have a more immediate impact on the NonStop community than vNonStop, as products to integrate both at the interconnect fabric level have become available. Data Express is particularly enthusiastic about how this will open up even more possibilities for our DataExpress Open Platform (DXOP) products within the NonStop community.

The imminent arrival of 2017 is something we look forward to. HPE is telling the market that NonStop has enjoyed double-digit growth for the past two years and that really is telling a remarkable story of a change in fortune for NonStop. DataExpress still thinks that there is much that needs to be done in terms of marketing and sales, but for now, as 2016 winds down, the most obvious outcome of 2016 is that being a part of the NonStop vendor community, the future looks a lot brighter than many of us thought possible, just a few years ago.

Contact Info:
1401 Shoal Creek, Suite 250, Highland Village, TX 75077
email: sales@dataexpress.com
Sales: +1. 972.899.3476
Corporate: +1.972.899.3460
---
Ascert Releases Automated Testing Solution for Green Screen Legacy Systems

Building on Ascert's growing suite of automated testing tools, the company releases its Virtual Terminal Simulation Module for VersaTest Automator

Sausalito, California, December 20, 2016

As an innovator in test automation, Ascert has launched a new version of its Virtual Terminal Simulation Module (VTERM) to operate natively in its newest generation of testing products, VersaTest Automator. The VTERM product, which was originally created within Ascert's VersaTest Classic product, has been used successfully by customers for many years to automate the test process for green screen applications. However that version required an HP NonStop (formerly Tandem) server, in order to operate – that is no longer the case.

This latest version leverages the end-to-end testing environment provided by VersaTest Automator, enabling the coordinated testing of green screen applications alongside other headless interfaces, such as payments networks and back-end hosts. Adoption of this latest version has occurred with companies in various sectors including financial services and retail.

"Many of today's server-based applications are developed to utilize the sophisticated graphical capabilities of PC's or workstations for user input and display. But, in many instances, the 'behind the scenes' applications in very large companies are legacy green screen applications based on older terminal technology, such as the Tandem 6530 or IBM 3270", said Paul Springston, Ascert's Director of Professional Services. "VTERM eliminates the manually intensive process of testing these interfaces and automates the process. Our customers who have implemented VTERM have been able to recognize significant reductions in testing time almost immediately. This latest version, operating natively within a VersaTest Automator environment, provides them with even greater orchestration capabilities for their complex testing requirements."

VTERM Terminal Simulator, an add-on module to VersaTest Automator, provides yet another solution to the problem of expensive, time consuming and error-prone testing practices. It is joined by the VersaTest Jenkins Plug-in for Continuous Testing which Ascert recently released to the marketplace.

To find out more about VTERM or other Ascert testing technologies, visit the Ascert Web Site or contact one of the Ascert offices.  

About Ascert: 


Ascert is recognized as a leading provider of premier testing software solutions. Ascert was founded in 1992 to provide automated software testing solutions that help companies measure the performance, reliability and scalability of their mission-critical back-end servers and applications. With over 100 clients worldwide, Ascert's products and services are used at some of the world's most successful companies.  

Off-the-shelf simulators for Ascert's VersaTest product include solutions for EFT testing, POS testing, stress testing, ATM testing, Fraud testing, IFX testing, EMV/chip card testing, ISO8583 testing and 3270 & 6530 terminal testing. Ascert's custom simulators have been used for testing air traffic control systems and biometric payment systems. Ascert delivers flexible solutions that are either customer site installed or accessed via Ascert's Remote Testing Services. Ascert's products assist testing professionals across industry segments to better manage their testing processes and environments through an end-to-end tool set. 

For inquiries in the America's and Asia-Pacific: 
Richard B. Greene  
Ascert, LLC  
759 Bridgeway  
Sausalito, CA 94965, USA 
Telephone: 1-415-339-8500 
Toll Free:1-877-ASCERT-IT 
Fax: 1-415-339-8501 
E-mail: info@ascert.com 
http://www.ascert.com 

For inquiries in Europe, Middle East, and Africa: 
Mike Wainwright 
Ascert Limited 
3rd Floor Signet House 
49 - 51 Farringdon Road 
London EC1M 3JP England 
Telephone: +44 (20) 7488 3470 
Fax: +44 (20) 7488 3477 
E-mail: ukinfo@ascert.com 
http://www.ascert.com 
---
MANAGE NONSTOP SECURITY WITHOUT INSTALLING ANYTHING ON YOUR NONSTOP!
Protect-X: The Future of NonStop Security
CSP proudly launched its innovative security solution - Protect-X® - at the NonStop Technical Boot Camp in San Jose last month. Now you can manage NonStop security without installing anything on your NonStop system*. Take a free test drive of this amazing new technology on our NonStop test facility without leaving your desk! Just email us here to request your free test drive. Alternatively, you can contact us for a free trial to try it with your own system(s).

Protect-X® simplifies many tasks of NonStop Security including Safeguard Users, Aliases and Groups management; Security Hardening; Compliance; OSS security management and OSS effective Access reporting. Completely browser-based, Protect-X® uses the CSP-Wiki®

as a reference guide which contains over 2,000 security hardening recommendations for NonStop systems. Access to the full CSP-Wiki® is completely FREE to any NonStop end-user. Click HERE to gain access to this incredible resource!

Protect-X® is not only a security manager and it's not only for NonStop! It features full approvals chains for authorizing changes, automated security hardening and many other features including merged audit trail support. Protect-X® provides a revolutionary way to manage Safeguard and OSS security via a mobile-friendly, HTML5 interface. It also supports most Linux and other UNIX security environments and can be used for mixed platform and virtual systems.

Protect-X® Features:

ü

Nothing to Install*; runs in any web browser

ü

Automatic update feature (user controlled)

ü

Work flows & dialogs to manage Safeguard users, aliases, groups and Safeguard globals

ü

Provides security hardening recommendations based on CSP-Wiki®

ü

Automatic compliance with customizable hardening rule sets.

ü

Manages NonStop security from any web browser

ü

Contains built-in user roles with authorization controls

ü

Handles change control using workflows

ü

Has many live widgets and charts displaying system and compliance status

ü

Self-hosted web application using HTML5

ü

Mobile friendly

ü

Provides full user audit and reports

ü Many new features planned for 2017

For complimentary access to CSP-Wiki®, an extensive repository of NonStop security knowledge and best practices, please visit wiki.cspsecurity.com

Regards,

+1 (905) 568-8900

* - Existing CSP customers do not need to install any NonStop software to use Protect-X® in their environment. New users need to install a light footprint Safeguard agent.
---
Season's Greetings from all of us at Tributary Systems
By Glenn Garrahan, Director of HP Business for Tributary Systems
As we near the end of a very eventful 2016, all of us here at Tributary Systems want to wish those in the NonStop Community Happy Holidays and a wonderful and prosperous New Year.
We just concluded a very successful HP NonStop Technical Bootcamp and want to thank everyone that attended the event and visited Tributary Systems' booth. The TSI team was impressed by the level of commitment customers have for the NonStop platform, and we are so pleased with the continued product innovations provided by HPE as NonStop enters 2017.
We also want to congratulate HPE NonStop on an outstanding fourth quarter in fiscal 2016, and look forward to many future successes with the NonStop X product line and of course the Virtual NonStop.
Contact Information
ggarrahan@tributary.com or visit our website: www.tributary.com
Tributary Systems, Inc. is a technology solution provider to enterprise computing customers. Tributary develops and sells data protection, backup storage, virtualization, site-to-site replication and disaster recovery solutions. Tributary is an acknowledged global leader in providing backup storage and data protection solutions for fault-tolerant, high availability, enterprise computing environments.
Tributary was founded in 1990 and is a Texas based company with its headquarters, development, integration, and test facilities in Bedford, Texas.
Through its channels and direct sales organization, Tributary has served customers worldwide, predominantly in the banking, financial services, retail, telecom and healthcare industries. Tributary is a HPE business partner and OEM supplier, IBM OEM Partner (iOEM), Solution Reseller (ISR) and Business Partner, Quantum® Value-Added Reseller (VAR), and Oracle® OEM partner.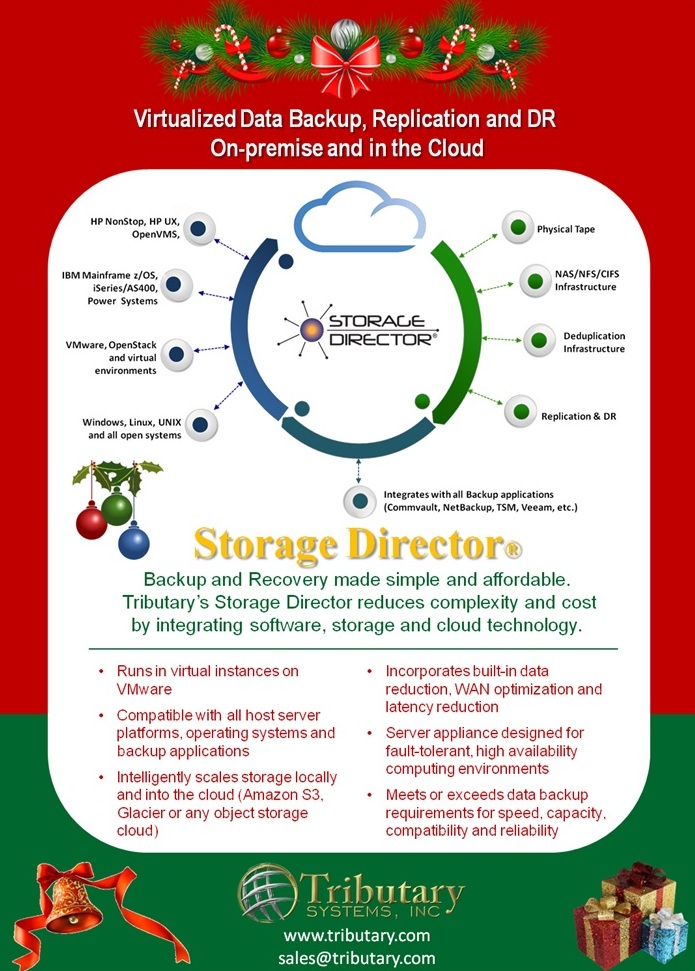 ---
XYPRO announces OEM partnership with HPE Security – Data Security
XYPRO® Technology Corporation, the leading provider of security software for HPE NonStop™ Server environments, today announced a strategic OEM partnership with HPE Security – Data Security, the leading enterprise-class data protection provider. HPE Security – Data Security now includes the XYGATE® Data Protection software as part of the their HPE SecureData suite.
XYGATE Data Protection (XDP) enhances and optimizes HPE SecureData support for the HPE NonStop Server, allowing full implementation with no changes to applications or to the existing database. XDP intercepts all HPE NonStop file I/Os, seamlessly encrypting or tokenizing data as it is written to disk, and decrypting or de-tokenizing data as it is read from disk. XDP also provides full HPE NonStop scalability, support for all HPE NonStop database types, support for any HPE NonStop supported language, both native and non-native applications and has built in access controls and auditing.
"Having partnered with Voltage Security, and now HPE Security, for over 4 years, we're very pleased to be able to announce the next step in our products' integration. The extensive capabilities of HPE SecureData together with the flexibility and optimization provided by XDP make these two solutions an unbeatable combination for any HPE NonStop customer wishing to protect their sensitive data across the enterprise, and a perfect fit for these two complementary technologies.", says Andrew Price, VP Technology with XYPRO.
About XYPRO Technology Corporation
XYPRO® Technology Corporation was founded in 1983 to provide consulting services and software products to companies who manage and transport business-critical data on a large or very large scale. Committed to developing mutual respect and accomplishment, XYPRO delivers products and services that help people comprehensively enhance their professional lives and that help companies improve their competitive edge via greater efficiency.
About HPE Security – Data Security
HPE Security – Data Security, is the leading data protection provider, delivering secure, scalable, and proven data-centric encryption, tokenization and key management solutions, enabling our customers to effectively combat new and emerging security threats. Our powerful data protection solutions allow any company to seamlessly secure all types of sensitive corporate and customer information, wherever it resides, while efficiently meeting regulatory compliance and privacy requirements.
---
comForte - Key Dates that Impact Data Security in the Payments Industry Part 2.
This is the second post in our two-post series on what you need to know about seven important dates in the payments industry.
In our first post regarding those key dates, we covered:
· The U.S. Europay, MasterCard, and Visa (EMV) Standard
· The National Automated Clearing House Association's (NACHA) Same-Day Automated Clearing House (ACH) Payments Requirement
· The Compliance with Court Orders Act.
In this post, we look forward to the future dates for:
· The Payment Card Industry Data Security Standard (PCI DSS) v3.2 Requirement (8.3.1) on Multi-Factor Authentication
· PCI DSS v3.2 Requirements (2.2.3, 2.3, 4.1) on Upgrading Secure Sockets Layer (SSL) Encryption
· The European Commission Payment Services Directive 2 (PSD2)
· The European Union (EU) General Data Protection Regulation (GDPR)
Read the full story
---
Stone Soup – ATUG 2.0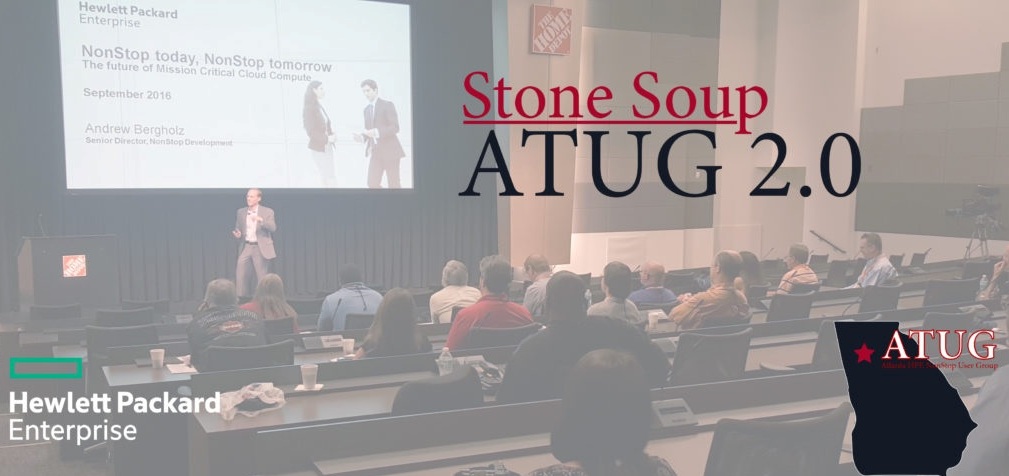 Nobody really seemed to know how long it had been. Could nobody really put their finger on how it ended? Did it simply fizzle out or was there a big bang? The closest recollection….'sometime in the 90's when they were still Tandem'. But on September 29th on another beautiful Georgia day, the Tandem User Community from the Atlanta area converged and convened ATUG 2.0.
My name is Dale Van Stratten, I'm with XYPRO Technology and I look after our customers in the Eastern US and Canadian Territory. This responsibility includes attending regional TUG meetings within the territory and trying to better understand our clients wants and needs. These TUGs include, OTUG (Ohio), SunTUG (Florida), MATUG (Mid Atlantic, DC area), the newly reformed NY/NJ TUG (you can figure that one out), NENUG (NE NonStop Users) and finally CTUG (Canadian). That's a whole lot of TUG'n. That's also a lot of speaking with customers and prospects and a great way to share information, some new and some refresher. In short, it's a great information exchange.
In the early years there were TUGs everywhere. I remember Denver, Washington State, Omaha…. all having TUGs. Many of you reading this can probably remember an old TUG group gone, but certainly not forgotten. I also remember ATUG. Atlanta/Columbus combined cover a lot of territory. The area is also home to at least eight NonStop Accounts with several others having operations or personnel in the area.
The new phenomenon in group meetings are 'MeetUps'. You can Google them or you can access their App for iphone to look for MeetUps in your area. I've attended several technologies based meetups. Generally, these sessions consist of an evening meeting with a speaker/or vendor and perhaps a sponsor buying Pizza…. These are short meeting groups or club type of events. Meetups are great for local clubs (like the Des Moines Weather Club or Rock Hounds of Laramie). TUGs on the other hand are multi-faceted. They bring a variety of processing ideas and needs together. They are a great way to socialize with your peers and likewise socialize ideas.
ATUG 2.0 started like everything else starts, with a seed (I was going to say kernel). A simple discussion or plan in which we were trying to bring some customers together for an event in Atlanta. It's sort of like inviting a few friends over and the next thing you realize, you're having a party.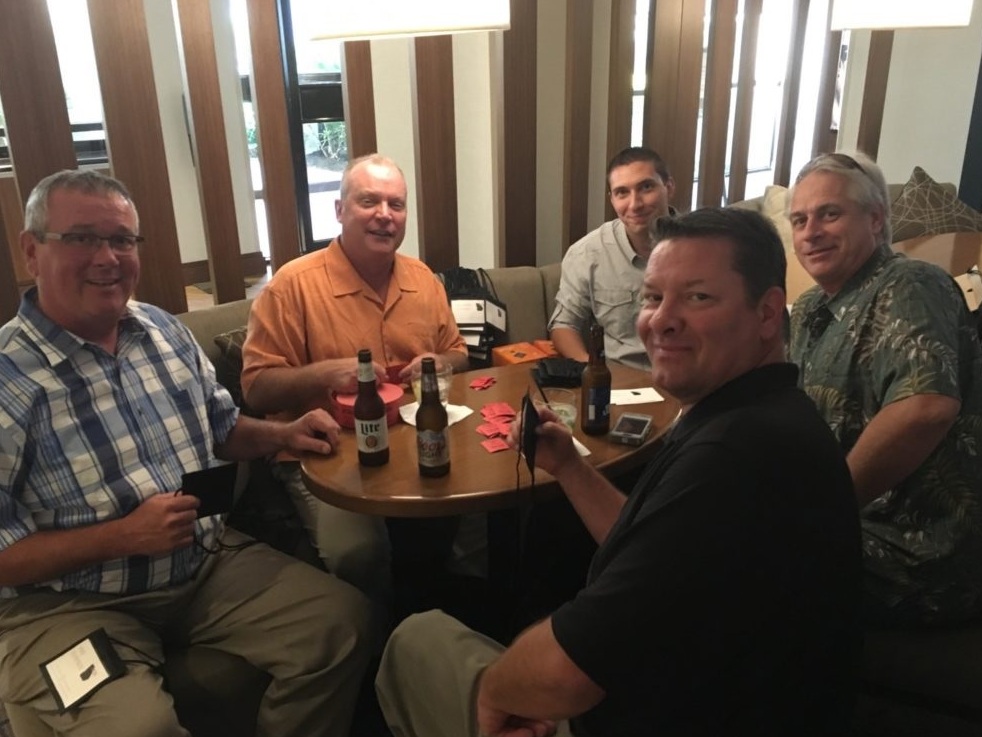 You've probably heard the story about 'Stone Soup'. A small village is on hard times and food is scarce. A stranger wanders into town and starts making a pot of soup with just a stone and water. One villager brings a carrot. Next villager brings a potato…… before you know it the entire village is sharing a wonderful cauldron of soup. Everybody brings something to the party. ATUG was like that…..It simply started as a discussion with HPE's Nelson Alvarez about a customer meeting. Then it became an event. Next, The Home Depot stepped up and offered their facility and catering services for the meeting. Then HPE said they would come. Vendors said they would come and present. Most importantly, the NonStop customers said they would come….
So what made ATUG a success? Several factors each brought by a different villager to the party. A huge thanks to The Home Depot for their help with the facility and catering. The facility and your support was incredible! A big, big thanks to HPE for all their support getting the message out as well as providing content. Another thank you goes out to all the vendors who supported the effort with their messages and content. Finally, a big thanks to all the NonStop Users who attended. All in all, we had a big party and all of the villagers agreed the soup was great!
The Home Depot has already said that they would host next year's event. We'll be looking for additional Customer and Vendor Support as we begin to plan our event for 2017! Feel free to contact me directly if you would like to help make the soup next year.
Dale W Van Stratten

---
Enterprise-wide tokenization at its best
Some of you may have attended the product launch of comForte's new enterprise tokenization solution whilst at the NonStop Technical Boot Camp in San Jose in November.
The product launch presentation was entitled 'Enterprise tokenization and encryption with SecurDPS' and was held by Henning Horst, Senior VP Security at comForte.
In his talk Henning explained how the proven SecurData tokenization product has been enhanced to extend the industry leading application integration capabilities to other platforms in the enterprise.
These changes now provide a comprehensive suite of capabilities that extends tokenization from the NonStop platform to a complete infrastructure.
With these expanded capabilities comForte has decided to rename SecurData to SecurDPS for Data Protection Suite.
But before we look at what SecurDPS stands for and what it does, let's step back for one minute and ask ourselves a key question.
Why is protection of data at rest so important and why should you care?
Read the full story
---
Information Security's Best Kept Secret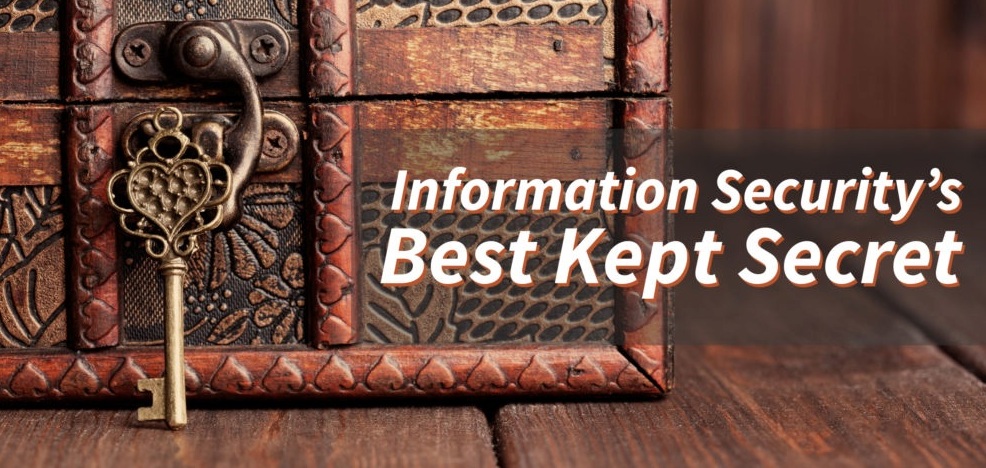 This is a tough time of year to find encouraging news about information security. The end-of-year technology reports will no doubt spend a fair amount of time on data breaches, which are never good news. But a look at the trends and patterns this year may show some early signs of progress. The Identity Theft Resource Center's 2016 Data Breach statistics as of October 14, 2016 show that even though the number of breaches with confirmed record exposure is rising, the number of exposed records is surprisingly low. ITRC is reporting "only" about 29 million records exposed so far this year, versus about 177 million in all of 2015 and about 675 million in 2014. So, it is possible that organizations are doing a better job of keeping their data secure even if they are breached.
As Verizon's 2016 Data Breach Investigations Report points out, "no locale, industry or organization is bulletproof." There will be data breaches in 2017, in spite of an organization's best efforts to prevent intrusion to their networks. But extensive use of encryption or tokenization can mitigate the financial loss of a breach.
Encryption is more valuable than you might think. Many people and organizations dislike using encryption, because it seems too expensive and time consuming to be worthwhile. In fact, many organizations only encrypt their data for compliance reasons. But as information systems and threats evolve, encryption provides more value than ever. Network perimeters have expanded; information is flowing in and out of cloud storage through mobile devices and across enterprise server networks. Access control is more difficult, and the number of data breaches is steadily rising. Encrypting or tokenizing data is the best way to limit the effects of data breaches, and preserve a company's reputation and business in the face of persistent attacks.
Read the full article to learn more about the BEST KEPT SECRET in security.
Andrew Price
VP Technology
XYPRO Technology

---
comForte - IBM and comForte to provide IBM MQ v8 on HPE NonStop
Today, comForte announced that it is working with IBM to bring out a new version of IBM MQ on the HPE NonStop Platform.
This will allow customers currently running IBM MQ on both the NonStop X and NonStop I platforms to benefit from the additional capabilities IBM MQ v8 delivers.
Read the full story
---
XYPRO looks forward
to seeing at the upcoming shows!
March 17, 2017 7 DoubleTree by Hilton Hotel Tampa Airport - Westshore 4500 West Cypress Street Tampa, FL 33607
---
comForte - Events near you in 2017
| | | | |
| --- | --- | --- | --- |
| PCI London | London, England | EMEA | January 26 |
| SUNTUG | Tampa, Florida | USA | March 17 |
| HPE Partner Symposium | Palo Alto, USA | USA | March 22 |
| E-BITUG European NonStop Event | London, England | EMEA | May 9-10 |
---
Webinar Video Now Available


Did you miss NuWave's webinar "Talk with Your NonStop: Integrating NonStop with Modern Devices"?

The video is now available for you to download.

Learn how to use REST APIs to integrate your NonStop systems with modern devices like tablets, cell phones, smart watches, and even the Amazon Echo
---
Availability Digest Examines the Continuing Issues with Legacy Systems


You can dress them up, wrap them in modern interfaces, and attempt to resuscitate the "ancient" software engineers who still know how to maintain them. But decades-old legacy systems remain difficult if not impossible to upgrade to or integrate with the modern services required by today's enterprises.

Note: The Availability Digest's Managing Editor is an ancient software engineer.

"The Continuing Struggle with Legacy Systems" reviews examples of legacy hardware and software that still inhabit prominent real estate in the data centers of governments, financial institutions, and other industries. As acknowledged barriers to modernization and innovation, they yet remain in many cases just too expensive or too business-integral to replace.

In addition to "The Continuing Struggle with Legacy Systems," read the following articles in the Availability Digest's December 2016 issue:

Digest Managing Editor Speaks About Staggered Systems – Dr. Bill Highleyman spoke recently at the NonStop Technical Boot Camp about "Staggered Systems for Improving Mission-Critical System Availability." The presentation will appear in upcoming Connection issues as a two-part article, co-written by Dr. Bruce Holenstein, President and CEO of Gravic, Inc. "Staggered Systems" exposes a fallacy in standard availability theory and proposes Mean Time to Failure (MTTF) as a better availability measure than Mean Time Between Failure (MTBF) and Mean Time to Repair (MTR). Fair warning: There is some math! But those who cringe at the sight of availability calculations will be able easily to understand the concepts.

Google Will Help You Manage the 2016 Leap Second – Need help in addressing your systems' reactions to the upcoming leap-second addition on 31 December? Google to the rescue. Its NTP servers and "smeared time" technique are available to you at no cost. Simply configure your network settings to use time.google.com.

The High-Availability Design Spectrum – Part 1 – In his book High Availability IT Services, Dr. Terry Critchley lists 23 areas that can have an impact on the availability of IT business services. In this multipart series, and with Dr. Critchley's permission, we publish his observations.

@availabilitydig – The Twitter Feed of Outages - Our article highlights some of our numerous tweets that were favorited and retweeted in recent days.

The Availability Digest offers one-day and multi-day seminars on High Availability: Concepts and Practices. Seminars are given both onsite and online and are tailored to an organization's specific needs. We also offer technical and marketing writing services for a variety of industries as well as consulting services on risk assessment and system architecture. We ghostwrite for others and have years of experience in writing patent disclosures.

Published monthly, the Digest is free and lives at www.availabilitydigest.com. Please visit our Continuous Availability Forum on LinkedIn. We're at 787 members and counting. Follow us as well on Twitter @availabilitydig.

---
TandemWorld
Seasonal Best wishes from TandemWorld.
A happy, Healthy and Prosperous 2017 to all subscribers and contributors to the TandemWorld eNewsletter.
---
NuWave Welcomes New Regional Sales Manager

NuWave is pleased to welcome Vincent Guerrera to their team as Regional Sales Manager to the Americas.

Learn more about Vincent and NuWave's commitment to expanding their team over on their website.
---
TCM Solutions - providers of HPE NonStop Remote Systems Management for 20 years without fail
As 2016 draws to a close, we want to wish everyone a happy festive period and look forward to working with you in the New Year.
Warm festive tidings from Everyone at TCM

This year we have seen considerable uptick in interest in NonStop. There have been many regional NonStop user events that we have attended where the numbers are clearly up on previous events. From GTUG to BITUG to the NonStop Technical Boot Camp we witnessed first-hand just how much interest there is today in all things NonStop related.

From those who participated in similar events in North America – CTUG, DUST, N2TUG – we hear that it was much the same. Participation numbers improved upon previous year's events with the numbers of users once again demonstrating that we are seeing a change of attitude taking place among even the biggest users of NonStop. Where once their consideration had been given to thoughts of platforms apart from NonStop we are hearing less and less of this and it comes back to just how well the HPE NonStop organization has been listening to the needs and requirements of their users.

We now know that NonStop X systems are shipping even as we hear for the first time in a long while that there are new logos being added to the NonStop community. "New logos" is how HPE refers to new businesses deploying NonStop systems and it surprised many that the region with the most new logos was Asia Pacific / Japan. However, as news of that region being the winners is sure to fire the competitive spirits of sales teams across EMEA and the Americas – after all, this is a competition each region surely wants to win.



This past year too has given us further insight into the game plan of the NonStop organization as they have turned over more of their cards. If you weren't aware of HPE adding successful vendor products to their price book you should by now be aware that there is a concerted effort within HPE development to focus solely on where they can add value and plugging any holes that may appear in their roadmaps with products already available from the NonSotp vendor community. As it was noted on more than one occasion – why should NonStop development stretch their own budget to compete with NonStop vendors when already NonStop development has so much to do!

Adding vendor products to the price book is an effective way for HPE NonStop sales to be able to satisfy users' needs for products whenever those users are looking to source products just from HPE and this trend is likely to strengthen in the coming year as products are sought to plug even more holes as NonStop pushes ahead with supporting a virtual NonStop (vNonStop). Security, monitoring, data integration all require products that cross boundaries not traditionally supported by HPE NonStop development and vendors who already have product for both NonStop and Open Systems are the likely beneficiaries from such moves on the part of NonStop development.

The same can be said about the providers of managed services like TCM. We are watching sizable enterprises being forced to play "resource catchup." After a number of years where the message of NonStop had been somewhat diluted and where any emphasis of NonStop by an enterprise was hard to find, key individuals with NonStop skills left to pursue opportunities on other systems. Now there is a growing void to fill and just as NonStop development has turned to its vendor community to plug numerous product holes, so too is the HPE sales organization turning to Managed Services vendors, such as TCM to plug the skills shortfall.

And this is a need we at TCM see as only growing bigger in 2017 – and one, of course, we are more than ready to step in and fill no matter where on the planet such situations are identified. Yes, it's been a long time since we are as excited by the prospects coming in the new year as we are ready when such a situation develops in your organization, as we are already supporting some of the biggest Global enterprises running NonStop systems today.

Tony Craig

Managing Director

TCM House, NonStop Centre of Excellence,
Saltire Centre, Pentland Park, Glenrothes, Fife, KY6 2AG


www.tcm.uk.com
+44(0)1592 770081

AND; WHO ARE TCM

TCM Solutions was established in 1996 as a dedicated specialist for HPE NonStop (Tandem) services andnow established as a leading global provider of specialist, critical NonStop IT services in Finance, Manufacturing and Healthcare with a proven track record of successfully delivering NonStop solutions and 24 x 7 Systems Management without failure. TCM is a key strategic partner to large-scale system integrators such as HPE, IBM, Wipro, CSC, FSS along with a number of NonStop product providers. Accredited ISO 9001 (Quality); ISO 20000 (Service Delivery); ISO 27001 (Information Security) standards, ITIL Compliant and repeat winner of Deloitte Innovation Award. TCM's success has been attributed to their ability to deliver cost effective services with total customer focus: putting the ultimate needs and aims of the customer at the forefront of all decision making and seamlessly becoming part of the customer's environment and culture. Experienced throughout the delivery cycle from initial review and service modelling to on-going delivery and accountability for support. Possessing the skills, capability and experience to ensure customers not only receive exemplary service and value, but also the assurance of an embedded partner they can trust and rely on.

Why do so many people use TCM?
Twenty years experience of providing dedicated NonStop support services, to the world's largest organisations
One of the worlds largest pools of NonStop resource
In twenty years we have never lost a customer, we go the extra mile to ensure they get the best
---
Musings on NonStop!

December, '16

The opinions expressed here are solely
those of the now self-employed author

There continue to be a lot more commentaries and articles still being produced following the 2016 NonStop Technical Boot Camp as well as the flow of information coming out of 2016 HPE Discover (London) event that not even the least attentive among us would have missed just how well NonStop has performed this year. Flush from success in adding "new logos" to the NonStop community worldwide, poised to see sales of NonStop X systems accelerate and preparing for vNonStop to begin testing (and then shipping) in the near future, so all associated with NonStop should be very pleased with themselves. #NonStopRocks !!!!

One small item I need to clear up. In my enthusiasm about next year's 2017 NonStop Technical Boot Camp I inadvertently wrote of it being held in the Hyatt, Fisherman's Wharf, San Francisco, when in fact it will be held in the Hyatt, Burlingame, near to the SFO international airport (and only a short drive away from San Francisco). It will be interesting to see if attendee registration passes the high-water mark from this year's event (approx. 450), but in all my time with ITUG there was a concerted effort by the entire NonStop community to move the event out of San Jose so now, we will just have to wait and see how the move will be received by all who regularly attend these major events.

The holiday season that is now upon us is, always a time to celebrate and throughout the festivities there will be plenty of time for reflection. For those of us with roots all the way back to the early days of Tandem Computers it will be hard to ignore that in the forty plus years since the company was formed (in 1974 in Cupertino, California) such strong arguments can still be made in support of NonStop, as it still is the superior fault tolerant as well as the most massively parallel processing computer available today. And this is something that I will continue to cover in posts and commentaries throughout 2017 as we wait and see how traction develops around NonStop hybrids, NonStop-as-a-Service (in Clouds) and yes, vNonStop!


To find the location of the many posts and commentaries for last month, once again, check out the following list:

Real Time View:

Power in networking:
https://itug-connection.blogspot.com/2016/11/theres-power-in-networking-nonstop.html

vNonStop:
https://itug-connection.blogspot.com/2016/11/vnonstop-coming-to-desktop-near-you.html

Final wrap-up of TBC:


https://itug-connection.blogspot.com/2016/11/a-last-look-at-nonstop-technical-boot.html

LinkedIn blog / Pulse:

https://www.linkedin.com/pulse/nonstop-technical-boot-camp-2016-catch-me-nightcaps-richard-buckle?trk=mp-author-card


https://www.linkedin.com/pulse/repeat-performance-yes-welcome-second-edition-nonstop-buckle?trk=mp-author-card

https://www.linkedin.com/pulse/week-review-successful-nonstop-technical-boot-camp-2016-buckle?trk=mp-author-card

https://www.linkedin.com/pulse/final-look-back-2016-nonstop-technical-boot-camp-richard-buckle?trk=mp-author-card

NonStop Insider – issue #2 published:

http://www.nonstopinsider.com/2016-2/november-editorial/

ATMmarketplace:

http://www.atmmarketplace.com/blogs/whos-gonna-miss-a-donut-is-it-fair-game-to-try-to-beat-the-automated-system/


Striim:

http://www.striim.com/blog/2016/11/uncovering-gems-striim-interacting-with-nonstop-solutions-leads-to-new-business-opportunities/

DataExpress

https://dataexpress.com/2016/11/28/infrastructure-changing-vision-dataexpress-constant-move-files/

TCM Solutions:

What's to happen to those looking for much-needed NonStop skills?
https://www.linkedin.com/groups/8546566/8546566-6199699182517833733

Welcome to the second issue of NonStop Insider
https://www.linkedin.com/groups/8546566/8546566-6202515530314768388

Tandemworld (Musings on NonStop):
You will need to scroll through pretty much to the end to find the most posts and articles in support of DataExpress, TCM Solutions as well as my monthly Musings on NonStop:

http://www.tandemworld.net/newsletter_nov16.html

Buckle-Up-Travel:

http://buckle-up-travel.blogspot.com/2016/11/the-colors-are-on-display-wherever-we.htm

Richard Buckle
Founder and CEO
Pyalla Technologies, LLC

Email: richard@pyalla-technologies.com
Mobile: +1.720.289.5372
---
Find out more about us at
www.tandemworld.net
---