USA INC at ETUG 2007
SafePoint Alarms
The Newest Product Addition to the SafePoint Suite


Real-time Monitoring of HP NonStop Security Events
SafePoint Alarms extends the capabilities of NonStop systems and Safeguard providing real-time display of security alarm events on a GUI Events Console.

User configured alarm events are also supported from OSS, and eBOSS/BOSS logs as well as Client IP events. Alarm events are reported to EMS, and can be ported to a NonStop SQL database.

SafePoint Alarms can send messages via SNMP to a centralized multi-platform event collector like EMC's Network Intelligence product enVision.

PCI Compliance now requires an
Enterprise-wide Events Management Console

SafePoint Alarms - built upon the proven technology of
SafePoint Admin & SafePoint Reports
Developed by Baker Street Software

FBI/CSI annual surveys continue to show 80% overt & covert abuses are from internal sources, and you're the first line of defense to stop them – USA has the solutions from end to end with our security suite.

security solutions for
operational solutions for
•

Safeguard Audit Reporting & Administration

•
Secure Terminal Emulation (Telnet & Web based)
•
User Authentication & Authorization
•
Secure FTP Transmissions
•
Secure CS – Middleware Encryption
•
Secure Web Printing (NSK or Unix)
•
Real-time Alerts
•
Report Distribution via email, fax, FTP & Printers
•
Secure Telnet Communications
•
Automated Tape Management
•
Password Quality Control
•
EMS Message alerts via email & Pager
•
Enterprise SSO IP Portal
•
Netbatch Management & Administration
---
Useful enhancements for the Stefi product

Stefi , the general purpose Tandem File Manager, serving for several years, has a new version (4.1) with the following enhancements:
Stefi is a User-friendly graphical interface for browsing/editing Tandem Enscribe/Sql files. It makes the file operations so simple and comfortable that is hard to compete with.

There are some videos to demonstrate the software:
A Free Personal version is downloadable from :

It can really ease your work
---
Availability Digest Humanizes Three 9s
The Availability Digest's September issue explores how people would live in a world of only three 9s. Some examples: unsafe drinking water for one hour per month and more than 15,000 babies accidentally dropped by doctors and nurses each year. Also discussed is recovery time benchmarking, the use of failure state diagrams to explain high availability, and how a web hosting service's poorly planned server migration caused lengthy outages for hundreds of customers.
Digest editor Bill Highleyman will be visible throughout the upcoming ITUG European conference in Brighton, England. Bill's two talks will concentrate on "Active/Active vs. Clusters" and "Advantages of Multinode Systems." Bill also will be running an active/active panel and will host an active/active lunch table.
The Digest is free online and focuses on continuous processing architectures, with particular attention given to active/active technology. Each issue of the Digest features articles on the following topics: Case Studies, Never Again, Best Practices, Active/Active Topics, Recommended Reading, Product Reviews, and The Geek Corner. www.availabilitydigest.com
---
Tributary Systems, Inc at ETUG 2007
Tributary Systems, Inc. (TSI) will exhibit the soon to be released LTO Gen 3 SCSI and LTO Gen 4 Fibre Channel tape technologies for the HP NonStop™ servers at the European ITUG in Brighton, England. TSI will also have live demos of the industry-leading next generation virtual tape library solution, ViTAL
™.
ViT
AL
has won rave reviews for its state-of-the-art GUI and user friendliness as well as its unique functionality including its capability to operate in a totally lights-out NonStop customer environment. TSI will also exhibit the only FIPS 140-2 Level 3 certified data-at-rest encryption solution available for NonStop customers for both virtual and physical tape drives.
Please stop by stand 15-17 at the 2007 European ITUG show in Brighton, England from October 8-11.
For additional information on TSI solutions, you may also contact
Jim Elliott for EMEA at
jelliott@tributary.com
or +44 7753 806603
Axel Hahn for Germany at axel-a-hahn@t-online.de or +49 (0) 172 670 3753
and
Larry Meyers for the U.S. at lmeyers@tributary.com or +1 817-354-8009.
---
Recycle Bin for HP NonStop Servers
The OPTA-Recycle Bin from TANDsoft, provides a safety net when deleting files.
When you delete files from your disk, OPTA-Recycle Bin automatically places it in a Recycle Bin and it remains there until you decide to permanently delete it from your computer.
The files in the Recycle Bin still take up disk space and can be undeleted or restored back to their original location.
When the Recycle Bin fills up, OPTA automatically cleans out enough space to accommodate the most recently deleted files.
OPTA-Recycle Bin allocates one Recycle Bin for each disk and you can specify a different size for each Recycle Bin.
Additionally, the files in the Recycle Bin can be compressed.
With OPTA-Recycle bin, no application source code changes are required and all Native and Non-Native programming languages are supported.
Find out more at http://www.tandsoft.com/Products.html
If you need any additional information, please contact me.
TANDsoft
Tandem Interception & Availability Solutions
Tel: +1 (514) 695-2234
---
Crossroads Systems Inc. at ETUG 2007
Crossroads Systems Inc. (CRDS) announces that Virtual TapeServer (VTS) for HP NonStop™ Servers will be demonstrated in HP's booth at the European ITUG event October 8-10, 2007 in Brighton, England.
VTS is the leading virtual backup and recovery solution for NonStop K-Series, S-Series, and NS-Series servers worldwide as well as for concurrent attachment to open systems and Unisys ClearPath ™ platforms.
VTS' leading interoperability allows seamless integration with leading tape drives and libraries, SAN-based disk storage, and backup management applications such as HP DataProtector ™, Tivoli Storage Manager™, Symantec Veritas NetBackup ™, and Legato Networker™ among others.
Crossroads will be attending the event in support of HP and will be sharing display space with Brightstrand International and Twinsoft AG.
Crossroads will also be announcing TapeSentry, a 4-port tape encryption appliance and key management system for NonStop Servers that supports both VTS and physical tape backup environments.
For More information please Contact Jim Miller or Kevin Poultney of BrightStrand International
---
Marshall Resources September 2007 / Second User Disk
We will continue our series of articles about the Second User Market with an update on the state of Hard Disk availability. This continues to be one of the most dynamic elements within our market as Disk Drives continue to be in high demand.
The market in 2007 remained very tight with minimal supply of most disk types. 4619 (18GB 10K RPM) disk drives are available in an abundant supply and represent the good value and performance. Both 4636 (36GB 7200 RPM) and 4637 (36GB 10K RPM) disk are currently available second user with pricing remaining stable and low. Marshall Resources also just acquired a fair amount of 4672 (72 GB 15K RPM) Hard Disk, but expect these drives to sell quickly. In general, the 72 GB and 144 GB S Series Disk are the highest in demand and hardest to supply in any quantity. Expect prices to remain high on these products.
One key factor affecting the supply of Hard Disk is the sensitivity of customer data remaining on these drives. Marshall Resources has always removed customer data during our refurbishing process, but many sellers of disk now require that data be removed by a recognized and certified data clearing process. This has and will drastically affect the availability of disk in the second user market. Marshall Resources has introduced a hard disk data deletion solution which also meets federal guidelines for disk cleaning. Please feel free to call for more information on this service.
At Marshall Resources, we strive to provide the highest quality service with the highest quality equipment. Our repeat customers are our greatest compliment. Please visit our website at www.marshallresources.com for our company information, and find a sales representative in your area to assist you. We can always be reached at 800-443-0128, or by e-mail. We are looking forward to working with you.
---
ITUG News
ITUG Europe 2007 Hosts First Ever Executive Finance Forum
Join us at ITUG Europe 2007, to be held 8-10 October in Brighton, England (UK).
ITUG Europe 2007 is proud to host the first ever Executive Finance Forum 2007 – Banking on the Global Electronic Society on Tuesday, 9 October. Presented in collaboration with HP and the ifs School of Finance, this event is designed for senior business professionals from financial service providers, including banks, building societies, insurance and investment companies, and their service providers.
Please encourage a colleague of yours in the financial industry to attend the Executive Finance Forum 2007 to hear experienced analysts and finance sector practitioners outline innovative insights in four key areas:
Who is my customer? Building collective knowledge and federated trust

Channels for ever closer connectivity and 24/7 mobile collaboration

Faster payments without e-fraud, in a world of rising, industrialized e-crime

Controlling risk to reap greater rewards.
Continue to check the ITUG Europe 2007 Web site for the latest updates!
---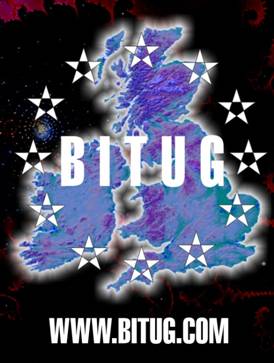 ITUG Europe 2007 and Executive Finance Forum 2007
Golf Tournament – Sponsored by BITUG
Interested in further expanding your NonStop or financial network base ? Or just fancy a game of golf ? Join your colleagues for a golf outing at West Hove Golf Club on Monday, 8 October to complement your visit to this years European ITUG event - UK.
Two separate golf competitions are scheduled:
ITUG Europe 2007 Attendees – 9 Hole competition
Monday, 8 October
08:00
Executive Finance Forum 2007 – 18 Hole competition
Monday, 8 October
13:00
Highlights and General Information:
Overall winner

Runner up

Longest drive

Nearest the pin
In addition there will be a "Special" prize – Golf jacket sponsored by this years Captain David Ross (Network Technologies International)

The competition will follow Stableford rules (2 points for a par, etc.), and golfers must indicate their handicaps.

Transport to the course if you do not have a car, will be provided (approx cost £5).

Cost for entry is £30 – includes golf, Bacon Sandwich, Coffee and post round lunch / meal. Entry fee will be collected on the day by the Golf Captain.
If you would like to participate, express your interest when registering for ITUG Europe 2007 or the Executive Finance Forum. If you have already registered, send an email to europeconference@itug.org. Or, contact Darren Coffey direct by replying to this e-mail.
Kind regards,
Darren Coffey
BITUG Chairman 2007
---
BITUG
28 November 2007 DR / Business Continuity SIG & BITUG AGM
More information can be found at www.bitug.com
---
CTUG
CTUG is pleased to announce our
Fall Conference
which will be held on October 30
th
with a Training Day on October 31
st
, 2007. The Conference and Education Session will take place at the Holiday Inn, 370 King Street West, Toronto, Ontario.
The theme for the Conference this year will be "SOA and HP NonStop". Our keynote speaker will be Marty Edelman, Director of the Advanced Technology Group, for The Home Depot. Come hear Marty's in-depth presentation on the toolkits used to implement the SOA at The Home Depot.
For an update on what's coming for HP NonStop, Randy Meyer, Director, Product Management, NED will be available to give us the latest news. We are in the process of confirming other speakers which you will hear about in the weeks to come.
In addition to a keynote speaker and presentations related to our theme, we will also have vendor tracks and a trade show area. A separate email will follow with details regarding registration, vendor tracks, etc.
Register now!
---
FINTUG
This annual event will be on 12th - 14th November 2007 and will be held in collaboration with VNUG.
Please consult VNUG below for further information.
---
SUNTUG
Suntug will host a training day on 16 November at Raymond James Financial in Saint Petersburgh, Flordia. The topic will be Quick NonStop NS-Series Server Ops & Mgmt for S-Series Operations Users.
Please email Suntug to register.
---
GTUG
Will be holding an event on 21st and 22nd. November 2007 at the Hotel Steigenberger, Dortmund statt.
Further information can be found shortly at www.gtug.de
---
INUG
The Fall 2007 Meeting will be held on 11 October and will include presentations from Idelji, Stonebranch and HP.
More information at http://www.itug.org/resources/chapters/manager/chapter.cfm?cid=62
---
MRTUG
MRTUG will host a training day on 14 November at the HP Offices in Downers Grove, Illinois. The topic will be Introduction to OSS Programming Fundamentals for NonStop Servers. Please email MRTUG to register
---
NENUG
Fall Meeting - October 18th
Presentations From:
USA-Hero
Paymentech
Cail
Network Technologies
TANDsoft
Location:
HP Offices
165 Dascomb Rd, Andover, MA
Directions

Click here to RSVP
---
N2TUG
N2TUG will host a training day on 2 November at the HP Offices in Richardson, Texas. The topic will be Introduction to Web Services for NonStop Server. Please email N2TUG to register
---
VNUG

VNUG is planning their annual meeting for 7 - 8 November 2007. The event will take place on a cruise on the Baltic Sea between Stockholm and Helsinki. More information at www.vnug.biz
The time has come for the annual VNUG Event, this year in collaboration with our Finnish friends in FINTUG.
The conference venue this year is the Baltic Sea and we welcome you onboard the cruise ship Silja Serenad. VNUG members join the cruise from Stockholm on November 12, returning to Stockholm November 14. For details, see agenda below.
FINTUG members join the cruise from Helsinki on November 13, returning to Helsinki November 14. Partners have the option to join in Stockholm or in Helsinki.
As usual, the program includes HP and Partners to HP presentations as well as user presentations. Due to limited space on the cruise ship, HP and Partner exhibitions will be very limited.
For practical reasons, the annual VNUG Golf tournament and education sessions are postponed to future events.
VNUG members please register by sending a mail to dick.engstrand@sca.amadeus.com.
---