Tandemworld Newsletter for September 2006
---
Contents
Gravic, Inc. Awarded Two New Patents
Easy Web Migration for Pathway applications
NSB Live on BASE24-es Payments Solution
CAIL extends Partner Solution capabilities
Sungard Securities Finance to present Case Study at 2006 ITUG Summit
Insider Technologies brings RTLX REACTOR
for BASE24 to Las Vegas plus much tighter OSS Monitoring
Audit Profit launch New Web Browser
Marshall Resources - September 2006 / Non-Stop Equipment Prices Increase
TSI's VITAL(tm), a Virtual Tape Solution, Achieves Short List of Tape Experts;
TSI Expands its Tape Encryption Product line
David Ross Joins the NTI Team
Would you like an iPod or an Xbox 360?
NTI would like to give you one!
TandemWorld Seeks
ITUG Summit 2006 will take place 15-18 October in San Jose, California
Employment
---
Gravic, Inc. Awarded Two New Patents
Paul J. Holenstein, Executive Vice President at Shadowbase creator Gravic, Inc., is pleased to announce that Gravic Labs has been awarded two additional US patents into its portfolio. The first patent issued on September 5th and is entitled "Collision Avoidance in Database Replication Systems," US Patent No. 7,103,586. Collision avoidance is a keystone technology needed for viable active/active, update-anywhere distributed systems. The inventors, Dr. Bruce Holenstein, Paul J. Holenstein, and Gary E. Strickler, figured out how to make collision avoidance in a synchronous database replication system work without the usual penalties of poor system performance and high latency. The technology is currently being fitted into Gravic's Shadowbase data replication software, a product which operates on HP NonStop, Unix, Linux, Windows, and other platforms running various databases including Oracle, Sybase, SQL Server, and SQL/MP.
Gravic Labs second new patent, entitled "Method of Increasing System Availability by Splitting Systems," US Patent No. 7,113,938, was issued on September 26th. The inventors of the second patent are Dr. Bill Highleyman, Paul J. Holenstein, and Dr. Bruce Holenstein. Splitting systems to increase availability is discussed at length in the inventors' book, "Breaking the Availability Barrier: Survivable Systems for Enterprise Computing," available through Amazon and Barnes and Noble.
The new patents extend Gravic's key portfolio of data replication patents, which began with the Strickler, et al. patent, No. 6,122,630, enabling homogeneous and heterogeneous Bi-Directional database replication between distributed computing systems. To download a free whitepaper on Shadowbase's active/active technology please visit http://www.gravic.com/active.
Gravic, Inc
+1.610.647.6250
---
Easy Web Migration for Pathway applications
With Data Service's Web Migration Service and Pathway iTS you can move fast forward your web migration plans. Data Service has the experience not only to convert your SCOBOLX Requestors to HTML and Java but has the knowledge to go a step further. With their own developed and customized tools Data Service integrates all you need for having a real good looking web application. Data Service imports your corporate web design to your Pathway Application, adds frames like a tree view for easy and fast navigation, changes functions keys into well design buttons, adds combo boxes, radio buttons, colours, backgrounds, graphics and what ever you'll expect from state-of-the-art web applications. But the ultimate highlight of Data Service's Web Migration Service is that you can keep all your Pathway Servers as well as the well known benefits from your old application, such as userconversions, "must be"- clauses, shadow bytes and the "when full tab" attribute. In addition to that you will still be able to use function keys or have a required sequence of several dependent screens.
Data Service's Web Migration Service and Pathway iTS is the only way to migrate to a modern web environment with standards as Java and HTML within a short time at clear costs. After having finished a web migration project, your own stuff is enabled to maintain and develop your Web application on their own.
For additional information please contact:
Data Service GmbH & Co KG, Pettenkoferstr. 19, 58097 Hagen, Germany
Michael Stiene, phone 49 2331 8000 113, eMail michael.stiene@dataserv.de
---
NSB Live on BASE24-es Payments Solution
Advanced Payments Software to Enable ATM and Expanded Services for 14 Million Bank Customers in Sri Lanka

(Omaha, Neb. - 24 August 2006) - ACI Worldwide (NASDAQ: TSAI), a leading international provider of enterprise payment solutions, today announced that National Savings Bank of Sri Lanka (NSB) is using ACI's BASE24-es(r) payments software to provide ATM service for its 14-million-plus account holders and enable its ATM network and banking services country-wide. With BASE24-es, NSB now has a full range of functionality to support ATM transactions in traditional and emerging delivery channels.

One of the leading financial institutions in Sri Lanka, NSB selected BASE24-es to facilitate the integration of its existing ATMs and branches to its network and main office. The first of its kind on the island, the BASE24-es solution provides NSB with advanced authorization and routing capabilities and support for international payments to deliver state-of-the-art services to bank customers. The implementation will involve the addition of 75 ATMs to the bank's ATM network by the end of the year, enhancing the efficiency, convenience and flexibility of services for customers throughout NSB's territory.

"BASE24-es is at the heart of our integrated ATM network solution and plays a key role in our modernization effort at NSB," said Eastman Narangoda, CEO and general manager, NSB. "Central to that effort is the need to honor our commitment to meet customer expectations with new banking offerings at the same time we maintain quality customer service. We are pleased to have worked with ACI Worldwide to implement the 'anytime-anywhere' banking services to meet these goals."

BASE24-es supports a broad range of transaction functionality, from traditional transactions such as debit and credit at the ATM or POS as well as advanced consumer banking features such as Internet transactions and mobile commerce. NSB selected BASE24-es to support its immediate need to transform its ATM and branch network, enable its transaction infrastructure for future growth, and execute on its long-term drive to transform its business using technology.

"ACI is pleased that NSB has implemented BASE24-es as the key to its integrated ATM network and banking services," said Don McLarty, president of ACI Worldwide Asia Pacific. "We continue to see growth in electronic payments globally and especially within the Asia Pacific region. ACI is pleased to have worked with our local partners BC Computers Limited and Financial Software and Systems to help NSB modernize its payments infrastructure. We are confident that BASE24-es will provide a reliable, flexible and scalable platform to support NSB's aggressive growth plans."

About National Savings Bank of Sri Lanka
The National Savings Bank of Sri Lanka is the largest saving bank in Sri Lanka with over 100 Branches and other savings outlets across the country. It has over Rs.160 Billion (US $1,600 Million) in assets and over 12 million savings accounts.

About ACI Worldwide
Every second of every day, ACI solutions are at work processing electronic payments, managing risk, automating back office systems and providing application infrastructure services. Founded in 1975, ACI is a leading international provider of solutions for consumer and wholesale banking, retail and cross-industry systems. ACI serves nearly 800 customers in 83 countries including many of the world's largest financial institutions, retailers and payment processors. Visit ACI Worldwide on the Internet at www.aciworldwide.com.

Any statements in this press release regarding projected results are preliminary and "forward-looking statements" within the meaning of the Private Securities Litigation Reform Act of 1995. In addition, this press release may contain other forward-looking statements including statements regarding Transaction Systems Architects, Inc.'s ("TSA"), its subsidiaries or third parties' expectations, predictions, views, opportunities, plans, strategies, beliefs, and statements of similar effect. The forward-looking statements in this press release are subject to a variety of risks and uncertainties. Actual results could differ materially.

For a detailed discussion of these and other risk factors, interested parties should review the Company's filings with the Securities and Exchange Commission, including the Company's Form 10-K filed on December 14, 2005, the Company's Form 10Q filed on February 9, 2006, the Company's Form 10Q filed on May 10, 2006, and the Company's Form 10Q filed on August 9, 2006.

For more information contact:

Jim Maxwell
ACI Worldwide
402.390.8906
maxwellj@aciworldwide.com
---
CAIL extends Partner Solution capabilities
CAIL / Partner initiatives are designed to simplify systems, enhance user productivity, increase the value of information services, improve system security, make it easier for technical personnel to evolve information services, minimize support demands, and reduce costs.
For NonStop based information services - Web ViewPoint, TheView, MOMI, Greenhouse, etc. products have been extended with CAIL. To obtain more information on improving NonStop connectivity, security and manageability, go to:
Web ViewPoint = www.hp.com or www.idelji.com
TheView = www.cail.com/theview or www.riverrocksoftware.com
MOMI = www.blackwood-systems.com
MyLogin / MyTerm = www.greenhouse.de
From an enterprise perspective, CAIL is integrated into EXTRA! (from Attachmate) to provide a single solution to access all Host based applications. This strategy enables organizations to have a standard for connectivity and security across the enterprise plus be better positioned to support SOA / Web Services initiatives. For insights on the benefits with an "Enterprise Connectivity Solution", go to www.cail.com/cabenefits and www.attachmate.com
For an overview of CAIL Connectivity Solutions, go to www.cail.com/adapt or send a message to info@cail.com
---
Sungard Securities Finance to present Case Study at 2006 ITUG Summit
Tape Laboratories (Tapelabs) announced today that Mr. Brian daSilva, Technical Analyst at SunGard Securities Finance (formerly Loanet), will present "Implementing a Fault Tolerant Data Protection System with Minimal Effort" on Tuesday, Tuesday October 17, 2006 at 11:30 AM during the 2006 ITUG Summit. The session number is MEA-3-U which will be held at the San Jose Convention Center, Room 4
SunGard Securities Finance (SSF) is the preeminent Application Service Provider (ASP) to the Securities Lending industry. SSF provides a vertical market ASP solution that delivers real-time integrated accounting, operations, and settlement services in support of the Securities Lending industry.
SSF has two distinct data centers, each with demanding backup requirements and tight time constraints. SSF was using ten 5190 series tape drives and over 10,000 data cartridges, consuming many operational man hours. SSF needed a faster, more reliable solution that could be remotely managed.
SSF looked to HP's Virtual TapeServer solution to assist in achieving its goals. After a speedy, effortless migration, they have been running the VTS system at both data centers without any issues, eliminating the need to have personnel at the remote site, where the development and Hot Site systems reside. They also customized their system to further automate various data protection activities.
Following VTS Implementation, SSF realized the following benefits:
Operational support time reduced by 98%.

Backup times reduced 50 – 75%.

Restores time 75% faster.

Daily physical tape reduction from 100 to 1.

TMF dumps (online and audit) became a 100% automated process with no manual intervention.

Elimination of personnel at remote DR/Hot Site location.
This presentation will highlight SSF's success with HP's Virtual TapeServer, and will provide information on how to adopt VTS technology in an effective, effortless manner. The following key points will be reviewed:
Providing fault tolerance in the VTS solution (including using RAID and the Global File System within a multi-server configuration)

Pre-implementation considerations (racks, tape libraries, etc…).

Eliminating the need for tape management personnel at a Hot Site environment.

Eliminating the hassle of utilizing tape for TMF audit trails and on-line dumps.

Eliminating the need for a large Tape Library and associated costs.

Freeing up costly CPU cycles by dramatically reducing backup and restore times.
Biography
Brian daSilva has been working with HP NonStop Servers for nine years, originally working for SunGard Brokerage Systems. He has held various roles from Technical support to Systems Analyst. Brian has been working with Virtual Tape Server for over three years and has implemented VTS solutions in numerous locations.
For More information please contact Tapelabs via www.tapelabs.com

---
Insider Technologies brings RTLX REACTOR
for BASE24 to Las Vegas plus much tighter OSS Monitoring
A big thank you for all those who attended the ACE conference in Las Vegas and visited us on our RTLX booth for a demonstration.
Insider's RTLX product is a whole new extension to the BASE24 engine, containing a uniquely fast method of streaming data off your BASE24 host onto a dedicated Reaction Server, running Microsoft Windows SQL Server.
Based on Insider's proven and successful SENTRA architecture, RTLX lets you probe and analyze the real-time flow of your business data by setting Rules and Triggers via point and click techniques.
Alerts can be activated for any rule combination, e.g. "Alert me if an account has activated multiple transactions within a short time-period"; "Show me the next time any cards within this range are used in this / these locations"; "Alert me if an interchange switch has not been heard from or a group of key ATMs have not seen any transactions inside N minutes".
Rules are processed against data on arrival, ensuring ultra-high performance of the data-driven environment and removing overheads from your BASE24 host. Since all the (P)TLF data is relayed to a relational database, any of the columns can be used as a key for querying offering considerably more power than existing green-screen approaches.
Various reporting tools are supplied with RTLX, including drill-down graphical output and a dynamic Management Information reporting subsystem. Service Rules are also provided which trigger visual, SMS, Pager, or e-mail alerts, incorporating certified support for major Enterprise Management regimes.
Please visit our website to obtain the following product documentation, or to request copies of the 'Flash' demonstrations:
White Paper
Datasheet
Insider's RTLX product link: http://www.insidertech.co.uk/html/messaging_rtlx.html
The Missing OSS Events and how to get the same Operational Event Richness as Native Guardian provides
ITL provide a Gateway product to enable OSS events to be fully parsed and relayed directly to your own current viewing consoles or mapped to drill-down graphical objects in the Reflex 80:20 product.
Insider Technologies presented at the last BITUG Special Interest Group approaches to OSS monitoring. This PowerPoint presentation is available at the following link:
http://www.bitug.com/downloads.php?cat_id=19
For more information on OSS monitoring contact
support@insidertech.co.uk
Insider Technologies Limited, Spinnaker Court, Chandlers Point, 37 Broadway, Salford Quays, Manchester, M50 2YR, United Kingdom. Tel: +44 (0) 161 876 6606. www.insidertech.co.uk Quality Certified to ISO9001 / 2000 (DNV). All Trademarks acknowledged.
---
Audit Profit launch New Web Browser
There is a new, Web Browser based graphical user interface to Tandem files. It is very user- friendly and you need nothing more than a Web browser to use it. It uses the same technology as STEFI, that was introduced in an earlier Newsletter by Audit-Profit Ltd.
You got a window to your Tandem data and can easily browse your Enscribe/Sql/Tedit files. You can define and use filters not only for SQL tables but also for Enscribe files. The record structure definitions are automaticly recognized for SQL tables and there is an easy way to define structures for Enscribe files (there are lots of such structures for BASE24 files in the package). You can use all the predefined primary and alternate keys for Enscribe files (primary keys can also used for SQL tables).
Those who use Stefi, will get soon familiar with this solution as it offers the same functions but without the need to install a client software on the PC.
Is is free for personal use, just as Stefi is.
---
Marshall Resources - September 2006 / Non-Stop Equipment Prices Increase
In my 18 years of experience in the Second User Tandem Hardware business, and in the 21 year history of Marshall Resources, I do not recall a period of time when overall shortages in supply resulted in price increases. Well, times have changed, and our industry is entering a period where supply will dictate prices.
Demand for much of the S Series product remains high. Currently, HP is aggressively pricing their trade-in values for S Series systems, as customers consider migrating to Integrity. With only the newest CPUs and Disk available from HP, many Non-Stop customers are pursuing products from the second user market. The supply for S86000 and older CPUs, as well as any Disks older than 144 GB Disk, is now only available from the second user market. As HP buys much of this back in trade, supply continues to decline. Since the new EU regulations restrict the sale of products with HAZMAT content, HP is reluctant to sell these products as re-manufactured. All of these pressures are promoting the limited supply, and the high demand.
Marshall Resources will continue to aggressively pursue equipment purchases. Our pricing to buy hardware will need to increase in the face of competition from HP's trade-in values. This is good news for S Series customers, who will benefit from higher prices as they sell their de-commissioned machines. Conversely, this is a difficult time for second and third tier customers who rely on this second user market to maintain their investment in slightly older systems.
As always, please call Marshall Resources if you are selling any of your hardware.
At Marshall Resources, we strive to provide the highest quality service with the highest quality equipment. Our repeat customers are our greatest compliment. Please visit our website at www.marshallresources.com for our company information, and find a sales representative in your area to assist you. We can always be reached at 800-443-0128, or by e-mail. We are looking forward to working with you.
---
TSI's VITAL(tm), a Virtual Tape Solution, Achieves Short List of Tape Experts;
TSI Expands its Tape Encryption Product line
The VITAL solution from Tributary Systems, Inc. (TSI) achieved a second place ranking, behind EMC, and received the 'Short List' recommendation from independent tape storage experts Diogenes Analytical Laboratories. The ranking resulted from hands-on testing by Diogenes, which included thirteen leading virtual tape library (VTL) products. Partnered with Gresham Enterprise Storage, TSI has brought industry-leading features to the NonStop™ platform and the open systems world. A summary chart is presented here, with the full report on VITAL available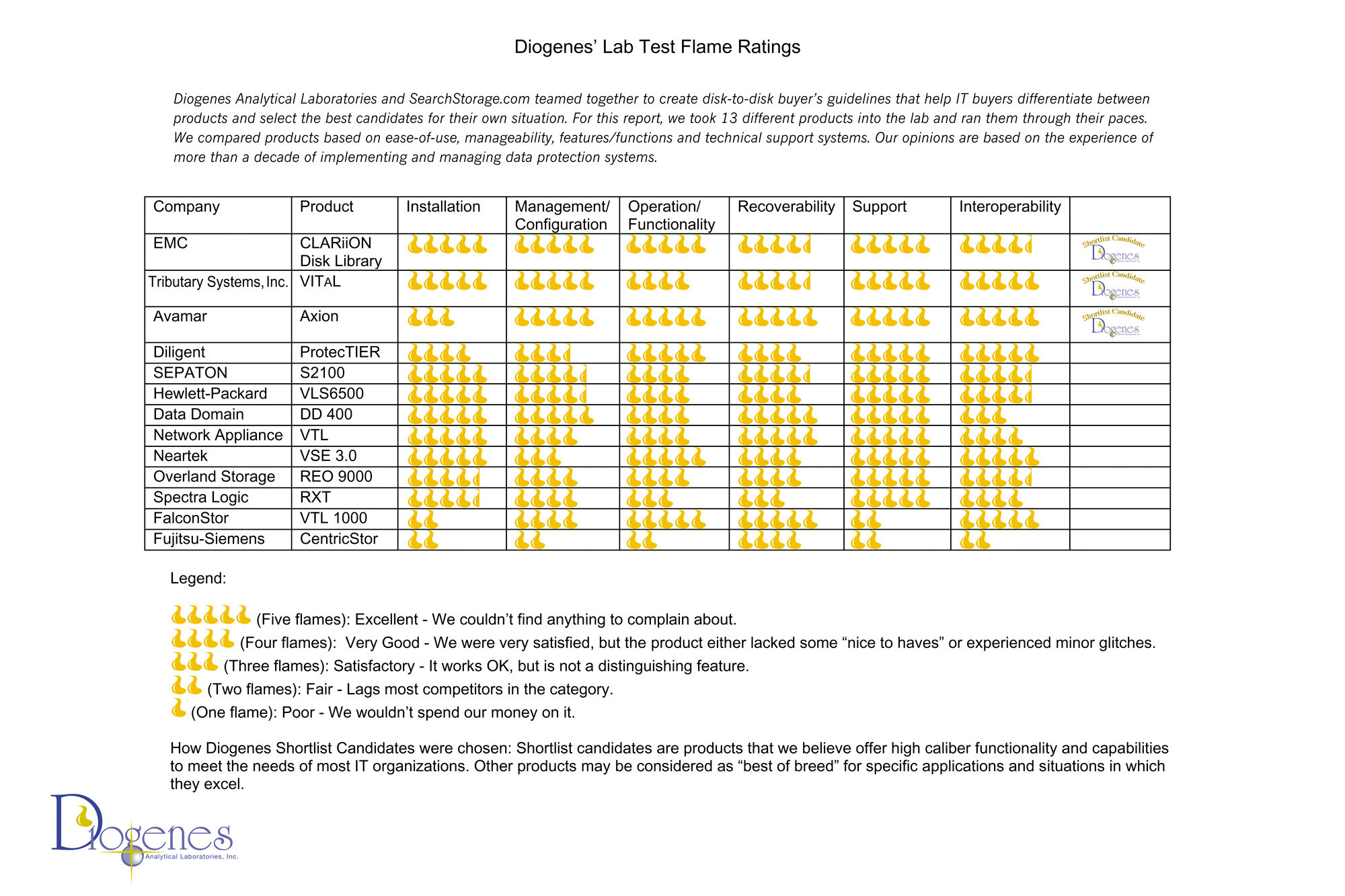 from TSI's web site at http://www.tributary.com/diogenes/Diogenes Report.pdf.
Additionally, TSI has expanded its FIPS 140-2 Level 3 certified tape encryption product portfolio with the addition of the dual ported TE2000 SCSI and the four ported TE2200 FC tape encryption appliances to the existing dual ported TE2000 FC appliance. For additional information on VITAL, the TE2000 tape encryption products, or any other tape product requirements, contact Larry Meyers at (817) 354 8009, ext. 32 or lmeyers@tributary.com; and Jim Elliott at +44 7753 806603 or jelliott@tributary.com.
---
David Ross Joins the NTI Team
Network Technologies International (www.network-tech.com) is pleased to announce that David Ross has joined us as Account Executive covering the United Kingdom and Europe. For those in the NonStop community, you may remember David from his long career with the Tandem group in the UK.
David's long history with Tandem combined with his business and technical background made him an excellent choice to lead our business expansion. We are happy to have David join our team.
David can be contacted at:
+44 (0) 7799-673582
---
Would you like an iPod or an Xbox 360?
NTI would like to give you one!
Are you going to ITUG next week?
We hope to see you there, but if you can't make it we wouldn't want you to miss out on the fun. NTI will be giving away iPOD's and Xbox 360's every couple of hours while the Exhibit floor is open.
You can grab 3 tickets for the raffle by visiting the web and entering the contest.
Visit us at the Exhibit floor and pick up 2 more tickets.
Grab a winning ticket at www.network-tech.com
You don't have to be present to win. We will post the winners on our website following the conference.
All User's and HP employees are eligible to enter. Sorry, but vendors are excluded.
---
TandemWorld Seeks
Tandemworld is looking to purchase 4 x S7600 processors (ideally 1GB).
The processors must have been on HP maintenance until they were de-installed and the seller must be able to produce documentary proof of this. The seller should state the date the equipment will become available as well as the location of the equipment or offer a price that includes shipment to a European location.
Please send any offers to info@tandemworld.net by 6th October, 2006.
---
ITUG Summit 2006 will take place 15-18 October in San Jose, California.
Event highlights include:
· A NEW conference format focused on two key areas of interest: Business Application Solutions and Infrastructure Solutions
· Your choice of technical sessions presented by HP developers, managers, and product engineers; experienced NonStop users; and third-party vendors.
· Hear from featured speakers:
Shane Robison, HP's Executive Vice President and Chief Strategy and Technology Officer
Craig Wagner, Director, NonStop Marketing NonStop Enterprise Division
Randy Meyer, NonStop Product Management, Strategy & Technology NonStop Enterprise Division
Pre-Conference Seminars
HP NonStop Systems Certification
Exhibition: Products and Solutions Showcase
Networking Opportunities:
o ITUG Summit Welcome Reception in the Exhibition Hall
o Customer-to-Developer Chat Rooms
o ITUG Summit Closing Reception
o Special Interest Groups
o Networking Centers
Visit http://summit06.itug.org for detailed information on technical sessions, featured speakers, and more, including discounted registration packaging for the ITUG Summit and HP Technology Forum.
The two Regional User Groups that send the largest number of attendees will receive credits from ITUG toward food and beverage or attendee giveaways at their next meeting.

---
For More on Employment in EMEA Go Here
For More on Positions in the Americas Go Here (to advertise your positions here please contact us)
---
Looking for a Solution or an answer to a particular problem ASK Tandemworld. We will contact the vendors for you and find a suitable solution that meets for current and future needs.
---