Tandemworld Newsletter for November 2007
---
Contents
Out with the OLD, and in with the OPEN
Who Guards the Guardian?
Crossroads Systems Inc. announces a new, higher performance Virtual TapeServer (VTS)
eBOSS
SPECTRA
Tributary Systems Inc. and NSK Solutions Ltd
PROGNOSIS Non-Event Monitor
E-payments processor Swedbank BABS implements GoldenGate software
Ross Systems International Releases FINFO Version 2.0
November 2007 / Financial Strategy for Trade-In and Migration to Non-Stop Integrity
Availability Digest Reviews Danger of Single Point of Failure
Not the Tandem City Lunch
Tandemworld
ITUG News
Charity Event
Employment
---
Out with the OLD, and in with the OPEN
A couple of weeks ago I was speaking at the New England NonStop Users Group. Jon Healey invited me to speak about the changing Disaster Recovery landscape in the NonStop world. I began with a quick survey. I was looking for a User that had been around longer than me. I began coding TAL on the Tandem way back in 1979. I was one of the developers who helped create the Base24 product line. The closest I could find was a couple of folks who had been around since 1980.
None of us "old guard" are developers anymore. Most of us are retiring or have moved into new business responsibilities. I am slowly learning to stop saying Tandem and start saying NonStop. The new kids are coming along and using cool new technology on the NonStop. They have never seen a line of TAL code.
At the same conference I heard Sam Ayers speak. Sam works for Paymentech and leads the NonStop community charge for JAVA on NonStop. Sam is a very smart guy and a lot of fun to hear speak. I heard Sam talk about a recent project where they deployed a JAVA program that accessed both Enscribe and Oracle data for a business function. WOW. JAVA on the NonStop! Accessing Oracle from NonStop! What a contrast. New and old technology merging to solve business problems.
Even the smart Engineers at NTI are jumping aboard the OPEN ship. NTI just introduced our OPEN extension to DRNet. DRNet/OPEN is our JAVA extension to our successful DRNet product line. As DRNet captures your transactional data on NonStop, DRNet/OPEN will pipe those IO feeds onto any JAVA supported platform, and load your data into over 50 different databases.
1. Real-Time.

2. Completely platform independent.

3. Lightning Fast.

4. Flexible data transformations.

5. Mirror your NonStop transactions onto the enterprise.
I may be feeling old, but this cool new technology is a lot of fun to work with. I think I will hang around for a few more years.
James McFadden
Director of Business Development
Network Technologies International - Proven data protection
Mobile: +1 (402) 968-3674
Office: +1 (614) 794-6000
Email: Jim.McFadden@Network-Tech.com
---
Who Guards the Guardian?
Security procedures and often audit requirements state that privileged passwords are retained securely until required. Typically this requirement is for exceptional circumstances and often at short notice. BrightStrand International has developed a NonStop™ utility SIMPLE to make management of privileged user ids simpler. This utility removes the need for any person other than the one logging onto the sensitive user id to know the password for that user id and allows the security departments of organisations to manage these passwords without knowing any technical details or to have experience on the NonStop™ Servers.
Key features :
§ Single use passwords generated as required
§
Controlled password usage
§
Full audit to include password requests, usage and illegal events
§
Auto timeout of passwords if not used
§
8 character random alphanumeric password generation obeying (optional) password quality rules.
§
Compatible with Safeguard and all major third party NonStop™ security products
For more details or request a free trial visit http://www.brightstrand.com/simple.html
Or contact BrightStrand International
Tel : +44 [0]141 204 4046
E-mail : info@brightstrand.com
---
Crossroads Systems Inc. announces a new, higher performance VTS
Crossroads Systems Inc. announces a new, higher performance Virtual TapeServer (VTS) subsystem for HP NonStop™ Servers.
Crossroads newest VTS model employs dual-core processors for increased workload capacity and performance, further increasing it's market acceptance as the leading virtual backup and recovery solution for HP NonStop K-Series, S-Series and NS-Series servers worldwide as well as for concurrent attachment to open systems and Unisys ClearPath ™ platforms.
VTS' leading interoperability allows seamless integration with leading tape drives and libraries, SAN-based disk storage and backup management applications such as HP DataProtector ™, Tivoli Storage Manager™, Symantec Veritas NetBackup ™ and Legato Networker™ among others.
The new dual-core VTS systems mark the third generation of Virtual TapeServer products and positions VTS for the soon-to-be-shipping VTS-based tape and disk encryption solution.
For More information please contact Jim Miller of Crossroads or Kevin Poultney of BrightStrand International.
---
eBOSS
Enterprise Single Sign-On
General Overview
+ Enterprise-Wide Access Management
+ Centralized Security Administration
+ Certificate-Based Authentication
+ Login Automation (Single Sign On)
+ Simple Synchronization
+ Security
+ Robust Audit trails
+ Forces Strong Passwords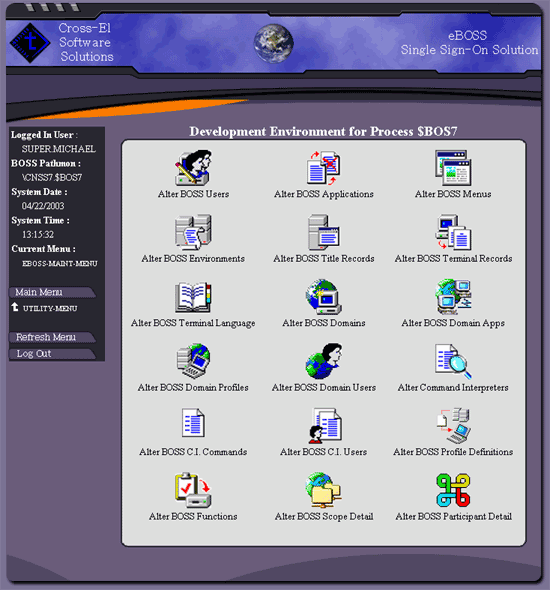 The Enterprise Desktop
eBOSS provides the user secure access via a user desktop from any location to his working environment through a web-browser. It is a Secure Single Sign On (SSO) system – the user only has to sign on once and is then presented with a main menu of applications available to the user. These applications can reside on disparate platforms.
There is context checking, certificate-based authentication and
authorization and it provides the security people and auditors that can be used for reporting, billing or even intrusion prevention. From a security standpoint -- eBOSS allows the ability to determine WHO is on your system and WHAT they are doing.
You can also determine or actually dictate what they can and cannot do in certain applications, TACL macros, Obey Files and Systems Utilities (SCF, FUP, SQLCI, etc.).
Recent Enhancements / Futures
LDAP Support
SOAP Support
SQL TMF Protected Logs
Enhanced BOSSCOM for Initial DB Loads
With the NSK as the cornerstone, eBOSS allows secure access to the corporate network through the use of a web browser. It supports secure access to various applications running on disparate platforms including, but not limited to: Microsoft N/T, UNIX, Sun/Solaris, Linux, etc. It is a pure heterogeneous secure Single Sign On system.
For additional product information or a trial copy, please visit www.usahero.com
eBOSS is developed by Cross-El Software Solutions.
Unlimited Software Associates, Inc.
318 East King Street Malvern, PA 19355 USA
T-US+610-296-2633 F-US+610-296-0511
sales@usahero.com
Security & Operational Solutions for HP NSK users since 1985.
™ 2007 Unlimited Software Associates, Inc.. BOSS and eBOSS are trademarks of Cross-El Software Solutions. All other product names mentioned herein may be trademarks of their respective companies. Ver.EBS5154-06-07
---
SPECTRA
By way of background; since 1982…
SPECTRA
is an international dealer that trades "
globally"
in commercial use, Enterprise level, mainframe/midrange servers, disk/tape storage and network equipment.
In our over 25 years in business, we have many customer relationships with companies utilizing Tandem NonStop Systems; many of which have migrated to… or are migrating to… the new NonStop Itanium series. However; much of our NonStop customer base has not yet opted for the new Itanium and in fact, require system upgrades and peripherals from the now legacy, NonStop S88000s, S86000s, S7800's, S7600's and the like.
That said, should you have any of this equipment available for sale, now or in the future, we ask that you contact us at your convenience, such that we may organize a generous purchase offer.
Further, we also trade in premium, "
best of breed
" major brands as…
IBM
Mainframe, midrange servers, storage, tape libraries and peripherals
EMC
Symmetrix and Clariion high availability disk arrays
SUN/StorageTek
Tape drives and Tape Libraries
SUN Microsystems
Servers, Storage, Tape Libraries and peripherals
NetApp
High availability disk arrays
Hewlett-Packard Servers, Storage, Tape Libraries and peripherals
HP/
Compaq
/
Tandem
Fault tolerant Servers, Storage and peripherals
Hitachi
High availability disk arrays
Stratus
Fault tolerant Servers, Storage and peripherals
Xerox
High Performance/high production, Color and Black/White Printers
Network:
Cisco, Juniper, Foundry
and
extreme
In closing, should you have any questions, please feel free to call or email. Otherwise; we thank you for your time, your consideration, your interest in
SPECTRA
, and look forward to future opportunities to do business with you.
All the Best!
Johnny Tourino, VP
SPECTRA
4420 East Miraloma Ave, Suite M
Anaheim, CA 92807
(800) 745-1233, x-309
(714) 970-7000, x-309
(714) 970-7095, Fax
---
Tributary Systems Inc. and NSK Solutions Ltd
Tributary Systems, Inc. (TSI) and Jim Elliott are pleased to announce the formation of NSK Solutions Ltd., a company dedicated to providing fully integrated and supported end-to-end storage solutions for HP NonStop customers in EMEA.
NSK Solutions will sell all secure storage and virtualization solutions from TSI. Jim Elliott, a 20 year veteran of the HP NonStop/Tandem storage environment is the Principal and CEO of NSK Solutions Ltd.
If you have any questions or would like to contact NSK Solutions for business opportunities, please contact Jim Elliott at:
NSK Solutions Ltd.
45 Strathallan Avenue
East Kilbride, Glasgow G75 8GX
United Kingdom
+44 7753 806 603
---
PROGNOSIS Non-Event Monitor
PROGNOSIS takes HP NonStop monitoring to the next level with the patented Non-Event Monitor. Be one step ahead and proactively monitor events and receive alerts before they become problems.
Description
PROGNOSIS Non-Event Monitor allows you to model and proactively manage key business processes and time-based service levels.
For example, PROGNOSIS can let you know if a key batch or file transfer process has successfully completed and whether the various milestones within these processes occurred in the defined timeframe.
By monitoring these key business processes, PROGNOSIS can automatically generate alerts when these events are missed and provide you with real-time dashboard displays so you can quickly identify the individual event within the process that has not occurred within the specified time period..
This enables you to investigate and resolve issues before they impact the business and related service levels.
Defined business processes can be based around any EMS event, including batch jobs, file transfers, and report generation.
Scalable monitoring capacity with minimal system overhead
PROGNOSIS Non-Event Monitor is efficiently architected to track up to 20,000 defined events in business-critical production environments, ensuring minimal load on the system while still responding in a timely manner.
PROGNOSIS can receive EMS events from one or more EMS Collector and supports the use of EMS filters, limiting event collection to relevant events only.
PROGNOSIS also allows the use of standard NonStop EMS filters and EMS Distributors to further reduce system load and EMS message parsing.
To learn more or organize a demonstration of this exciting new technology….
Contact Craig Porter at PROGNOSIS Europe by Email on craig.porter@prognosis.com or by phone on +44 1344 894
---
E-payments processor Swedbank BABS implements GoldenGate software
GoldenGate Software, a leading provider of high availability and real-time data integration solutions, today announced that it is working with Swedbank BABS, a Swedbank company, to enable 24/7 continuous availability of its mission critical payment processing system which supports over one billion transactions per year.

Additionally, the GoldenGate high availability solution allows Swedbank to perform planned system upgrades and migrations with zero downtime.
Based in Stockholm, Sweden, Swedbank is one of the largest retail banks in the Nordic region. Swedbank BABS processes electronic payment requests for a number of Swedish and overseas banks, as well as ATM payments and payment requests from Swedbank's own customers.
Swedbank authorizes and authenticates large volumes of banking transactions using ACI's BASE24 application, which runs on two HP NonStop servers located in disparate geographic locations. By using the GoldenGate Active/Active solution, both HP NonStop systems are leveraged and thereby facilitate continuous operations. As both systems process transactions concurrently, the GoldenGate solution's conflict detection and resolution capabilities are intended to identify and automatically resolve any data conflicts. During the implementation process, the IT group determines the business rules which determine how to resolve any complex data conflicts and these can be automated via the GoldenGate solution's out-of-the-box capabilities for the BASE24 application environment.
Having the two systems actively processing transactions means that redundancy is "built in" and if one system needs to be taken offline for any maintenance work, the other takes over processing all the transactions and can efficiently handle the load. The prior payments processing system consisted of just one HP NonStop system running BASE24, which made it impossible to achieve 24/7 availability.
Magnus Kleveby, Systems Area Manager for Authorization Processing at Swedbank, said: "Before upgrading our payments processing system, we had used a 'hot' back-up site for testing the system, essentially a duplicate of the original site, as well as near-complete backups of user data. But this simply wasn't good enough for the type of system we were running.
Having evaluated various data migrationn and availability solutions, we decided to deploy GoldenGate because of its interoperability with the ACI BASE24 application, and because the solution had already been proven elsewhere at Swedbank where it was deployed by other departments. Our experience of working with GoldenGate has always exceeded our expectations in terms of service.
In the event of an unexpected outage, we can restore data within seconds and the system can cope with sudden peaks in demand, such as at the end of the month when most people do a lot of shopping or go online to pay bills. GoldenGate has given us the assurance we were looking for and we can maintain our level of customer service no matter what. We have been using this full dual site Active/Active solution with GoldenGate continuously since 2006 with no outages or service issues.
We have also used GoldenGate to migrate our payments application on to a new HP Integrity platform, running BASE24, so we could replace our existing HP NonStop servers. Using GoldenGate, this was done seamlessly and with no outage to the system," concluded Kleveby.
Richard Dobber, Managing Director for EMEA at GoldenGate BV, said: "For any banking and payments system, an outage of any kind severely impacts customer satisfaction and loyalty which ultimately effects revenue. GoldenGate's technology is designed to manage high volumes of data across the widest range of database and hardware environments and our flexible architecture allows for many different configurations. We are finding that Active/Active is the optimal deployment for mission critical environments like that of Swedbank
We are very happy to provide this capability and benefit to Swedbank and its customers," concluded Dobber.
For More information please contact Goldengate via Email at
info@goldengate.com
---
Ross Systems International Releases FINFO Version 2.0
Ross Systems International, has pleasure in announcing FINFO Version 2.0.
FINFO is a utility to be used on HP NonStop ™ Systems to display Guardian file information. The file information can be selected by a number of criteria, it is then sorted on a specified key and displayed in one of a number of formats. User Totals showing file usage are also displayed at the end of each subvolume, volume and system displays.
FINFO V2.0 enhances the functionality of V1.4 by adding the capability of exporting file information to a spreadsheet using a semi-colon separator (;) between the columns, and adding column headings. The file can then be transferred to a PC and imported into a spreadsheet package for later analysis. All possible fields which can be generated by FINFO are included for display in the spreadsheet. User and other totals are suppressed. It is invoked by using the –X parameter.
FINFO V2.0 is the fully licensed version and replaces the trial version 1.4 which will cease to operate after 31st December 2007.
Please contact Rupert Stanley of Ross Systems International Limited at rupert@rsi-ns.com or +44-1206 392923 for additional information or to order.
Information on RSI's products including FINFO can be found at http://www.rsi-ns.com
---
Marshall Resources, Inc.
November 2007 / Financial Strategy for Trade-In and Migration to Non-Stop Integrity
Normally we use this space to discuss the state of the Second User Tandem Market. In this issue we will try to address some strategic decisions one may need to make when considering selling or trading in S Series systems. Currently we see a large number of S Series customers upgrading to, or considering a future migration to, the new Integrity platform. This has caused a quick decline in value for a lot of the older S Series hardware, but demand remains for much of the newer CPU's and higher capacity Disk Drives.
HP's trade-in and discount policies are, of course, deal specific and can vary widely. In general terms, we have seen HP offer trade in monies for S Series hardware, or a discount on the newly acquired hardware, but usually not both. Also, trade-in values are normally on a one-for-one CPU basis, and only on disk drives and not any other peripherals. Please request a purchase price from Marshall Resources when you are looking at the financial model for this type of upgrade. It may be advantageous to sell the hardware in the second user market and take the hardware and software discount from HP. Also, if your system does not have a very large aftermarket value, you may still have surplus hardware to sell after a trade-in of hardware on the one-for-one basis.
There are too many factors to consider in this forum. We are more than happy to discuss this issue with you in detail in order to help you negotiate the best possible deal for your upgrade.
At Marshall Resources, we strive to provide the highest quality service with the highest quality equipment. Our repeat customers are our greatest compliment. Please visit our website at www.marshallresources.com for our company information, and find a sales representative in your area to assist you. We can always be reached at 800-443-0128, or by e-mail. We are looking forward to working with you.
---
Availability Digest Reviews Danger of Single Point of Failure
The Availability Digest's November issue examines how a single point of failure brought down a triply-redundant system on the International Space Station. Also discussed is one Chilean bank's use of asymmetric active/active systems to achieve extreme availability without data collisions. The crucial nature of time synchronization between nodes in an active/active system is introduced, and products for the time synchronization of NonStop nodes are reviewed.
The Digest is free online and focuses on continuous processing architectures, with particular attention given to active/active technology. Each issue of the Digest features articles on the following topics: Case Studies, Never Again, Best Practices, Active/Active Topics, Recommended Reading, Product Reviews, and The Geek Corner. www.availabilitydigest.com
---
Not the Tandem City Lunch
Dear All,
You are invited to Not the Tandem City Lunch in the St Paul's Tavern,
56 Chiswell Street, off Moorgate, London, on Wednesday 5th December 2007.
(Nearest tube stations are Moorgate and Liverpool Street)
We will be meeting from 12:00 Noon onwards.
Latecomers very welcome to drop in.
Very informal.
Cost Ł20 for pub food & drinks, payable when you arrive.
If you plan to attend, please reply to this email so that I can advise St Paul's Tavern of numbers & reserve sufficient space.
Last year & the year before, almost 70 ex-Tandem folk joined us between 12.00noon & 9.00pm.
Please forward this email invitation on to our colleagues. Everyone is welcome.
I look forward to another great session.
To Register your Attandance please Email Bill Wyman
---
Tandemworld
Tandemworld's Newsletter has now surpassed the 10,000 subscribers mark. We have 30+ subscribers requesting subscription to the Newsletter each Month. We would like to thank those of you that forward the newsletter to your friends and colleagues.
Tandemworld currently has a number of NonStop professionals seeking new projects across the EMEA region. If you are seeking NonStop Specialists for Short or Long Term projects please email us with your requirements.
---
ITUG
ITUG Summit 2008 at HP Technology Forum & Expo
June 16–19
Mandalay Bay Convention Center
Las Vegas, Nevada
---
BITUG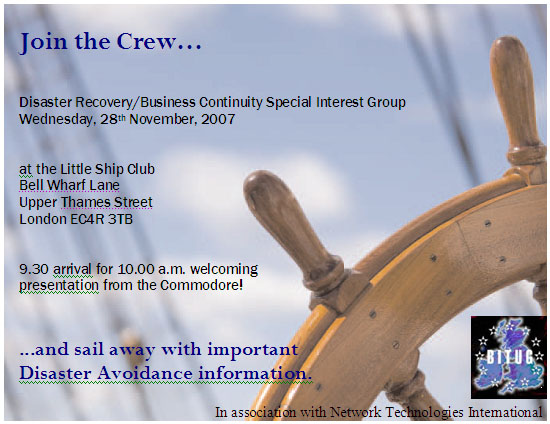 ---
MRTUG Education Day
http://www.itug.org/events/calendar/Display_Schedule_Event.cfm?ID=329&date=11/14/2007
Suntug HP Education Training Day
http://www.itug.org/events/calendar/Display_Schedule_Event.cfm?ID=332&date=11/16/2007
GTUG Fall Event
---
For More on Employment in EMEA Go Here
For More on Positions in the Americas Go Here (to advertise your positions here please contact us)
For More on Positions in AsiaPac Go Here (to advertise your positions here please contact us)
---
Looking for a Solution or an answer to a particular problem ASK Tandemworld. We will contact the vendors for you and find a suitable solution that meets for current and future needs.
---