Tandemworld eNewsletter for October 2014
---
Contents

Tributary Systems introduces new LTO 6 Tape Technology

HP Shadowbase Sales and Support Now Available Globally Directly from HP for NonStop and Other Servers

Musings on NonStop! - October, '14

Gravic Visits Oslo, Stockholm, and VNUG

High Performance Switching and Secure Data Storage

Hellenic Bank Reduces Costs and Improves User Satisfaction with Crystal Point Technology

BrightStrand Health Check Service

XYPRO's Steve Tcherchian on......

comForte at the NonStop Technical BootCamp

Got OSS? Get Protect-UX!

Audit all security-related activity and events

comForte's Limited Edition 'HP NonStop for Dummies' Book available now!

Availability Digest Warns About Shellshock – the Bash Vulnerability

Where we are in The World...

comForte at events near you in 2014 and 2015

Two New Products From QSA Featured on NonStop Innovations Blog

XYPRO a Proud Diamond Sponsor

TANDsoft Now Offers Time/Date Simulation on Linux, UNIX and Windows

OmniPayments Is New Host of ITUGLIB

QSA Enterprises unveils the latest evolution of Q/Tos.

Current Subscribers 14

992
---
Tributary Systems introduces new LTO 6 Tape Technology
Tributary Systems, for 18 years the OEM supplier of tape products for all HP NonStop Servers, along with our partners at NonStop, are pleased to announce the availability of LTO 6 Tape Devices for NonStop NS and NB systems running the J-Series operating system.
The LTO 6 is available in three models:
· - M8801A Rack Mount 24 Cartridge ACL w/FC interface
· - M8802A Table Top 24 Cartridge ACL w/FC interface
· - M8805A Table Top Single Cartridge w/SAS interface


M8801A/M8802A 24 Cartridge ACL M8805A Table Top Single Cartridge
Important features the new LTO 6 Tape Drives offer include:
· - Dependability: Sets new standards for data integrity and reliability with a simple and robust design based on inherently reliable Linear Tape Open (LTO) time proven technology
· - High Capacity: Stores up to 6.25 TB per LTO 6 data cartridge assuming 2.5:1 compression
· - Reliability: Protects your data with a simple, high integrity, data path including read and write dynamic random access memory
· - Security: Fully supports ESKM (Enterprise Secure Key Manager) versions 2.1 and 3.0
· - Compatibility: LTO 6 drives read and write to LTO 6 and LTO 5 media, and read-only LTO 4 media
· - Speed: Minimizes interruptions with high speed and data rate matching that squeezes optimal performance from your NonStop Server
And remember, the LTO consortium of HP, IBM and Quantum has announced that this technology will continue at least through LTO 10, to be released sometime in the early 2020's, so the tape path you're on now will continue for years to come!
Contact your local HP NonStop Sales Representative to order the new LTO 6 Tape Drives, they are in stock and ready for shipment now.

Tributary Systems continues to enhance and develop the flagship backup virtualization solution: Storage Director®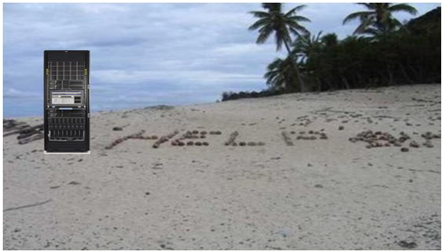 Do you ever feel like you're stranded on NonStop Island when you're trying to manage your systems in the enterprise? Forget talking to "Wilson"; instead consolidate your backup storage environment across all platforms with: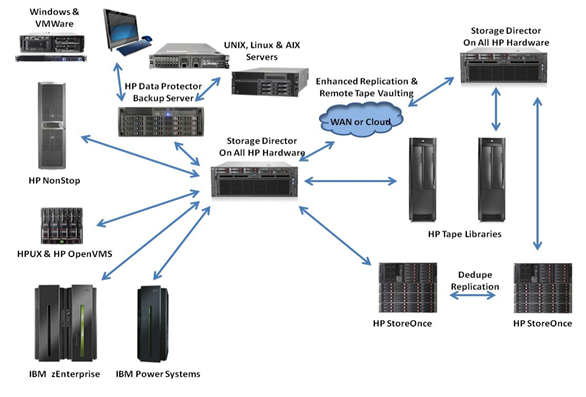 The Storage Director product by Tributary Systems is a policy-based data management solution that connects "any host to any storage technology" and applies appropriate protective, management and archival services to data in a unique and business-savvy way.
Tributary Systems is an HP Converged Infrastructure Ready Solutions Partner!
With Tributary Systems' Storage Director, enterprises can apply data policies down to individual data volumes on host platforms (such as HP NonStop), based on business criteria and importance to business resiliency and restoration.
In enterprises with multiple host platforms – HP NonStop, HP Open VMS, Windows and VMware are running HP Data Protector, IBM zOS mainframes, IBM AS/400s (now IBM PowerSystems), among others – Storage Director enables sharing storage technologies otherwise dedicated to each host platform.
Such storage technologies can include existing enterprise storage disk, HP StoreOnce, EMC Data Domain, and Quantum DXI data de-duplication devices, physical tape, or any combination of storage technologies dictated by individual data management needs.
Storage Director is currently deployed in production environments backing up HP NonStop, IBM Mainframes, and IBM AS/400 (now IBM PowerSystems) Servers simultaneously.
Such a unified approach improves storage performance, enables consolidation and can lead to real savings of time, power and most importantly staff.
Storage Director offers numerous compelling features for NonStop customers:
· Virtualizes and consolidates data backup to a single storage target in any heterogeneous datacenter
· Designed for high availability computing environments and meets or exceeds data backup requirements for speed, capacity, compatibility and reliability
· Full tape library management capabilities, allowing not only tape drive but also back-end physical tape library connection
· Tape stacking, caching, data management, replication, monitoring and alerting capabilities are provided
· Capability to be a pass through device provides seamless integration of disk, tape and fully supports HP StoreOnce, EMC Data Domain and Quantum DXI de-duplication technologies
· Utilizes AES 256 bit encryption and supports LZ compression in cache
· Non-disruptive to existing backup environments and NonStop applications
· Fully supports NonStop native tape format
· Supports iSCSI, Fibre Channel and NAS attachment to storage devices
· Supports NonStop host IOAME/VIO/CLIM FC attachment
· Employs a user friendly web-based GUI
Another important capability Storage Director provides is the ability to meet physical tape, de-duplication and remote site replication. This is a fully tested configuration which allows NonStop customers to use the replication features inherent in data backup systems.
Tributary Systems is committed to continually upgrading and enhancing Storage Director!
For more information on Tributary Systems' Storage Director, visit www.tributary.com.
---
HP Shadowbase Sales and Support Now Available Globally Directly from HP for NonStop and Other Servers
HP and Gravic entered into a strategic partnership by signing a Commercial Agreement to offer Gravic Shadowbase sales and support globally, directly through the HP organization. HP now licenses, services, and supports our leading-edge Shadowbase software solutions for NonStop and other servers. Our solutions address data replication for business continuity, heterogeneous data integration, application integration, as well as complementing existing HP solutions, including HP NonStop RDF, HP NonStop AutoTMF, and HP NonStop AutoSync. By providing a single point of purchase and support for these advanced replication solutions, HP and we are improving the overall customer experience. Our customers will benefit from the global reach, industry expertise, and 24x7 support available from HP. The product will be sold by HP under the name, HP Shadowbase.
"We're responding to our customers who need advanced replication solutions to address their highest levels of application uptime requirements," said Ajaya Gummadi, Business Continuity Product Manager, HP NonStop Systems. "We now have an innovative solution with HP Shadowbase that will help our customers keep their businesses continuously running."
Shadowbase makes Gravic's advanced data replication and data integration software solutions directly available to HP customers, some of the world's largest enterprises. Customers include major banks, financial and brokerage firms, insurance companies, stock exchanges, electric utilities, healthcare, and telecommunications companies. Gravic shares common core values with HP, has a marquee reference customer base, and is committed to continuously enhancing its products. Database replication and integration services are a vital part of the fabric of today's mission-critical enterprise computing world. Customers around the globe urged us to partner with HP as the provider of their most important and trusted computing platforms, and we are pleased to report that HP Shadowbase is the result.
Note that if you are an existing Gravic Shadowbase customer, including those that license Shadowbase through a reseller, nothing will change. You will continue to receive your sales and support directly from Gravic or your local reseller.
For more product information on HP Shadowbase:
· read the HP data sheet, HP Shadowbase Suite for HP NonStop and Other Servers,
· read the HP brief, Make your Business 'Nonstop',
· read the Mission Critical Computing Blog, When planned or unplanned downtime has to be zero—the HP Shadowbase product suite keeps you running,
· or contact your HP NonStop Sales Representative.
Gravic Presents at Three Fall Events
Gravic helped organize and presented at the Mid-Atlantic Tandem User Group (MATUG) Meeting held in September at the Renaissance Airport Hotel, Philadelphia, PA USA. The meeting consisted of approximately 45 attendees drawn from local customers, HP NonStop personnel, vendor companies, and consultants. Plans for next year's meeting were discussed, including possible locations. Please let us know if your company can host next year's fall meeting in the greater Philadelphia, PA to Washington, DC corridor area. See photos and more information regarding the meeting.
Gravic attended The Payments Knowledge Forum (PKF) at The Institute for Civil Engineers, in Westminster, (Central London), UK in September. The PKF drew over 200 participants from Europe as well as Australia, South Africa, Singapore, and Mexico. The event was divided into multiple focus areas and included an executive level track as well as more technical/eduational presentations. Gravic delivered an educational presentation on Matching Your Business Continuity Solution to Your Business Risk.
Gravic also presented at the Canadian Tandem User Group (CTUG) Fall Conference at HP Headquarters in Mississauga, Ontario on October 9. Gravic's presentation was titled HP and Gravic Partnership Delivers HP Shadowbase Advanced Data Replication Solutions for Business Continuity, Data and Application Integration, and Audit Compliance Requirements. The purpose of this presentation was to outline the wide range of HP Shadowbase products and services now available to HP NonStop customers through the HP pricebook. Please contact us if you would like to review any of our presentations and/or have us present them to your staff, or if you are interested in learning more about this partnership.
Please Visit Gravic at these Upcoming Events
Connect NonStop Technical Boot Camp San Jose, CA, USA, 16-19 November
BITUG BIG SIG London, UK, 2 December, 2014
SunTUG Sunshine Summit Tampa, FL, March 6-7, 2015
GTUG Conference Munich, Germany, April 27-29, 2015
Please Visit Gravic at these Sites
---
Musings on NonStop!
October, '14
The opinions expressed here are solely
those of the now self-employed author
Very soon, many of us will be gathering in San Jose for the NonStop Advanced Technical Boot Camp. Not a Boot Camp along the lines of what other vendors provide, although some presentations by HP developers will likely dive deep into the code, but in general, this is the time to hear more of HP's and the NonStop Vendors' plans for NonStop directly from the source. For me, it's a time to hear confirmation (one way or the other) of what I have picked up from numerous sources that helps me better develop story lines for the coming months.

It's no secret that I have been a big supporter of user events over the years and have devoted considerable time to the cause – it wasn't just my time with ITUG, but something I like to do still. These past couple of weeks have seen me on the road where I was able to participate in both MATUG and CTUG events and where I was able to present on behalf of one of my clients, OmniPayments, Inc. Through the years, OmniPayments CEO, Yash Kapadia, has been every bit as strong a supporter of user events worldwide and I was only too pleased to step on this occasion and represent him and his company.

In conversations with Yash that took place after the events, I asked him about the value he derives from such participation and just what the opportunity to network with the NonStop community represented. "It's an opportunity to provide information about the company and its products and as we have been successful over the past two years, about our wins," said Yash. "We continue to be as successful as we are because we provide License, Support and Services to implement the projects we land, all at a very good price without recurring charges – a model we have developed after listening to so many customer and competitive presentations at these events."

Yash then spoke of how OmniPayments "have supported user events globally for many years and that yes, you will see us at Boot Camp and on the Security Cruise. But equally as important, markets are changing – emerging markets want the same degree of reliability as mature markets and security continues to be a concern. What we are becoming aware of is that the choice of vendor comes down to just how much experience they have in a market together with their willingness to work with them, the customer."

Finally, Yash confided that, "With so many discussions about mobility, security, big data and clouds, of course customers want to know that their choice of vendor is knowledgeable in these areas but it's still very much a case of being a partner prepared to work through local issues important to them and user events prove to be another great opportunity for us to get our message out to as many IT professionals as possible."

This year, being on the road and enjoying time with the community happened when the major news were coming from HP – it was going to split into two companies, HP Inc. and Hewlett-Packard Enterprise. I covered this in the post of October 6, 2014, Finding our way …If as yet you have not read this post to the NonStop community blog, Real Time View then check out this link:
http://itug-connection.blogspot.com/2014/10/finding-our-way.html
In this post I confess that I have always taken with a liberal number of grains of salt that there was synergy between a consumer, PC company, and a business, enterprise-system company, but I was prepared to let that slip on by for the sake of better story telling. There were so many ways to write about value that a company as big as HP provided but it was getting harder and harder to keep a straight face. Yes, the addition of support for x86 brought some synergy but anyone who has looked at the Intel roadmap for Xeon knows all too well that there's a swag of different Xeon chips covered by the roadmap and to the naked eye, it was easy to get lost among the numerous pages that comprise the roadmap – different charts for consumers, small business and the enterprise.

In private emails to former associates from my ITUG days, I went on to note that companies like HP have to determine their own destiny and when they get as big as HP is today, they can't really follow others or copy game plans of peers – they can't emulate IBM, for instance. It's way, way, too late. What they can do is look at their product portfolio and say, whoa, is this really what we need to grow? Furthermore, I wrote, will we see a boon for NonStop? Possibly; and the arrival of NonStop support for x86 will produce a complementary product line (a full line too, by all counts from top end systems all the way down to Moonshot) and that will surely benefit NonStop as from 2015.

As I closed my musings last month I said that I would be looking to catch up with as many of you as I could and now, knowing the value such events provide for solutions vendors like OmniPayments and having just witnessed a major turning point for HP, with Boot Camp only weeks away, I will repeat my closing comments from that last musing. If you plan on attending, look for me at the event as I will be only too happy to find time to chat and yes, of course, let me know that you read this musing!
Richard Buckle
Founder and CEO
Pyalla Technologies, LLC
Email: richard@pyalla-technologies.com
Following my blogs? My web publications? My discussion Groups?
Check out (copy and paste to your browser):


Real Time View
at
http://www.itug-connection.blogspot.com/
…. And check out the Group on LinkedIn, Real Time View
comForte Lounge
at
http://comfortelounge.blogspot.com/
…. And check out the Group on LinkedIn, comForte Lounge
Realtime.ir
at
http://realtime.ir.com/
…. And check out the Group on LinkedIn, realtime.ir

ATMmarketplace at
http://www.atmmarketplace.com/blogger.php?id=130763
buckle-up at http://www.buckle-up-travel.blogspot.com/
…. And check out the SubGroup on LinkedIn, Pyalla Track Days
---
Gravic Visits Oslo, Stockholm, and VNUG
By Paul J. Holenstein, Executive Vice President of Shadowbase Products Group
Prior to the recent September
Viking NonStop User Group (VNUG) conference held in Balsta, near Stockholm, Sweden, I made a swing through Norway to visit with several key customers in the region. I had never been to Oslo before, and spent an extra day and a half sightseeing within the city and surrounding area. Although the day started off with a drizzle, blanketed with fog, and a bit chilly (by my standards anyway), by mid-morning it had all blown away and gorgeous sunshine illuminated and warmed the countryside. Apparently, this weather is common, and is perfect for sightseeing.
I love to explore while walking, and I spent several hours touring the city's center, visiting various sites and parks, and of course partaking of the local food and beverage. I had never eaten a whale steak before, and enjoyed it along with local vegetables and a local brew for lunch. The Royal Palace is a massive and impressive structure, surrounded by extensive gardens and walking paths; however, I missed being able to tour it since tours stopped at the end of August. The Vigeland Sculpture Park is another interesting site, with several hundred granite and bronze statues.
Eventually, I bought a pass to the "hop-on-hop-off" bus and the ferry pass extension, and used it to visit the places that were simply too far for walking. I find that you can cover a lot of ground this way, and if you can put up with the buzzing from the headset, you can rest, and sip coffee while picking up tidbits about the area you might otherwise miss. One highlight was the Viking Museum, complete with several restored Viking ships. It was fascinating to learn how they lived, farmed (yes, they even worked the soil), and of course mauraded, murdered, and stole valuables from others, all quite successfully too. Imagine crossing the sea, or even the Atlantic Ocean, in a 40-foot boat with its sides sitting at almost water level (to allow for rowing), and a three-foot insert as the only barrier against attacking arrows or heavy seas and waves in bad weather. The boats were single masted too—no fault-tolerance there—which took a lot of guts. Fortunately, the burial chamber of a boat stored vast provisions, effectively preserving clothing, armaments, pottery, and jewelry from that time period (roughly 700 AD).
I also enjoyed the Maritime Museum, where I learned a lot about the sea-faring history of the region, and visited an Ice Breaker (Polaris) ship. It is hard to fathom just how tough and thick these boat hulls are for crashing through several feet of ice to break a path. Being a landlubber myself, it is quite educational to see how others survive by living off of the sea by undersea mining of oil, fishing, and of course, ship-building.
On to the conference! The VNUG conference is always well done, and we thoroughly enjoy the professional air, yet fun attitude the VNUG board threads into the event. The show was well-attended by customers, had a strong HP presence, and included a nice opportunity for the ISV vendors to interact with the attendees. One of the clever highlights included an all-hands culinary class taught by a master chef where the attendees prepared, served, and then devoured a delicious four-course meal featuring salad greens, a scallop-wrapped bacon appetizer, reindeer filets with fluffy mashed potatoes, and crčme brulee for dessert! My team "won" our course (the appetizer) as our competitors presented a more sushi-like version of the scallops!
Since I was there to work, after all, I delivered a presentation on the key issues affecting application availability when catastrophic disasters occur, and how to mitigate them using best-in-breed solutions consisting of an HP NonStop hardware platform married with Shadowbase software. If you are interested in having this material presented to your team, please contact us at +1.610.647.6250 or
SBProductManagement@gravic.com.
---
High Performance Switching and Secure Data Storage
Third Data Corporation
888-301-2431 / sales@thirddata.com
Third Data Corporation provides numerous products which can reside on HP Nonstop and other HP and Non-HP hardware platforms. In addition we provide custom high performance software design and development for our clients.
FastBuild Switch – When building a switch be it ATM-POS, Wire Transfer, EFT, Medical, or any other type of data that needs to get from one place to another, you are usually faced with three choices. Take an existing package and modify your system to match it. Get the vendor to "enhance" their system to meet your needs. Write a new system from scratch. The FastBuild Switch integrates with your existing system, or if you are building from scratch gives you a great start. The switch is also built around the latest HP technology to maximize performance. It integrates several of our other products to maximize cost savings and security in a fault tolerant manner. In a cross platform environment it also runs on other non-Guardian HP supplied platforms.
SecureStore – If you are security conscience trying to become compliant (PCI, HIPAA, etc) then you know that you can not leave sensitive data readily viewable. SecureStore does three things for you. The data is encrypted so that you can become compliant. The data is compressed so that your hardware costs are reduced. As part of disaster recovery your data is sent to multiple locations so it will be available when you need it. As a bonus for those having trouble with Guardian 4K limits there is no record size. It supports Big Data with up to 18 Exabytes. It can also integrate with SQL systems (SQL MX/MP, Oracle, Postgres etc).
NxLib – NxLib provides a platform and utility libraries for developing a high performance multi-threaded applications on NonStop Guardian. The platform provides threading, queuing and network capabilities. This enables development of an application written single threaded style to perform as multi-threaded. Extensible command processing and help are supported. Development time can be cut to a fraction of the time it would normally take. This results in fast application development with consistent look and feel across multiple projects.
NxWeb – A high performance web server which provides support for NxLib applications. It also can be used without NxLib. It provides for secure connections, virtual domains, full http support and interfaces to pathway and IPC communications.
NxFile+ – NxFile+ provides compression and encryption to Enscribe structured files. The files are configured through a GUI interface and the results are provided seamlessly to your applications, typically without any code changes. In addition this provides for dynamic key changes on the fly so data stored at-rest may have its encryption keys changed as required. Because the records can be compressed prior to encryption, it's also possible to have records which significantly exceed the 4k record size limitations.
NxSSL – NxSSL is an SSL proxy which may be used to provide SSL encryption and authentication services to TCP/IP connections. It provides full support for certificates and multiple encryption standards. It has been carefully tuned to provide the highest performance available for any NonStop SSL connection.
NxUndelete – Files accidentally deleted can be a real problem. Even when a backup is available, it is frequently a significant effort to retrieve it from a backup tape. NxUndelete implements a recycle bin function on the the HP NonStop system. Files deleted may be easily recovered using its GUI interface.
---
Hellenic Bank Reduces Costs and Improves User Satisfaction with Crystal Point Technology
By Implementing Crystal Point's AppViewXS application modernization solution, Hellenic Bank has;
· - Reduced support costs
· - Reduced training costs
· - Enhanced image and competitive standing
· - Increased user morale and satisfaction
· - Integrated modern Java technology with a largely unchanged core application
· - Positioned for future technological and flexibility add-ons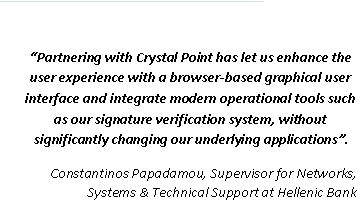 Hellenic Bank Public Company Ltd, is the second largest bank in Cyprus and a member of the Euro Banking Association. Hellenic Bank faced an operational challenge; they had two operating groups, one in Cyprus and one in Greece. Both groups relied upon the proven reliability of NonStop systems for their Financial Banking System (FBS) and Retail Banking System (RBS), but each group used different banking software. Significant inefficiencies were imposed on Hellenic Bank by having to train employees in two different packages, and having to support and maintain those separate systems. Worse still, management realized both (green screen legacy) packages were becoming obsolete.
Thomas Stylianou, head of Information Technologies at Hellenic Bank, recognized that change was needed – and soon – in order for Hellenic Bank to keep (and increase) its competitive standing. Unfortunately, the solution was not as simple as just standardizing on one of the two active solutions. Both were legacy applications, whose architecture did not allow for fundamental internal change, such as from green screen to modern, browser-based screens, or interface with modern banking tools such as signature verification packages.
Mr. Stylianou, and the IT Steering Committee, researched a number of ways to resolve their challenges.
·
Third party banking solutions were considered, but rejected because Hellenic Bank wanted its own software. They wanted complete, in-house control over ongoing maintenance and enhancements. They judged this to be the best way to assure the optimum match between their operational needs and their banking package on a future-facing, ongoing basis.
· A complete rewrite was considered – but deemed too time-consuming, too risky, and too expensive. This all-or-nothing approach was also considered too startling to their highly
change-adverse internal user community.
· Doing nothing was re-considered, but was not a viable choice. The need for standardization across both operating groups, and the increasing need for modern banking technology, and modern user interfaces was too urgent. Something had to be done.
Hellenic Bank looked for another, better choice…. Mr. Stylianou, Georgios Koutsoftas, and the IT Steering Committee, found it in the Crystal Point product AppViewXS. Hellenic Bank selected Crystal Point as their solution provider for two primary reasons. First, Hellenic Bank had been a customer of Crystal Point for many years, and trusted that relationship. Hellenic Bank knew Crystal Point would work closely with them to achieve mutual success. Second, and even more importantly, their analysis and prototyping usage proved the AppViewXS product provided them their best combination of capabilities. It preserved core application functionality and stability, while allowing rapid but – and this was key – incremental changes in user screens while moving the application securely to the web. AppViewXS also facilitated rapid integration of needed modern Java-based banking tools, and was architected to facilitate additional future advancements.
Throughout the implementation process, it was the vision and direction provided by Mr. Stylianou (who was promoted Vice President) that pointed the way for Hellenic Bank's efforts.
A Few Specifics….
Increased Security and Reliability
Security is always a top concern in a banking environment. Security between the client browser and the AppViewXS web application server is simplified by leveraging the web browser's HTTPS capability. Redundancy is accomplished via a backup web application server node.
Increased Capability, Productivity and Flexibility Leading to Decreased Training and Support Costs
As a 100% Java application, AppViewXS tightly integrates Java technology with little or no changes to the legacy application. Hellenic Bank developed an application (in C++) to host the browser which in turn displays the application screens. This was done to control the access to the application, removing all the unnecessary information and buttons of Internet Explorer. Also it is used as an intermediary control to launch other applications (e.g. Signature Verification system), exchanging information between them and the AppViewXS application.
Hellenic Bank and Crystal Point together implemented an instant message functionality for notifying the users of actions they need to take, such as authorizations for various transactions. Special functionality was built in AppViewXS to pick up these messages and display them in a separate "window" appearing above the main application frame. We also build a "history" like functionality allowing the user to see previous messages received.
The application recognizes the client PC's IP address and passes it back to the Banking System, for use in both access control and routing of approval messages, etc.
With the addition of a clickable function bar (shown below) users now have a much more intuitive method to operate the banking package, and to navigate within it
[User Functions] The user can set 10 favorite Banking System functions for easy access.
[ Sign +] The application allows the user to click on the button [Sign+] when presented with a screen containing a customer account.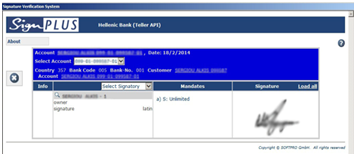 The application parses the AppViewXS screen using JavaScript to
pick up the desired customer unique identifier. This is in turn passed to the signature Verification System which is activated presenting the required customer signature information.
[Date] pops up a Calendar control from which the user can select a date to be for automatic insertion into a "date" field on the AppViewXS screen.
[Copy] The application parses the AppViewXS screen using JavaScript and generates a document containing the contents of the screen and places it in the Windows Clipboard. Then this is available for use in various application like Word etc.
[Help] The current AppViewXS screen is parsed to determine which Banking System function it is displaying. Then the relevant online Help file for the specific Banking System operation is presented to the user.
[+ Font][-Font] These buttons are used to control the font size of the Application. There are 5 different font sizes to choose from
[Config] This allows the user to choose one of three background colors for the application.
Hellenic Bank also used the functionality provided by AppViewXS to add drop
down menus and inquiry lists, to specific screens.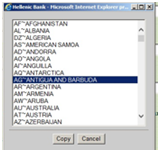 Field colors are dynamically customized for easier user reading of the content.

A customized windows menu appears with a mouse right click that is context aware of the application screen. This allowed extra functionality like "Copy Account" and "Paste Account" even though, on our system, an account is comprised of different fields on the screen.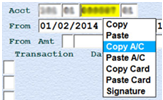 Hellenic Bank used the AppViewXS option of fetching screens from the Banking System without displaying them to the user to pass data to the client PC for generating customized formal documents which could not be generated via the Tandem spooler.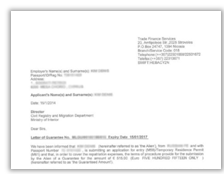 Increased User Morale and Customer Perception
Employees and customers alike now consider Hellenic Bank's banking applications to be modern and advanced. Employees learn the application more easily and have fewer technical issues. Customers and Employees both enjoy screens customized to screens customized to the season, as an example of a modern flexible, user-centric application.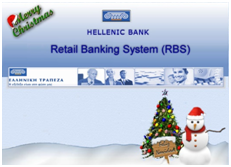 Summary
Hellenic Bank has now been using AppViewXS for a few years. Mr. Thomas Stylianou, whose trust, support and forward thinking led the bank to select AppViewXS in the first place has passed away, but his legacy continues on. AppViewXS continues to meet or exceed the bank's expectations for stability, strength and flexibility. Alkis Sergiou, of Hellenic Bank, says they are, "..quite happy in terms of its reliability and service."
With AppViewXS, Hellenic Bank remains poised for additional enhancements. Their next step is likely integrating – via AppViewXS of course - Cheque reading and other machines to their banking applications
---
BrightStrand Health Check Service
Maximise your hp NonStopÔ Server environment.
The BrightStrand International hp NonStop Server Health Check Service has been created in order to provide users of hp NonStop Servers with a situation report as to the status of their hp NonStop systems and service environments.
The service has been designed by BrightStrand, to assure customers that they are getting the optimum from their current hp NonStop Server environments. The Health Check will provide a guide to assist customers in making improvements to various service areas. It can also be used as a tool to aid the decision-making process in such key areas as hardware purchasing, system migration and Service Level Agreement (SLA) planning.
The service will take into account a number of factors depending on the pre-defined scope. These may include - procedures, strategies, system performance, configurations and security. The service will involve the monitoring of system metrics, an assessment of general procedures, a review of software revision levels and a general check of the installation.
Service Objective
The objective of the Health Check is to provide high quality reviews of service areas that have been identified, by the customer, as being of concern or of interest. The main goals of the service will be:
· - To advise on compliance with standards.
· - To report on efficiency and performance.
· - To identify possible problem areas and recommend solutions.
· - To advise on current or future strategy.
This will be achieved by engaging a fully qualified and experienced BrightStrand consultant that will work closely with the customer to agree the scope of the engagement and to identify areas of special interest or concern, use BrightStrand tools and solutions to gather the necessary information and documentation, analyse the information and deliver the agreed reports. Consultancy will be provided in the areas of Performance, Capacity Planning, Disaster Recovery, Operations, Database Management, System Security, System Management and Hardware Maintenance.
For further details please contact Dave Stewart today on +44 (0)7831 775115 or email him on
dstewart@brightstrand.com.
---
XYPRO's Steve Tcherchian on
Incident Response Planning:
Expect the Best, Plan for the Worst and Prepare to be Surprised
"There are only two types of companies: Those that have been hacked, and those that will be"
FBI Director Robert Mueller 2012
"There are only two types of companies: Those that have been hacked, and those that don't know they've been hacked"
Reality 2014
Last month we discussed the cost of incident response and the lack of proper funding to keep up with the ever evolving threat landscape. Since then, multiple breaches and vulnerabilities have hit the news. In fact, as I'm writing this, the industry is being bit by the SSLv3 POODLE, which has incident response teams chasing after the cat again.
A proper Computer Security Incident Response Plan (CSIRP) is critical to minimizing the impact of a security breach and ensuring sustainability of the business. Yet, for most organizations, some of the more challenging aspects of creating a CSIRP is still the lack of preparedness, obtaining high level buy-in and asset classification due to limited visibility into process and data. This can be a dangerous combination.
---
comForte at the NonStop Technical BootCamp
comForte is a Diamond Sponsor at this years' NonStop Technical Boot Camp and we'd like to invite you to see us at our stand and/or attend one of our presentations.
comForte will feature in the following pre-conference workshops and presentations (please note: times and dates are subject to change):
· Sunday Nov 16, 1:00 - 3:00 pm – pre-conference workshop: PCI Compliance through tokenization on NonStop – We show you how it's done (Chris Riffe, comForte)
· Sunday Nov 16, 3:00 - 5:00 pm – pre-conference workshop: The Ins and Outs of Application Modernization – From the Ground Up and From the User In (Brad Poole, comForte / Johanne Corbeil, CarrScott)
· Monday Nov 17, 1:30 - 2:20 pm - NonStop Application Modernization - From the ground up and user in (Harry Scott, Carr Scott)
· Tuesday Nov 18, 8:00 - 9:00 am - General Session: Wendy Bartlett, HP Thomas Burg, comForte, Andrew Price, XYPRO.
· Tuesday Nov 18, 10:30 - 11:20 am – SSL and SSH hardening and certificate management (Henning Horst, comForte)
· Tuesday Nov 18, 11:30 - 12:20 am – Data-at-rest protection for BASE24 in production: lessons learned (Thomas Burg, comForte)
· Tuesday Nov 18, 3:00 - 3:50 pm – Tokenization of databases (Eduardo Roloff, GetNet, Brazil)
The comForte team is looking forward to seeing you in San Jose.
---
Got OSS? Get Protect-UX!
At the recent annual Canadian Tandem Users Group (CTUG) meeting, we presented and got a fantastic reception for our new OSS file management solution – Protect-UX.
No longer struggle with command line interfaces or text-file solutions that only present a confusing view of what you OSS security settings really are!
With a fully graphical interface, built-in tools, templates and reports, Protect-UX is a powerful management and productivity tool for NonStop system and security administrators who must tackle OSS along with their traditional duties in Guardian and Safeguard.
Find out what the excitement is about – drop by the CSP (Computer Security Products Inc.) booth at the upcoming Technical Bootcamp at San Jose, at BITUG in London, or visit our website at www.protect-ux.com.
---
Audit all security-related activity and events

#1 on XYPRO's Top 10 List of HP NonStop Security Fundamentals

Because high-availability and fault-tolerant systems need strong security

Finally, we've made it to the #1 spot on our Top 10 list! Before we get to that, though, just a reminder that the first nine HP NonStop server security fundamentals cover some incredibly important aspects of NonStop server security and are vital for protecting your mission critical systems and applications—you can review the full list of Top 10 NonStop Security Fundamentals on XYPRO's website.

So what is THE MOST important fundamental? It's simple really:

#1: Audit all security-related activity and events

Of course, auditing all NonStop security-related activity and events may seem easier said than done—especially when you have hundreds of thousands (maybe millions) of events occurring daily throughout your NonStop server environment. What you need is a really powerful software solution that allows you to track, filter, manage and report on all NonStop security-related activity.

Good news: You already have the solution you need

Fortunately, HP has partnered with XYPRO to provide just such a solution to all HP NonStop server users. Since August 2010, HP has bundled XYGATE Merged Audit (XMA) with all new J-series and H-series HP NonStop servers. So, if you've received new NonStop systems since August 2010, you already have the XMA software and licenses!

Let's focus on five key aspects of logging and auditing and the capabilities that XMA provides for HP NonStop servers:

1. Consolidate NonStop security event data.
Security event data is created and stored in many places on a NonStop server which can make it difficult to monitor and report on security activity. To resolve that challenge, XMA merges multiple sources of NonStop audit data (for example, Safeguard, XYGATE, EMS, Measure, ACI BASE24® and/or HP's HLR Telco solution) into a single NonStop SQL/MP database. This merged (and normalized) data can be used for security analyses, alerting, audit reporting and integration with enterprise Security Information and Event Management (SIEM) solutions, like HP ArcSight. Note: an HP NonStop SQL/MP license is not required for the XMA database.

2. Create alerts on important events.
Given the high volume of security events, users need some way to filter out routine activity so they can focus on highly important, unusual or suspicious activity. XMA has advanced filtering capabilities that use pre-defined rules and custom user-defined rules to identify important events. A GUI security event monitor is included with XMA, allowing users to monitor and be notified of events right on the desktop in graphical, acoustical and action-oriented formats. Users can also receive automatic alerts by e-mail or SMS.

3. Run audit reports.
Let's face it, audit reporting can be a difficult and time-consuming process—yet it is extremely important. XMA enables easy creation of consolidated audit reports to comply with company policies and regulations such as the Sarbanes Oxley Act (SOX), Payment Card Industry Data Security Standard (PCI DSS), and the Health Insurance Portability and Accountability Act (HIPAA). Users can choose from a wide selection of report templates, use preformatted samples or design new reports for specific needs. Whether generating reports to the NonStop Spooler or to a Windows PC, XMA allows the right information to get to the right people at the right time!

4. Integrate with enterprise SIEMs.
In today's complex security environment, companies need a comprehensive view of security events and information. SIEM solutions, like HP ArcSight, collect security information from many sources in the enterprise and use advanced analytics to identify threats and manage risks. XMA integrates with HP ArcSight and other SIEMs , such as RSA envision and IBM QRadar, enabling the HP NonStop environment to be part of an enterprise security management solution.

5. Learn more about XMA at NonStop Technical Bootcamp.
Please, join us at Bootcamp for the HP sponsored breakout session, "Getting the Most out of XMA and XUA from the new Security Bundle", presented by XYPRO's Andrew Price and Rob Lesan.
---
comForte's Limited Edition 'HP NonStop for Dummies' Book available now!
This book is for anyone with an interest in HP NonStop systems. This book is for you if you're new to the platform, have spent many years working with it, if you manage people or IT systems, or if you're a system operator or developer on/for the HP NonStop platform.
Get the book and ...
· Learn more about HP NonStop systems - a lot has changed in the past few years
· Find out why the platform is unmatched in the areas of high availability and linear scalability - all out of the box
· Discover how to develop new applications on the platform and how to modernize existing ones - all using modern and standard technologies
· Explore ways to better integrate your HP NonStop systems in the Enterprise IT infrastructure
If you would like to receive a free copy of the 'HP NonStop for Dummies' book please register at … http://www.comforte.com/ns4dummies
---
Availability Digest Warns About Shellshock – the Bash Vulnerability
In September, 2014, a bug lurking for 21 years in the popular Bash shell finally was discovered. Dubbed Shellshock, the flaw creates a code-injection vulnerability for applications running under Linux and Unix operating systems that utilize Bash. Bash uses Common Gateway Interface (CGI) scripts to generate dynamic content for web pages and web applications. The Bash vulnerability is caused by its handling of environmental variables in CGI scripts. When the script assigns a function to a CGI variable, not only is the specific function executed, but any malicious trailing code in the function definition also will be executed. Bash takes no precautions to protect against any of this trailing code.

Not only is Shellshock a critical security risk to Linux and Unix operating systems, it also is a threat to the entire Internet because of Bash's ubiquity among systems. Millions of Linux-based devices that link to the Internet – tablets, phones, laptops, industrial control systems, wireless routers, etc., are impacted. The Availability Digest discusses the Shellshock vulnerability, analyzes its severity, and introduces the various patches that are being deployed.

In addition to "Shellshock – The Bash Vulnerability," read the following articles in the Digest's October issue (http://availabilitydigest.com/digests/v09_i10/0910_digest.htm).

Repair Strategies – The repair strategy used by an organization plays a significant role in determining application downtime, especially when mission-critical applications are involved. "Repair Strategies" addresses sequential repair (only one repair team) and parallel repair (multiple repair teams) with cases that reflect a production system with a single backup, a multinode system with one spare, and a multinode system with multiple spares.

HP NonStop for Dummies – Kudos to comForte GmbH for its new book, HP NonStop for Dummies. It is a wonderful presentation of the NonStop hardware and software architectures that have provided industries with 40 years of continuous system availability. Read the Digest's review of HP NonStop for Dummies. Then request your complimentary copy via http://www.comforte.com/ns4dummies.

2014 HP NonStop Technical Boot Camp – For those of you who still yearn for the ITUG days, one of the best values of ITUG membership were the well-attended conferences focused exclusively on NonStop technology. Guess what? The "best" is back. Connect's NonStop Technical Boot Camp attracts more attendees every year and is fully supported by HP's NonStop Enterprise Division. This year's Boot Camp runs from 16 November through 19 November in San Jose, California USA.

@availabilitydig – The Twitter Feed of Outages - This article highlights some of the @availabilitydig tweets that made headlines in recent days. If you currently are not following @availabilitydig, consider making our Twitter presence a daily read.

The Availability Digest offers one-day and multi-day seminars on High Availability: Concepts and Practices. Seminars are given both onsite and online and are tailored to an organization's specific needs. We also offer technical and marketing writing services as well as consulting services.

Published monthly, the Digest is free and lives at www.availabilitydigest.com. Please visit our Continuous Availability Forum on LinkedIn. We're at 662 members and counting. Follow us on Twitter @availabilitydig. Digest Managing Editor Dr. Bill Highleyman will present "How Does Failover Affect Your SLA" at Connect's NonStop Technical Boot Camp in November.

---
Where we are in The World...
Join XYPRO at these upcoming Events in 2014 & 2015
HP NonStop Technical
Bootcamp
November 16-19, 2014
San Jose, CA
www.hp.com



PCI SSC Asia Pacific
Community Meeting
November 18-19, 2014
Sydney, Australia
www.pcisecuritystandards.org


BITUG-BIG SIG
December 2nd, 2014
London, United Kingdom
www.bitug.com




SunTUG
March 6th, 2015
Tampa, Florida
www.connect-community.org


GTUG
April 27th-29th, 2015
Munich, Germany
www.gtug.de

Stay Connected with XYPRO
Facebook
Twitter
LinkedIn Group
BlogSpot
YouTube
---
comForte at events near you in 2014 and 2015
Join us at these events:
| | | |
| --- | --- | --- |
| HP NonStop Technical Boot Camp | 16 - 19 Nov 2014 | San Jose, USA |
| PCI Community Meeting, Asia Pacific | 19 Nov 2014 | Sydney, Australia |
| BITUG BIG SIG | 2 Dec 2014 | London, UK |
| SUNTUG | 6 - 7 March 2015 | Florida, USA |
| Int'l GTUG | 27 - 29 April 2015 | Munich, Germany |
And there is more, join the security discussion in the HP NonStop [Tandem] Security Group on LinkedIn.
Last but not least, follow us on ...
NEW - comForteLounge Blog
comForteLounge LinkedIn Group
comForteLounge Twitter
comForte on YouTube
---
Two New Products From QSA Featured on NonStop Innovations Blog

QSA Enterprises recently released two products for HP NonStop servers.

The first is a tape catalog optimizer called Q/Taco, which simplifies the DSM/TC experience with an easy-to-use GUI. It eliminates the need to remember the roadmap of filecats, volcats, and pools; and it also allows users to search the catalog and print their results.

The second product is Q/TDM, a tape drive monitoring solution. This software gives a real-time window into the tape drive and tape mount activity, alerting users if there is inactivity in processes that are writing to a tape drive, or if mount drives are without a response. Both products eliminate the need for users to memorize Mediacom commands, so relatively inexperienced users are able to interact with the GUI.

For more information on QSA and these products, read the full interview with Terry Malone, president of QSA Enterprises, at the

NonStop Innovations blog.
---
XYPRO a Proud Diamond Sponsor
of the Advanced HP NonStop Technical Boot Camp




Please join us at the HP NonStop Advanced Technical Boot Camp this November 16–19, 2014 in San Jose, California. This technical boot camp is designed specifically for HP NonStop professionals and anyone interested in learning more about XYPRO's extensive line of Security and Professional Service offerings.



Industry Executive Keynotes
Technical Breakout Sessions by Users, HP, Industry Experts like XYPRO & Voltage Security
NonStop Networking Opportunities
FREE Pre-Conference Education for registered attendees!


Click here to view the full list of important sessions and to register...


---
TANDsoft Now Offers Time/Date Simulation on Linux, UNIX and Windows

Date/Time simulation, the advantages of which are enjoyed by NonStop customers of TANDsoft, Inc.'s OPTA2000, is now available via TANDsoft on Linux, UNIX, and Windows.

Interception technology is the foundation of date/time simulation. Its architecture enables the capture of a variety of system and database calls in order to enhance application behaviors. The result is the creation of new functionality without the need to make source code changes, of particular importance when the source code is unavailable. OPTA2000, like all TANDsoft solutions, is based on interception technology. It is a virtual clock- and time-zone simulator that installs easily and requires no application modifications. It allows multiple applications operating in a consolidated environment to each have its own virtual system clock or to function in its own virtual time zone with date/time specifications different than that of the system clock.

For time-zone simulation, virtual times are offset from a system's actual time by an amount expressed as a deviation from GMT. For clock simulation, the virtual times can be offset to whatever time is required for testing, maintenance, etc. A single system using OPTA2000 can host thousands of applications. HP customers have relied on OPTA2000 clock- and time-zone simulation for over 15 years.

Now those same date/time simulation benefits are available to NonStop customers who also deploy Linux, UNIX, and Windows systems. Use OPTA2000 and its partner products to accommodate applications that need to run in user time, not system time.

Time-Zone Simulation (virtual time zones)

- Simultaneously host multiple applications that run in different time zones on the same platform.

- Supports multiple Daylight Saving Time (DST) transitions.

- Test numerous "what if" scenarios for applications that run globally but that reside on a single system.

- Prepare market-closing reports that must represent the local time with which the reports are associated.

Clock Simulation (virtual clocks)


- Perform time-sensitive testing round-the-clock, not just on weekends or after hours.

- Forward test Leap Year rollovers or month-end processing on public holidays.

- Expedite disaster-recovery efforts by allowing last week's work to run at the same time as this week's work.

- Verify production consistency in batch-processing applications by testing overnight runs for date continuity.

- Multiple applications, including test suites, can be evaluated simultaneously on a consolidated system.

- Test third-party solutions and utilities thoroughly prior to incorporating them into stable production systems.

- Identify program inconsistencies on future dates.

- Virtual system times can be arbitrarily offset both to future times and past times

TANDsoft solutions also include FileSync for automatic file synchronization, replication, and data deduplication; the OPTA suite of interception and trace utilities (OPTA-¬Trace Online Process Tracer and Analyzer, Recycle Bin, EMS Alerts Online Startup and Termination Capture Utility, Low Pin Optimizer); Stack Monitor, which alerts developers to the impending threat of a stack overflow; Command Stream Replicator, which logs and automatically replicates TMF-audited/unaudited FUP, SQL/MP and SQL/MX DDL structure and other environment changes to target systems; AutoLib, which automatically loads a user library or a DLL for executing processes; the Enscribe-2-SQL and TMF-Audit Toolkits and the Enscribe-2-SQL Data Replicator, all of which offer flexible, affordable alternatives to more expensive conversion products or manual conversion techniques; E2S-Lite, which permits efficient, low-cost Enscribe modifications without the need to change a program's source code; and SDI/LOG (Sensitive Data Intercept), which logs Sensitive Data access to Enscribe files and SQL/MP tables.

Free trials are available for all TANDsoft products. Visit www.tandsoft.com, or contact Jack Di Giacomo at +1 (514) 695-2234. Drop by our booth at the NonStop Technical Boot Camp in San Jose, California, USA (16 - 19 November).

---
OmniPayments Is New Host of ITUGLIB

OmniPayments, Inc. is the new host of ITUGLIB, a library with a wealth of software utilities, both legacy NonStop and Open Source. OmniPayments is hosting ITUGLIB on a 4 CPU Blade System. It is the first time that the library will reside in a cloud environment. In addition to processing capacity, OmniPayments also will provide at no cost the maintenance, power, and bandwidth. Yash Kapadia, the OmniPayments CEO, has joined the ITUGLIB team, comprised of volunteers who oversee ITUGLIB content. Prior to its migration to OmniPayments, the library's host site was XID, Ltd.

Created in 1982 by ITUG, the International Tandem User Group, ITUGLIB is a library of user-contributed freeware and other software utilities. It is now managed by Connect Worldwide and can be found at http://ituglib.connect-community.org/apps/Ituglib/HomePage.jsf (Bitly translation is http://bit.ly/1D3mn8j). ITUGLIB's Open Source Library is available for use by everyone. Contents of the member-contributed Technical Library can be downloaded only by members of Connect.

OmniPayments is the product arm of Opsol Integrators Inc., a leading HP NonStop System Integrator for Telco and Financial Services. Founded in 1995, Opsol later established OmniPayments Inc. to focus additional development efforts on the OmniPayments financial-transaction switch. It is

a comprehensive solution for financial institutions to acquire, authenticate, route, switch and authorize transactions across multiple input channels such as ATMs, POS (point-of-sale) terminals, kiosks, IVR (interactive voice response) units, mobile devices, and the Internet. Based on a modern Service Oriented Architecture (SOA), the OmniPayments solution consists of several service components, all built for the HP NonStop platform. The components are called business logic modules (BLMs), and they interact to satisfy business needs in a variety of financial environments.

OmniPayments supplies complete security functions for every financial transaction that it handles, including encryption-at-rest and encryption-in-flight. It has successfully been implemented at many customer sites. Available around the clock, OmniPayments will survive any single fault, requires no downtime for maintenance or upgrades, and supports a range of disaster-recovery solutions. It is easily expandable to provide additional functionality when needed. Additionally, OmniPayments can manage multiple devices, can host application interfaces, and can interoperate with third-party products or other systems if required.

The OmniPayments support and licensing model is based on the number of processors in a customer's NonStop system instead of on the transaction volume.

For further information, visit www.omnipayments.com. Contact Yash Kapadia at +1 408-446-9274 or at yash@omnipayments.com. Visit the OmniPayments booth at the upcoming NonStop Technical Boot Camp in San Jose, California, USA (16 – 19 November). Join Yash on Monday, 17 September, for his presentation "The Smarts Behind EMV Smart Cards."
---
QSA Enterprises unveils the latest evolution of Q/Tos.
Q/Tos, the most user friendly media catalog for NonStop, and the only catalog for OSS and SQL/MX files, has become even friendlier.
Join QSA at the NonStop Boot Camp in San Jose to get a live demonstration.
And while you're there check out the Tape Drive Monitor (never miss an unresolved mount request again) and our other data recovery solutions.
If you can't make it to San Jose you can get more information about Q/Tos and our other solutions by visiting our web site at WWW.QSA.COM, email us at info@qsa.com or give us a call at 703-771-9447.
---
Find out more about us at www.tandemworld.net
---