Tandemworld eNewsletter for November 2014
---
Contents

Introducing infni Qube™

BRIGHTSTRAND NONSTOP SERVICES

Musings on NonStop! - November, '14

Boot Camp Slides Now Available!

comForte publishes Q4 Newsletter

XYPRO's Andrew Price on
NonStop Technical Boot Camp 2014
The (New, More Secure!!) Way To San Jose

Gravic Presents at the Connect HP NonStopTechnical Boot Camp

comForte - After the BootCamp is before the BootCamp

OmniPayments Financial Transaction Switch Supports Smart Cards

comForte's Limited Edition 'HP NonStop for Dummies' Book available now!

Where we are in The World...

comForte at events near you in 2014 and 2015

MOMI are Celebrating

Y

ou may be PCI DSS compliant, but are you really secure?

Current Subscribers 14

992
---
· Introducing infni Qube™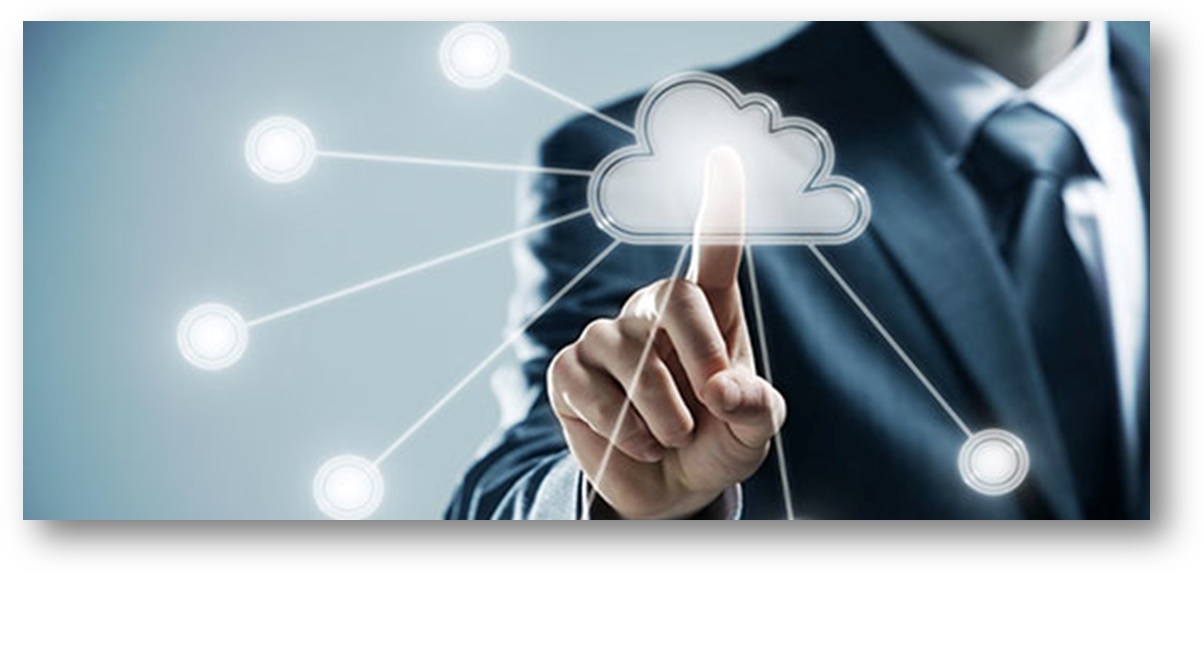 3Qube introduces the industry's fastest backup automation and virtualization solution ever!
Cloud Based Backup and Recovery Made Simple and Affordable. 3Qubes' infni Qube reduces complexity, cost, and time by integrating software, storage, and cloud technology in an all-in-one solution.
Facts:
75%

of organizations face tape failures every year

64%

of organizations need their data protected from natural disasters

62%

of organizations want to store data in a highly secure environment

59%

of customers want to eliminate single point of failure
Explosive increases in the quantity of data in digital format (i.e., email, faxes, application data, documents, and media files) are fueling small businesses and large enterprises to need data storage and backup technology like no other time in the history of the electronic age. Despite a sharp increase in affordability and availability of automated backup systems, many businesses still rely on unsecure tape devices and complex physical media retention strategies to backup and restore vital information.
Further, management may not fully appreciate the risk they take by neglecting backups in favor of "more important" issues. Any non-expert can observe that data loss frequently occurs even with a backup system in place. According to one survey, nearly one in four enterprise to midsized customers reported that at least 20 percent of their recovery attempts fail. Cited as the primary cause for data loss: human error in the backup process or in the interchange and handling of physical tapes.
Solution: infni Qube
infni Qube is a backup storage virtualization and consolidation solution. infni Qube is an any host platform to any storage media or device solution that virtualizes and consolidates backup storage in any heterogeneous datacenter or the cloud, public, private, or hybrid! infni Qube was designed for fault-tolerant, high availability computing environments such as HP NonStop™ (Tandem). infni Qube preserves NonStop fundamentals in the areas of Data Integrity, Scalability, Security and Reliability while meeting or exceeding data backup requirements for speed, capacity, with any-to-any host/storage and S3 cloud compatibility.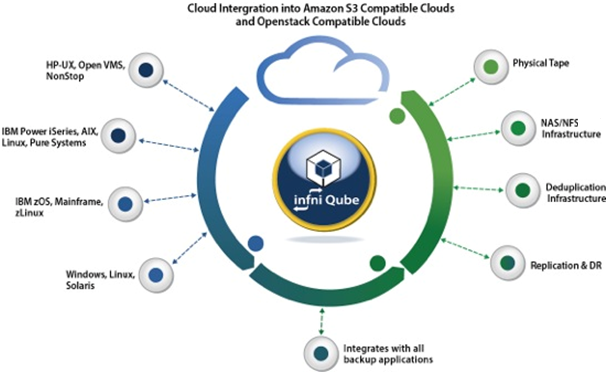 Key Features
· Provides fully automated backup and restore operations
· Securely vaults data to HP Helion and all other Amazon S3 compatible clouds
· Integrated monitoring capabilities for industry leading reports, analysis, and capacity planning
· Implements data compression on disk cache and in the cloud
· Ensures data-at-rest integrity and security via AES 256 bit encryption for both disk cache and data in the cloud
· Transparent remote backup and restore features to satisfy off-site archival requirements
· Enables alternate site disaster recovery schemes
· User defined policies allow flexible data migration strategies
· Specifically designed for heterogeneous, multi-platform environments including proprietary platforms such as IBM® Mainframe, HP NonStop, virtual environments etc.
· Customized configurations for higher availability and specific customer needs
· Supports physical tape to cloud data migration and consolidation
· Supports remote replication with latency management/ WAN optimization
· Connects to existing customer SANs, de-duplication solutions and backup applications
infni Qube offers a state-of-the-art backup storage consolidation platform which can handle requirements from even the most complex environments. infni Qube implements a wide variety of data protection schemes and tape to cloud migration, thus eliminating the need to dedicate devices for specific backup purposes.
Fully Automated Backup and Restore Operations
The technology within infni Qube brings a scalable, flexible, and high-throughput solution to backup and restore operations. No longer does operations staff need to monitor data movement.
infni Qube provides dynamic drive sharing, customer defined virtual tape policies, backup to local and remote sites or S3 compatible clouds, and a performance improvement over current backup methods.
Multi-Platform Heterogeneous Environments
infni Qube emulates several standard front-end interfaces in which existing backup servers and applications can connect and control. Because infni Qube adheres to using standard interfaces, backup servers can reside on nearly any platform and operating system in the market.
This includes all open platforms (x86 Intel® or AMD based systems) as well as IBM iSeries™ (AS400), IBM Power Systems™ (running AIX, Linux®, and i/OS), IBM PureSystems™ (running i/OS, AIX, Windows® and Linux) HP OpenVMS, HP UX, Sun® SPARC, and blade systems (running Windows, Linux and UNIX®). infni Qube also has custom developed interfaces for proprietary computing platforms such as IBM Mainframe (running zOS™ and Linux) and HP NonStop.
Remote Site Backup and Disaster Recovery
Off-site data storage is a necessary prerequisite in satisfying complete data backup and security. This can be accomplished by writing encrypted data to an S3 compatible cloud hosted off site. Since the encrypted data is readily available in the cloud, restoring using infni Qube at a remote site can now be integral part of any disaster recovery plan, providing much faster data accessibility when compared to restoring from archival tape or even de-duped data from a Virtual Tape Library.
Elastic Scalability
As backup requirements change, so too can infni Qube. Cloud backup allows immediate "on-demand" elastic expansion. Also, additional local disk cache can be introduced into the system, and throughput performance and higher availability can be achieved through the multi-node architecture. infni Qube will meet the needs of today and protect your investment by meeting a different set of needs tomorrow.
Want more information on the exciting new possibilities infni Qube offers? It's easy, just contact Jimmy Mathews at jm@3qubetechnologies.com, or call +1 817-354-8009. Email: info@3qubetechnologies.com; www.3qubetechnologies.com
---

BRIGHTSTRAND NONSTOP SERVICES
BrightStrand International continues to deliver NonStop Services to its customer base. Its consultants have the skill and experience that make it the premier service deliverer in the NonStop sector. Services are tailored to individual customer needs to reduce costs and risk whilst getting the best from the environment.
Also by working closely with customers BrightStrand develop products to address customers' needs, such as BrightStrand Netbatch/DR. This is a product that allows the customer to create a simple, automated disaster recovery solution for the HP NetBatch environment and incorporate it into an overall Disaster Recovery Plan.
BrightStrand continues to deliver a full range of services that include:
· Systems and Operations Management
·
Performance and Tuning / Capacity Planning
·
Database Design and Administration
·
Communications Subsystems
·
Web Services
·
Security Reviews
·
IBM WebSphere MQ Series environments.
·
NonStop Integrity and Blade Migrations
·
System Healthchecks (Pre or Post-Migration)
·
Specialist Consultancy
·
Disaster Recovery and Service Continuity Planning
All, or some of these elements can be brought together in a Fully Managed Service that can be tailored to the particular needs of the customer – including remote bridging, hosting or operations support, adding further value to the BrightStrand quality services.
Call Dave Stewart today on +44 (0)7831 775115 or email him on dstewart@brightstrand.com for more information.
---
Musings on NonStop!
November, '14
The opinions expressed here are solely
those of the now self-employed author
It is relatively easy to write short summaries of past events just as it's easy to report good news. However, this past week, my job was made so much easier following the turn of events all participants witnessed at the 2014 NonStop Technical Boot Camp. Yes, I know, the label "Boot Camp" doesn't do justice to the nature of the event, but I will let that slide as I am acutely aware that flying-under-the-radar is very important for all practical purposes when it comes to holding events such as we just did.

The venue – Hayes Mansion – was a total surprise for me. Having lived in Silicon Valley for nearly a decade I didn't know of its existence, but as a venue for hosting a gathering of the NonStop community, it was close to perfect. Following a flurry of registrations over the last couple of days, there weren't 350 attendees but very close to 500! All up, some 480 or so NonStop community members participated and if I were reporting on this the way we did back in ITUG days, this was a 1500 man/days turn out (excluding the preconference sessions)! Yes, the NonStop community is alive and kicking and not to be ignored, discounted, or in any way relegated to being nothing more than a historical footnote.

For me, the sense of a major sea change under way started with Sunday morning as attendees arrived for an early 7:00am breakfast prior to an 8:00am start for numerous four-hour pre-conference sessions. The harried look on the staff manning the registration desk spoke volumes – even with extra hands on deck lines began forming and it was still very early Sunday morning! I was to give a 50 min presentation on Big Data as a way to introduce the products now available from WebAction and was taken by surprise by an almost full meeting room.

As an aside, I blogged on what transpired most days of the event and if you have not as yet checked out these posts, the best place to find them is as discussions on the LinkedIn group, Real Time View. In sequence, these included:
Mid-event impressions – 2014 NonStop Technical Boot Camp
Second full day – what was said (and not said) …
Heading out the door - 2014 Boot Camp; final thoughts …

When it comes to highlights, it would be very remiss of me not to mention the joint HP / InfraSoft presentation given by HP's Keith Moore and InfraSoft's Dave Finnie. Focused on what is to come with NonStop support of Intel 86 architecture the wraps were removed from the availability of a new platform for the NonStop – shortly, you will not only be able to port solutions written in C / C++ and Java, but in JavaScript as well. Representing a very deep port, fully exploiting the key attributes of NonStop, come the mid-March timeframe, you will see Server Side JavaScript (SSJS) supported and while I blogged about this in Real Time View (yes, check the post: Modernization – and NonStop is a key part of the landscape!) it still came as a surprise to many in the audience.

But wait, there were more highlights than just the unveiling of SSJS – for the first time in many years there were solutions vendors participating. Brian Miller from Lusis Payments, Yash Kapadia from OmniPayments and even Doug Grote from (ACI albeit representing a different group within the company) gave the event a distinct solutions feel. Today, many of the major middleware solutions are bordering on becoming full-blown solutions in their own right, particularly when hybrid platforms are involved, the participation of such a strong presence in the Finance sector I hope attracts solutions vendors from other segments – healthcare and telco in particular.

There were some small wins for the community as well. DataExpress made a return to events after an absence of some time and I was able to sit down with Susan Raye, about which I will post in a few weeks' time. Likewise, seeing a perimeter of booths surrounding the exhibition hall with names I wasn't familiar with came as quite a shock – yes, vendors continue to maintain a presence in the NonStop community even as new vendors spend more of their own nickels and dimes on NonStop. Before I change topics here I have to make sure everyone in the NonStop community knows just how big a commitment vendors made to the event as without their support this wouldn't have been the success it clearly was – make sure you all thank them next time you see a representative.

One final observation – did you realize that there is so much activity was under way involving Clouds and Big Data? While these are key focus areas for HP it wasn't immediately apparent just how involved the NonStop community would be in Security, Mobility, Big Data and Clouds. It's not necessary to stress the Security aspect as NonStop has been well served by a strong vendor community participation – I lost track of just how many actual conference sessions, not to mention pre-conference sessions, comForte provided but I was constantly checking the program to see if what interested me conflicted with something that they were giving – and Mobility is already being fairly easily accommodated (as just another device). But Big Data and Clouds?

I've already written of WebAction and the roll-out of Big Data product for NonStop but who knew OmniPayments has a Cloud up and running built around NonStop – watch for a lot more on this from me in the coming months. And there were other vendors too clearly pursuing both topics – watch too for updates on maRunga shortly, as this product's messaging focuses more on Pathway. Overall, it is a good time for the NonStop community to remind their own CIOs that NonStop cannot be ignored or overlooked. Yes, it's a player!

All of this made it very easy to report on the Boot Camp. Will the event be held next year? At the same venue? Will there be a lot more on NonStop with x86 support? It's very early days but even as budgets for 2015 are mapped out, don't overlook this very important event – attendees from as far afield as Australia, Japan, Singapore, South Africa and much of Europe and South America all made the event this year! But another Boot Camp? Well, let's just see what the planners come up with next year but this has moved well beyond what we traditionally have associated with a Boot Camp. This is a very serious occasion to really come to grips with all that is today's NonStop!
Richard Buckle
Founder and CEO
Pyalla Technologies, LLC
Email: richard@pyalla-technologies.com
Following my blogs? My web publications? My discussion Groups?
Check out (or copy and paste to your browser):

Real Time View at http://www.itug-connection.blogspot.com/
…. And check out the Group on LinkedIn, Real Time View
comForte at http://blog.comforte.com/
…. And check out the Group on LinkedIn, comForte Lounge
Realtime.ir at http://realtime.ir.com/
…. And check out the Group on LinkedIn, realtime.ir
WebAction.com at http://webaction.com/blog/
…. And check out the group on LinkedIn, Data Driven Apps

ATMmarketplace at
http://www.atmmarketplace.com/blogger.php?id=130763
buckle-up at http://www.buckle-up-travel.blogspot.com/
…. And check out the SubGroup on LinkedIn, Pyalla Track Days
---
Boot Camp Slides Now Available!
If you missed our presentation at Boot Camp this year, download the slides for "Access Pathway Applications From a Browser or Mobile Device."
The session was presented by NuWave's president, Ernie Guerrera, and talked about NuWave's latest middleware solution.
LightWave allows NonStop users to securely connect to Pathway applications from clients running on any platform, including cloud-based applications and mobile apps.
With LightWave, you can access NonStop processes, Pathway servers, Enscribe files, and TMF; so you can remotely check NonStop performance, including: CPU status, input/output, memory utilization, and TPS, among other things.
It's up to you what information you want to retrieve!
For more information about LightWave, go to www.nuwavetech.com/lightwave or email support@nuwavetech.com
---
comForte publishes Q4 Newsletter
The comForte Newsletter has become a regular feature and it covers the latest company and product news.
Read the current version for Q4 2014 at ...
http://www.comforte.com/news/newsletter
Any questions or anything that's of interest please get in touch
---
XYPRO's Andrew Price on
NonStop Technical Boot Camp 2014
The (New, More Secure!!) Way To San Jose
We've just returned from this years' NonStop Technical Boot Camp – what a whirlwind! Held for the first time at the Dolce Hayes Mansion, in the suburbs of San Jose, there was a record number of attendees, and it was a vibrant and energetic conference. We had a busy time, with lots of great customer interaction, both on the tradeshow floor and during the evening events. The continued and increasing focus on security was clearly evident, from the number of security vendors exhibiting, to the large number of sessions (both customer and vendor) discussing security, data breaches and various challenges related to those issues. Speaking of, XYPRO had folks involved in 9 (!) different sessions during the 3 ˝ days:
During the pre-conference sessions on Sunday, attendees got to experience a deep dive on a variety of different topics. Rob Lesan and Terence Spies (from Voltage) covered strategies for security in today's payments landscapes, where breaches are becoming so commonplace. The workshop spanned magnetic stripe technology right through to Apple Pay, and covered cryptographic developments and tokenization evolution, and was a valuable session for anyone wanting to learn more about these important technologies. They also had a case study on implementing tokenization in a real-world payments application, based on our recent experiences.
---
Gravic Presents at the Connect HP NonStopTechnical Boot Camp
Delegates enjoyed five sessions on HP Shadowbase at the
2014 Connect HP NonStop Technical Boot Camp
held November 16-19 at the Hayes Mansion in San Jose, CA
. HP is now globally reselling and supporting Shadowbase solutions, in the business continuity, data and application integration, and zero downtime migration product space. We presented the following sessions describing this partnership and the exciting new features available in our HP Shadowbase products:
·
HP Shadowbase Introduction and Overview (targeted to sales/pre-sales and explaining how
HP Shadowbase
is packaged and sold)
·
HP Shadowbase Technical Overview (targeted to HP solution architects and customers)
·
BASE24™ to Oracle Data Integration – An HP Shadowbase Case Study in Improving Functionality While Reducing Costs
·
HP Shadowbase Solutions and HP Pathway Domains – Perfect Together!
·
Leveraging HP Shadowbase Data Replication Technology for Business Continuity, Data Integration, and Application Integration
If you are interested in discussing any of our TBC presentations' content or having us present these to your staff, please contact us. Congratulations to
Eduardo Roloff of GET Net who won our Kindle Fire HD prize!
For more product information on HP Shadowbase:
· read the HP data sheet, HP Shadowbase Suite for HP NonStop and Other Servers,
·
read the HP brief, Make your Business 'Nonstop',
·
read the Mission Critical Computing Blog,

When planned or unplanned downtime has to be zero—the HP Shadowbase product suite keeps you running
,
·
or contact your HP NonStop Sales Representative.
Gravic Publishes New Case Study on Bank's Crisis Migration Solved by Shadowbase Data Replication
Gravic publishes a new case study: A Bank's Crisis Migration to a Shadowbase Data Replication Solution. As part of an HP NonStop system upgrade project, a major bank and financial services institution found itself faced with either paying a large increase in license fees for its current data replication engine or having those licenses terminated. With only two weeks to go, the bank turned to the Gravic technical team, who configured, installed, and tested its Shadowbase data replication product in time to replace the bank's existing replication solution before the licenses expired. The bank is now extending its use of the Shadowbase product suite to satisfy all of its data replication needs.
Please Visit Gravic at these Upcoming Events
BITUG BIG SIG London, UK, 2 December, 2014
InNUG Business Critical Dialogue 2014 Conference Jaipur, India, 18-20 December, 2014
SunTUG Sunshine Summit Tampa, FL, 6-7 March, 2015
GTUG Conference Munich, Germany, 27-29 April, 2015
P
lease Visit Gravic at these Sites
---
comForte - After the BootCamp is before the BootCamp
The Technical BootCamp in San Jose closed its doors last week and for me it was by far the best event in the past years. With delegate numbers around the 470 mark, about 30 vendors in the partner area and lots of great sessions this was bound to be a great event. In the partner meeting at the end of the show all but one partner agreed that BootCamp was a success!
From comForte's perspective, we had some great interest in the two pre-conference workshops on Sunday before the event covering 'PCI Compliance through tokenization on NonStop – We show you how it's done' and 'The Ins and Outs of Application Modernization – From the Ground Up and From the User In'. These workshops were nicely complemented by further presentations on these topics by SecurData user Eduardo Roloff, GetNet Brazil and an Application Modernization session by Harry Scott. It was all rounded off by further presentations on SSL and SSH hardening, Data-at-rest protection for BASE24 and participation in the general session on the HP NonStop operating system with Wendy Bartlett.
Whilst the content of the BootCamp sessions was generally of high quality there were some general messages missing with regard to NonStop on x86. Most delegates surely expected to hear more about the platform, the plans, model names, availability (for customers and partners) and most importantly pricing. The talk on the floor was that this information will be announced at the upcoming HP Discover event in Barcelona Dec 2-4, 2014. For me, not making any of these announcement at BootCamp was a missed opportunity ...
But then, after the BootCamp is before the BootCamp - comForte is looking forward to an even better event in 2015.
Thomas Gloerfeld
VP Marketing
---
OmniPayments Financial Transaction Switch Supports Smart Cards
Lagging behind the rest of the world, the United States is finally scheduled to begin the adoption of smart cards. The original specifications for which were developed by Europay, MasterCard, and Visa (EMV), smart cards are designed to end the fraudulent use of insecure magnetic-stripe cards by embedding a computer chip into the card. Used in conjunction with EMV-compatible POS (point-of-sale) or ATM terminals, smart cards provide encryption and risk-management functions to thwart card counterfeiting, skimming, and cloning as well as to ensure secure transaction processing. The OmniPayments financial-transaction switch supports EMV smart-card technology.
OmniPayments is a comprehensive architecture by which financial institutions acquire, encrypt, switch and authorize transactions across multiple input channels such as ATMs, POS terminals, kiosks, IVRs and the Internet. It supplies a full set of functionalities to support payment transactions. Based on a modern Service Oriented Architecture (SOA), OmniPayments consists of several service components, all built for the HP NonStop platform. OmniPayments is the product arm of Opsol Integrators Inc., a leading HP NonStop System Integrator for Telco and Financial Services. Founded in 1995, Opsol later established OmniPayments Inc. to focus additional development efforts on the OmniPayments solution.
"The Smarts Behind EMV Smart Cards," presented at the NonStop Technical Boot Camp by OmniPayments CEO Yash Kapadia and Availability Digest Managing Editor Bill Highleyman, is now available in an article format in the November 2014 issue of the Availability Digest (www.availabilitydigest.com). Written by Yash Kapadia, Part 1 focuses on the secure authorization of online smart-card transactions via issuer interaction. Yash continues the smart-card discussion in the December 2014 Digest. Part 2 will address the procedures for securely authorizing smart-card transactions offline without direct issuer involvement.
Smart cards have been in use in most countries for years. As of 15 August 2015, any U.S. merchant that does not process the majority of its transactions with EMV-compatible POS terminals will be liable for fraudulent transactions rather than having that liability be the responsibility of the issuing bank. Since HP NonStop systems have a significant presence in payment-card transaction systems, it is important that the NonStop community be familiar with smart-card technology.
OmniPayments supplies complete security functions for every financial transaction that it handles, including encryption-at-rest and encryption-in-flight. It has successfully been implemented at many customer sites. Available around the clock, OmniPayments will survive any single fault, requires no downtime for maintenance or upgrades, and supports a range of disaster-recovery solutions. It is easily expandable to provide additional functionality when needed. Additionally, OmniPayments can manage multiple devices, can host application interfaces, and can interoperate with third-party products or other systems if required. OmniPayments is deployed on NonStop to ensure the highest availability.
The OmniPayments pricing model is based not on transaction volume but instead on a one-time software license. This results in huge savings.
OmniPayments, Inc. is the new host of ITUGLIB, a downloadable library with a wealth of software utilities, both legacy NonStop and Open Source. OmniPayments provides maintenance, power, and bandwidth at no cost to the NonStop community. The open-source content is available to any interested individual. NonStop legacy content is restricted to members of Connect. http://bit.ly/1D3mn8j.
For further information, visit www.omnipayments.com. Contact Yash Kapadia at +1 408-446-9274 or at yash@omnipayments.com.
---
comForte's Limited Edition 'HP NonStop for Dummies' Book available now!
This book is for anyone with an interest in HP NonStop systems. This book is for you if you're new to the platform, have spent many years working with it, if you manage people or IT systems, or if you're a system operator or developer on/for the HP NonStop platform.
If you attended the BootCamp last week you will have found a copy of the book in the Event Bag that was handed out to everyone.
If you weren't there, then … Get the book and …
· Learn more about HP NonStop systems - a lot has changed in the past few years
·
Find out why the platform is unmatched in the areas of high availability and linear scalability - all out of the box
· Discover how to develop new applications on the platform and how to modernize existing ones - all using modern and standard technologies
·
Explore ways to better integrate your HP NonStop systems in the Enterprise IT infrastructure
If you would like to receive a free copy of the 'HP NonStop for Dummies' book please register at …
http://www.comforte.com/ns4dummies
---
Where we are in The World...
Join XYPRO at these upcoming Events in 2014 & 2015



e-Crime Congress Europe
November 27th, 2014
Amsterdam, Netherlands
www.e-crimecongress.org








BITUG-BIG SIG
December 2nd, 2014
London, United Kingdom
www.bitug.com




Dust
December 9th, 2014
Phoenix, Arizona





Begium NonStop User Group Meeting
December 10th, 2014
HP Offices, Brussels, Begium






SunTUG
March 6th, 2015
Tampa, Florida
www.connect-community.org





GTUG
April 27th-29th, 2015
Munich, Germany
www.gtug.de
Stay Connected with XYPRO
Facebook
Twitter
LinkedIn Group
BlogSpot
YouTube
---
comForte at events near you in 2014 and 2015
Join us at these events:
| | | |
| --- | --- | --- |
| PCI Europe | 27 Nov 2014 | Amsterdam, Holland |
| BITUG BIG SIG | 2 Dec 2014 | London, UK |
| 'After the TBC' | 10 Dec 2014 | Belgium |
| SUNTUG | 6 - 7 March 2015 | Florida, USA |
| Int'l GTUG | 27 - 29 April 2015 | Munich, Germany |
And there is more, join the security discussion in the

HP NonStop [Tandem] Security Group on LinkedIn.

Last but not least, follow us on ...

NEW - comForteLounge Blog

comForteLounge LinkedIn Group

comForteLounge Twitter comForte on YouTube
---
MOMI are Celebrating
15th Anniversary See why, Click here

---
You may be PCI DSS compliant, but are you really secure?

Knightcraft Technology senior consultant Greg Swedosh delivered a presentation at the recent HP NonStop Advanced Technical Boot Camp in San Jose , California, which was extremely well received by all who attended. The topic was 'You may be PCI DSS Compliant, but are you really secure?' HP security doyen Wendy Bartlett even used some of the slides in her presentation at the Security General Session.

Many HP NonStop customers have been passed by a QSA as being PCI compliant, but often the QSA doesn't have sufficient NonStop expertise to really know if all technical security requirements have truly been met. This can include compensating controls used for protecting sensitive data as well as vulnerabilities in configuration that may provide ways of gaining access to privileged userids or data. A number of recent high profile security breaches have alerted the whole industry to the fact that compliance does not necessarily equal security. This presentation looks at some of the common areas of vulnerability for the NonStop, illustrates the problem with compensating controls for Req. 3.4 by showing ways that a user can bypass session keystroke capture software and provides ways to minimize the risk of a security breach.

A PDF copy of the presentation can be downloaded from the Knightcraft website at http://www.knightcraft.com/2014-hp-nonstop-advanced-technical-boot-camp.

*Knightcraft Technology is the leader in security consultancy services and PCI DSS compliance for the HP NonStop Server platform. With a proven methodology, information analysis toolset and our recently announced partnership with comForte, wherever you are located in the world, we can assist you.

Please contact either Knightcraft or comForte to find out how we can help you ensure that your HP NonStop Server security, audit and compliance requirements are fully satisfied.

<![if !vml]>
<![endif]> <![if !vml]>
<![endif]>
---
Find out more about us at
www.tandemworld.net
---