Contents
Tributary Systems Company and Product News
BRIGHTSTRAND NONSTOP SERVICES
ETI-NET Welcomes David Ross
NuWave Welcomes a New Member to the Team
FIPS VALIDATION
comForte launches new website and YouTube Channel
Migrate Your Apps to a Converged Infrastructure
CommitWork presentation "Moving from a J2EE Oracle WebLogic-based application to a NSJSP-based application" at the HP-Discover 2011
BASE24 codes resolved
Attend HP Discover 2011 and Gravic's Update on High and Continuous Availability Architectures
Get Your Complimentary White Paper By HP & Attunity
XYGATE ENCRYPTION & KEY MANAGEMENT SECURES PAYMENTS ON NONSTOP
Crystal Point Software and Services
Save Time and Increase Accuracy
NSWi
Availability Digest Explores Crisis Communication When Data Centers Go Kaput
Looking Ahead
XYGATE – CONTINUING TO BE PART OF THE HP NONSTOP SECURITY STRATEGY
LinkedIn's Enscribe to SQL Migration Forum is at 47 Members and Counting
CAIL @ Discover - to Modernize and better position NonStop in the Enterprise
XYPRO ADDS SUPPORT for RADIUS
Musings on NonStop!
Have an interesting NonStop customer story to tell?
User Groups
Tandemworld eNewsletter on LinkedIN
Employment
Current Subscribers 12,961
---
Tributary Systems Company and Product News
In 2011, Tributary Systems, Inc. celebrates its 15th continuous year as an OEM product supplier to the HP NonStop Enterprise Division (Tandem and Compaq NSD previously). As a strategic partner and OEM supplier to HP NED, Tributary tests every release of G, H and J-series OS prior to release to ensure compatibility of ALL Tributary supplied products and solutions with every new version of HP NonStop OS. In addition, Tributary supplies HP NED with a full suite of backup storage products which include LTO based tape products, automation products and library management software totaling 37 different products. Please contact your HP NED account manager for detailed information on all tape, automation and library management software solutions available directly from the HP NonStop price book.
Tributary Systems earned its HP NonStop Converged Infrastructure - Ready credentials in May 2011 and is now one of the select group of NonStop vendors that are CI-Ready.
Tributary Systems has backup virtualization solutions to protect your HP NonStop data along with data generated by your IBM and open platform environments. Tributary's ViTAL™ solution (for HP NonStop) and Storage Director™ (for all open platforms) are fully integrated backup virtualization solutions with the ability to backup ANY proprietary or open platform host server to ANY tape, de-duplication device, SAN/NAS device or remote site/Disaster recovery site storage device. ViTAL's 3.0 release features enhanced replication with de-duplication for remote site/DR replication at a fraction of the cost of external de-duplication devices while offering end-to-end HP NonStop compatibility and single point support. The issue of accountability during critical support issues when solutions from multiple vendors are deployed in HP NonStop backup environments, particularly using products from HP's competitors, simply does not exist with Tributary's ViTAL solution or any solution supplied directly by HP NED.
ViTAL/Storage Director 3.0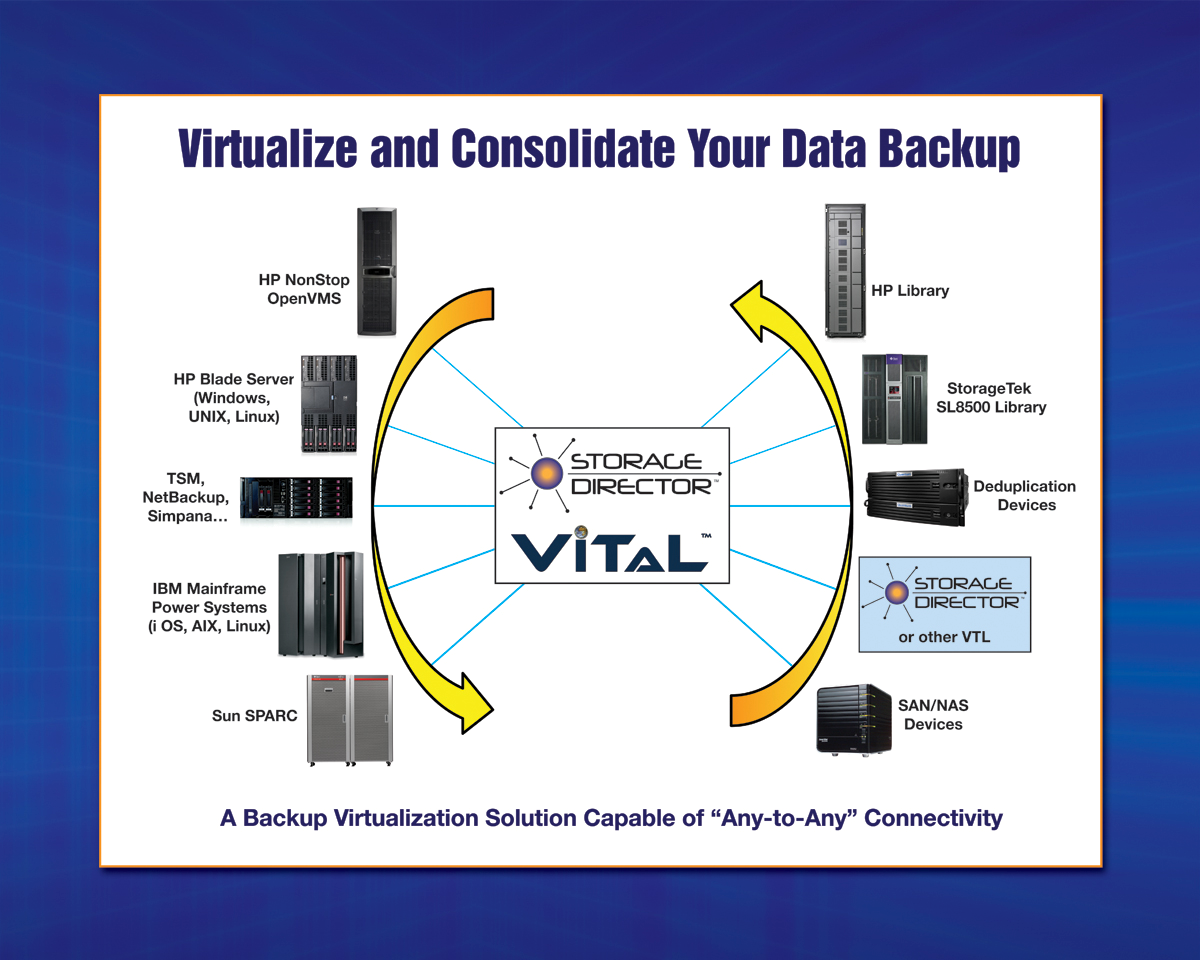 Tributary's ViTAL solution is highly available with no single point of failure, hardware and software monitoring and predictive failure notification by email and SNMP alerts. ViTAL, therefore, protects your NonStop data through the backup, recovery, archival and DR process while maintaining the HP NonStop fundamentals of AVAILABILITY (Fault-Tolerance), SCALABILITY and DATA INTEGRITY. In addition, ViTAL and Stoarge Director bring these benefits of data protection to all other platforms in your datacenter.
Since Tributary Systems has supplied HP NED with all tape products for the past 15 years, Tributary's ViTAL solution is completely compatible with all legacy NonStop tape drives, auto-cartridge loaders and tape library solutions in your environment. ViTAL offers NonStop customers a path to move data away from legacy tape devices into new high performance enterprise disk and tape technologies using both LTO4 and LTO5 formats.
ViTAL /Storage Director features:
Enhanced replication with de-duplication
AES encryption with compression
Fully automated operation of both virtual front-end and physical back-end devices
Advanced Recovery Option (ARO) for higher availability/fault-tolerance
Transparent remote backup and restore for off-site requirements and disaster recovery
Ability to consolidate tape libraries and drives to lower cost
Offer customers a cost-effective migration path away from legacy tape and disk solutions
Reduced backup windows enterprise-wide
User defined policies direct data migration to any back-end device
Industry leading reports, monitoring and alerting for lights-out operations
Customized configurations for higher availability and other specific customer needs
HP DISCOVER, The Venetian, Las Vegas, NV, June 6-10
Please visit Tributary Systems in Booth 181 at the HP Discover Show at the Las Vegas Venetian June 6-10. Please register at our booth for a chance to win an HP Mini Notebook computer.
---
BRIGHTSTRAND NONSTOP SERVICES
BrightStrand International employs the largest critical mass of HP NonStop specialists in the UK today. All our consultants typically have between 15 and 25 years of HP NonStop experience. BrightStrand is the only HP Business Partner accredited to sell the HP NonStop range of servers in the UK. This provides a high level of knowledge and ensures that BrightStrand is the premier NonStop services provider in the UK and has the capability to deliver tailored services which provide lower cost, reduced risk, higher availability and increased efficiencies.
BrightStrand International's service portfolio covers the full service lifecycle from initial design through to service operation and continual service improvement thereafter. The services include:
· Systems and Operations Management
· Performance and Tuning / Capacity Planning
· Automation
·
Systems Design
· Solutions Architecture
· Database Design and Administration
· Communications Subsystems
· Web Services
· Security Reviews
· IBM WebSphere MQ Series environments.
· NonStop Integrity and Blade Migrations
· System Healthchecks (Pre or Post-Migration)
· Specialist Consultancy
· Disaster Recovery and Service Continuity Planning
All, or some of these elements can be brought together in a Fully Managed Service that can be tailored to the particular needs of the customer – including remote bridging, system hosting, 24/7 Systems and Operations support, Applications Management and Converged Infrastructure, adding further value to the BrightStrand quality services.
Call Dave Stewart today on +44 (0)7831 775115 or email him on dstewart@brightstrand.com for more information.
---
ETI-NET Opens office in the UK and appoints new Director
Following a record year of BackBox installations, ETI-NET has expanded its regional operations in EMEA by opening a new office in the UK and recruiting a new Director.
We are pleased to announce that David Ross has joined ETI as Director of EMEA Sales, with new business responsibilities across Europe, the Middle East, and Africa. David is based near to London and reports directly to Andrew Hall, ETI-NET's President.
Please welcome Dave as he connects with old friends and colleagues in this new assignment.
<![if !vml]>
<![endif]>David can be contacted on:
Office: +44 (0) 1494-771981
Mobile: +44 (0) 7799-673582
Email: david.ross@etinet.com
ETI-NET develops software and hardware which allows NonStop servers to access modern storage technologies. Now in a third decade of operation, ETI-NET enjoys a reputation for delivering leading-edge components to major data-centers globally - affording our customers advanced functionality otherwise unavailable to the NonStop community.
See www.etinet.com
---
NuWave Welcomes a New Member to the Team
NuWave Technologies has recently made an addition to their IT services team. Dan Langermann, the new business systems consultant, will work with NuWave's consulting clients to bring greater efficiency to their operations and to shorten their time to market. He will emphasize the business value of IT improvements and deliver change management and supporting communications for these changes to the business.
Dan has over 30 years experience leveraging IT to improve companies' business processes. He has collaborated with many marketing and operations departments to incorporate forecasts into their demand planning and to develop order to cash efficiencies. He has also built several strategic plans for both marketing and IT. Dan has managed projects in numerous industries and countries, utilizing and growing his intercultural skills and awareness.
Meanwhile, NuWave has provided IT services such as application modernization, process improvement,
migration (now includes migration to a converged infrastructure),
and systems integration since 1999. During this time, the company has solved business problems via strategic IT implementations for many Fortune 500 and 1000 companies (see customer list). As NuWave continues to help its clients improve their operations through IT, we look forward to utilizing Dan's added skills and experience on these critical projects.
To learn more about Dan, check out his biography on NuWave's team page.
---
FIPS VALIDATION


XYPRO is very pleased to announce its newly expanded FIPS 140 Level 2 validation. The XYGATE Encryption Library (XEL) which has already been FIPS validated for years, has now been re-validated to include IBM AIX, IBM zOS, SuSE Enterprise Server and Red Hat Enterprise Linux versions of the Encryption Library. This expands XYPRO's supported platform list which already included HP NonStop, HPUX, Solaris and Windows. All of this has been achieved while maintaining the support for AES, DSA, HMAC, RNG, RSA, SHS and Triple DES encryption algorithms.

This most recent validation is a testament to XYPRO's unwavering commitment to security and compliance and demonstrates XYPRO's determination to continue providing customers with a secure and dependable solution. The FIPS standard, which is mandated by law in the U.S. and strictly enforced in Canada, is also being reviewed by ISO to become an international standard.
Read the full Press Release here https://www.xypro.com/index.php?id=12

Barry Forbes
XYPRO
VP, Sales and Marketing
877-997-7622
---
comForte launches new website and YouTube Channel
comForte 21, a global provider of connectivity, middleware, and security solutions for the HP NonStop platform, announces the launch of its new website.
"We are very excited about taking our website to the next level,' said Thomas Gloerfeld, VP Marketing at comForte. "The website has a new, fresh, and friendly look and feel and provides a wealth of information about comForte's products and what comForte stands for," he adds. "We continue to improve the way in which we interact with our market and the modernization of our website delivers a much more user-friendly experience to gain access to information."
Amongst many things, the design of comForte's website was revamped and the user login area was overhauled significantly in order to increase usability, security and user-friendliness. Customers who are registering with comForte can now choose their own password upon registration.
To experience the new website for yourself please go to www.comforte.com.
Let us know what you think by sending an email to marketing@comforte.com.
On the back of a very successful webinar on Application Modernization on NonStop we created a comForte 21 YouTube channel. This enables us to make webinars and product videos more easily accessible and available to our friends in the NonStop world. Check it out at www.youtube.com/user/comforte21
Come and see us at these upcoming events in 2011
ACE, San Diego, June 5-8
Discover, Las Vegas, June 6-10
VNUG, Stockholm, Sept 5-7
CTUG, Toronto, October
GTUG, Germany, Nov
Discover, Vienna, Nov 29 - Dec 1
Follow us on:
<![if !vml]>
<![endif]>
http://comfortelounge.blogspot.com/
<![if !vml]>
<![endif]>
http://www.linkedin.com/groups?mostPopular=&gid=3129511
<![if !vml]>
<![endif]>
http://www.youtube.com/user/comforte21
---
Migrate Your Apps to a Converged Infrastructure
People are talking about converged infrastructure left and right, but is anyone actually taking the first step? If you've exposed your NonStop applications as Web services, you have! Web-enabling these applications not only modernizes them, but it also facilitates the migration process--talk about two birds with one stone! Here's how it works: in order to ensure a low-risk migration to the HP BladeSystem Matrix (or any platform), you need to keep your applications running the entire time. To prepare your company for this migration, NuWave Technologies is now offering modernization and converged infrastructure (CI) consulting at a great value.
With NuWave's modernization service, you can have other platforms (including desktops) access information on your NonStop, or you can access data on the internet or intranet from your NonStop application; this opens up your NonStop system to all sorts of new possibilities. Then if you wish to move to a converged infrastructure, we can seemlessly handle this migration for you. Because the move to a platform with integrated software, networking, and storage is complex; we will collaborate with you to prepare for and manage the migration with zero downtime, minimal risk, and without interruption to your operations.
Check out our NonStop consulting page for more information, then email info@nuwave-tech.com to discuss your modernization or migration strategy.
---
CommitWork presentation "Moving from a J2EE Oracle WebLogic-based application to a NSJSP-based application" at the HP-Discover 2011
CommitWork invites you to visit the presentation - Moving from a J2EE Oracle WebLogic-based application to a NSJSP-based application" on June 8 at 3:30 PM (Room Titian 2305).
Abstract:
This presentation describes how a J2EE Oracle WebLogic-based application was ported to a NSJSP-based application on NonStop Server.
The session will start with a historical overview that explains why the porting was necessary, followed by a discussion about advantages and disadvantages of the NSJSP-based solution.
Attendees will learn about technical preconditions, including project architecture, communication, type of J2EE beans and JMS, along with the corresponding solutions in a NSJSP environment. The presentation will conclude with a discussion of the project results.
---
BASE24 codes resolved
There is a new feature in the Stefi software when it acts as a BASE24 PTLF/TLF/ILF viewer: the software knows the corresponding descriptions of lots of codes, The only thing you have to do (when browsing the log files) is to place the mouse pointer on the code, and the description will appear as a <Hint>. Some of the codes that has this feature:
- POS and ATM Response codes

- VISA, MasterCard and BicIso Response codes

- Transaction code (T-Cde)

- Message type (Typ)

- Transaction originator (ORIGINATOR)

- Transaction responder (RESPONDER)

- Point of Service Condition Code (PT-SRV-COND-CDE)

- Point of Service Entry Mode (PT-SRV-ENTRY-MDE)

- Merchant Category Code (RETL-SIC-CDE)

<![if !vml]><![endif]>
Stefi is a client-server application providing a Graphical User Interface frontend to NonStop Tedit/Enscribe files and Sql/Mp tables to browse and edit them. It provides a new level to access Enscribe files and also acts as a great Windows client for Sql/Mp tables. It also supports filtered file copy into the windows environment providing txt, Excel (csv), html, MsSql server table output formats.
One of the features is the so called "Enscribe filter", that is constructed on the client and then passed to the server for execution. This way the records can be filtered based on any fields on it.
With the PCRE porting the filters can use Regular Expressions that gives a very flexible way to define comprehensive conditions, especially when filtering the presence and content of BASE24 tokens.

The software has built-in DES/3DES encoding regarding the client-server data communication. It is great, when you have to pass PCI-DSS audits!

The extra support for BASE24 files makes it ideal for BASE24 developers, testers and operators.

More information: http://www.audit-profit.hu/
Tibor Peak
Audit Profit Ltd.
email: mail@audit-profit.hu
---
Attend HP Discover 2011 and Gravic's Update on High and Continuous Availability Architectures
Please visit with the Gravic team at Kiosk 190-K in the NonStop Zone at HP Discover 2011 Las Vegas to learn about High and Continuous Availability Architectures, and while there, enter for a chance to win an Amazon Kindle. Also, participate in an exclusive presentation on "Advances in High and Continuous Availability Architectures for NonStop Systems" – Breakout Session 4500, Thursday, June 9, 8-9 am, Room Titian 2303. Even if you have heard us speak before, we have a lot of new information to present. You will learn how technology is evolving quickly to deliver continuous application availability with zero data loss in the event of a disaster. For immediate information please visit: www.gravic.com/shadowbase/uses/continuousavailability.
Session Abstract:
As businesses' needs have driven higher and higher application availability requirements, various architectures are evolving to meet those needs. We describe new trends in the recovery time and recovery point objectives model that businesses use to quantify their needs, discuss the factors (and trade-offs) that affect each objective, and present various replication architectures in use today to attain these stringent goals. We also describe the next wave of technological advances in the development pipeline to understand how the technology is evolving to eventually deliver true continuous application availability with zero data loss in the event of a disaster. This session defines what is meant by high and continuous application availability in 2011 and beyond, and then focuses on asynchronous and synchronous replication technologies that support disaster recovery (active/passive) architectures as well as the more sophisticated bi-directional active/active architectures. During the session, several case studies of deployed implementations will be presented, highlighting the advantages and limitations of each.
Please Visit Gravic at these Upcoming 2011 Shows:
VNUG Conference
Viking NonStop User Group
Lejondals Castle
Bro, Northwest of Stockholm, Sweden
September 5-7, 2011
CTUG Fall Conference
Canadian Tandem User Group
HP Headquarters
Mississauga, Ontario
October, 2011
HP Discover 2011
Reed Exhibitions Messe Wien
Vienna, Austria
November 29-December 1, 2011
For additional information about Gravic's products and services, including free white papers on how Shadowbase data replication solutions can solve your company's business continuity, data integration and synchronization, application modernization, and real-time business intelligence challenges, please visit: www.gravic.com/shadowbase.
---
Get Your Complimentary White Paper By HP & Attunity
Organizations that rely on HP NonStop face increasing pressure to make valuable data readily available.
Learn how to simplify access to Enscribe files and NonStop SQL tables here!
Get Your FREE New White Paper
"Doing More With HP NonStop Using Real-time Data"
Download Now at http://bit.ly/fhXKRi
Get your complimentary newly-released HP white paper, 'Doing More With HP NonStop Data'.
You'll gain valuable insight to improve data connectivity and real-time data integration, including:
Effective tips to implement a real-time data integration strategy
Best practices to ensure up-to-the-minute data is available to support critical areas of your business
How to mitigate risks
Plus, learn how Attunity's data integration software, recommended by HP, enables real-time access to this valuable information.
About Attunity
Attunity is a leading software provider for enabling the 'real-time' enterprise. Using our software, companies can seamlessly connect, transfer and join, to and from, virtually any data source.
Quickly identify critical changes in real-time, and leverage this data in critical business applications including BI, reporting and beyond.
Learn more at http://www.attunity.com/ or call 781-730-4070 or +44(0) 1344 742 805
Get Your FREE White Paper at http://bit.ly/fhXKRi
---
XYGATE ENCRYPTION & KEY MANAGEMENT SECURES PAYMENTS ON NONSTOP
XYPRO's powerful Encryption Library, in conjunction with our highly flexible HP NonStop based Key Management solution (XKM), is widely deployed in the Retail, Credit Card, and Banking industry. Several large retail organizations as well as Payment Application vendors are enjoying PCI-DSS and PA-DSS compliance with XYGATE security encryption solutions.
The XYGATE Encryption Library can be used in many ways for any and all of your encryption needs. Whether your database is Enscribe or NonStop SQL, XEL can be used to encrypt all of your sensitive data, or only the specific columns you choose.
Barry Forbes
XYPRO
VP, Sales and Marketing
877-997-7622
---
Crystal Point Software and Services
Save Time and Increase Accuracy
Member Access Pacific and Crystal Point's Custom Development Services leverage
OutsideView 8.1 .NET API
May, 2011: Member Access Pacific (MAP) is the nation's only aggregator of the Visa® Debit Processing Service platform for credit unions. Committed to the credit union movement, MAP's special role in the marketplace provides their client credit unions unique opportunities to leverage the Technology, Security, and Service of Visa® for their members.
As their business grew, MAP's Gift Card and Prepaid Card Activity Report from VISA DPS expanded to over 400 on-line pages. An Accounting and Settlements Department operator would page through the entire report, manually generating individual customer reports, reconciling transactions of different natures, and generating mail-ready documents for each customer. This was obviously a very tedious process, requiring 3-to- 4 hours a day to complete and vulnerable to human error.
MAP set goals for a new settlement system:
· Reduce time for performing daily settlements
· Eliminate room for human error
· Establish consistency in prepaid settlements reports
· Have flexibility in adjusting structure of reports
Member Access Pacific contacted Crystal Point to see if they had connectivity automation tools to help. Learning of the powerful .NET automation capability newly available in OutsideView 8.1, MAP retained Crystal Point to create a utility automating the export and formatting of the settlement report.
Crystal Point software and services enabled MAP developers to create a .NET Windows form application (Utility Export Tool) to automate the settlement process. The application paged through the report and parsed the content, and routed pertinent information into various data tables. The different data tables provided a means of grouping and organizing the data. One of the data tables even provided a layout view of how the summary report would look in terms of structure and content prior to being exported to an Excel workbook.
Nikolay Martynov, Business Development Coordinated states, "The Utility Export Tool provided by Crystal Point helps to generate customer reports in minutes. MAP is able to adjust the structure of reports when needed and provide reports with good consistency and clear structure. Member Access Pacific is proud to take settlement services to a new level and serve our clients in a better way."
"Crystal Point Staff is extremely knowledgeable about their products and services. They were always ready to go the extra mile to educate our company how to use its products and utilize the full potential of the developed software. Member Access Pacific is pleased with the provided results. All goals were achieved. Crystal Point stayed on track and within budget. It takes resources to polish things to perfection and Crystal Point performed additional testing to ensure that the developed product works great and all client goals are met".
Crystal Point has been providing host connectivity to the NonStop community since 1986.
---
NSWi
Are you a European NonStop User?
Do you require a Full Time / Part Time Resource boost to Cover New Projects, Maternity / Paternity leave etc.?
Do you have NonStop Customers based in EMEA that require Local Support of Hardware and Software?
Nonstop World International (NSWi) can help.
We are currently providing Local Support to Vendors outside of the EMEA region for their NonStop Customers based in EMEA.
Contact us to see how we can assist you with highly skilled NonStop professionals, whether Long Term or Part Time on a 24*7 basis.
Launching Shortly
www.nonstopworldinternational.com
---
Availability Digest Explores Crisis Communication When Data Centers Go Kaput
When disaster strikes your data center, that is not the time to begin planning for how to deal with the press. The Availability Digest's May issue includes media-relations tips designed to avoid some of the communication oversights made in recent years by companies such as Research in Motion and Salesforce.
Also in this month's Digest:
- Talk about "unavailability." Sony's Qriocity™ services and the PlayStation® Network have been out of action since April 20th due to what has become one of the biggest hacking stories to-date. Although Sony first indicated that its services might be down for a few days, the company is only now beginning a phased restoration on a country-by-country basis.
- Another "Never Again" story involves a fat finger that downed Amazon's Elastic Compute Cloud (EC2). On April 21st, an error during normal maintenance activity took down an entire Availability Zone in Amazon's U.S.-East Region. The Region's other three Availability Zones also were affected even though they were supposed to be independent. Not until April 24th was the U.S- East Region fully returned to service.
- Of the over 800 sessions at HP's Discover 2011, an impressive number focus on high availability. This issue of the Digest lists those sessions so that you can readily identify availability topics to meet your needs
Digest Managing Editor Dr. Bill Highleyman will present two availability sessions at Discover 2011. We encourage you to attend "So You Think Your Data Center is Safe" (Session #3888) and "Does Data Replication Eliminate Backups" (Session #3870).
Published monthly, the Digest is free and lives at www.availabilitydigest.com. Please visit our Continuous Availability Forum on LinkedIn. We're at 257 members and counting.
---
Looking Ahead
The summer's coming, and it won't be too long before the Fourth of July, Thanksgiving and Christmas return to stress our systems. It's not too soon to begin planning for the upcoming peak season.
Hopefully you have the numbers: How hard the CPUs, disks, processes, etc. were working during the last Fourth of July, Thanksgiving and Christmas. How many TPS were being processed. How quickly were the external (to the NonStop) services and external partners responding to requests. How uniform and predictable was their service.
By this time you should also have: Year to date growth rate of the demand. Changes in the patterns of the demand. And an understanding of how the business will be changing between now and the end of the year.
Put it all together, or ask us to do it, and you'll have another good, profitable, and quiet holiday.
Ban Bottlenecks®:
Dedicated NonStop performance /capacity experts.
1440x730 coverage (every minute, every day, with a 2-year historical perspective).
Implementing effective, disciplined, proactive capacity management programs.
Call for a free trial!
1.415.256.8369
---
XYGATE – CONTINUING TO BE PART OF THE HP NONSTOP SECURITY STRATEGY
The right security solutions simplify risk management and increase the effectiveness of system monitoring in complex information security environments. Compliance PRO does just that and is now available from HP.
XYGATE Compliance PRO is a powerful and sophisticated software solution specifically designed for the NonStop platform to better monitor the state of mission-critical systems
· Analyze system security settings and configurations;
· Gather extensive system data to compare changes in the system
· Track and audit security settings to protect valuable mission-critical data and IP
· Build an efficient governance, risk and compliance program that address regulations, such as PCI, SOX, HIPAA and others across NonStop systems.
View the PRESS RELEASE here: https://www.xypro.com/index.php?id=12
Barry Forbes
XYPRO
VP, Sales and Marketing
877-997-7622
---
LinkedIn's Enscribe to SQL Migration Forum is at 47 Members and Counting
LinkedIn's Enscribe to SQL Migration Forum is only a month old, but it already has attracted 47 members. The forum's first thread focused on whether a barrier to Enscribe to SQL migration efforts was a lack of skilled Enscribe and SQL staff. If you have input on that subject and would like to contribute, we invite your participation.
Our newest thread requests feedback from individuals who have been involved in an Enscribe to SQL migration effort. Did you participate in an incremental migration or a Big Bang effort? Can you share with Forum members some DOs and DON'Ts about your experiences?
The Enscribe to SQL Migration Forum is open to those individuals and HP NonStop customers who have made the migration from Enscribe to SQL, who are considering doing so, or who have decided for whatever reason to avoid the migration process. Here is an opportunity to discuss with peers both migration success stories and the challenges faced by those who make the migration effort. We also welcome the valuable input of HP NonStop staff.
The Forum is hosted by TANDsoft, Inc., creator of the Enscribe-2-SQL Toolkit. The Toolkit permits easy, unlimited conversion of Enscribe calls to SQL/MP or SQL/MX statements. It offers a flexible, affordable alternative to more expensive products or manual techniques with no program changes to the application. Supported are both file-by-file and application-by-application incremental migration.
TANDsoft's "best of breed, best in price" philosophy offers highly competitive value for all TANDsoft solutions. In addition to the Enscribe-2-SQL Toolkit, they include the OPTA2000 virtual clock and time-zone simulator, the TMF-Audit Toolkit, FileSync for automatic file synchronization and replication, and Command Stream Replicator, which automatically replicates DDL structure and other environment changes to target systems – changes and settings that normally are not replicated because they sit outside the TMF Audit Trail. TANDsoft products require minimal or no application modifications and are available for all HP NonStop servers. Visit
www.tandsoft.com
, or call us at +1 (514) 695-2234.
---
CAIL @ Discover - to Modernize and better position NonStop in the Enterprise
With the upcoming HP Discover Conference, please visit CAIL in the NonStop Section at Booth #183 to find out how you can -
A. Modernize by embedding NonStop information within applications for more seamless systems and to improve the User experience
…. For more details on producing results quickly, go to www.cail.com/modern
B. Make NonStop systems more integral in the Enterprise and part of the Corporate Standard
…. For the associated considerations, see www.cail.com/cabenefits and the "Enterprise Solution" section below
For a CAIL Overview, please visit www.cail.com
To summarize, CAIL enables organizations to leverage the investment in IT infrastructure to –
1. Modernize NonStop systems
- bundled solution with extensive Interfacing, Embedding, Security, Host Access, Mobile, etc. capabilities
…. with CAIL Suite www.cail.com/specs
2. Upgrade to an "Enterprise Solution " for Host Access, Security and Modernization initiatives with all platforms
- a single solution to address new business needs with information from selected or all Host based applications (NonStop, UNIX, IBM, etc.)
…. with Reflection or EXTRA! www.attachmate.com .... integrated Attachmate / CAIL software
To discuss your options to further improve information services and increase NonStop opportunities, please visit the CAIL exhibit June 6 - 9 in Las Vegas.
And for those not attending the conference, but are interested in being better positioned to address new requirements going forward, you are invited to send a message to - info@cail.com or call 905-940-9000 / 800-668-5769.
---
XYPRO ADDS SUPPORT for RADIUS
XYGATE User Authentication (XUA), is now even more powerful and flexible for your enterprise authentication needs with its support for RADIUS authentication. RADIUS expands our existing support for Open LDAP, Active Directory and RSA SecurID token authentication as well as the numerous HP NonStop-specific authentication enhancements included with XUA.
Completely integrate your HP NonStop server within your entire enterprise authentication strategy.
"Discover" just how easy it can be for you to track your compliance, secure your environment and encryption enable your applications or data with NIST and CSEC recognized strength and reliability, visit us at www.xypro.com and in the NonStop ZONE Booth 191 at booth at this year's HP Discover event in Las Vegas.
Don't Forget! Get Qualified to Win an iPad2
You can win your own iPad2 this second quarter by answering a few short questions at www.xypro.com/survey
Barry Forbes
XYPRO
VP, Sales and Marketing
877-997-7622
---
Musings on NonStop!
May, '11
The opinions expressed here are solely
those of the now self-employed author
Welcome to a revised format! In the coming months it will likely evolve further as I come to terms with the various social media channels I support these days, and I will be focusing on highlights for these posts and providing links to keep you better informed of my many musings on topics all related to NonStop. Anyone even remotely associated with NonStop who has visited a LinkedIn Group will have most likely seen a short promotional item about one post or another of mine at some point.
Which raises the topic of just how many LinkedIn Groups do you belong to? And how often do you check for updates as to what's going on?

Of late, I have been watching many pretty closely and I have begun the process of leaving – where there's less than 100 members or thereabouts, and where it looks as if I am the sole contributor, it's a good sign that, as my former boss often opined, "the gig's up!" For those who created groups there were only positive expectations about seeing them develop a readership but like anything associated with the media, it's all about content!

In the weeks to come, expect to see other blogs and groups appear as I am electing to get more involved with some of the better-known vendors active in the NonStop marketplace. Apart from my own "Real Time View" group as well as "Pyalla Technologies" and the sub-groups "Clouds, Powered by NonStop" and "Pyalla Track Days" (a specialty place tracking my favorite pastime!) I manage the comForte Lounge group. Two other groups will be added to this list shortly so watch for additional commentary as they appear.
There's never any guarantee that these new groups will become popular and the discussions widely read, but the point today is that whatever your favorite site turns out to be, there should be some good reference material on what is current and topical among the community that is NonStop. And LinkedIn groups will continue to appear and disappear – that's the beauty (and significance) of this media –their livelihoods are determined through your readership and active participation.

Have you followed the three part postings on modernization just posted to comForte Lounge blog and promoted on the similarly named LinkedIn group? Have you checked out what I expect to see occur to bring in more vendors (and users) to the NonStop platform in the post to Real Time View and again, promoted on the similarly named LinkedIn group? In future musings to this eNewsletter I will be focusing on the subjects I am addressing, all with the intent of providing the readership with a synopsis of what's been addressed over the past 30 days … after all, one of the most frequently asked questions is where do you go to find out what's been covered of late!
So with this, I hope you continue to support this eNewsletter and that you develop the habit of turning to these musings to remain well-informed on the happenings around the NonStop community!
Following my blogs? Check out:
Real Time View at http://www.itug-connection.blogspot.com/
…. And check out the Group on LinkedIn, Real Time View
comForte Lounge at http://comfortelounge.blogspot.com/
…. And check out the Group on LinkedIn, comForte Lounge
Buckle-Up at http://www.buckle-up-travel.blogspot.com/
…. And check out the SubGroup on LinkedIn, Pyalla Track Days
Richard Buckle
Founder and CEO
Pyalla Technologies, LLC
Email: richard@pyalla-technologies.com
LinkedIn - Real Time View user group:
http://www.linkedin.com/groups?gid=1878133&trk=hb_side_g
LinkedIn - Pyalla Technologies User Group:
http://www.linkedin.com/groups?gid=2396887&trk=hb_side_g
---
Have an interesting NonStop customer story to tell?
Are you a NonStop Customer? Do you have an interesting story to tell relating to your NonStop Applications / Infrastructure?
The 'Connection' NonStop Magazine is looking for your article(s) for forthcoming editions.
Article submission deadline is June 8th - the editorial focus is Non-Traditional Verticals.
The Connection would like to hear from you!"
Please submit your Stories to Stacie at The Connection.
---
User Groups
Information on User Group events can be found at http://www.connect-community.org
---
BITUG
| | |
| --- | --- |
| 20th July | NonStop Migration & Solutions SIG |
| 12th October | Security SIG |
| 29th Nov – 1st Dec | HP Discovery, Vienna |
| 7th Dec | Education Day |
| 8th Dec | BIG SIG (including Disaster Recovery and Business Continuity) |
---
Discover, Las Vegas, June 6-10
VNUG, Stockholm, Sept 5-7, 2011
CTUG, Toronto, October
GTUG, Germany, Nov
Discover, Vienna, Nov 29 - 1 Dec
---
Tandemworld & LinkedIN
Tandemworld have created a Group on LinkedIN through which you can view the latest Tandemworld eNewsletter.
We cuurently have a number of highly experienced NonStop Specialists seeking new roles within the EMEA region. Should you have a requirement for a short term specialist (Contract) or a more longer term resource (Permanent) please Contact Us to enable us to assist you swiftly.
Please view this at http://www.linkedin.com/groups?gid=2602432&trk=hb_side_g
---
Tandemworld within EMEA
+44 (0) 20 8304 7979
To place article(s) within our future eNewsletters please Email us.
For Future Sponsorship opportunities please Email us.
---
For More on Employment in EMEA Go Here
For More on Positions in the Americas Go Here (to advertise your positions here please contact us)
For More on Positions in AsiaPac Go Here (to advertise your positions here please contact us)
---
Looking for a Solution or an answer to a particular problem ASK Tandemworld. We will contact the vendors for you and find a suitable solution that meets for current and future needs.
---