Tandemworld Newsletter for March 2013
---
Contents
Elementary, my dear Watson
What are you compensating for?
Albireo and GreenHouse are proud to announce the new products
Musings on NonStop! - March, '13
Register for MATUG May 3 Meeting
Third Data Corporation
Get More Value From Your HP NonStop Enscribe, SQL/MP and MX Databases
comForte releases new product for effortless keystroke logging
" NonStop in the Enterprise " Update
comForte near you in 2013
Now that you are Compliant, let's get you secure!
XYPRO Webinars on Demand
comForte 'On Demand' - Are you tuned in?
CommitWork GmbH
product updates
OPTA Solutions Highlight TANDsoft's Expertise with Interception Technology
Availability Digest Introduces Nagios Open-Source Monitoring for HP NonStop, Courtesy of Bank-Verlag.
HOW SECURE ARE YOU ?
Discover 2013 - NonStop Advanced Technical Boot Camp
Current Subscribers 14182
---
Elementary, my dear Watson
Have you ever seen BBC's Sherlock? I started watching this show recently. It's a contemporary update on Sir Arthur Conan Doyle's classic mystery stories, and it's fantastic. I may or may not have watched all six episodes in a single day…and now I have to wait until late 2013 or even early 2014 to find out how he did it. And yes, I am aware that Holmes never actually uttered that phrase in the Conan Doyle stories!

Why do I bring this up? Well, I can't help but draw some parallels between the famous detective and our support team. Anyone who has done support knows that you don't always get as much information as you'd like. Equipped with our deerstalkers and magnifying glasses, we sometimes solve issues with only a fraction of the necessary information. We sometimes like to see the crime scene ourselves with screen sharing software. And as with the curious incident of the dog in the nighttime, oftentimes, we must look beyond the obvious to solve the issue.­ These are some of the reasons why we look for employees with good problem solving abilities and careful attention to detail.

Let's hope the parallels end there, though, and that we're all a bit more similar to Doctor Watson than Holmes. If you called Watson for help, he'd do his best to help you solve the problem. Holmes would probably just say "bored!" and hang up on you.

When you place a call with NTI, you're connected with our support staff directly. Or, you can just as easily email us. There are no automated prompts and no calling centers. We are available 24/7 for production issues. Customers will frequently remark how it's a nice change of pace to speak to someone who knows how to say more than "have you tried turning it off and on again?" and doesn't need a script. To us, this level of service is, as Holmes would say, elementary!

DRNet® is world class NonStop Data Replication technology.

· Real-time Active/Active Data Replication

· Real-time Tandem to OPEN Data Replication

· Real-time File Synchronization

· Refreshingly Real-Time Support from Real Engineers

+1 614 794 6000
---
What are you compensating for?
The Payment Card Industry Security Standards Council (PCI SSC) was formed by Visa, MasterCard, AmEx, Discover and JCB. These companies aligned their individual policies and released the Payment Card Industry Data Security Standard (PCI DSS) in December 2004. Although many companies view the PCI SSC as a heavy-handed bureaucracy and a means for the card associations to boost profits with fines and penalties, the result has been that companies have made information security a strategic part of their business. One thing is clear about PCI DSS: There will never be a final version of the standard. The need will always exist to adapt to evolving technology; payment channels; and the primary reason PCI exists in the first place, criminals.
At its core, the PCI DSS deals with data security and encryption. The requirement specifically written for stored cardholder information is Requirement 3.4, which states that businesses shall render primary account number (PAN) unreadable anywhere it is stored using any of several approaches, including one-way hashes based on strong cryptography, truncation, index tokens and securely stored pads, and strong cryptography with associated key-management processes and procedures.
When the initial PCI DSS requirements were published, they primarily provided a framework, and most applications were unable to implement data-at-rest encryption technology without major design and development efforts. Not only was there limited availability of commercial off-the-shelf software, but the only available technology was expensive to implement. Most businesses addressed the problem of data at rest with compensating controls. According to the PCI Council, "Compensating controls may be considered for most PCI DSS requirements when an entity cannot meet a requirement explicitly as stated, due to legitimate technical or documented business constraints, but has sufficiently mitigated the risk associated with the requirement through implementation of other, or compensating, controls." For Requirement 3.4, compensating controls are focused on limiting access to the data. This could be in the form of strong access controls, network-layer separations and application-level security, to name a few. However, the design and verification process for these controls can prove to be extremely costly and certainly are not without their challenges.
Moreover, are compensating controls sufficient?
Read the full article at
http://blog.xypro.com/
or in this month's "The Connection" Magazine
James Knudsen
XYPRO Technology Corporation
---
Albireo and GreenHouse are proud to announce the new products
NSM/Guard and MXDM/Guard.
A secure system requires a differentiation between individual and functional users. This is THE key requirement for a secure system:
An individual user is related to a real person, while a
Functional user, e.g. SUPER.SUPER, is not related to one existing person, but used by many persons.
Getting access to a functional user directly by logging on with a password is a security breach, because the accountability gets lost: There is no trace, which individual user accessed the function.

This is solved for the interactive system access by the GreenHouse product SECOM

‐ but accessing GUI applications ‐ such as Visual Inspect, NSM/Web, or MXDM ‐ with a functional user still requires the related password.

albireo and GreenHouse developed a set of products that allow the establishment of NSM/Web and MXDM sessions for functional users, where the requesting user does NOT need to know the related password.

The products

NSM/Guard and MXDM/Guard
control the access of individual users and
offer the ability for individual users to access the products as functional user without knowing the functional users password.
Access and mapping rights are defined in a secure EDIT type file.
‐ Allowed/Denied individual users ‐ Allowed/Denied user/target pairs An iWAMS module to control and maintain the configuration is available for iWAMS users.
The method to evaluate the configured users and user/functions is configurable:
‐ Deny takes precedence (default) ‐ Most Complete (best)
User and function names support wildcards to make the administration easy.
All logon actions as well as all changes in the configuration file are logged, and can easily be listed.

Example logon in NSM/Web

The following two screen shots show, how the authentication has to be done in NSM/Web.
Individual user ghs.carl requests access: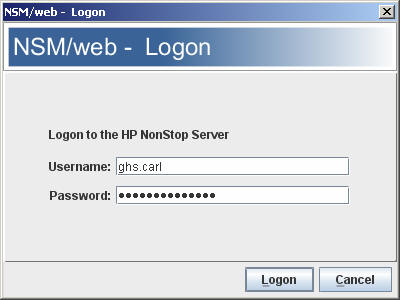 2. User ghs.carl requests access to function super.web: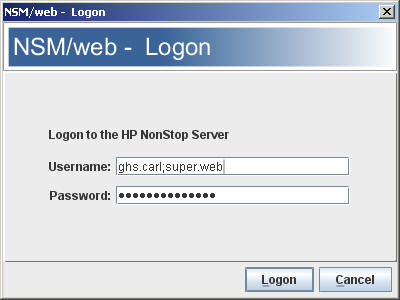 To make NSM/Guard aware of the mapping request, the target ID has to be part of the username, separated by a semicolon
Example logon in MXDM
The following two screen shots show, how the authentication has to be done in MXDM.
Individual user ghs.christi requests access: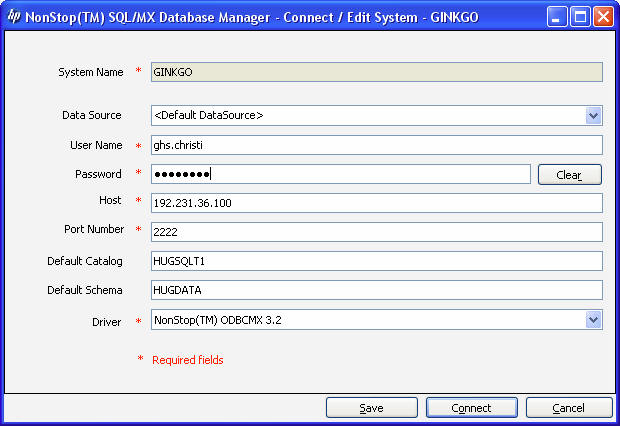 2. User ghs.christi requests access to function super.super: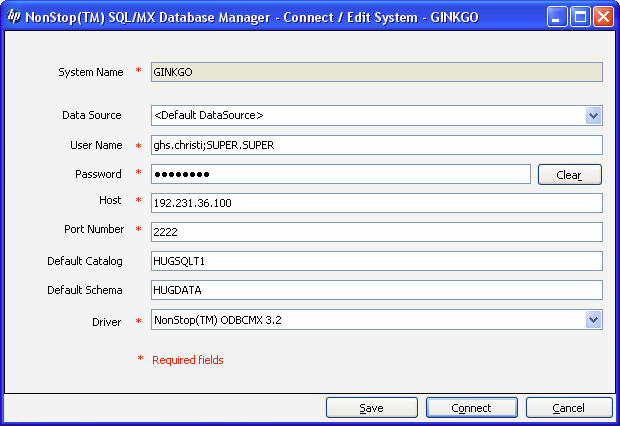 To make MXDM/Guard aware of the mapping request, the target ID has to be part of the username, separated by a semicolon.
GreenHouse offers two additional products with the functionality to control access
of individual users
for mapping to a target ID without the need to know the password of that ID:
These products are:
FTPSERV
‐E to enhance the FTPSERV program
VILib to enhance Visual Inspect

In total GreenHouse developed four products controlling individual and ID

‐mapping access are:
FTPSERV
‐E
MXDM/Guard
NSM/Guard
VILib

They are implemented as libraries and bring PCI

‐security to FTP as well as NonStop GUI supplications.

All products are ready for shipment and can be ordered for a one month test period for free.

For more details please contact: Carl.Weber@GreenHouse.de
---
Musings on NonStop!
March, '13
The opinions expressed here are solely
those of the now self-employed author
So much has changed in just twelve months. It was only a short time ago when we all were immersed in SOA and Web services and in discussions about how best we can integrate current business logic with the work being done to improve the user interface. As momentum swung to the user's experience, the potential to integrate the wealth of business logic developed over decades with information easily accessed from other sources, including the web, proved tantalizing and many have embraced architectures associated with SOA.

Along the way, early adopters quickly recognized how easy it became to apply logic designed for one channel to something completely different. Applications designed to support bank branch operations were enhanced to support online banking, ATMs and even mobile banking. However, this past twelve months has driven home just how important the use of Big Data and Clouds have become in terms of retaining business advantages and, as a result, so many discussions have started about the future of NonStop with respect to participation in Big Data and Cloud initiatives.
For those who read last month's Musings on NonStop, you may recall that I wrote:


Clouds! Big Data! Only a few years ago not many of us had any inkling that these technologies would become as influential as they have become, or that they would prove to be powerful catalysts for change to the point where many CIOs believe that they see the possibility of a vastly different model for future enterprise IT deployments…
I was reminded of this as I exchanged emails with a number of vendors as well as the folks at Connect about the content of the May – June issue of The Connection where the theme will be Modernization. As you can imagine this is a pretty broad topic but what quickly materialized is that any discussion on modernization cannot be pursued without some reference to Clouds and Cloud Computing, so I am now working on an article featuring NonStop and Clouds. Again, who could have guessed – projects are under way to ensure Clouds are viable resource options for solutions vendors looking to complement components running on NonStop with other components farmed out to inexpensive cloud resources. As an aside, I have my fingers crossed that a couple of new products will make the presence felt on the HP NonStop stand at this year's HP Discover event; but about that, watch for upcoming posts to the NonStop community blog, Real Time View.

As for Big Data, this is being pursued on several fronts – from monitoring solutions providers, including Integrated Research where you will find an opinion paper, Big Data Drives Monitoring Changes! This paper can be downloaded from IR site if you follow this link:
http://realtime.ir.com/category/big-data-drives-monitoring-changes
.
I am also involved with a start-up that should be making its presence felt, too, among the NonStop community very shortly. And of course, I have written a number of opinion papers on Big Data for Attunity that will be the subject of a webinar that, fortunately, has been moved to later this month – March 27th. Check the Attunity web site for more about it and join the webinar to hear what I have to say about Big Data.

When you visit the Attunity site, make sure you check out their blog by following the link:
http://www.attunity.com/blog. I just finished reading two of the posts on Big Data posted earlier this month and I found what was discussed very useful. Both are by Attunity's Matt Benato, VP Global Marketing - Data is a Leader's Best Friend (March 7, 2013) and Big Data Gives Decision Makers an Edge (March 6, 2013), and include the quotes:
Big data allows the creation of spontaneous and novel conclusions. Advanced analytics use is not like traditional business intelligence, in that it can accept questions that are open-ended and lead to unexpected places. Leaders with big data at their side can access a constant well of inspiration, all based on data sets too large to comb through manually.

Due to the rise of cloud computing, mobility and other IT trends, however, individuals are now working from virtually anywhere, creating challenges with implementing a single data set …leveraging replication tools will be increasingly important to ensure all executives have access to the same information, allowing for more consistent conclusions.
So much has changed in the past twelve months, but what hasn't changed is that we are still talking about NonStop and the role NonStop systems will play in future solutions implementations. For that, HP has to be thanked as they continue to pursue a business model anchored around commoditization – an ongoing program to ensure every possible unnecessary cost is wrung from the platform. And for this, the NonStop community has to be pleased and with the acceptance of the latest Blades packages that I am seeing among the NonStop community. It would seem everyone is benefitting, and able to maintain discussions about use case scenarios of the future
Richard Buckle
Founder and CEO
Pyalla Technologies, LLC
Email: richard@pyalla-technologies.com
Following my blogs? My web publications? My discussion Groups?
Check out (copy and paste to your browser):

Real Time View at http://www.itug-connection.blogspot.com/
…. And check out the Group on LinkedIn, Real Time View
comForte Lounge at http://comfortelounge.blogspot.com/
…. And check out the Group on LinkedIn, comForte Lounge
Realtime.ir at http://realtime.ir.com/
…. And check out the Group on LinkedIn, realtime.ir

ATMmarketplace at
http://www.atmmarketplace.com/blogger.php?id=130763
buckle-up at http://www.buckle-up-travel.blogspot.com/
…. And check out the SubGroup on LinkedIn, Pyalla Track Days
---
Register for MATUG May 3 Meeting
Please register for the Mid-Atlantic Tandem User Group (MATUG) Meeting scheduled for May 3, 2013 in Chantilly, Virginia, USA. MATUG is open to any NonStop customer, partner, user, consultant, or interested party. Please contact Susan Loeliger (Chapter Secretary/Treasurer) at sbproductmanagement@gravic.com to register. Members are usually from the following states: Pennsylvania, New Jersey, Maryland, Delaware, Virginia, and West Virginia. MATUG provides members with the opportunity to participate in quality informational sessions, and learn about new HP products and services as well as interact with fellow HP NonStop users. Please visit the MATUG Connect Chapter web page for more information.
Gravic Presents at N2TUG, SunTUG, and MRTUG
Gravic recently attended and presented its case study, One Bank's March Towards Active/Active (A Strong Reminder Why Successfully Testing Your Business Continuity Plan Actually Matters) at recent meetings for N2TUG in Grapevine, Texas, SunTUG in Tampa and MRTUG in Chicago. We appreciated the opportunity to meet with customers and share ideas regarding how Shadowbase data replication could provide business solutions to their most pressing business issues within business continuity, data integration, data replication, and their synchronization needs. Our presentation is based on the case study that led to Gravic winning the
HP and Intel 2012 Mission-Critical Innovation Award

. If you missed our presentation and would like a copy, or have any questions about how Shadowbase can assist you in solving your business continuity, data replication, zero downtime migrations, or other real-time data integration needs, please

contact us

. To read an article based on the award submission, please click

here

.
Please Visit Gravic at these Spring 2013 Events
Please stop by Gravic's booth or table at these spring tradeshows and meetings to speak with us about your data replication and data integration needs or just to say hello. We look forward to attending and presenting at the following events:
SATUG Conference and Trade Show, Gauteng, South Africa, 22-24 April
NENUG Spring Meeting, Andover, MA, 23 April
MATUG Meeting, Chantilly, VA, 3 May
,
Las Vegas, NV, 10-12 June
For more information, please visit:
www.gravic.com/shadowbase

.
<![if !vml]>
<![endif]>
http://www.linkedin.com/company/gravic-inc./shadowbase-data-replication-305119/product
<![if !vml]>
<![endif]>
http://www.facebook.com/pages/Gravic-Shadowbase/116969767814
Trademarks mentioned are the property of their respective owners.
---
Third Data Corporation
High Performance Switching and Secure Data Storage
888-301-2431 (USA)
Third Data Corporation provides numerous products which can reside on HP Nonstop and other HP hardware platforms.
FastBuild Switch – When building a switch be it ATM-POS, Wire Transfer, EFT, Medical, or any other type of data that needs to get from one place to another, you are usually faced with three choices. Take an existing package and modify your system to match it. Get the vendor to "enhance" their system to meet your needs. Write a new system from scratch. The FastBuild Switch integrates with your existing system, or if you are building from scratch gives you a good start. The switch is also built around the latest HP technology to maximize performance. It integrates several of our other products to maximize cost savings and security. In a cross platform environment it also runs on other non-Guardian HP supplied platforms.
SecureStore – If you are trying to become compliant (PCI, HIPAA, etc) then you know that you can not leave sensitive data readily viewable. SecureStore does three things for you. The data is encrypted so that you can become compliant. The data is compressed so that your hardware costs are reduced. As part of disaster recovery your data is sent to three (or more) locations so it will be available when you need it. As a bonus for those having trouble with Guardian 4K limits there is no record size.
NxLib – NxLib provides a platform and utility libraries for developing a high performance multi-threaded applications on NonStop Guardian. The platform provides threading capability. This enables development of an application written single threaded style to perform as multi-threaded. Extensible command processing and help are supported. Development time can be cut to a fraction of the time it would normally take. This results in fast application development with consistent look and feel across multiple projects.
NxWeb – A high performance web server which provides support for NxLib applications. It also can be used without NxLib. It provides for secure connections, virtual domains, full http support and interfaces to pathway and IPC communications.
NxUndelete – Files accidentally deleted can be a real problem. Even when a backup is available, it is frequently a significant effort to retrieve it from a backup tape. NxUndelete implements a recycle bin function on the the HP NonStop system. Files deleted may be easily recovered using its GUI interface.
NxFile+ – NxFile+ provides compression and encryption to Enscribe structured files. The files are configured through a GUI interface and the results are provided seamlessly to your applications, typically without any code changes. In addition this provides for dynamic key changes on the fly so data stored at-rest may have it's encryption keys changed as required. Because the records can be compressed prior to encryption, it's also possible to have records which significantly exceed the 4k record size limitations. The savings in disk I/O typically pay for the overhead of the compression and encryption.
NxSSL – NxSSL is an SSL proxy which may be used to provide SSL encryption and authentication services to TCP/IP connections. It provides full support for certificates and multiple encryption standards. It has been carefully tuned to provide the highest performance available for any NonStop SSL connection.
---
Get More Value From Your HP NonStop Enscribe, SQL/MP and MX Databases
XYPRO's extensive database management expertise is available to you as a service to help reduce risk and optimize your database, which in turn allows you to focus on bigger picture issues.
For years, XYPRO has been a global partner/distributor of Merlon database management solutions. The Merlon solutions help manage routine database management, report generation, space and performance management, even tracking and control of SQL query plans. Through this partnership, XYPRO has added a team of database management experts our Professional Services group.
Let us show you just how powerful the Merlon database solution set can be towards enhancing the performance and manageability of your data. We can analyze your current environment, install and configure the appropriate Merlon solutions, and let you have the peace of mind you deserve knowing that your databases are optimized and kept that way.
Contact the specialists in HP NonStop at
info@xypro.com
Rob Lesan
XYPRO Technology Corporation
---
comForte releases new product for effortless keystroke logging

comForte continues to invest in new products and product functionality and has recently released SafePoint/KSL for Key Stroke Logging and Reporting. SafePoint/KSL helps organizations to comply with PCI requirement 10.2.2 which demands that automated audit trails for all actions taken by any individual with root or administrative privileges shall be implemented. Also, SafePoint/KSL can help analyse the reason for unexpected outages due to operator errors.

SafePoint/KSL captures all keystrokes and responses and merges the Safeguard and KSL logs into a single comprehensive report which shows exactly who's done what and when.

By being tightly integrated with several products which replace TELSERV, SafePoint KSL does not rely on replacing the TACL or OSS shell object files. It has been optimized for minimal performance overhead and allows to monitor all keystrokes of all users or only selected sessions.

To learn more about SafePoint/KSL please watch these two product videos:

Part I - Introduction to Key Stroke Logging

http://www.youtube.com/watch?v=uNAZGZwPlZA

Part II - SafePoint/KSL Demonstration

http://www.youtube.com/watch?v=B8emUUhElxo

NEW:

HP NonStop [Tandem] Security Group on LinkedIn - join the discussion.

Stay connected and follow the discussion:

comForteLounge

BlogSpot

comForteLounge

LinkedIn Group

comForteLounge

Twitter

comForte on

YouTube
---
" NonStop in the Enterprise " Update
With the increasing importance of supporting a Corporate Standardization strategy, insights on this have been provided in " NonStop in the Enterprise " Presentations at the NonStop Boot Camp plus recent DUST, NENUG, SunTUG and N2TUG Conferences.
Extending on this, for those planning on attending the upcoming MATUG, SCTUG and VNUG events, you can also learn the various ways NonStop supports " Standards " in the CAIL Presentation.
To see the " Solutions Chart " that indicates the categories and products that position NonStop more integral in the organization and contribute to the significant benefits associated with Standardization, go to -
www.cail.com/nssc
,
www.cail.com/cabenefits
To expand opportunities, please contact CAIL if there are any questions about the " NonStop in the Enterprise " initiative or increasing awareness that NonStop supports "Standards" - inside the box and inside the business.
Upcoming Events :
MATUG Chantilly, VA May 3, 2013
SCTUG Los Angeles, CA May 9, 2013
VNUG Stockholm, Sweden Sept 4-5, 2013
<![if !vml]>
<![endif]>
info@cail.com
905-940-9000 800-668-5769
---
comForte near you in 2013
comForte is travelling far and wide to be at an event near you.
Come and join us at these events in 2013:
SATUG, Johannesburg, RSA, April 22-23, 2013
MATUG, Chantilly, VA, USA, May 3, 2013
BITUG Little SIG, London, UK, May 8, 2013
GTUG Spring Conference, Hanover, Germany, May 14-15, 2013
HP Discover, Las Vegas, USA, June 10-12, 2013
VNUG, Stockholm, Sweden, Sept 4-5, 2013
EBUG Knowledge Forum, London, UK, Sept 23-24, 2013
GTUG, Frankfurt, Germany, Sept 23-25, 2013
PCI US Community Meeting, Las Vegas, USA, Sept 24-26, 2013
PCI EU Community Meeting, Nice, France, Oct 29-31, 2013
CONNECT Advanced Technical Boot Camp 2013, San Jose, USA, Nov 3-5, 2013
PCI AP Community Meeting, Kuala Lumpur, Malaysia, Fall 2013
---
Now that you are Compliant, let's get you secure!
Compliance to key standards such as PCI/DSS is a mandated requirement, but being compliant does not mean that your HP Nonstop system is secure.
CSP's key solutions for compliance – CRM (Compliance Reporting Module) and FIC (File Integrity Checker) – not only deliver the checks and reports that help meet your compliance and audit requirements – they deliver real management advantages and can dramatically improve the real security of your systems.
CRM comes preconfigured with a base set of rules that include PCI/DSS, support SOX and HIPAA requirements, in addition to powerful checks that summarize best practices for Nonstop systems, and point out weaknesses and vulnerabilities in your system.
FIC not only assists you with compliance to specific PCI DSS regulations, but provides a broader set of controls that can help you monitor changes to files, both Guardian and OSS.
Too often "compliance" becomes just a box-ticking activity. CSP products not only tick the boxes – but also deliver real security tools that protect your critical systems against intrusion and corruption.
Find out more at www.cspsecurity.com."
---
XYPRO Webinars on Demand
From compliance to database management to the latest HP NonStop topics, our Webinars offer timely information and insight into the issues that matter most to you.
Click on any of the links below to access our Webinars (https://www.xypro.com/xypro/webinars)
---
comForte 'On Demand' - Are you tuned in?

We maintain a number of channels for you to get access to up-to-date information. Are you tuned in?

Visit and subscribe to the comForte YouTube channel at

http://www.youtube.com/user/comforte21 to watch short product videos and replay some of our recorded webinars.

Stop by the comForteLounge blog at

http://comfortelounge.blogspot.co.uk/ to read up on the latest trends and stories in the NonStop space.

Join the comForteLounge LinkedIn group at

http://www.linkedin.com/groups?mostPopular=&gid=3129511 and follow the discussions.

Last but not least, follow us on Twitter at

https://twitter.com/#!/comForteLounge,

If you have questions about any of the above please contact us at '

t.gloerfeld@comforte.com'

NEW:

HP NonStop [Tandem] Security Group on LinkedIn - join the discussion.

Stay connected and follow the discussion:

comForteLounge

BlogSpot

comForteLounge

LinkedIn Group

comForteLounge

Twitter

comForte on

YouTube
---
CommitWork GmbH
product updates
OmnivoRSC Wizard
with its own DDL2JAVA has the following new features:

· switching between COBOL and CamelCase notation
· support of C null terminated strings
· support of "depending on" arrays
CommitWork Developer Suite (CDS),
for traditional NonStop software development on NonStop supports now:
· folding of "if-statements"
· optimized user interface
OmnivoMobile
Enterprise users can now start connecting Smartphones and Tablets to HP NonStop with the new:
· optimized graphical user interface for mobile device administration
For any further Information please visit us at
http://www.commitwork.com/
Contact:
Juergen Depping

depping@Commitwork.de
+49 231 94116912
---
OPTA Solutions Highlight TANDsoft's Expertise with Interception Technology

The OPTA suite of interception and trace utilities showcase TANDsoft's expertise with interception technology. Our OPTA intercept engine includes an API that allows developers to write custom code to easily extend the capabilities of all HP Nonstop applications. OPTA solutions include:

Process Stack Monitor: Use this OPTA utility in development and testing environments to analyze an application's stack usage for memory shortages within the call stack. Programmers get a clear snapshot of all their programs on one screen and can evaluate trace files globally or one file at a time. With Process Stack Monitor, programs don't abend, unscheduled downtime is avoided, and users aren't inconvenienced.

OPTA­Trace Online Process Tracer and Analyzer: OPTA-Trace seamlessly intercepts and traces procedure calls made to the NonStop Kernel operating system. Among other uses, it captures and records transaction flows and statistics, prevents deadlock situations, detects memory leaks, sets system procedure breakpoints, and adds user exits to procedure invocations.

Recycle Bin: Add Recycle Bin to your system for fast retrieval of your files. Purged files are stored in Recycle Bin until you decide to restore them or to delete them permanently. When Recycle Bin fills up, it automatically cleans out enough space to accommodate the most recently deleted files. Files can be compressed, and different Recycle Bin sizes can be specified as a percentage of the disk capacity.

Low Pin Optimizer: Managed ineffectively, NonStop Low-PIN (0 through 254) processes disrupt application environments and create operational bottlenecks. Low-PIN Optimizer automatically redirects and balances low-PIN process creation across a server's CPUs to ensure efficient allocation of system resources. It reduces low-PIN process creation failures by monitoring low-PIN processes in each CPU. When a CPU maximizes its low-PINs, process creations are redirected to a CPU with available low PINs.

EMS Alerts Online Startup and Termination Capture Utility: EMS Alerts traces an application's startup and termination calls via EMS messages. When an application starts, EMS Alerts will display the Startup, Assign, and Param messages plus the process Defines used by the executing application. Prior to application termination, EMS Alerts will generate an EMS message as well as invoke a trigger for follow-on processing via a customer-provided user exit. Custom metadata can be added to application program object files.

TANDsoft's "best of breed, best in price" philosophy offers highly competitive value for all TANDsoft solutions. In addition to the OPTA product suite, they include the OPTA2000 virtual clock- and time-zone simulator; Command Stream Replicator, which automatically logs and replicates NonStop SQL/MP, SQL/MX, Enscribe DDL and other HP utility (FUP, SQLCI, MXCI, SCF, TACL) commands to the backup system; FileSync for automatic file synchronization and replication; the Enscribe-2-SQL and TMF-Audit Toolkits, which offer flexible, affordable alternatives to more expensive conversion products or manual conversion techniques; and AutoLib, which automatically loads a user library or a DLL for executing processes.

TANDsoft products require no application source-code modifications, are available for all HP NonStop servers, and support major third-party applications. Free trials are available. For information about TANDsoft solutions, contact Jack Di Giacomo at +1 (514) 695-2234. Our Enscribe to SQL Migration Forum on LinkedIn is at 157 members and counting.

www.tandsoft.com
---
Availability Digest Introduces Nagios Open-Source Monitoring for HP NonStop, Courtesy of Bank-Verlag.
Bank-Verlag GmbH is a subsidiary of the Association of German Banks and provides IT services, including systems for card-based payment transactions and electronic banking, to private banks throughout Germany. When Bank-Verlag decided to adopt a common monitoring facility that would manage the broad range of systems found in its two data centers, it chose the open-source Nagios monitoring application. Nagios supports the company's Windows, Unix, and Linux systems, but it does not support Bank-Verlag's HP NonStop servers. To address this challenge, Bank-Verlag created its own monitoring subsystem for NonStop. BVmonitoring, as the software is named, fully integrates NonStop servers into the Nagios monitoring facility.
Guest author Wolfgang Breidbach, Bank-Verlag's NonStop System Manager, introduces BVmonitoring to Digest readers. More than a Nagios client, BVmonitoring is a general-purpose monitoring tool and can act as a client to any system-monitoring facility. Bank-Verlag is currently modifying BVmonitoring so that it uses an Enscribe database, thereby eliminating the need for SQL/MP. Bank-Verlag plans to license the BVmonitoring software to other Nagios users with similar Nonstop integration challenges.
Also in the March Digest:
A Personal Failover Fault – Digest Editor Bill Highleyman was about to give a presentation on data-center outages when he became the victim of a failover fault. Availability is all about providing a service, no matter what. Learn how Bill was able to apply the principles of high availability to his own dilemma.
The Causes of Outages – The Availability Digest recently analyzed over 250 outages reported in our Never Again series. The outages represent a cross section of downtime triggers over the last seven years. "The Causes of Outages" identifies the ratio of hardware, software, network, and environmental factors that contributed to the outage events. What may be of most interest is that human actions were a contributing factor in 60% of all the outages.
Cyber Threats Surpass Terrorism – Appearing before the Senate Select Committee on Intelligence in early March, 2013, James R. Clapper, Director of National Intelligence, testified that cyber threats have now surpassed terrorism as the top security threat facing the United States. This conclusion is documented in the United States Intelligence Community's assessment of threats to U.S. national security.
The Availability Digest offers one-day and multi-day seminars on High Availability: Concepts and Practices. Seminars are given both onsite and online and are tailored to an organization's specific needs. We also offer technical and marketing writing services as well as consulting services for achieving high availability.
Published monthly, the Digest is free and lives at www.availabilitydigest.com. Please visit our Continuous Availability Forum on LinkedIn. We're at 535 members and counting.
---
HOW SECURE ARE YOU ?
Today, the task of building and maintaining IT systems is more complex than ever before. The need for business continuity, an increase in critical transactional links to other systems and personal privacy requirements, to name but a few, all place security into focus. This is all in an environment of increasing regulation by government and industry organisations.
Businesses now have to ensure that their investments in security are delivering on the promised protection of their IT environments. Does the business make best use of security products and services ? Does the business follow best practices ? Is exposure to risk minimised ?
Customers are finding that a Security Review from an independent third party is now welcome before they are exposed to a searching Security Audit.
This is where BrightStrand International can help. We have skilled and experienced NonStop Security consultants who can undertake detailed Security Reviews to ratify that your security is sound or to identify situations where it can be improved. BrightStrand can then work with you to apply any necessary changes to meet today's stringent Security standards.
BrightStrand continues to deliver a full range of services that include:
· Systems and Operations Management
· Performance and Tuning / Capacity Planning
· Database Design and Administration
· Communications Subsystems
· Web Services
· Security Reviews
· IBM WebSphere MQ Series environments.
· NonStop Integrity and Blade Migrations
· System Healthchecks (Pre or Post-Migration)
· Specialist Consultancy
· Disaster Recovery and Service Continuity Planning
All, or some of these elements can be brought together in a Fully Managed Service that can be tailored to the particular needs of the customer – including remote bridging, hosting or operations support, adding further value to the BrightStrand quality services.
Call Dave Stewart today on +44 (0)7831 775115 or email him on dstewart@brightstrand.com for more information.
---
Discover 2013
NonStop Advanced Technical Boot Camp 2013
The NonStop Partner SIG looks forward to reuniting with Customers and HP!
Customers should attend DISCOVER 2013 if their main focus is high-level and/or oriented toward seeing what "greater HP" has to offer as well as learning what is new in the NonStop world. NonStop participation at DISCOVER will include eight breakout sessions - divided between business/solutions, relatively high-level technical content such as Roadmaps, and a presence in the Expo.
Discover 2013 will be held in Las Vegas at the Venetian hotel and resort from June 11-13. Registration is now open: http://h30614.www3.hp.com/discover
Customers should attend the Connect NonStop Advanced Technical Boot Camp (TBC) and upcoming RUG meetings for NonStop-specific, technically-focused content from HP, Partners and Customers. Detailed technical content and the NonStop Availability awards presentation will be at the Boot Camp held in San Jose on November 3-5, 2013.
In 2012 there were 27 technical presentations and 25+ Partners available for questions/answers in the Partner Pavilion.
The 2013 Partner Pavilion is sold out and includes HP NED and HP Networking.
For more information: http://www.connect-community.org/?TBC2013
Kathy Wood
NonStop Partner SIG/Vendor Chair
---
Find out more about us at
www.tandemworld.net
---