Contents
Electronic Transaction Processing Provider Uses OPTA2000 to Support Multiple Time Zones in Consolidated Production and DR Systems
Gravic Shadowbase: Proven Data Replication and Data Integration Solutions
Vital Andromeda
Modernizing Systems : Moving to an " Enterprise Standard " that includes NonStop
Does the P in PCI stand for "Painful"?
Manage OSS & LINUX Security Policy With Protect-UX ®
comForte: New options for doing SSL encryption of ATM and application traffic
EMV finally headed to the US - Ascert to help test the transition
MOMI announces new release!
HOW SECURE ARE YOU ?
Availability Digest Discusses HP's Project Odyssey – Is 'Good Enough' Better Than 'Great'?
Ban Bottlenecks® - A Failed Capacity Plan
XYPRO in Your Neck of the Woods
Musings on NonStop!
March, '12
NSWi
The Aussies Are Back!
The Connection
GTUG
N2TUG Spring 2012
User Groups
Employment
Current Subscribers 13,197
---
Electronic Transaction Processing Provider Uses OPTA2000 to Support Multiple Time Zones in Consolidated Production and DR Systems


A global provider of electronic transaction processing services is the latest organization to license TANDsoft's OPTA2000, a virtual clock and time-zone simulator. Installed in cooperation with a major enterprise services company, OPTA2000 will enable the ETP provider to consolidate its existing U.K. production systems and disaster-recovery systems with its Canadian-based production systems and disaster-recovery systems, now being migrated from NonStop S-Series S72000s to Integrity NonStop NB50000c BladeSystems.

OPTA2000 is a virtual clock and time-zone simulator that uses intercept technology to allow multiple applications operating in a consolidated environment to each have its own virtual system clock or to function in its own virtual time zone with date/time specifications that are different than that of the system clock. For time-zone simulation, the libraries create virtual times that are offset from a system's actual time by an amount expressed as a deviation from GMT time (Greenwich Mean Time). For clock simulation, the virtual times can be offset to whatever time is required for the testing, maintenance, etc., of an application. No application modifications are required, and a single system can host thousands of applications. OPTA2000 is valued by HP NonStop customers worldwide for its use in many situations where time-sensitivity becomes an issue in application environments.

In the case of TANDsoft's newest customer, the Canadian systems will host Base24 applications and Visa credit/debit-processing applications that must support transaction-processing environments in times zones located thousands of miles apart. OPTA2000 will provide a virtual operating environment for those applications in need of a U.K. timestamp.

TANDsoft's "best of breed, best in price" philosophy offers highly competitive value for all TANDsoft solutions. In addition to OPTA2000, they include FileSync for automatic file synchronization and replication; Command Stream Replicator, which automatically replicates FUP, SQL/MP and SQL/MX DDL structure and other environment changes to target systems – changes and settings that normally are not replicated because they sit outside the TMF Audit Trail; and the Enscribe-2-SQL and TMF-Audit Toolkits, which reduce the pressures of modernization by offering flexible, affordable alternatives to more expensive conversion products or manual conversion techniques. The Enscribe-2-SQL Toolkit supports both SQL/MP and SQL/MX and permits file-by-file incremental migration. The TMF-Audit Toolkit easily converts non-audited TMF files to audited TMF files. Its embedded Toolkit Trace captures and analyzes Enscribe activity to construct TMF transaction boundaries for custom applications.

TANDsoft products require minimal or no application modifications and are available for all HP NonStop servers. Free trials are available.

For more information about TANDsoft's product suite, contact Jack Di Giacomo at +1 (514) 695-2234. The company is headquartered in Beaconsfield, Quebec, Canada. UTC/GMT -4 (Eastern Daylight Time) www.tandsoft.com. Our Enscribe to SQL Migration Forum on LinkedIn is at 110 members and counting.

---
Gravic Shadowbase: Proven Data Replication and Data Integration Solutions

Gravic creates award-winning data replication and data integration solutions and has for over three decades. Gravic's patented Shadowbase suite of products is field-proven at many of the most-demanding NonStop customer sites to solve all of your data replication and data integration needs, including:

· Business Continuity and Disaster Recovery Solutions, Including Active/Active Architectures

o Shadowbase Solutions for Choosing your Business Continuity Solution to Match Your Business Availability Requirements

· Data Integration and Application Integration Solutions

o Shadowbase Streams for Data Integration and Application Integration

· Homogeneous and Heterogeneous Environments and Databases Solutions

o HP NonStop, Unix/Linux, Windows, IBM/AIX and other platforms for HP Enscribe, SQL/MX, SQL/MP, Oracle, DB2, Sybase, MySQL, SQL Server, and others

· Shadowbase Solutions for ACI BASE24™

· Shadowbase Solutions for GE Centricity® Enterprise

· Zero-downtime Migrations that Eliminate Planned Downtime for Upgrades and Conversions

o Shadowbase for Zero Downtime Migrations

· For additional case studies click here…Shadowbase Case Studies

Reasons to Choose Shadowbase Solutions Include:

· Proven-Technology: Deployed at hundreds of sites including many of the most-demanding NonStop sites

· Flexible Solutions for all of your Business Challenges: From business continuity/disaster recovery to real-time data warehouse feeds to fast/efficient cross-platform data integration

· Global 24x7 Support Organization: Expert support staff are available whenever you need them without that "big company" phone system run-around

· Affordable: If your existing provider's fees are breathtaking and busting your budget, we can fix that!

· Committed to the NonStop Platform: Investing heavily with HP to provide differentiating features available Only on NonStop!

Shadowbase Solutions continue to be a solid option for

replacing your Oracle/GGS infrastructure.

Before you make any data replication or data integration decisions,

contact us for a no obligation Proof-of-Concept!

Contact Gravic today to discuss your data replication and data integration needs.

You may also call at +1 610-647-6250, or send an email to SBProductManagement@gravic.com.

Please Visit Gravic at these Upcoming Shows

· NENUG, Andover, MA, 19 April

· MRTUG, Downers Grove, IL, 2 May

· OTUG, Columbus, OH, 3 May

· VNUG, Stockholm, 29-30 May

· HP Discover, Las Vegas, 4-7 June

For more information, please visit: www.gravic.com/shadowbase.

<![if !vml]>
<![endif]>
http://www.linkedin.com/company/gravic-inc./shadowbase-data-replication-305119/product
Trademarks mentioned are the property of their respective owners.
---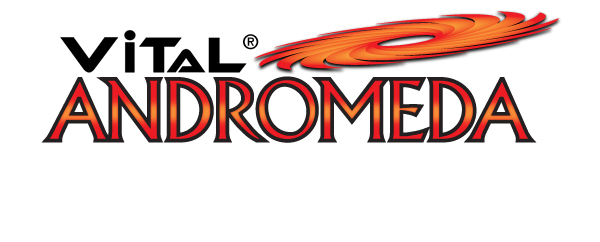 Tributary Systems, Inc. introduces the new ANDROMEDA low cost storage appliance product line. ANDROMEDA is an extremely cost effective all-in-one 3U storage appliance available in three configurations. Backup sizes, tape retention policies, as well as future growth rates will determine which model best fits your needs. Each of the three ANDROMEDA appliances is priced by usable storage capacity in TBs with UNLIMITED VIRTUAL DRIVE LICENSES.
ANDROMEDA is the LOWEST COST NonStop™ backup storage solution in the market today!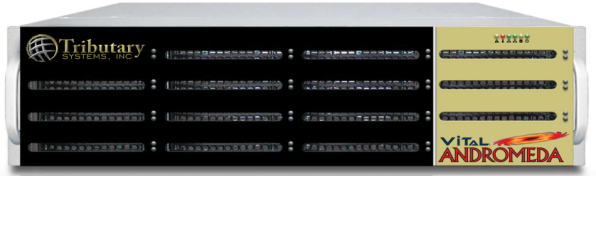 ANDROMEDA 900 9 TB usable
ANDROMEDA 2100 21 TB usable
ANDROMEDA 3300 33 TB usable
ANDROMEDA FEATURES
· An integrated all-in-one 3U appliance
· Transparent remote backup and restore for off-site requirements and disaster recovery
· Lowest cost backup storage for HP NonStop in the market today
· Ability to eliminate tape or consolidate tape libraries and drives to lower cost
· Improved site-to-site replication to maximize throughput
· User defined policies hold data on disk or direct data migration to any number of back-end devices
· Ability to attach to existing customer enterprise SANs and dedupe appliances
· Compression and AES encryption of data at rest and during migration
· LTO 5 back-end tape drive support
· Industry leading reports, monitoring and alerting for lights-out remote data center operations
· Fully automated operation of both virtual front-end and physical back-end devices
For more information on ANDROMEDA and Tributary's full line of product solutions now available for NonStop systems, please contact us at 1-817-354-8009, saleseurope@tributary.com, sales@tributary.com, or visit our website: www.tributary.com
---
Modernizing Systems : Moving to an " Enterprise Standard " that includes NonStop
CAIL announces one of the world's largest Banks has moved to a " Standard " for Host Access that includes NonStop - with an " Enterprise Client Solution ".
With integrated Attachmate / CAIL software (Reflection or EXTRA!), organizations have a single icon on the screen to access all Host based applications. This includes having quick, easy, consistent access to information on all platforms including - NonStop, Mainframe, Midrange, UNIX / Linux, etc. systems. Further, since Attachmate is well known in the IBM and UNIX / Linux communities, we are able to leverage this familiarity and presence in organizations so NonStop systems are more integral in enterprise IT infrastructure said Ron Thompson of CAIL. This is important since most NonStop systems are in heterogeneous environments. As a result, NonStop can be included in enterprise initiatives - to Modernize information services, comply with Corporate Security guidelines, for Enterprise Mobile projects, and other strategies to expand business opportunities. In addition to these benefits, an Enterprise Client Solution results in significant savings and simplifies systems - while making it easier for IT to address new requirements.
Extending on HP progress with bringing Standards to the NonStop Server, an " Enterprise Client Solution " has an emphasis on delivering business value by leveraging all information on all platforms, bringing a consistency to managing and utilizing all systems in the organization, and improving the User experience with information services. Because of these significant advantages, organizations are better positioned to move the business forward, expand services to Customers, and improve corporate financial performance.
With many organizations making the move to " Standards ", Mr. Thompson indicated we are obviously gratified with this very large financial institution selecting Reflection (with CAIL for NonStop) to support their Standardization strategy to enhance information services and improve business processes.
For more insights on having NonStop part of a Corporate Standard, better position the platform for new opportunities, and enable organizations realize more benefits with NonStop, please visit - www.cail.com/cabenefits, www.cail.com/adapt , www.cail.com/modern
For additional information on the options to expand NonStop relevance, please contact CAIL at - 800-668-5769 , 905-940-9000 or info@cail.com
---
Does the P in PCI stand for "Painful"?
Let's see if we can do something about that…

At a recent tradeshow I attended, I was involved in many customer discussions about PCI DSS. PCI compliance continues to be a big deal for many HP NonStop users, and the issue isn't going away. Indeed, the card schemes are mandating PCI compliance in more and more countries for the card issuers, in addition to the merchant acquirers who have had to be compliant for some time now.

Many software vendors offer products that assist with PCI compliance, but at the end of the day, compliance is an ongoing process, not just a product. For a lot of organizations who process Cardholder Data (CHD), achieving compliance will take a multi-month project.
At XYPRO we've been helping customers achieve PCI compliance for many years – as one of our customers said sometime back "XYGATE software was integral to us achieving PCI compliance" – so we've spent some time thinking about how we can make that process less painful, quicker, and more manageable.

The result of that thinking is XYPRO's latest product and services solution bundle – XYGATE PCI XPress. XYGATE PCI XPress consists of the XYGATE products and functionality required to achieve PCI compliance, along with a set of packaged services to simplify your PCI DSS compliance process. XYGATE PCI XPress ensures that: Visit: http://blog.xypro.com/ to read the complete story.
Andrew Price
Global Product Management
XYPRO Technology Corporation
---
Manage OSS & LINUX Security Policy With Protect-UX ®


For the first time you can now manage the ACL security settings on your OSS and LINUX servers using a single policy view.
Protect-UX® uses an intuitive and visionary approach to define Access Control to all files and directories on your UNIX servers. The policy tool provides a "role-based" access matrix that not only implements ACL's automatically, but also evaluates the effective access before implementing the policy.

With Protect-UX, user profiles and object profiles are allocated on an access matrix: the intersection of the grid provides the simple controls that set your UNIX ACL permissions (read, write, execute) for each user profile, to each application profile.
Protect-UX can also recommend, evaluate and apply Advanced ACls where this would condense policy administration.

Protect-UX is available today from CSP!

It can greatly simplify security management of your UNIX systems.

Key Features:
• Cross-Platform UNIX security management
• Implementation of ACL settings is mouse click easy
• Modern graphical interface with animations, right click and mouse-over options
• Policy feature manages security settings using a "role-based" access matrix
• Pre-evaluation of security policy in real time, prior to implementation
• Complete view of security settings in one window
• Advanced permissions are fully supported

Please contact Computer Security Products at Protect-UX@cspsecurity.com for all your UNIX security management requirements.

---
comForte: New options for doing SSL encryption of ATM and application traffic
Since September 2010, comForte Telnet, FTP, and Middleware encryption solutions have been bundled with the HP NonStop Operating System (OS). This is true for customers of both HP Integrity NonStop and HP NonStop Blade systems.
To date, most customers deploying the HP NonStop OS have also installed SSL or SSH to encrypt Telnet and FTP, according to security best practices and organizational policies.
While HP NonStop SSL works fine for Telnet, FTP, or ODBC/MX; encrypting ATM traffic or application data can present challenges. To help customers address these challenges, comForte has developed a new product called SecurLib/SSL-AT.
SecurLib/SSL-AT …
· Enables you to add SSL encryption to your existing environments transparently, without any application or configuration changes.
· Is based on the proven comForte products that are now being offered as part of the HP NonStop platform.
If this is interesting to you or if you would like to further explore your encryption requirements please contact us - www.comforte.com/contact.
Come and see us at these upcoming events in 2012
DUST, Scottsdale, AZ, March 30, 2012
GTUG, Ratingen, Germany, April 17-18, 2012
NENUG, Andover, MA, April 19, 2012
FINTUG, Helsinki, April 26, 2012
BITUG Little SIG, London, UK, May 24, 2012
VNUG, Stockholm, Sweden, May 29-30, 2012
HP Discover, Las Vegas, June 4-7 2012
International GTUG/CONNECT, Dresden, Germany, Sept 26-27, 2012
BITUG BIG SIG, London, UK, December 5-6 , 2012
Stay connected:
<![if !vml]>
<![endif]>
<![if !vml]>
<![endif]>
<![if !vml]>
<![endif]>
<![if !vml]>
<![endif]>
---
EMV finally headed to the US - Ascert to help test the transition


EMV is a standard used in the payments industry so near and dear to NonStop users. It primarily specifies the interoperation between integrated circuit cards (aka "smart cards") in your wallet and the terminals where you want to buy something or withdraw cash. These cards offer higher security, and are increasingly used in place of magnetic stripe cards. EMV, which stands for the initial letters of its developers Europay, MasterCard and Visa, was created in the mid 1990's so it's hardly a new standard, and Ascert has been involved testing customers' EMV-enabled systems since then. And there are a lot of systems involved. In Western Europe 80% of the payments cards issued are now EMV cards and 93% of the terminals, according to EMVCo, who manage the standard. Globally, excluding the US, as of October 2011 there were 1.3 billion EMV cards in existence representing a 42% adoption rate. They key words here are "excluding the US".

The US payments industry is late to this party, but is being forced to adopt EMV in order to ensure the cards they issue are usable abroad, and to prevent the fraud that EMV counteracts from relocating to the US. Last August Visa announced their EMV rollout, and they were followed by MasterCard this January and Discover just last week. The target date for acquirers to be processing EMV transactions is April 2013. There are liability & PCI incentives that will encourage this adoption.

Of course, as has been said many times before, the nice thing about standards is there are so many to choose from. In the UK the rollout was dubbed "Chip and PIN" in reference to the fact that users were required to enter a secret PIN in order to authenticate their use of the card. Chip and PIN is widely, though not exclusively, used in Western Europe over the alternative "Chip and Signature" where consumers must sign something. In the US Visa is adopting Chip and Signature whereas MasterCard is aiming for Chip and PIN. Just for good measure, the different card schemes and issuers may also have their own standards as to how they handle the encrypted data. Testing these transactions can be challenging due not only to the peculiarities of each implementation, but also the difficulty in obtaining the requisite information; it's always a lot of fun asking for some master encryption keys, and watching the resulting frenzy, even with test environments.

Through its UK offices, Ascert has been using its VersaTest product to test EMV payments systems, both on and off NonStop, since the earliest days of the standard's existence. With customers throughout Europe, the Middle-East and Africa, Ascert has built a large repository of experience and a library of reusable modules for testing the different flavors of EMV. This experience and library were increased by Ascert's US office when Canada adopted the EMV standards; in fact VersaTest was used as the certification engine for Canada's national payment network.

Now we get to do this again with the US rollout. The timescales for this roll out are very aggressive, and having a NonStop partner with our level of testing experience in this area can be the key difference in the success of your projects. Ascert's VersaTest product is the only commercial testing product that can run natively on NonStop systems, and its libraries are being actively updated for US Issuer's EMV schemes. With the ability to control the tests from a browser, or from our plugin for HP's Quality Center product, executing tests and analyzing the results from your NonStop server has never been easier.

For more information or to contact us, visit our website at http://www.ascert.com/products/versatest/eft-testing


---
MOMI announces new release!


MOMI version 5.27 software focuses on EMS and adds the following features:

• User-defined text, we call EventBX, is now associated with EMS messages. This vastly exceeds the EventCX capability and has an Import/Export feature!

• Displayed EMS Tokens. Tokens that comprise an EMS message are the underlying values within an EMS event that, when used in conjunction with a template, result in a 'readable' ASCII message. Some EMS events contain tokens not visible in the template-based format, and MOMI now gives that information as well with this new feature!

• Additional default settings to help Users customize their EMS display to meet their specific requirements!

• Updated and revised HELP documentation!

Companies all over the world trust their HP NonStop™ performance monitoring to MOMI. BlackWood Systems programmers have over 25 years of comprehensive expertise with NonStop hardware and a reputation for reliability, technical excellence and strong customer support. MOMI runs on all NonStop platforms: Blade, Integrity and S-Series
BlackWood Systems invites you to try MOMI and see why our customers say
'MOMI is by-far the best NonStop tool out there for querying quickly!'

www.momi.com

See MOMI version 5.27 at the upcoming N2TUG and MRTUG events!


Kathy Wood
BlackWood Systems, Inc.
kwood@blackwood-systems.com
602-569-8766

---
HOW SECURE ARE YOU ?


Today, the task of building and maintaining IT systems is more complex than ever before. The need for business continuity, an increase in critical transactional links to other systems and personal privacy requirements, to name but a few, all place security into focus. This is all in an environment of increasing regulation by government and industry organisations.

Businesses now have to ensure that their investments in security are delivering on the promised protection of their IT environments. Does the business make best use of security products and services ? Does the business follow best practices ? Is exposure to risk minimised ?

Customers are finding that a Security Review from an independent third party is now welcome before they are exposed to a searching Security Audit.

This is where BrightStrand International can help. We have skilled and experienced NonStop Security consultants who can undertake detailed Security Reviews to ratify that your security is sound or to identify situations where it can be improved. BrightStrand can then work with you to apply any necessary changes to meet today's stringent Security standards.

BrightStrand continues to deliver a full range of services that include:

• Systems and Operations Management
• Performance and Tuning / Capacity Planning
• Database Design and Administration
• Communications Subsystems
• Web Services
• Security Reviews
• IBM WebSphere MQ Series environments.
• NonStop Integrity and Blade Migrations
• System Healthchecks (Pre or Post-Migration)
• Specialist Consultancy
• Disaster Recovery and Service Continuity Planning

All, or some of these elements can be brought together in a Fully Managed Service that can be tailored to the particular needs of the customer – including remote bridging, hosting or operations support, adding further value to the BrightStrand quality services.

Call Dave Stewart today on +44 (0)7831 775115 or email him on dstewart@brightstrand.com for more information.


---
Availability Digest Discusses HP's Project Odyssey – Is 'Good Enough' Better Than 'Great'?



HP's Project Odyssey is a new initiative designed to extend the mission-critical features of HP-UX from Itanium blades to Windows and Linux x86 blades. Odyssey raises many questions for those involved with NonStop, HP-UX, and OpenVMS. March's Availability Digest discusses Project Odyssey and the impact of "good enough," highly reliable standard operating systems on the fault tolerance and continuous availability features of NonStop and Open VMS split-site clusters.

The March Digest also includes:

• Help! My Data Center is Down! Part 6: The Human Factor – Human factors play a role in about 70% of system failures and data-center failures. Here's an example: a system manager took down a two-node active/active system by accidentally shutting down the operational node during a rolling upgrade.

• Microsoft's Windows Azure Cloud Succumbs to Leap Year - Microsoft's Windows Azure Cloud went down for over a day on Wednesday, February 29th. Starting around midnight, various subsystems of the Azure Cloud began to fail one-by-one. Soon, applications for many customers became unresponsive. If the Azure cloud had been tested for the Leap-Year problem to the extent that most systems were checked for the Y2K problem, Microsoft may have avoided this disaster.

• Australia's Painful Banking Outages – Australia's four largest banks have suffered an embarrassing series of outages over the last two years. The outages have occurred as the banks have engaged in multi-year replacements of their aging, core legacy systems.

The Availability Digest offers one-day and multi-day seminars on High Availability: Concepts and Practices. Seminars are given both onsite and online and are tailored to an organization's specific needs. We also offer technical and marketing writing services and are adept at a wide variety of content creation.

Published monthly, the Digest is free and lives at www.availabilitydigest.com. Please visit our Continuous Availability Forum on LinkedIn. We're at 396 members and counting. Our most recent thread focuses on why fallback procedures are so often overlooked during upgrades.

---
Ban Bottlenecks® - A Failed Capacity Plan

Customer Service?

I spent some time on the phone last weekend trying to book a flight to Europe through our bank's rewards program. In addition to the procedural design, wherein I had to talk to two different departments twice each, the experience was painfully slow.

It didn't need to be if someone were doing their job. Of the four people I talked to, two of them apologized that their "computer was slow". Frankly, this is bad system management, and bad public relations. It's costing them money, and hurting their customer relationship.

It's totally unnecessary. The state of the art of capacity management is such that slowdowns don't need to happen. They can be predicted and fixed before they degrade the customer experience.

A service and a discipline

Ban Bottlenecks creates a detailed performance/capacity audit of your systems and discuss it with you each month. Our expert assistance will help you to find and fix current problems, and prepare you for the future. Our monthly web conference becomes the basis for an ITIL-style system of dialogue and feedback benefitting all team members.

For more thoughts on these topics, please review Jon's Performance Musings articles in The Connection and Connect/Converge magazines, either on the Connect website or on www.banbottlenecks.com.

Call for a free evaluation!

assist@banbottlenecks.com
1.415.256.8369

---
XYPRO in Your Neck of the Woods
We're traveling the globe, spreading the word about all the exciting product plans and features we have in store.
Come visit XYPRO at:
DUST

Phoenix, AZ

March 20, 2012

ACI Americas Customer Exchange

Miami Beach, Florida

June 5-8, 2012

http://www.aciworldwide.com/en/Support/User-groups.aspx

GTUG Spring Meeting

Dusseldorf, Germany

April 17-18, 2012

ACI EMEA Customer Exchange

Monaco

June 12-15, 2012 –

http://www.aciworldwide.com/en/Support/User-groups.aspx

NENUG

Boston

April 19, 2012

http://www.connect-community.org/events/event_details.asp?id=145960

ArcSight Protect

Gaylord Opryland Hotel in Nashville, TN

September 9-12, 2012

FinTUG

Helsinki, Finland

April 26, 2012

PCI Security Standards Council
North American Community Meeting

Orlando, FL

September 13, 2012

https://www.pcisecuritystandards.org/communitymeeting/2012/

OTUG

Ohio

May 3, 2012

GTUG

Dresden

September 25-27, 2012

HP PCI DSS Meeting

Bangkok Thailand

May 15,, 2012

EBUG Technical Focus Group

London, United Kingdom

October 22-23, 2012 –

VNUG

Friiberghs Manor, Stockholm, Sweden

May 29-30, 2012

http://www.vnug.biz/mainframe.htm

PCI Security Standards Council
European Community Meeting

Dublin

October 23-24, 2012

HP Discover

Las Vegas

June 4, 2012
---
Musings on NonStop!
March, '12
The opinions expressed here are solely
those of the now self-employed author
Projects kick-off within HP, and new initiatives continue to be actively pursued and promoted. But in conversations with the NonStop vendor community the messages in support of NonStop seem to be anything but laser-focused. By this I mean that supporting messages for NonStop can appear to vary region to region, solution to solution, and even as dramatically as manager to manager.
I suspect there is nothing sinister in this, or that deep within HP there's a diabolical plot to undermine all that NonStop can provide, but rather, I suspect, it is now a reflection of just how big HP has grown to be and just how widespread it's engagement with customers has become. As one well-positioned executive within HP recently suggested, if we can engage with customers early enough and introduce NonStop early in the evaluation cycle, then NonStop often becomes a consideration – but there's just too many deals going on, and HP lacks the resources to ensure adequate NonStop participation in all of them.
Perhaps nowhere is the messaging in support of NonStop left hanging, so as to speak, than when it comes to NonStop's support of mission-critical applications. To paraphrase Jimmy Buffett and the lines he uses in the song, Fruitcakes: "Now here comes the big ones. NonStop and Mission Critical Applications! We all got 'em, we all want 'em. What do we do with 'em? Here we go, I'll tell ya." Buffett may have been talking about relationships but in this instance, I think much the same can be said about NonStop.
The message of NonStop and its role in support of mission-critical applications is left hanging because HP Business Critical Systems (BCS) supports multiple platforms and is reticent to label any of the group's platforms as being incapable of playing in the uppermost tiers (i.e. number of nines of availability) within the data center. Let's face it, to many working with Windows and Linux, NonStop is legacy whereas to many in NonStop, OpenVMS and HP-UX, Windows and Linux are for gamers and the "great unwashed", as I once heard it called a few years back. No serious data center would ever contemplate running real mission-critical applications on a stack of PCs, now would it?
Is the monitoring of a large data center helped by the presence of a mission-critical application? Is the movement of data to where it is most needed better served by a mission-critical application? Are the many networks of ATM and POS devices we interact with routinely favored by the deployment of a mission-critical application? Of course they are – and if you have been following my recent blog postings on just how badly the Australian big four banks have performed of late, you will have picked up on just how sensitive an issue this has become – the banks are making record profits, they are cutting their IT staffing, and they can't seem to keep their networks up and running.
By way of explanation, one bank's CEO even said, by way of an explanation, well "unfortunately in any large organization these things happen from time to time." Remarkable! If you want to read more about the failures as well as what I have said on this topic, check out the post of March 7th, 2012 to comForte Lounge: When did "almost" become "good enough"? [
http://comfortelounge.blogspot.com/2012/03/when-did-almost-become-good-enough.html
] as well as the post of March 10th, 2012 to Real Time View: Is membership in mission-critical still open? [
http://itug-connection.blogspot.com/2012/03/is-membership-in-mission-critical-still.html
]
NonStop is the premier solution when it comes to supporting mission-critical applications. Just because HP BCS places it as the only participant in the category it calls "Zero downtime", a category positioned a little to the right of "Mission-Critical resiliency", doesn't preclude it's participation within the mission-critical category – something too many within HP seem to forget. No, let me be as succinct as I can; NonStop slays the mission-critical marketplace and is without a peer – throw in its leveraging of commodity components and the support of open interfaces and services, then it really becomes a very easy and simply message to convey!
I have been led down this path as one of my clients, Attunity, has just introduced Attunity Replicate into the marketplace and I have been heads down developing my own opinions paper about how far the market for data replication / data integration products has come – from very humble beginnings to move data to a second site, ready to take over in case of disasters of any kind or even just for archiving purposes, today these products are being deployed across platforms, multi-RDBMSs, and have become cloud-aware and attuned to what's coming in terms of big data as unstructured data quickly catches (then overtakes?) structured data within our databases. Yes, these products are in transition and are beginning to be appreciated as welcome solutions to company dilemmas rather than just a box of useful tools …
And in the middle of these fabrics you will find NonStop. Once again, as we look past the availability aspects of NonStop and just how capable it is in the modern era – supporting modern languages and run-time environments – its ability to scale continues to impress. But there's more – the latest NS SQL/MX release is beginning to gain considerable appreciation for not just its stability, but feature / function richness. Following several years of moving forward just a few paces at a time – with what we are now seeing with Rel 3.1 it's a whole different ball park. And this will become the subject of more articles from me later in the year.
Why do we need mission-critical computers? What do we do with them? And for readers of this musing I suspect we all have them! But it is very important we just simply do not lose sight of their value to our companies or worse, ignore the investments that continue to be made in support of mission-critical computers – within HP and by partners like Attunity. It would be so easy for projects to be scaled back with alternate product offerings introduced, but the NonStop architecture has legs, yet the messages from HP suggest the opposite. Other vendors may throw labels at NonStop and try to convince us that the platform is outdated, even a legacy, but I am not sure what they are thinking or how they may have come to that conclusion. NonStop will be staying around and helping us for many more years. And about that, I have to agree with Buffett (from earlier in the same song) – "I don't want other people thinking for me!"
Richard Buckle
Founder and CEO
Pyalla Technologies, LLC
Email:
richard@pyalla-technologies.com
Following my blogs? My web publications? My discussion Groups?
Check out:
Real Time View at
http://www.itug-connection.blogspot.com/
And check out the Group on LinkedIn, Real Time View comForte Lounge at http://comfortelounge.blogspot.com/
. And check out the Group on LinkedIn, comForte Lounge Realtime.ir at
. And check out the Group on LinkedIn, realtime.ir

ATMmarketplace at
http://www.atmmarketplace.com/blogger.php?id=130763

Buckle-Up at http://www.buckle-up-travel.blogspot.com/

…. And check out the SubGroup on LinkedIn, Pyalla Track Days

---
NSWi
www.nonstopworldinternational.com
Are you a European NonStop User?
Do you require a Full Time / Part Time Resource boost to Cover New Projects, Maternity / Paternity leave etc.?
Do you have NonStop Customers based in EMEA that require Local Support of Hardware and Software?
Nonstop World International (NSWi) can help.
We are currently providing Local Support to Vendors outside of the EMEA region for their NonStop Customers based in EMEA.
Contact us to see how we can assist you with highly skilled NonStop professionals, whether Long Term or Part Time on a 24*7 basis.
---
The Aussies Are Back!
By Carol Flaig

Some years ago, between 15 and 20, so long ago I can't remember exactly, I was responsible for managing the computer network for Target Stores. If you recall (fondly or not – I sometimes get choked up with the memories) leased lines and modem racks, you'll relate to this story. SNA was the network protocol du jour. Before I was "promoted" to management I was a VTAM/NCP programmer so I have a particular affinity for the hardware and software components of my salad days.
At that time, I was the youngest IT manager with so much responsibility (18 direct reports & $7M budget), so this partly explains my high degree of risk taking.
I was directly tasked by my boss (the most important person in the world) to integrate the company IBM and Tandem mainframes. The company used the mainframe for inventory data (large catalogues, a batch machine), and the Tandem for sales data (OLTP) which were polled regularly. It is apparent how valuable the ability to share this data is; even today it is not performed in real time.
Tandem offered such a particular software solution, called, SNAX (SNA……..something). To call it adequate is a compliment.
I believe Target used SNAX for a time, a faint memory now.
One day a brochure appeared on my chair that described an Australian company that had developed a SNAX alternative. Not only was the product NOT SNA, it ran on LU6.2 (very advanced and contemporary at the time).
I asked the handful of Aussies that were behind this effort to come to Minneapolis and demo the product for me and my disbelieving peers. Not only did the product work as claimed, but these wizards developed some custom features especially for Target onsite. I bought the product, called ICE, it was successfully implemented and I was promoted.
ACI now owns the product ICE, and has made many improvements. I understand it is being enhanced to support Tandem NonStop connectivity to open platforms. It has also been brought to my attention that it is also very pricey.
Remember the brilliant Aussies that found their way to Minneapolis (in the winter I might add)? Well, the best of the lot are back at it, and in fine form. They've created a new start up company named Infrasoft, www, infrasoft.com.au.
Infrasoft has developed an open platform software solution that enables communication between NonStop and IBM, or Windows or Unix or Linux. In other words, it's an alternative to ICE and supports other open platforms too. Even better, it's cost effective!
I'm giving this special shout out to the new Infrasoft company, and its product uLinga, because I personally know the work of these particular developers to be of the highest quality, these individuals to be of outstanding character, and I think they deserve a close look. They already have customers using uLinga in production, your risk is minimal. Why not kick the tyres (Australian for tires)?
If you are interested in learning more about this very promising solution, contact Infrasoft's marketing partner, comForte Gmbh,
www.comforte.com
To contact the author:
cflaig@platypuspartners.com
Carol Flaig received a Guggenheim award for her creative writing work in February and is available for consulting work.
She holds an advanced degree in writing and 20 years IT experience.
---
The Connection
Jan/Feb Issue of The Connection is now available online

http://storage.synchost.com/eanderson/2012/The%20Connection/Connect%20Jan-Feb%202012-Web-1-with%20working%20links.pdf
---
GTUG
Online Registration for the Pan European GTUG/CONNECT Event Germany in September
The online registration for attendees and vendors for this key Pan European NonStop (and CONNECT Germany) event is now open.
The deadline for Call for Papers, in case you wish to present, is June 10, 2012.
GTUG/CONNECT Germany will be held on September, 26-27, 2012 in Dresden Germany.
Go to www.gtug.de/hotspot2012 for more information and to register.
---
N2TUG Spring 2012
Mark your calendars for a lot of "Changes in Attitude"
The North Texas and Oklahoma NonStop Users Group (N2TUG), in conjunction with the local HP NonStop Sales team and our very generous NonStop Vendors, are excited to invite you to an afternoon of great messages about NonStop, followed by an evening with Jimmy Buffett. Save the date – April 19, 2012 –and plan to attend!
It's been almost two years since we've had a chance to hold a meeting, and we're making up for it in style. HP and other NonStop Vendors will share their excitement with the latest happenings in and around the NonStop Enterprise Division of HP's Business Critical Server group. And to spice up the meeting, HP has provided 50 complimentary tickets to the evening's Jimmy Buffett concert at the Gexa Energy Pavillion!
The meeting location is still being finalized, but don't wait to RSVP and set aside the date! The event will likely be in the Downtown Dallas area, close to multiple hotel choices. Here is the proposed agenda:
| | |
| --- | --- |
| Noon to 5 PM | Sessions from HP, BlackWood Systems, CAIL, Crystal Point, Tributary Systems, and XYPRO |
| 5 PM to 6:30 PM | Cheeseburgers and Margarita Bar |
| 6:30 PM | Shuttle to Gexa Energy Pavilion for the concert |
| 8:00 PM | Jimmy Buffett! |
| After the concert: | Shuttle back to the meeting location/hotels. |
A note about the complimentary tickets – There are only 50 tickets available. If we have more customers than tickets, we'll be doing our best to spread them around fairly, but we won't be able to get more tickets (the concert is sold out). We hope to be able to tailgate, though (Weather permitting)!
RSVP Now!
Bill Honaker (bhonaker@xid.com)
---
User Groups
Information on User Group events can be found at http://www.connect-community.org
---
Where to Follow Tandemworld
Tandemworld have created a Group on LinkedIN through which you can view the latest Tandemworld eNewsletter.
We cuurently have a number of highly experienced NonStop Specialists seeking new roles within the EMEA region. Should you have a requirement for a short term specialist (Contract) or a more longer term resource (Permanent) please Contact Us to enable us to assist you swiftly.
Please view this at http://www.linkedin.com/groups?gid=2602432&trk=hb_side_g
And
Follow us on Twitter
---
Tandemworld within EMEA
+44 (0) 20 8304 7979
To place article(s) within our future eNewsletters please Email us.
For Future Sponsorship opportunities please Email us.
---
For More on Employment in EMEA Go Here
For More on Positions in the Americas Go Here (to advertise your positions here please contact us)
For More on Positions in AsiaPac Go Here (to advertise your positions here please contact us)
---
Looking for a Solution or an answer to a particular problem ASK Tandemworld. We will contact the vendors for you and find a suitable solution that meets for current and future needs.
---