Tandemworld eNewsletter for June 2017
---
Contents
New Innovations from NTI
BrightStrand NetBatch/DR - Update
Canam Software Labs - Controlling XML and JSON Messages with Thunder
---
Gravic Publishes New Article on Dramatically Reducing Outage Costs with Advanced Business Continuity Solutions
Your Passport to Compliance
Enjoyed the first part of comForte's "For your eyes only" presentation recording from eBITUG? Get ready for part #2!
Tributary Systems Brings Cloud Object Storage to NonStop
Three reasons why you should download our free eBook
A Major U.S. Bank Counts on OmnATM to Operate its Extensive ATM Network
comForte at events near you in 2017
Availability Digest Explains How to Prevent the WannaCry Ransomeware From Making You Wanna Cry
A GUIDE TO HIGH AVAILABILITY AND AN APPROACH TO AN ACTIVE/ACTIVE ENVIRONMENT IN THE OSS WORLD
Tell me more: DataExpress welcomes the summer break!
Ask
Registration for the 2017 NonStop Technical Boot Camp is OPEN!
Musings on NonStop! - June, 2017
Current Subscribers 15127
---
New Innovations from NTI
On Tuesday May 9th in London NTI announced two new product offerings at the eBITUG conference.
EVOLUTION provides a fabric for the seamless migration of GoldenGate systems to the new Xbox. Evolution is truly a revolutionary approach to platform migration. Beyond the evolution fabric NTI has assembled analysis, support and migration solutions that surround Oracle GoldenGate installations and ensures a successful seamless migration.
Web content for EVOLUTION is online at
(https://network-tech.com/Evolution.php).
VISION provides a way to use the data flowing thru your NonStop for new analytics and applications. VISION is so new that our web content is not yet online. In the coming months expect additional announcements that will WOW you.
You can download and view the London announcement and presentation at
(https://www.dropbox.com/s/y27le5rm09c6nxr/DRNet%20%26%20EVOLUTION%20%26%20VISION%20Overviewe%20eBITUG%20050917.ppt?dl=0).
DRNet® is world class NonStop Data Replication technology.
· Real-time Active/Active Data Replication
· Real-time Tandem to OPEN Data Replication
· Real-time File Synchronization
· Refreshingly Real-Time Support from Real Engineers
+1 (402) 968 3674
---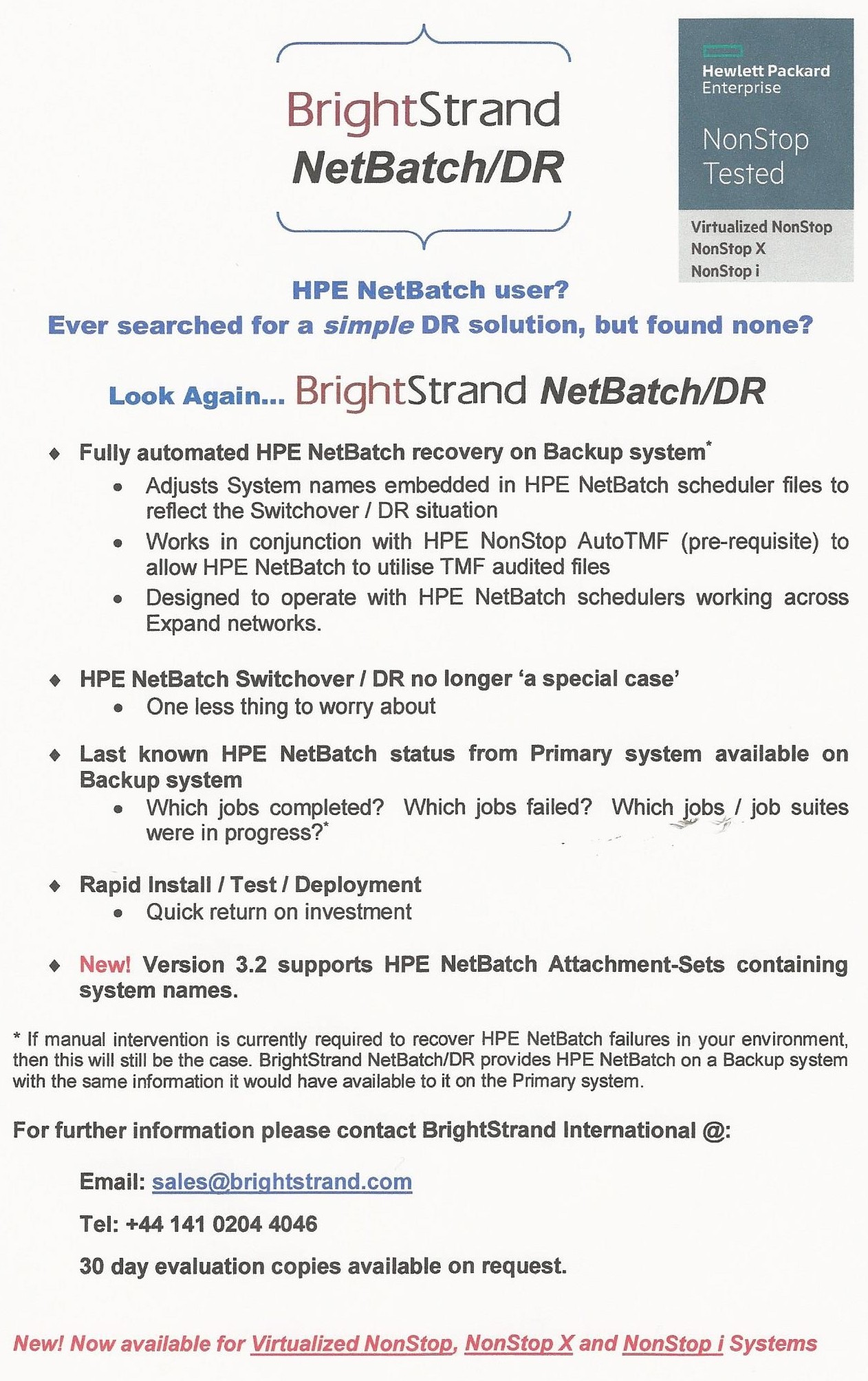 Contact Sales@brightstrand.com
---
Canam Software Labs - Controlling XML and JSON Messages with Thunder
Thunder uses a model-driven approach to generating COBOL and C code for parsing and creating XML and JSON messages. In addition to ease of use and high performance, another key advantage of Thunder is that it enables developers to control how messages are processed. Repeating structures can be configured, optional nodes can be suppressed and content can be formatted. To see how Thunder enables developers to control the processing of XML and JSON messages view our Wiki article HERE:
Thank you again to all who visited our booth at this year's eBITUG! To learn more about the Power of Thunder, contact Canam Software Labs at info@canamsoftware.com.
---
Gravic Publishes New Article on Dramatically Reducing Outage Costs with Advanced Business Continuity Solutions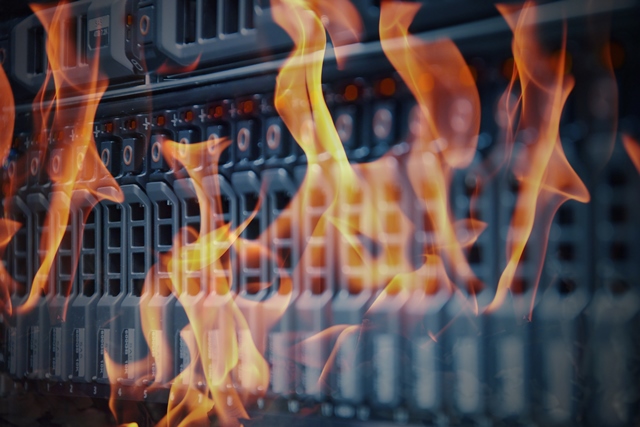 Gravic published a new article, Dramatically Reduce Outage Costs with Advanced Business Continuity Solutions in the May/June issue of The Connection. Whether it be fire, power failure, software error, malfeasance, or some other cause, events occur which can lead to unplanned outages of IT services. If your business is relying on an active/passive or asynchronous data replication solution for business continuity, then it is time to look at whether or not it really provides a sufficient guarantee of protection against the impacts and costs of downtime and data loss. Chances are that it does not, and you should consider moving to a higher level of business continuity solution – such as sizzling-hot-takeover (SZT) or active/active – which mitigate the issues with active/passive, resulting in much better total cost of ownership (TCO). For those businesses that cannot tolerate any downtime or data loss, synchronous replication, HPE Shadowbase ZDL, should be utilized for the highest levels of availability with zero data loss.
Gravic Presents on HPE Shadowbase Synchronous Replication at NYTUG and N2TUG
We recently presented on our new product, HPE Shadowbase Zero Data Loss (ZDL) at NYTUG (outside New York City) and N2TUG (Dallas). HPE Shadowbase ZDL provides zero data loss, preserves your mission-critical data to mitigate any disaster's effects, and is now released from Gravic in Controlled Availability (CA) mode and from HPE for testing purposes only. (The HPE first customer ship is expected soon.) We are excited and proud to bring this new product to market, which includes the implementation of many novel (patented) techniques. Please contact us if you think that you could benefit from this technology, or are interested in learning more and would like us to present it to your colleagues.
We thank John Vollers from Hewlett Packard Enterprise and Mandi Nulph of NuWave Technologies for organizing the NYTUG meeting. We particularly enjoyed Bill Highleyman's presentation on the "never agains." He discussed how "fat fingers" can cause major system outages. Congratulations to Donna Webb of Value Line for winning our Google Home prize!
We also thank the N2TUG board for hosting such a terrific event! Special thanks to Bill Honaker and Diane Funkhouser for a job well done! As far as regional events go, this is one of the best in the Americas. Congratulations to Brandon Kay of US Bank/Elan Financial Services for winning our gift card prize!
To speak with us about your data replication and data integration needs, please visit us at www.ShadowbaseSoftware.com, email us at SBProductManagement@gravic.com, or call us at +1.610.647.6250. Hewlett Packard Enterprise directly sells and supports Shadowbase solutions under the name HPE Shadowbase. For more information, please contact your local HPE account team or visit our website.
Please Visit Gravic at these Upcoming 2017 Events
MATUG Meeting—TBD September/October
ATUG Meeting—Atlanta, 20 September
MEXTUG Meeting—Mexico City, TBD October
CTUG Fall Conference—Toronto, 11 October
Connect HPE NonStop TBC—San Francisco, 13-15 November
---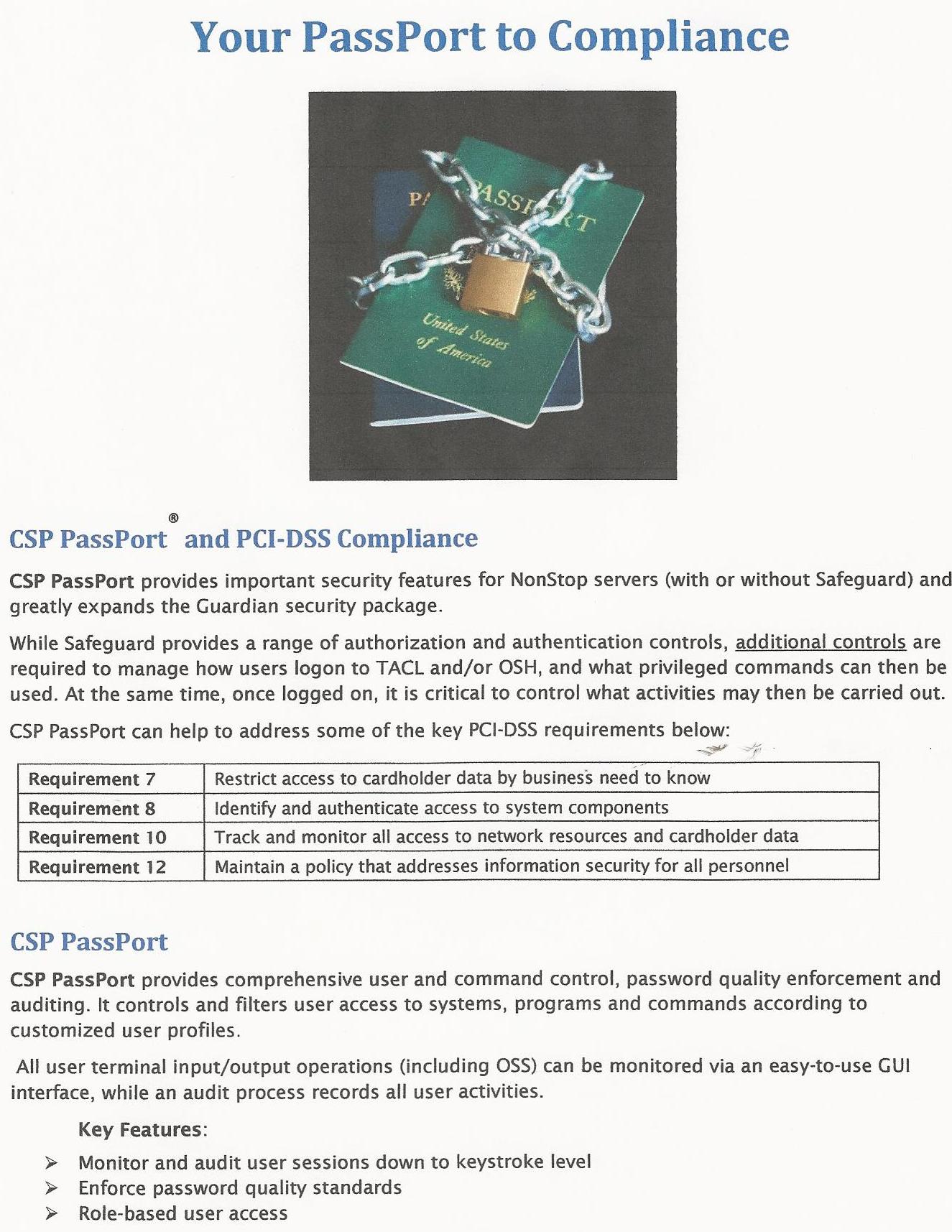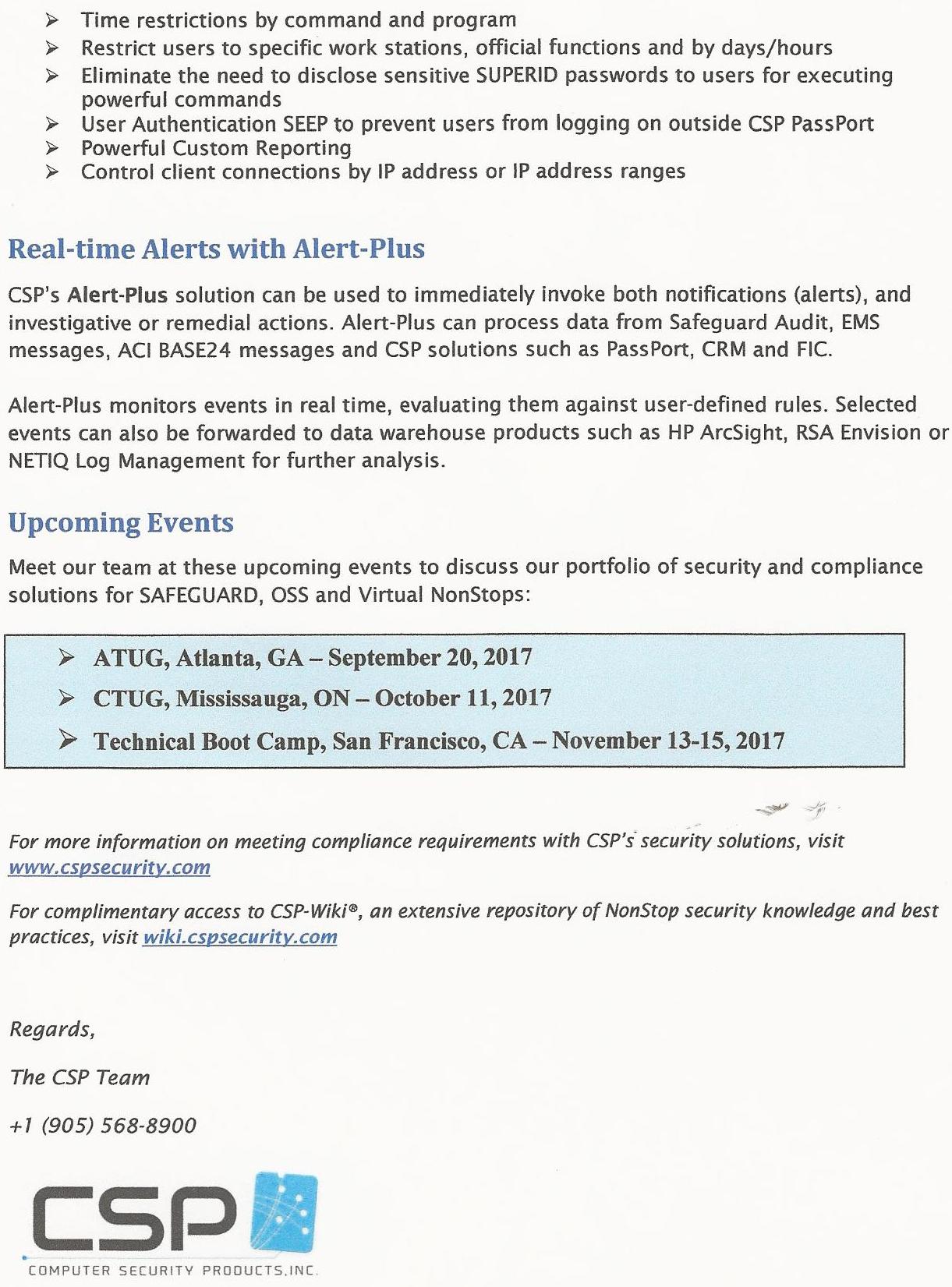 ---
Enjoyed the first part of comForte's "For your eyes only" presentation recording from eBITUG? Get ready for part #2!
Just a few weeks ago, eBITUG 2017 in London took place and it was our pleasure to be amongst the esteemed experts who presented on stage.
John Bycroft gave a talk that had it all: Lots of valuable information and top-class entertainment on the subject of "Keeping your data 'For yo#2 636& only'".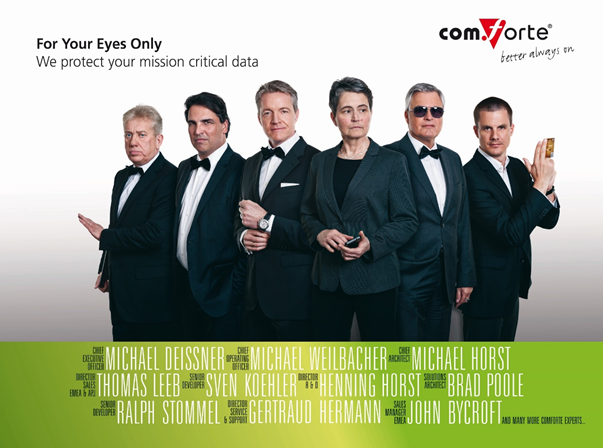 If you were not able to attend eBITUG and you missed the presentation, don't despair: We've got you covered. Check out the presentation recordings on Youtube:
· Part #1 - The drivers of data protection
· Part #2 – Tokenization with comForte SecurDPS
To learn more about comForte SecurDPS, visit our website >>
---
Tributary Systems Brings Cloud Object Storage to NonStop

By Glenn Garrahan, Director HPE Business, Tributary Systems

It's no secret, the amount of digital information continues to grow!

In fact, IDC calculated the total amount of digital information created and replicated at 4.4 zettabytes (one zettabyte is equal to 1000 exabytes), way back in 2013. They figure this number will grow to something like 44 zettabytes by 2020, only three years from now.

And while most of this data is created by individuals, enterprises handle about 85% of this information at some point in its lifecycle. This means organizations take on the responsibility for architecting, delivering and maintaining information technology systems and data storage systems to meet this demand.

So massive amounts of data must and are being archived!

But with massive data archival comes multiple challenges for traditional storage systems. As the petabyte-scale is reached:

· Data integrity suffers when system size is 10 billion times larger than the bit error rate of a hard drive

· Data availability suffers when hundreds of drives fail every day and require lengthy rebuilds

· Data security suffers with millions of devices and multiple copies in multiple locations

· Costs spiral out of control as it becomes necessary to add more and more hardware to meet archival requirements

· Backup windows increase, especially with dedup VTL appliances, due to front end data processing

·

Rehydrating massive amounts of deduped data for restores becomes unwieldy

What can be done, digital data isn't going away…….

For NonStop customers, a great answer is Tributary System's Cloud Object Storage Solution. Employing IBM COS technology coupled with TSI's proven Storage Director as the "front end", NonStop customers can transparently take advantage of Cloud Object Storage (COS) without any changes to their NonStop applications.

While there are many important reasons to move from traditional archiving methodologies to Cloud Object Storage, the "Big Four", scalability, security, performance and cost, are highlighted here:

Scalability:

• Dispersed storage technology, employing Information Dispersal Algorithms, in TSI's COS solution provides massive scalability with significantly reduced administrative overhead

• TSI's COS solution can grow easily from terabytes to petabytes to exabytes

• These advanced scalability capabilities are ideally suited to rapidly growing data backup environments

Security:

• Cloud Object Storage is a highly secure object storage archival technology that has been in the marketplace for 13 years.

• This COS solution uses Information Dispersal Algorithms (IDA), otherwise known as Erasure Coding, in addition to AES 256 bit encryption for security

– IDA's separate data into unrecognizable "slices" that are then distributed via network connection to storage nodes locally or across datacenters

– IDA eliminates the need for data replication

– No complete copy of the data resides in any single storage node, and only a subset of nodes needs to be available in order to fully retrieve the data

– And TSI's Storage Director "front end" uses hardware enabled data reduction with AES 256 bit encryption for data-at-rest in its cache, before being uploaded to the Cloud

Performance:

o Storage Director is superfast at ingesting data from any backup application including NonStop, TSM, Commvault, NetBackup, Veeam etc.; so installation of the Storage Director between the NonStop host and COS will allow rapid data ingestion and caching to reduce backup windows while streaming the data policy based pools to COS at the back end.

• With the use of FlashSystem for the cache layer, TSI's Storage Director can backup data to COS at 10.4 GB/sec or 37.4 TB/hour per node, and restore data at 9.6 GB/sec or 34.6 TB/hour

• Storage Director has an optimized back-end interface for rapid vaulting data based on customer specified policy by data pool to Cloud Object Storage

• Data volumes can be pinned to Storage Director cache even after being vaulted to COS for rapid restore

Cost:

o TSI's Cloud Object Storage solution delivers significantly lower total cost of ownership for storage systems at the multiple petabyte level, reducing or in many cases eliminating the need for data replication and the need for multiple copies

o Cloud Object Storage is 55-60% of the cost per GB of archived data when compared to any dedup VTL

While this is obviously only a brief introduction to what is an interesting and multi-faceted topic, the fact is that TSI is ready right now to provide the most advanced Cloud Object Storage solution for all NonStop users, regardless of NonStop system type. NB, NS, NonStop X, or even Virtual NonStop, we'll support them all!

Contact Information:

www.tributary.com

Tributary Systems, Inc. is a technology solution provider to enterprise computing customers. Tributary develops and sells data protection, backup storage, virtualization, site-to-site replication and disaster recovery and Cloud Based archival solutions. Tributary is an acknowledged global leader in providing backup storage and data protection solutions for fault-tolerant, high availability, enterprise computing environments.

Tributary was founded in 1990 and is a Texas based company with its headquarters, development, integration, and test facilities in Bedford, Texas.

Through its channels and direct sales organization, Tributary has served customers worldwide, predominantly in the banking, financial services, retail, telecom and healthcare industries. Tributary is a HPE business partner and OEM supplier, IBM OEM Partner (iOEM), Solution Reseller (ISR) and Business Partner, Quantum® Value-Added Reseller (VAR), and Oracle® OEM partner.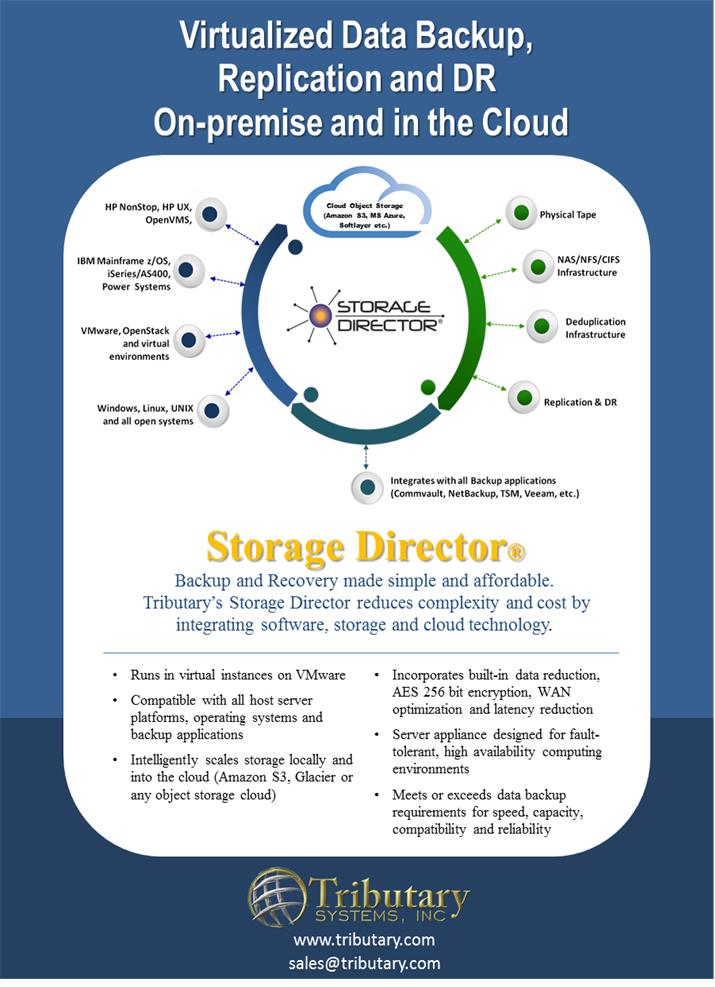 ---
Three reasons why you should download our free eBook "Modernization of Applications on the NonStop Platform"
comForte recently published an eBook providing valuable insight into getting the most out of your NonStop investments with the right modernization strategy and approach.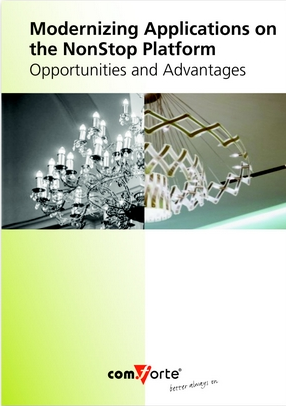 If you haven't taken a look at it yet, here are three reasons why you should:
· Learn about the main drivers of a business case for application modernization on the NonStop platform
· Find out what the most successful approach is and how modernization saves your organization time and money
· See how companies like The Home Depot and Gallagher Basset successfully tackled their challenges through modernization and what immediate benefits they realized
Get your own free copy of the eBook >>
---
A Major U.S. Bank Counts on OmnATM to Operate its Extensive ATM Network
As is the case with so many other financial institutions, a major U.S. bank with over 14,000 ATMs considers its ATM network to be its public face. Therefore, it wants the customer experience to be superior. The bank expects its customers to be able to modify their own preferences, to select languages of their choice, to have access to a wide range of banking services, and to receive value-added offers generated in real time. The bank's earlier ATM software provided none of these tailored functionalities. It elected to migrate to OmniATM, which supports them all.
Created by OmniPayments LLC, OmniATM provides ATM terminal driving and broad support for the industry's most popular ATMs. It is intuitive, user-friendly, feature-rich, and is built on HPE NonStop. OmniATM transactions include balance inquiries, EMV payments, withdrawals, and PIN management communication lines. It permits customization of the ATM screen on a per user basis. OmniPayments adds immense throughput to the mix and offers it all at a cost-effective price. http://bit.ly/2rwjBKO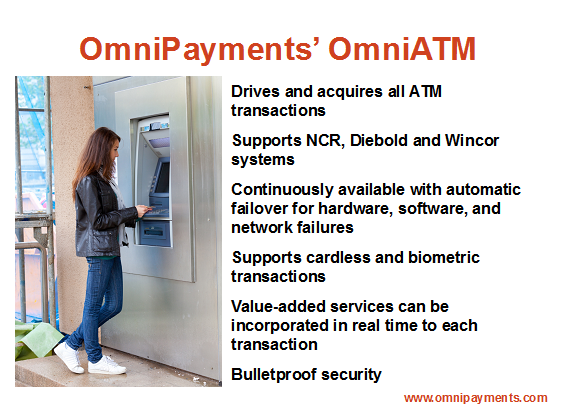 Rest Easy with OmniATM's BulletProof Security
Key Management / Remote Key Loading and Unique Keys per ATM
Complete Encryption of Card Data
Provides 3DES PIN and password management
Conforms to all industry standards. PCI 3.0-compliant
The OmniPayments Financial Transaction Switch is a switching solution for the financial and retail industries. It is deployed on NonStop for the highest availability and offers all the requisite functionality to manage credit/debit-card transactions. It manages multiple devices, hosts application interfaces, and interoperates with third-party products or other systems if required. OmniPayments easily expands to provide additional functionality when needed and supplies complete security functions for every financial transaction handled, including encryption-at-rest and encryption-in-flight. OmniPayments stands in when your host is unavailable..
OmniPayments can be installed either as a complete, off-the-shelf solution or can be enhanced with customer-requested modifications and features to improve cost-effectiveness, efficiency, and risk mitigation. We offer a wide range of separately sold microservices that connect seamlessly to your other systems and solutions.
OmniPayments systems in production today process 1 billion transactions per month via ATMs, point-of-sale terminals, and mobile applications. A single OmniPayments system can support up to 10,000 transactions per second. Multiple OmniPayments systems can cooperate to provide any capacity required by an application. We have seven locations worldwide.
Preauthorization Services - The OmniPayments Preauthorization Engine is used by financial institutions in conjunction with the OmniPayments Financial Transaction Switch or as a seamless interface to other providers' switches via a custom support module (CSM). We call it the Fraud Blocker!
OmniCloudX - OmniCloudX on NonStop X hosts numerous OmniPayments instances at a pay-for-use price so attractive that mid-size retailers and financial organizations now can enjoy the benefits of having their own high-capacity transaction switches. Starts at only $5,000.00 USD per month.
To learn more about OmniPayments, contact Yash Kapadia at +1 408-446-9274 or at yash@omnipayments.com
We invite you to join the OmniPayments Users Group on LinkedIn. http://bit.ly/2sMxYz5
---
comForte at events near you in 2017
| | | |
| --- | --- | --- |
| ATUG | 20 Sept 2017 | Atlanta, USA |
| CTUG | 11-12 Oct 2017 | Mississauga, Canada |
| NonStop TBC | 13-17 Nov 2017 | San Francisco, USA |
Please contact us if you would like to arrange meetings with our team at any of these events.
---
Availability Digest Explains How to Prevent the WannaCry Ransomeware From Making You Wanna Cry


The name can't be any more perfect. WannaCry ransomware brings tears of anguish to its unfortunate victims. Once it infects your computer, it encrypts all your files and demands a Bitcoin ransom for file recovery. Have you been impacted?

'WannaCry Ransomware Global Attack" describes the malware's suspected origin, the speed at which it spread globally, Microsoft's rush to protect vulnerable Windows 7 servers, the involvement of the U.S.'s National Security Agency, the kill switch that killed WannaCry, and how the Digest's Managing Editor was spared from becoming a WannaCry victim.

In addition to "WannaCry Ransomware Global Attack," read the following articles in the Availability Digest's June 2017 issue:

British Airways Downed by Fat Finger – Say it ain't so, British Airways! On May 27th, a fat finger error caused a worldwide systems crash of the airline's data center. The result was a massive disruption of air travel at Heathrow and Gatwick Airports and at airports in 70 countries. The fat finger error may have triggered the crash, but what was exposed was British Airway's failure to fully test the failover procedures to its backup systems. The airline is not the only company that suffers from failover-testing shortsightedness.

Fog Computing Improves Application Availability – Fog computing is a decentralized computing architecture in which applications and the data they process are distributed in the most efficient places between the data source and the cloud. Fog computing extends cloud services to the edge of the network via "cloudlets," thereby bringing the advantages of the cloud closer to where the data is created. Should the cloud fail, applications that normally would be taken down can continue via the cloudlets with little impediment.

Carbonite – The Online File Copy Utility – Digest Managing Editor Dr. Bill Highleyman was protected from the WannaCry ransomeware attack in two ways. The first way was based on pure luck. WannaCry infected Windows 7 servers, and Dr. Bill had upgraded to Windows 10. The second method of protection was based on Dr. Bill's use of an online backup. In his case, the backup service was Carbonite, which costs $59.99 per year. Other online utilities also are available; but what amazes Bill is how many individuals and companies still fail to take frequent backups of critical data.

@availabilitydig – The Twitter Feed of Outages - Our article highlights some of our numerous tweets that were favorited and retweeted in recent days.

The Availability Digest offers one-day and multi-day seminars on High Availability: Concepts and Practices. Seminars are given both onsite and online and are tailored to an organization's specific needs. Popular seminars are devoted to achieving fast failover, the impact of redundancy on availability, basic availability concepts, and eliminating planned downtime.

In addition, the Digest provides a variety of technical writing, consulting, marketing, and seminar services. For instance, many articles that you see in publications like The Connection were ghostwritten by us for individuals too busy to write themselves. We also create white papers, case studies, technical manuals and specifications, RFPs, presentation slides, web content, press releases, advertisements, and so on.

Consider us as well for the following:

• Patent Disclosures – Dr. Bill Highleyman is the holder of a dozen-plus patents and will be happy to help you with your applications.

• Book Writing – As the author of "Performance Analysis of Transaction Processing Systems" and a co-author of the three-part series "Breaking the Availability Barrier," Dr. Bill understands the effort it takes to produce a manuscript.

• Consulting – We specialize in system architectures and risk analyses that help our customers provide the appropriate uptime, performance, and data protection for individual applications.

Published monthly, the Digest is free and lives at www.availabilitydigest.com. Please visit our Continuous Availability Forum on LinkedIn. We're at 795 members and counting. Follow us as well on Twitter @availabilitydig.




---
A GUIDE TO HIGH AVAILABILITY AND AN APPROACH TO AN ACTIVE/ACTIVE ENVIRONMENT IN THE OSS WORLD

There's no time for downtime, and it's crucial that your NonStop hardware platform is at the ready 24/7. Lusis Payments has years of experience with open systems and brought our experience to NonStop and OSS a few years back. One of the key architecture features of an SOA NonStop environment relates to reliability and high availability, with the agility and the scalability users need. A versatile design and architecture provides the same high availability NonStop users are accustomed to for continuous online processing plus Active/ Active and Active/Passive environments. This allows payment applications to be streamlined across multiple servers without sacrificing speed or accuracy which creates a robust, reliable platform with guaranteed delivery every time.

Some elements of high availability are provided by the architecture of the hardware platform, such as fault tolerance, clustering and remote backup. Lusis has experience with these different architectures and their respective pros and cons. We have integrated several functions to minimize any constraints introduced by these disparate architectures.

CLICK TO READ THE COMPLETE ARTICLE AS FEATURED IN THE CONNECTION MAGAZINE.

For more information about TANGO contact Brian Miller at

brian.miller@lusispayments.com or visit http://www.lusispayments.com

Brian Miller
Lusis Payments, North America

(415) 829-4577

Brian.Miller@lusispayments.com



---
Tell me more: DataExpress welcomes the summer break!

Last month we wrote of how we missed eBITUG but we were looking forward to N2TUG which the DataExpress team members attended, and came away impressed. Not only was the numbers of attendees up from what we could recall from previous gatherings, but the venue – the Gaylord Resort in Grapevine – was certainly an upgrade on venues we have been used to. Also worth noting was just how many attendees were from HPE and attracting NonStop product management leader, Karen Copeland, came as a surprise.

It was last month too that we wrote of how, back here in the offices of DataExpress, there continues to be conversations among the team following what we heard initially at the NonStop Partner Symposium and what was repeated at the event we just attended, even as we have heard from others that it's become common place at other events. NonStop X systems are shipping as customers see the value being provided by HPE and yes, there's a lot of discussion surrounding Virtualized NonStop (VNS) – where will it be used, and how? Who will be candidates for taking early shipments of VNS and yes, what workloads will be run on VNS?

However, the bigger story seems to surround the issue of NonStop itself – is this new path that HPE NonStop development is taking to give us a less-than-NonStop product or are we worrying over nothing? From the product roadmap presentations it now seems as if the HPE NonStop team will be monitoring this and making sure configurations of VNS aren't leading to a degradation of the NonStop message. Furthermore, if you aren't already invested in clouds – particularly private clouds – and aren't experienced in provisioning resources and workloads, then you may not be a candidate for VNS. Well, not for the initial roll-out of VNS.

And this makes sense to us – we suspect that with the resources on hand, the team at NonStop wants to stay focused on supporting just VNS and don't want to get too involved in teaching prospects of VNS all about virtualization and clouds. As a candidate for VNS, you have to be well-informed of not only the benefits of virtualization but all the pitfalls you may likely encounter should this all be a new endeavor for you, and yet, we cannot help but think that VNS would be a boon to in-house developers as well as vendors such as us. Giving each developer their own virtual machine running NonStop obviously has good productivity upside to consider, but price-point initiatives have to be favorable for this type of deployment.

What we find intriguing is whether our customers and prospects end up running DataExpress NonStop (DXNS) or DataExpress Open Platform (DXOP) in a separate virtual machine with links to other virtual machines. Will we encounter users, for instance, running a production environment with four or five virtual machines all running VNS who then ask for a copy of DataExpress to run in a sixth or seventh virtual machine that acts as an agent on behalf of all the others? And, if so, will the preference be for another NonStop virtual machine to run DXNS or rather, just kick-off a Linux virtual machine to run DXOP? While it is still too early to make predictions in this regard, it will certainly be very interesting to watch and here at DataExpress, whichever way it goes, we see benefits for our customers. Having a choice is always beneficial for any enterprise!

In the most recent post to our NEWS / Blog page on our DataExpress web site,

What makes a good managed file transfer product – DataExpress checks the boxes! we cover recent work we have done for both DXNS and DXOP. While we have completed the work to be validated for deployment on Virtual NonStop, during the last couple of weeks we pushed our DXOP V6 into Production status and a short time ago we completed our first DXOP V6 deployment at one of our customer's sites. Our team has proven, yet again, that one of DataExpress's shining strengths is customer support delivered with the utmost patience. We are very proud of this version which will carry us forward while we do some "enthusiastic" re-engineering on significant parts of our internals to streamline our processing, lower our CPU utilization and allow us easier scalability as the demand in the market changes to more encryption, more compression and higher throughput of more files.

We are now headed into summer with many people we know and work with headed for vacation. Summer is already bringing with it scorching temperatures with numbers appearing on weather maps that are higher than we have seen in a while. But with vacation comes an exit of knowledge from most data centers and when it comes to file transfers, juts how well-prepared are you? How automated are your processes and how automated are your escalation procedures should something need attention? How accessible is the information about the transfers to those on the road with PDAs being their only access point?

Borrowing a line from the chorus of the musical Grease, Summer Nights, "Tell me more, tell me more!" these questions are not asked in isolation but reflect the true value proposition that DataExpress brings to the table whenever vacation time comes around. And if you are not a current user of DataExpress and yet, need to move many files every night – will summer nights be a time when you simply can't hear or see anything at all? Should you like to hear more about DataExpress and about the users of DataExpress who do enjoy their summer nights – then yes, we would be only too happy to schedule a call and a demonstration for you at your convenience.

sales@dataexpress.com | +1.972.899.3476
https://www.dataexpress.com
---
Ask TandemWorld
Got a question about NonStop ? ASK Tandemworld
Keep up with us on Twitter @tandemworld
---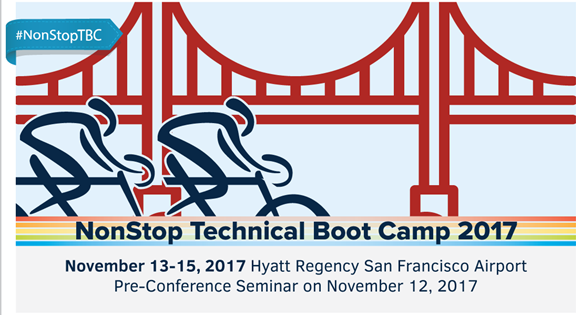 Registration for the 2017 NonStop Technical Boot Camp is OPEN!


Connect Worldwide invites you to join the NonStop community at the 2017 NonStop Technical Boot Camp at the Hyatt Regency San Francisco Airport in Burlingame, California on November 12-15, 2017.
We encourage you to take advantage of the EARLY BIRD registration rate of $1295 until September 1st!

Learn More and Register Now!

Connect is at the forefront of today's open system leaders and is a true user-driven consortium of HPE customers and partners working with HPE's NonStop Enterprise Division. The 2017 NonStop Technical Boot Camp will begin with cutting edge deep-dive pre-conference seminars on Sunday hosted by the leaders of NonStop innovations and solutions and will follow with three days of breakout sessions, keynotes, and networking receptions. Meet and learn from the developers, engineers, and executives that are leading the global NonStop community. Click here to get started.

Reserve Your Room at the Hyatt Regency SFO Today.

Connect has secured a great room rate for Boot Campers at the Hyatt Regency San Francisco Airport.
Reserve your room before October 20, 2017 to get the Group Rate of $235 per night. To reserve your room online now, click here.

Call for Papers is OPEN!

Do you have an interesting NonStop topic that you would like to present at this year's Boot Camp? Learn more and submit your paper here. The Call for Papers closes on September 1st.


No matter if you are new to NonStop or have years of experience, there is something at Boot Camp for you. Click here to learn more and get registered today.

See you at Boot Camp!
~ Connect Events Team
---
Musings on NonStop! - June, 2017

The opinions expressed here are solely
those of the now self-employed author

G'day,

The month started out with Margo and my attendance at N2TUG – a regional gathering of users from across Texas, Oklahoma, as well as from other adjacent states. While the usual suspects from the NonStop vendor community showed up, there was more than a healthy smattering of NonStop users. Furthermore, there was a greater HPE presence than I have seen, at a user group event, in quite a while. However, it was the event that followed N2TUG just a week later, the HPE big-tent marketing event, HPE Discover 2017, that really gave cause for me to rethink some of what I had been assuming would be happening with NonStop.

We all know that under the direction of Andy Bergholz HPE NonStop development has been moving at a rapid pace to ensure NonStop not only stays the best software platform on the planet but probably less heralded was the work being done to make it easier for third parties to port their solutions to NonStop. Just look at the work that has been done with NS SQL/MX to make it Oracle compatible and hence, simplify the effort needed to port a typical Unix / Oracle application to NonStop.

So what has caught my eye? Well it was the number of times that the phrase NonStop workloads came up in conversations that took place during HPE Discover. And if you want to read more of Andy's observations / comments that check out the latest post to the NonStop community blog, Real Time View - Right time, right place – NonStop lights up the horizon! Talking of third parties and workloads, there were a number of references to the work OmniPayments has been doing and, when it comes to wanting reassurances that NonStop will remain NonStop (no matter where it ends up running), then the confidence coming from a solutions vendor that yes, NonStop remains NonStop is good to hear!

I have also touched on this a couple of times in other blog posts and commentaries so check out what has been published of late starting with those immediately referenced below:

Real Time View:


It's time for Vegas!
http://itug-connection.blogspot.com/2017/06/hpe-discover-influencer-roster.html

I feel it in the air tonight …
http://itug-connection.blogspot.com/2017/06/i-feel-it-in-air-tonight.html
Right time, right place – NonStop lights up the horizon!

http://itug-connection.blogspot.com/2017/06/right-time-right-place-nonstop-lights.html

NonStop Insider:


Issue #9 – June, 2017
http://www.nonstopinsider.com/editorials/june-editorial_/

Have you subscribed to NonStop Insider yet? If not, you can do so easily by following this link:
http://www.nonstopinsider.com/subscribe_/

LinkedIn blog / Pulse:
New mobile wallet entrant – OmniPayments, LLC
https://www.linkedin.com/pulse/new-mobile-wallet-entrant-omniwallet-omnipayments-llc-richard-buckle

Does Virtualized NonStop hold the key to bringing fault tolerance to the cloud?
https://www.linkedin.com/pulse/does-virtualized-nonstop-hold-key-bringing-fault-tolerance-buckle

To read even more of my articles, posts and commentaries, then follow this link Read More …



Cheers,

Richard Buckle
Founder and CEO
Pyalla Technologies, LLC

Email:

richard@pyalla-technologies.com
Mobile: +1.720.289.5372
Skype: RichardKBuckle
---
Find out more about us at
www.tandemworld.net
---