Tandemworld eNewsletter for June 2015
---
Contents
40 Years and Counting
DRNet over the decades….. The Xbox has arrived
Registration Now Open for the MATUG Fall Users Meeting
Musings on NonStop! - June, '15
To gain a big audience, NonStop goes small!
NonStop Technical Boot Camp 2015
comForte 21 orders new NonStop X system
Reading a Large XML Document in Streams with XML Thunder
Happy Birthday! - comForte, Inc. celebrates 10 years in the USA
comForte's Limited Edition 'HP NonStop for Dummies' Book!
E-Crime Singapore: Data and Device Centric: The Two Security Strategies for your Enterprise
comForte at events near you in 2015
XYPRO looks forward to seeing you throughout 2015
What You've Missed on NonStop Innovations
TANDsoft's Data Deduplication Solution – Seamless Integration with All NonStop File Synchronization Products
October 1st is the U.S. Deadline for the EMV "Liability Shift." OmniPayments is Ready
Availability Digest Asks, "How Can Data Centers Manage Drought?"
Connect with NuWave Technologies at Upcoming Events
Awareness, Appeal and Assistance
Current Subscribers 15042
---
40 Years and Counting
Glenn Garrahan, Director of HP Business for Tributary Systems
2014 was a very interesting year for all of us in the NonStop ecosphere. First, HP NonStop celebrated its 40th anniversary! This is quite an achievement to be sure, and made all the more noteworthy when we consider the state of the computer industry in 1974.
Enterprise computing was ruled by big iron from Big Blue. The IBM System/360 and System/370 mainframes dominated the marketplace. Amdahl, just 4 years old in 1974, challenged IBM with an OS compatible machine, but was really a bit player at that time. There were other producers with proprietary operating systems, like the "BUNCH", Burroughs, Univac (later Sperry Univac), NCR, Control Data, and Honeywell, as well as DEC. HP was primarily an instrumentation company in 1974, although they had developed desk top calculators as early as 1968.
So into this IBM dominated marketplace comes former HP engineer Jimmy Treybig with a small, yet dedicated, crew and a new idea: Develop a highly available, highly scalable, fault tolerant computer for Business Critical applications, and it worked! Remarkably, through two mergers, the basic Tandem value proposition is still valid, and customers around the world still employ NonStop servers for their most critical, cannot fail, no unscheduled downtime, applications.
Maybe 40 years is no big deal, after all, IBM is still in the enterprise computing business, but what about the rest of the "BUNCH" and others. Well Amdahl has been folded into Fujitsu, and no longer manufactures under the Amdahl name. Burroughs merged with Sperry Univac to form Unisys, which today is primarily an IT services company, while continuing to maintain older Unisys systems. NCR was acquired by AT&T, combined with Teradata, and then later spun off. NCR then divested Teradata, and today is a point of sale terminal and ATM machine manufacturer, along with marketing IT services and maintenance. Honeywell sold its computer division to Bull of France. Control Data Corporation divested its computing business when it organized Control Data Systems, which today obtains the bulk of its revenue from Europe.
And then there's Tandem and DEC. Both were acquired by HP during the merger with Compaq in May 2002, and both will continue as part of HP Enterprise post-split, Tandem as HP NonStop of course. So, 40 years after Tandem was organized, and 38 years after the first Tandem system was shipped, HP NonStop continues with its original mission, to meet all the challenges businesses require for continuous computing. NonStop does indeed matter.
NonStop X
A lot has been written about the announcement and shipment of NonStop X, and that's fantastic. Specifications have been discussed, performance will exceed previous systems, costs will be reduced, and reliability and availability will excel; no doubt. But the most important thing about the announcement and introduction of the latest in a 38 year line of NonStop servers is that it continues to demonstrate the commitment HP has to the NonStop platform, and the commitment customers have to the value proposition NonStop brings to business critical computing. NonStop will continue to matter.
Tributary Systems
Tributary Systems is no new kid on the block either. From its inception 25 years ago, TSI has been involved with the NonStop platform. Tributary's been there for TSN ll, TXP, VLX, Cyclone, CLX, K-Series, S-Series, the current NS and NB servers, and we'll be there for NonStop X. In fact, TSI has been an OEM supplier to NonStop for over 18 years, supplying and supporting DAT, DLT and LTO tape, tape libraries and library management software for our shared NonStop customer base. We're also a "Green Zone Partner" of HP Storage, with products that seamlessly connect NonStop servers to Store Once!
TSI has recently completed testing of the LTO 6 (M880xA) product line on NonStop X. While we can't discuss exact results here, let's just say that customers will not be disappointed in the performance of LTO 6 when configured with the new NonStop X server platform. NonStop matters to Tributary Systems.
Here's some information on LTO 6!
LTO 6 is supported on all versions of the current NS and NB servers running the J-Series operating system, and of course the NonStop X running the new L-Series operating system.
The LTO 6 is available in three models:
· M8801A Rack Mount 24 Cartridge ACL w/FC interface
· M8802A Table Top 24 Cartridge ACL w/FC interface
·
M8805A Table Top Single Cartridge w/SAS interface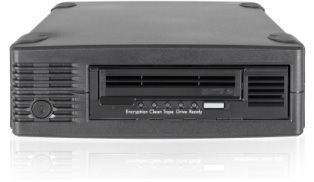 M8801A/M8802A 24 Cartridge M8805A Table Top Single Cartridge
Important features the new LTO 6 Tape Drives offer include:
· Dependability: Sets new standards for data integrity and reliability with a simple and robust design based on inherently reliable Linear Tape Open (LTO) time proven technology
· High Capacity: Stores up to 6.25 TB per LTO 6 data cartridge assuming 2.5:1 compression
· Reliability: Protects your data with a simple, high integrity, data path including read and write dynamic random access memory
· Security: Fully supports ESKM (Enterprise Secure Key Manager) versions 2.1 and 3.0
· Compatibility: LTO 6 drives read and write to LTO 6 and LTO 5 media, and read-only LTO 4 media
· Speed: Minimizes interruptions with high speed and data rate matching that squeezes optimal performance from your NonStop Server
And remember, the LTO consortium of HP, IBM and Quantum has announced that this technology will continue at least through LTO 10, to be released sometime in the early 2020's, so the tape path you're on now will continue for years to come!
LTO 5 Tape Drives continue to be available from NonStop!
We realize that there continues to be a need in the NonStop marketplace for LTO 5 tape drives. LTO 5 drives will read all LTO 3 media, as well as read and write to LTO 4 and LTO5 media. This is very important to customers with archived LTO 3 media who don't want to move this data to newer tape cartridges. LTO 5 drive models include:
· M8701A Rack Mount 24 Cartridge ACL w/FC interface
· M8702A Table Top 24 Cartridge ACL w/FC interface
· M8705A Table Top Single Cartridge w/SAS interface
Tributary's flagship backup virtualization solution: Storage Director®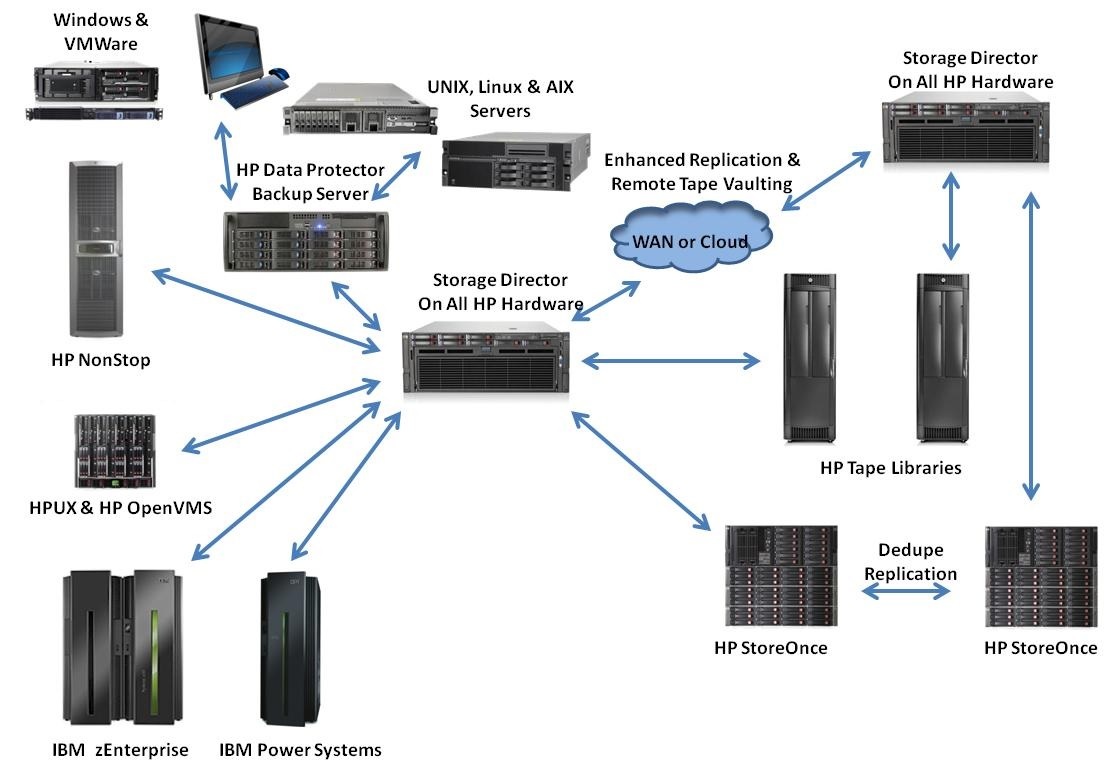 The Storage Director product by Tributary Systems is a policy-based data management solution that connects "any host to any storage technology" and applies appropriate protective, management and archival services to data in a unique and business-savvy way.
Tributary Systems is an HP Converged Infrastructure Ready Solutions Partner!
With Tributary Systems' Storage Director, enterprises can apply data policies down to individual data volumes on host platforms (such as HP NonStop), based on business criteria and importance to business resiliency and restoration.
In enterprises with multiple host platforms – HP NonStop, HP Open VMS, Windows and VMware are running HP Data Protector, IBM zOS mainframes, IBM AS/400s (now IBM PowerSystems), among others – Storage Director enables sharing storage technologies otherwise dedicated to each host platform.
Such storage technologies can include existing enterprise storage disk, HP StoreOnce, EMC Data Domain, and Quantum DXI data de-duplication devices, physical tape, or any combination of storage technologies dictated by individual data management needs.
Storage Director is currently deployed in production environments backing up HP NonStop, IBM Mainframes, and IBM AS/400 (now IBM PowerSystems) Servers simultaneously.
Such a unified approach improves storage performance, enables consolidation and can lead to real savings of time, power and most importantly staff.
Storage Director offers numerous compelling features for NonStop customers:
· Virtualizes and consolidates data backup to a single storage target in any heterogeneous datacenter
· Designed for high availability computing environments and meets or exceeds data backup requirements for speed, capacity, compatibility and reliability
· Full tape library management capabilities, allowing not only tape drive but also back-end physical tape library connection
· Tape stacking, caching, data management, replication, monitoring and alerting capabilities are provided
· Capability to be a pass through device provides seamless integration of disk, tape and fully supports HP StoreOnce, EMC Data Domain and Quantum DXI de-duplication technologies
· Utilizes AES 256 bit encryption and supports LZ compression in cache
· Non-disruptive to existing backup environments and NonStop applications
· Fully supports NonStop native tape format
· Supports iSCSI, Fibre Channel and NAS attachment to storage devices
· Supports NonStop host IOAME/VIO/CLIM FC attachment
· Employs a user friendly web-based GUI
Another important capability Storage Director provides is the ability to meet physical tape, de-duplication and remote site replication. This is a fully tested configuration which allows NonStop customers to use the replication features inherent in data backup systems.
Tributary Systems is committed to continually upgrading and enhancing Storage Director!
For more information on Tributary Systems' Storage Director or LTO 6 Tape Drives, please visit www.tributary.com.
"NonStop matters!"
---
DRNet over the decades….. The Xbox has arrived
Sometime in 1987 the concept of IO interception and data replication was hatched. An early ACI customer engaged NTI's founder to come up with a solution to mirror data across long distances with zero impact on a Base24 transaction. This was the first time in the history of the Tandem that anyone had contemplated such technology. We were first and this was truly innovative stuff.
By 1990 the first generation of DRNet was live in a Hot Backup / Instant Recovery mode on the Tandem K series. Data was always ready to go. Switching to the backup box could happen instantaneously.
By 1995 we were still running on the K series but DRNet was now Active/Active. Part of our growing customer base began simultaneously processing transactions on multiple nodes (relying on DRNet to synchronize the databases).
By 2000 we were supporting the Tandem S series.
By 2005 we were supporting the Tandem NS series.
By 2010 we were supporting the Tandem NB series, and DRNet/OPEN was introduced to our customer base. With OPEN you could now replicate Tandem-to-Tandem AND Tandem-to-OPEN databases.
Over the past 30 years our approach has been consistent and proven. DRnet releases are timed with new Tandem platform launches. We are always ready when our customers are ready to upgrade. Because DRNet supports replication across OS and platform versions our customers use DRNet to migrate to new platforms without production outages. While none of our customers are still running the K series, we still have quite a few S series boxes out there (along with NS and NB platforms).
This week is a special week for NTI as we take another step in our decade's old journey. This week I am proud to announce the availability and FIRST SHIP of DRNet for the Xbox. Officially called the NS7X1, one of our largest customers is migrating to the newly released Xbox. The new platform promises them massive processing power and reliability. This is enabling them to consolidate Tandem platforms and reduce associated operational expenses. DRNet will help them with the migration from older NS and NB platforms to the new X technology.
NTI Engineering tells me that converting for the Xbox was pretty easy to do. If you would like to talk with the development team that did the work I would be happy to arrange a conference call. Just send me an email and I will set something up.
DRNet® is world class NonStop Data Replication technology.
· Real-time Active/Active Data Replication
· Real-time Tandem to OPEN Data Replication
· Real-time File Synchronization
· Refreshingly Real-Time Support from Real Engineers
+1 (402) 968 3674
---
Registration Now Open for the MATUG Fall Users Meeting
Please register via EventBrite for the Mid-Atlantic Tandem User Group (MATUG) meeting scheduled for 8am-5pm on Thursday, September 17, 2015 at the HP Headquarters, Herndon, VA USA. (Click https://eventbrite.com/event/16902004350/ for more information.) Expect several informative HP and vendor presentations, as well as a special presentation by Dr. Bill Highleyman.
The MATUG meeting is open to all HP NonStop customers, partners, users, consultants, or interested parties. Members are usually from the following states: Pennsylvania, New Jersey, Maryland, Delaware, Virginia, Washington, D.C., and West Virginia, although anyone can attend. MATUG provides members with the opportunity to participate in quality informational sessions, learn about new HP products and services, and interact with fellow HP NonStop users.
Please forward this announcement to others in your organization who may be interested in attending. If you are interested in speaking, please email Susan Loeliger, MATUG Secretary/Treasurer. User presentations take preference and are free. There are up to four 25 minute vendor presentation slots still available, which include a small sponsorship fee (TBD based on overall meeting expenses, including meals), and will be filled on a "first-come first-serve" basis, based on the time of your email response.
Please Visit Gravic at these Upcoming 2015 Events
N2TUG Meeting Arlington, TX, 24 June
MATUG Meeting Herndon, VA, 17 September
The Payment Knowledge Forum London, 5-6 October
NENUG Meeting Andover, MA, 18-19 October
CTUG Conference Toronto, 21-22 October
Connect HP NonStop TBC San Jose, CA, 15-18 November
HP Discover 2015 EMEA London, 1-3 December
BITUG BIG SIG London, 4 December
Please Visit Gravic at these Sites
---
Musings on NonStop!
June, '15
The opinions expressed here are solely
those of the now self-employed author
The highpoint for June had to be 2015 HP Discover, and while the majority of the NonStop community save whatever travel budgets they still have for the end of year NonStop Technical Boot Camp, there's still no substitute for seeing HP shining on their biggest stage of all. And yes, the auditoriums filled up quickly for each of the two general sessions that were held with HP CEO, Meg Whitman, working her way through definitely the A List of HP executives and partners. For those wondering where Whitman's allegiances may lie, there was no question that she was already in full post-split mode, warming to the role of CEO of Hewlett-Packard Enterprise (HPE).

I chronicled much of what I saw as the event unfolded to the LinkedIn group, Real Time View, and if you missed those updates here's the relevant urls that will take you to each post:
Vegas, baby! A cliché for sure but here I am, in Vegas and yes, it's HP Discover ...
https://www.linkedin.com/grp/post/1878133-6011322889054277634
Day 2 - Vegas! Some like it hot …
https://www.linkedin.com/grp/post/1878133-6011750574905716738
Day 3 - HP Discover? It doesn't stop here ...
https://www.linkedin.com/grp/post/1878133-6012099816811745281
Final day – all things come to an end …
https://www.linkedin.com/grp/post/1878133-6012353718522036227

If, as yet, you haven't become a member of the LinkedIn group, Real Time View, perhaps now is the time to join as it has become the main group where I provide commentaries as they happen, in real time!
Of course, I followed up this commentary with a new post to the NonStop community blog, Real Time View, as follows:

First impressions – all that happened in Vegas at 2015 HP Discover!
http://itug-connection.blogspot.com/2015/06/first-impressions-all-that-happened-in.html
As the post above suggested it was simply first impressions, expect to see additional posts as June unfolds and I get more time to review my notes, but looking ahead I have no reservations when it comes to saying that post-split, with HPE active in the marketplace, HP Discover will continue and will be the place to go to hear firsthand of the plans HPE has for the enterprises. And the story of HPE is industry-standard, open source, and referencing what clearly became the word of the event, composability. (Yes, composability, and if you still smirk remembering interlocking – composability is the new word!)

As I noted in the post referenced above, First impressions –, the most critical message that came from HP CEO, Meg Whitman, and HP CTO, Martin Fink, during the Wednesday General Session was that, "Time is the enemy". Fink then proceeded to introduce all present to the concept of "composability", defining it as the "key enabler for this continuous everything world". Fink also expressed how vital it was for business and IT to understand that the "need to compress time to value (and get resultant insight) will never stop accelerating". And as part of this portion of the presentation, Fink made the announcement that HP would be turning over to open source, Grommet.
Grommet? As reported via numerous media channels, "HP has revealed Grommet, an open source user experience framework that brings consumer-grade interface development to enterprise apps … It is HP's contribution to the IT industry to bring consumer-grade capabilities with an enterprise user experience framework so that all of you can take advantage of it." As Fink said this there was complete silence as the audience digested the ramifications and in this period of quietness, Fink explained that this framework will be available to everyone looking to create consistent user experiences in enterprise apps.

As it was also reported, "'We have taken this very, very seriously and we are all-in on the notion of open source,' Fink said, adding that even game-changing big bets like the Machine will be backed by open source software. 'We are the Number One contributor to the OpenStack project (and) we contribute large bodies of code to the Cloud Foundry project. We are heavily involved with partners who lead open source projects – like Hortonworks, for example. We are contributing heavily to making the cloud open source and making that real for you."

And here in lies the big story for the NonStop community – NonStop today is all about software. The move to industry standard hardware is now complete with NonStop development having very few hardware resources as part of the NonStop team – just enough to maintain previous systems. NonStop as a software play represents the completion of a journey I first caught onto when I interviewed Martin Fink and blogged about it in the post of August 29, 2012:


NonStop? Radical transformation!
http://itug-connection.blogspot.com/2012/08/nonstop-radical-transformation.html
In that post I wrote how, in the past, "Tandem identified itself as a hardware company and customers perceived its value was with hardware not available in any other way," Fink explained. "So, we went through a pretty radical transformation to where NonStop is a software play; it's where the customer sees the value today. And now we have new customers on board as well as new vendors." (Back in 2012) the only unique hardware component (was) ServerNet but even here, while Fink expressed caution, he acknowledged "but we do want to get to that place where we are a pure software company so ultimately, yes, it may be replaced by InfiniBand but there's lots of work to do."

Well, as evidenced by what was presented this month at 2015 HP Discover, the hard work has been done and NonStop today is a software play and that will open the doors for many solutions vendors to think of the opportunities this represents and yes, couple this with the upcoming projects to further enhance NonStop's role in hybrids and we indeed have made a long journey from the time when we all knew these systems as Tandems.


Richard Buckle
Founder and CEO
Pyalla Technologies, LLC
Email: richard@pyalla-technologies.com
Following my blogs? My web publications? My discussion Groups?
Check out (or copy and paste to your browser):

Real Time View at http://www.itug-connection.blogspot.com/
…. And check out the Group on LinkedIn, Real Time View
comForte at http://blog.comforte.com/
…. And check out the Group on LinkedIn, comForte Lounge
Realtime.ir at http://realtime.ir.com/
…. And check out the Group on LinkedIn, realtime.ir
WebAction.com at http://webaction.com/blog/
…. And check out the group on LinkedIn, Data Driven Apps

ATMmarketplace at
http://www.atmmarketplace.com/blogger.php?id=130763
buckle-up at http://www.buckle-up-travel.blogspot.com/
…. And check out the SubGroup on LinkedIn, Pyalla Track Days
---
To gain a big audience, NonStop goes small!

Even as memories of Connect Germany conference and exhibition (GTUG) recede and 2015 HP Discover wrapped up just a few weeks ago, it's taking the NonStop community a little while to absorb all that was communicated by HP executives and managers. While the GTUG event drilled down deep into NonStop and gave us many gems, HP Discover painted a much broader picture. But even so, a couple of key facts are proving to be indisputable and yes, NonStop is very much involved!

At GTUG the wraps came off the Yuma project, where new programming interfaces are being developed to ease the communication between systems connected via InfiniBand (IB), including NonStop X systems, and at HP Discover, in her opening remarks during the first of two general sessions, HP CEO, Meg Whitman led with the hybrid computing environment, which was front and center of all that followed as companies embraced new IT. "How quickly can I capitalize on a new idea?" Whitman asked. "How quickly can I respond to an idea that may threaten my business?" As for hybrid computing, it's being driven by how companies respond to these key questions.

"Today, (we strive) to manage traditional IT while bringing in new technology," added Whitman. And she understands these companies "need a transformational partner and HP is that partner and it's the mission of HPE." A little later, Whitman added that HP is "bridging traditional to the new and we don't dictate how you want to do it; we all live in a hybrid world and that's why infrastructure isn't one size fits all." Nothing could be more clearly stated - yes, it's a hybrid world and yes, it really is a byproduct of how companies will be executing their plans to move to the new IT.
And what exactly is the new IT? It came later in presentations by HP CTO, Martin Fink, who limited his remarks about The Machine to just a few sentences, even as he took the wraps off the idea of "composability". According to Fink, when you consider "our legacy systems, think concrete buildings; once we knew what we wanted, we poured concrete walls and (the result was) a structure that was strong but very rigid", Fink told the audience. "But now, if we operate with the notion of buildings, we lose; we have to think more of writing symphonies where it (the finished musical score, over time) may be subject to changes of instruments, tempo and even key."
To which Fink added, "Time is the enemy". The concept of composability, Fink suggested, is best thought of as being a "key enabler for this continuous everything world". Furthermore, when thinking of composability, it is vital for business and IT that they understand that the "need to compress time to value (and get resultant insight) will never stop accelerating". The new IT has to sustain our need to turn data into information in today's continuous everything world where new ideas just keep emerging even as they find support from myriad numbers of new companies – a constant reminded that it's an always-on world, no doubt.

"NonStop is going to provide vendors like us with an interface that will make life in a hybrid computing world a lot easier," said DataExpress President, Michelle Marost. "Like many others we are looking at what NonStop development has announced and will wait for a working implementation to become available before we take any steps to see how we may optimize our current implementation of DataExpress. But if it allows us to separate processes between NonStop and say, Linux or even Windows, then with the way companies today implement security and enforce DMZs, this may prove very beneficial for our NonStop customers. We have other products that as yet we have not considered implementing on NonStop, but perhaps in this hybrid world that's part of the new IT, we may be presented with new opportunities."

However, with the amount of attention that the announcement of NonStop X has received, the real piece of good news for the NonStop community is that after considerable feedback from prospects and customers, NonStop development is accelerating the availability of a smaller, lesser powered member of the NonStop X family – the NonStop X Entry Class system. This should become available before the end of this calendar year, maybe even sooner (for early adopters).

In the May 20, 2015, post to the DataExpress News Blog:
IT'S ALL GOOD – THE NEWS FROM CONNECT GERMANY GTUG!
http://dataexpress.com/2015/05/20/its-all-good-the-news-from-connect-germany-gtug/
it was made very clear that, "For the NonStop community, the news of new entry-level NonStop X systems together with better TCO even as the Price / Performance metrics continue to improve, is the good news they all want to hear." Yes, the new IT is all about performing in the continuous everything world and hybrids are just a first step towards the new IT, saving money is still a priority for many IT departments.

With a low cost entry class NonStop X system, maybe this is all HP needs to do to ensure the news of NonStop spreads further afield and generates the opportunities every participant in the NonStop vendor community is looking for – as powerful as it will likely be, it's always been about establishing a beachhead and this may just do it for NonStop! At DataExpress, we certainly think it may do so and will be watching the progress of our customers with considerable interest.

Contact Info:
1401 Shoal Creek, Suite 250, Highland Village, TX 75077
email: sales@dataexpress.com
Sales: 972-899-3476
Corporate: 972-899-3460
---
NonStop Technical Boot Camp 2015

Registration is open!
www.etouches.com/nonstopTBC2015
2015 NonStop Technical Boot Camp Attendee Registration: $1295
Early Bird Registration: $1095 until June 1, 2015
Pre-Conference Seminar Registration: $150
Guest/Spouse Pass for Evening Events and Receptions: $200
Hotel info:
Fairmont San Jose 1-800-346-5550
HP NonStop Technical Boot Camp 2015 rate: $209 + taxes
Code: TEC1115


Agenda:
11/15/15 – Pre-Conference Seminars 9am to 5pm
Welcome Reception 6pm to 8pm
11/16/15 – Partner Pavilion open 7:30am to 5pm
General Session 8am to 10am
Breakout Sessions 10am to 5pm
TBD 6pm to 9pm
11/17/15 - Partner Pavilion open 7:30am to 9pm
General Session 9am to 10am
Breakout Sessions 10am to 5pm
Dinner 6pm to 9pm
11/18/15 - Partner Pavilion open 7:30am to 1pm
General Session 9am to 10am
Breakout Sessions 10am to 12pm
Lunch
The Partner SIG looks forward to reuniting with Customers and HP this fall!
Kathy Wood
NonStop Partner SIG/Vendor Chair
---
comForte 21 orders new NonStop X system
comForte 21 announced recently that it has signed an order for a new HP NonStop X system.
'We are excited to add a NonStop X system to our existing fleet of NonStop hardware', says Dr Michael Rossbach, CEO of comForte. 'comForte will then run G, H, J and L-Series NonStop OS versions in a fully connected virtual network across three continents. All hardware is fully owned and licensed by comForte and the Go-live for is currently planned for October 2015.'
The addition of the new HP NonStop X system allows comForte to continue to provide excellent product support to our customers as they themselves begin to move their mission critical business to HP NonStop X.
---
Reading a Large XML Document in Streams with XML Thunder
By Canam Software Labs
Over the last few Tandemworld newsletters, Canam Software Labs has introduced streaming as an efficient and effective technique for working with large XML documents in COBOL. Streaming allows COBOL developers to work with documents of any size without hitting compiler or resource size limitations.
This month's article focuses on using this technique for reading large XML documents.
XML Thunder uses a model-driven development approach to generate code. Using the toolset, a developer will take 3 basic steps:
1. Derive the program fields and XML nodes using an XML schema and/or a COBOL copybook.
2. Bind individual program fields to specific XML nodes.
3. Generate all of the COBOL code needed – including validation logic - to read or write XML.
When generating the COBOL code, a developer can specify that the streaming approach be used. It is particularly useful if the developer anticipates that the document will be very large (several megabytes in size or larger). The streaming approach (called node-level in the XML Thunder toolset) will generate the code to process the XML one section at a time while allocating only the resources needed for the current section.
To see a detailed example of the streaming approach used by XML Thunder for reading large XML documents, please click here.
XML Thunder's model-driven development approach combined with automatic code generation handles all of the complexities with streaming XML to COBOL, allowing developers to focus their efforts on the business logic in their applications.
For more information about XML Thunder or using streaming to read (or write) large XML documents, please contact mailto:info@canamsoftware.com or www.XMLThunder.com.
Canam Software will be at N2TUG June 24th in Arlington Texas. Visit our table to discuss XML Thunder and how to best work with large XML documents.
---
Happy Birthday! - comForte, Inc. celebrates 10 years in the USA

Since 1998 comForte provides its HP NonStop expertise and products to users of the HP NonStop platform. Ten years ago, in June 2005, comForte founded comForte, Inc. in order to focus its attention on serving the US market place directly.

'It all started very small with just one person and one contractor', remembers Dr Michael Rossbach, CEO of the comForte Group. 'In the past 10 years comForte, Inc. grew to a sizeable team of highly skilled experts that cover all aspects of successful business development - account executives, solution architects, and technical customer support'.

'We are very pleased with our growth in the USA.', says Knut Rossbach, CEO of comForte, Inc., 'We are comForte's second largest entity worldwide and we provide important global functions like the software license desk and product development of the SafePoint suite of products. Outside of the USA, comForte, Inc. is also operating in Canada and Central America '.

Apart from driving business development for comForte's four core themes …

· Security

· Connectivity

· Operations Management

· Middleware Solutions

the US team is very much focused on driving the most recent campaigns for …

· Payment Security with its main product SecurData

· Modernization with its Escort SQL, CSL and JPath brands.

For more information about comForte please visit www.comforte.com
---
All I have ever really known with complete certainty in my near thirty-year relationship with NonStop has been that HP NonStop computers are mission critical servers that are truly fault tolerant and have full redundancy capabilities for a single reason: they need to be available all the time. Availability is the primary directive. Or at least it was…
Please visit the XYGATE Overview to see our full range of security solutions.
Stay Connected with XYPRO
Facebook
Twitter
LinkedIn Group
BlogSpot
YouTube
---
comForte's Limited Edition 'HP NonStop for Dummies' Book!
This book is for anyone with an interest in HP NonStop systems. This book is for you if you're new to the platform, have spent many years working with it, if you manage people or IT systems, or if you're a system operator or developer on/for the HP NonStop platform.
Get the book and …

· Learn more about HP NonStop systems - a lot has changed in the past few years

· Find out why the platform is unmatched in the areas of high availability and linear scalability - all out of the box

· Discover how to develop new applications on the platform and how to modernize existing ones - all using modern and standard technologies

· Explore ways to better integrate your HP NonStop systems in the Enterprise IT infrastructure
If you would like to receive a free copy of the 'HP NonStop for Dummies' book please register at … http://www.comforte.com/ns4dummies
---
E-Crime Singapore: Data and Device Centric: The Two Security Strategies for your Enterprise
What better place to host the latest E-Crime & Information Security Series than steamy Singapore: The modern gateway to the Asia Pacific Rim. The Marriott Tang Plaza acted as a fitting host on the bustling and extravagant Orchard Road in the heart of Singapore.
XYPRO provided its part through a strong representation of two primary pillars of security; Data-Centric and Device-Centric Security through our product partnerships with HP Security Voltage and Device Authority.
Stay Connected with XYPRO
Facebook
Twitter
LinkedIn Group
BlogSpot
YouTube
---
comForte at events near you in 2015
| | | |
| --- | --- | --- |
| N2TUG | 24 June 2015 | Arlington, TX, USA |
| MATUG | 17 Sept | Herndon, VA, USA |
| NENUG | 19 Sept 2015 | Boston, USA |
| PCI Community Meeting, North America | 29 Sept - 1 Oct 2015 | Vancouver, Canada |
| The Payment Knowledge Forum 2015 | 5-6 Oct 2015 | London, UK |
| PCI Community Meeting, Asia Pacific | 14-15 Oct 2015 | Tokyo, Japan |
| CTUG | 21 Oct 2015 | Toronto, Canada |
| Connect NonStop TBC | 15-18 Nov 2015 | San Jose, CA, USA |
| BITUG BIG SIG | 4 Dec 2015 | London, UK |
Please get in touch if you would like to arrange meetings with our team at any of these events.
---
XYPRO looks forward
to seeing you throughout 2015

<![if !vml]>
<![endif]>
June 24, 2015 – N2TUG
Arlington, TX

<![if !vml]>
<![endif]>
September 17, 2015 – MATUG
Herndon, Virginia

<![if !vml]>
<![endif]>
September 29 - October 1, 2015 – North American PCI SSC Community Meeting
Vancouver, BC, Canada

<![if !vml]>
<![endif]>
October 14-15, 2015 – Asia Pacific PCI SSC Community Meeting
Tokyo, Japan

<![if !vml]>
<![endif]>
Oct. 19, 2015 – NENUG
Boston, MA

<![if !vml]>
<![endif]>
October 21- 22, 2015 – CTUG
Mississauga, Ontario

<![if !vml]>
<![endif]>
November 3-5, 2015 – EMEA PCI SSC Community Meeting
Nice, France

<![if !vml]>
<![endif]>
November 15-18, 2015 – Connect NonStop Boot Camp
San Jose, CA
---
What You've Missed on NonStop Innovations

"A Call for Change in HP NonStop", the latest article on the NonStop Innovations blog, featured the managing director of Nexbridge, Randall Becker.

In the article, he talks about a new book that he is working on about an organizational phenomenon he calls "process drift".

He explained that when companies are given the choice between great people and great process, they tend to choose great people over improving their processes. Randall also discussed how process drift affects NonStop companies and what can be done to change it.

To read the full article, go to the NonStop Innovations Blog
---
TANDsoft's Data Deduplication Solution – Seamless Integration with All NonStop File Synchronization Products


It's a match made in NonStop heaven. TANDsoft, Inc.'s data deduplication solution works with all HP NonStop file synchronization products, AutoSYNC included. Developed originally as a feature for FileSync, TANDsoft's flagship file synchronization product, FileSync Data Deduplication can be purchased separately and seamlessly integrates with other partner products with no need for application source-code modifications. Free trials are available.

Data deduplication, or client deduplication, takes place at the system hosting the primary database. Designed to improve synchronization / replication times for large files, deduplication significantly reduces bandwidth requirements and the size of backups by streaming to the backup database only changed data, not entire files. TANDsoft's deduplication algorithm detects what changes have been made to an already replicated file and transmits only the unique data.

A complimentary add-on to FileSync Data Deduplication is FileSync Incremental, which eliminates the need to analyze all files. Instead, FileSync Incremental asks the system to provide for review only those files that have changed within specified time parameters – 12 hours, one day, a week, and so on. The result is a smaller, much faster synchronization effort, a substantial savings both in time and processing power. For large files, FileSync Incremental is used in conjunction with FileSync Data Deduplication. For one TANDsoft customer, a file synchronization runtime of 50 minutes was reduced to just 2 ½ minutes. The time and the bandwidth required to replicate the customer's files were substantially reduced because multi-megabyte files could now be updated by sending just the few blocks that had changed rather than having to send entire files over the customer's communication channel.

TANDsoft's own file synchronization solution, FileSync, automatically monitors, replicates and synchronizes source files, program environments, application environments, configuration files, programs – anything non-database that needs to be kept current across the network. It supports all Guardian and OSS files as well as SQL/MP and SQL/MX catalogs, schemas, tables and partitions. TANDsoft customers use FileSync for system migrations, disaster recovery, upgrades, and backups. It works closely with all NonStop real-time data replication products to provide a comprehensive solution for maintaining duplicate system and application environments.

FileSync customers have grown to depend on FileSync Data Deduplication and its complimentary add-on, FileSync Incremental. Both solutions now can be purchased for seamless integration with other NonStop file synchronization products.

In addition to FileSync and FileSync Deduplication, TANDsoft solutions – all certified on NonStop X - include the OPTA2000 virtual clock- and time-zone simulator; the OPTA suite of interception and trace utilities (OPTA-Trace Online Process Tracer and Analyzer, Recycle Bin, Low Pin Optimizer, and EMS Alerts Online Startup and Termination Capture Utility); Stack Monitor, which alerts developers to the impending threat of a stack overflow; Command Stream Replicator, which logs and automatically replicates TMF-audited/unaudited FUP, SQL/MP and SQL/MX DDL structure and other environment changes to target systems; AutoLib, which automatically loads a user library or a DLL for executing processes; the Enscribe-2-SQL and TMF-Audit Toolkits and the Enscribe-2-SQL Data Replicator, all of which offer flexible, affordable alternatives to more expensive conversion products or manual conversion techniques; E2S-Lite, which permits efficient, low-cost Enscribe modifications without the need to change a program's source code; and SDI/LOG (Sensitive Data Intercept), which logs Sensitive Data access to Enscribe files and SQL/MP tables.

For information about TANDsoft solutions, contact Jack Di Giacomo at +1 (514) 695-2234. Free trials are available. www.tandsoft.com.

---
October 1st is the U.S. Deadline for the EMV "Liability Shift." OmniPayments is Ready

Reality check for U.S. retailers. Through September 30th, a purchase made with a fraudulent credit card will require the card issuer (Chase, Bank of America, etc.) to absorb the costs of theft and counterfeit. It has been that way for a long time. However, on October 1st, card issuers will be off the hook; and the liability for fraudulent transactions will shift to U.S. merchants. They, not the card issuers, will absorb the costs and with it the financial hit to their bottom lines.

Smart cards, or "chip" cards, have been in use in most countries for years; and the U.S. is playing catch-up. Representing almost half of all payment cards and terminals in the world, the U.S. still runs its payment-card services on outdated magnetic-stripe technology. Smart cards, the original specifications for which were developed by Europay, MasterCard, and Visa (EMV), are designed to end the fraudulent use of insecure magnetic-stripe cards by embedding a computer chip into the card. Used in conjunction with EMV-compatible POS (point-of-sale) or ATM terminals, smart cards provide encryption and risk-management functions to thwart card counterfeiting, skimming, and cloning as well as to ensure secure transaction processing. Most U.S. card issuers already have mailed chip cards to their customers.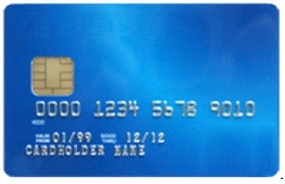 No fines will be brought against non-compliant vendors. No U.S. laws will be broken. But retailers who are not EMV-ready by October 1st will suffer consequences in the forms of loss of reputation, loss of business to their EMV-compliant competitors, and financial losses incurred from fraudulent transactions. Sadly, current studies

indicate that fewer than half of all POS terminals in the U.S. will be EMV-capable by the end of 2015.

OmniPayments is a financial-transaction switch in use by banks and retailers throughout the world, most of which has long been EMV-compatible. As such, the switch already supports

EMV protocols and other requirements necessary to bring the enhanced EMV security capabilities to the financial payments industry.

The comprehensive OmniPayments architecture allows financial institutions to acquire, authenticate, route, switch and authorize transactions across multiple input channels. It supplies a full set of functionalities to support payment transactions and is guaranteed to save a company at least 50% of its current transaction processing costs. Based on a modern Service Oriented Architecture (SOA), OmniPayments consists of several service components, all built for the HP NonStop platform.

OmniPayments and the new OmniCloudX on NonStop X supply complete security functions for every financial transaction handled, including encryption-at-rest and encryption-in-flight. Available around the clock, OmniPayments and OmniCloudX will survive any single fault, require no downtime for maintenance or upgrades, and support a range of disaster-recovery solutions. Both expand easily to provide additional functionality when needed. Additionally, OmniPayments and OmniCloudX can manage multiple devices, can host application interfaces, and can interoperate with third-party products or other systems if required. Like OmniPayments, OmniCloudX supports EMV smart-card technology.

The OmniPayments pricing model is based not on transaction volume but instead on a one-time software license. This results in huge savings. OmniCloudX hosts numerous instances of OmniPayments on an attractive, pay-for-use basis.

OmniPayments, Inc. is now the host of ITUGLIB, a downloadable library with a wealth of software utilities, both legacy NonStop and Open Source. OmniPayments provides maintenance, power, and bandwidth at no cost to the NonStop community. The open-source content is available to any interested individual. NonStop legacy content is restricted to members of Connect. http://bit.ly/1D3mn8j.

OmniPayments, Inc. (www.omnipayments.com) is the product arm of Opsol Integrators Inc., a leading HP NonStop system integrator. For further information, contact Yash Kapadia at +1 408-446-9274 or at yash@omnipayments.com.
---



Availability Digest Asks, "How Can Data Centers Manage Drought?"



Many parts of the United States are suffering through a severe drought that has lasted over four years. The states of California, Texas, and Oklahoma have been particularly hard hit, and California has put strict water restrictions in place. Data centers are notorious water guzzlers, consuming great amounts to cool their systems via massive chillers. The new NSA data center in Utah is reported to use 1.7 million gallons of water per day to cool 100,000 square feet of computer equipment. Microsoft's San Antonio data center in Texas uses 8 million gallons of water per month.

How are data centers handling the drought? For the most part, they continue to operate as usual, with no reduction in water usage. According to "How Can Data Centers Manage Drought," there are more efficient ways with respect to water usage such as desalination and air economizers. These technologies may be too late for existing data centers, but they certainly should be considered for new ones.

In addition to "How Can Data Centers Manage Drought," read the following articles in the Availability Digest's current issue. (http://bit.ly/1dZYTLI)

American Airlines Grounded by iPAD Glitch – In 2012, American Airlines replaced its pilots' paper navigation charts with iPads that display navigational charts upon request. However, without paper charts, the pilots had no backup if their electronic charts failed. In April 2015, dozens of American Airlines flights were seriously delayed because pilots were unable to access their navigation charts on their iPads. Pilots had to return to the gates to reboot their iPads and to pick up paper charts as backups. The lesson? Every electronic system needs a backup to ensure availability.

Can an Airliner Be Hacked? – The flight controls of major jets are controlled by complex computers that connect to primary flight systems by an Intranet-like Ethernet bus using IP addresses. In many airliners, the passenger in-flight entertainment systems (IFEs) are also connected by an Intranet; and in some cases, these networks are not segregated. Instead, they are separated by firewalls. Could a hacker access a plane's flight controls via the IFE system while sitting in his seat? Chris Roberts says yes and claims that he has done it.

HP NonStop Servers Migrated to x86 – Many Digest subscribers are not NonStop-aware. Thus, we work hard to introduce readers to platforms that support high- and continuous availability. In this article, we discuss how NonStop servers, while retaining their full fault-tolerant capabilities, have moved from proprietary hardware and software to become increasingly more open. HP has now taken the final step in moving NonStop servers to commodity technology by migrating them to an x86 architecture. The new servers are HP NonStop X and are configured as standard HP blades.

@availabilitydig – The Twitter Feed of Outages - This article highlights some of the numerous @availabilitydig tweets that were favorited and retweeted in recent days.

The Availability Digest offers one-day and multi-day seminars on High Availability: Concepts and Practices. Seminars are given both onsite and online and are tailored to an organization's specific needs. We also offer technical and marketing writing services as well as consulting services.

Published monthly, the Digest is free and lives at www.availabilitydigest.com. Please visit our Continuous Availability Forum on LinkedIn. We're at 691 members and counting. Our latest thread focuses on "How do you see mainframes fairing in the future?" Follow us as well on Twitter @availabilitydig.

---
Connect with NuWave Technologies at Upcoming Events
NuWave Technologies will be travelling to key events throughout the US to develop relationships in the HP NonStop community and to speak about how to integrate NonStop applications with Web services, bringing the platform into the 21st century. Want to network with a member of the NuWave team? Email Gabrielle at gguerrera@nuwavetech.com to schedule a time to meet.
| | | |
| --- | --- | --- |
| Event | Location | Dates |
| N2TUG | Arlington, TX | June 24th |
| NENUG | Andover, MA | October 19th |
| CTUG | Mississauga, ON | October 21-22 |
| NonStop Technical Boot Camp | San Jose, CA | November 15-18 |
---
Awareness, Appeal and Assistance
All at Tandemworld have been touched by this little girls plight and Courage, not only by Charlotte, but, all the Family and Friends striving to achieve the best for her.
This is our very precious and amazing daughter Charlotte Vanessa Chloé whom, with her identical twin Amelia Louise Chloé, has already survived a life threatening condition whilst they were still in the womb called Twin to Twin Transfusion Syndrome (TTTS) for which I had to have laser ablation surgery for at 17 weeks pregnant...their only option for survival which was successful, then them being born very prematurely at 28+6 weeks weighing a very tiny 2lbs 11ozs and 2lbs 9.5ozs respectively...they were fighters from the start as was their big sister.
Due to TTTS (we believe) Charlotte was diagnosed with Cerebral Palsy (Spastic Diaplegia) at 18 months old. She is now 3 years old and is unable to stand or walk unaided, has very tight muscles in her hips, legs and ankles which cause her a great deal of pain, balance & coordination difficulties which has already caused her hips to become displaced, and in time will cause various other deformities leading to orthopaedic surgery after surgery.
Despite her physical disability she rarely complains and enjoys life to the fullest that she can. Charlotte is such a happy, determined, funny, bright little girl and she is the reason we get out of bed everyday! She works very hard at physiotherapy, be it one to one or in groups although can, at times, be distracted easily by others wink emoticon She uses a Quest Rollator which gives her some freedom which she makes the most of.
We, Amanda & Andrew (her parents), have agonised over the decision to start fundraising for a surgery called Selective Dorsal Rhizotomy (SDR). SDR involves cutting specifically damaged nerves attached at the base of the spine, hopefully relieving Charlotte of at least most of her spasticity if not all. The optimum age for this surgery is 2-4 years old as the longer the spasticity is there the more damage it will do
We are looking to raise £80,000 for this life changing surgery through Tree of Hope, a registered charity...a massive amount by most people's standards! We are currently looking at taking her to St Louis Children's Hospital in America for the world class Neurosurgeon Dr T S Park to do her operation who has been doing this surgery for 25+ years and has done over 3000 SDR operations with an undeniable success rate. The UK started doing this surgery a few years ago and we are looking into having it done here too but honestly we would like, as I am sure most parents would, the person who has the greatest experience at doing this complex surgery to look after our precious child. This amount would pay for the surgery (if we need to go to America or if we need to fund it privately in the UK), after care, flights/accommodation if necessary, private physiotherapy (regardless of where she has it done) which is upwards of £1,500 per month for up to 2 years plus and necessary specialist gym type equipment.
Charlotte is physically unable to join in most physical activities with her friends although we try to enable her to do so as much as possible but that means at least one of us having to help her whilst her friends are able to dance, play, jump etc. by themselves
Andrew & I are extremely private people so that is partly the reason why we have delayed starting this fundraising as we want to be as open and as honest as possible, which we will be. There is also the potential risks this major surgery involves; paralysation, meningitis being two of the most serious!
The third and final reason this decision has been so agonising is that Charlotte is not our only child...as mentioned above she is an identical twin, sadly and unexpectedly her twin Amelia died from meningitis at 10 days old as despite surviving TTTS and being so premature was doing really well, breathing on her own (as Charlotte was) within a few hours of birth. Their big sister Chloé Louise (our first-born) came into our lives in 2006, she gave us the most amazing experience of being first time parents. Tragically in February 2007 Chloé died, just before turning 1, from meningitis (different strain to Amelia's) due to NHS medical negligence. So we have already had to say goodbye to and bury two of our children, having Chloé die was (and still is) unbearable and then having Amelia take her last breath in my arms too is just incomprehensible! So, as I said earlier, Charlotte is the only reason we get out of bed everyday and honestly why we are still here.
I am a very 'all or nothing' type of person and coupled with all that we have been through/are still going through even the thought of this fundraising causes me personally great anxiety and stress before it has even begun! I want to do all I can to help our daughter lead a pain free and physically more able life, and this operation is currently the only long term option.
So, if you are able to please donate to her fundraising page...one pound would be amazing and so gratefully received...even better 'Challenge' yourself and do something you may have always wanted to do/did not think you could do...become one of Charlotte's 'Champions' smile emoticon Friends and family, as will we, are going to challenge them/ourselves...it would be fantastic if you could join us.
Our little girl would like to be able stand, walk and run like her friends can, ride a bike, dance and jump in muddy puddles like Peppa Pig, most importantly be pain and deformity free...if you can help Charlotte overcome her challenges it would be priceless and we would be forever grateful...thank you xxXxx
If you are able to donate please go to our JustGiving Page:
https://www.justgiving.com/CharlottesChallengeSDR/
Should we exceed the target amount (or if we do not raise enough funds, or if they cannot be used for any other reason) the funds raised will go to the general funds of Tree of Hope to assist other sick children.
Follow Charlotte and her progress at https://www.facebook.com/charlotteschallengesdr?fref=ts
---
Find out more about us at
www.tandemworld.net
---