comForte - Ready for the next round of cyber security and privacy protection tasks on HPE NonStop
Availabilty Digest Says You Can Improve Availability Via the Use of Staggered Systems
---
CSP's Evening at aqua shard
eBITUG 2017

is Europe's largest NonStop conference featuring speakers from all over the EMEA region, a large HPE presence and many participating partners and vendors. eBITUG 2017 runs from May 8th to May 10th in London, UK.

CSP is proud to be the

sole sponsor of the Evening at aqua shard located in The Shard, London. This event is being hosted on May 9th from 6:45 PM until 11 PM.

Completed in 2012 and at 310 m (1,017 ft) tall, The Shard is the tallest building in Western Europe. Aqua shard offers spectacular panoramic views of London from a 930 sq m dining room and triple height atrium bar located on the 31st floor of this world-renowned building. CSP has reserved exclusive use of this venue for the enjoyment of eBITUG 2017 attendees.

CSP's

Evening at aqua shard will feature Champagne, wine, beer and cocktails as well as elegant contemporary British canapés and bowl food from the Executive Chef. In addition, a very special guest singer will provide some unique entertainment in the 200-capacity Gin Wing space of aqua shard.
You can register for eBITUG here. Find out more about registering for CSP's

Evening at aqua shard event here. Attendance at this event is free to eBITUG attendees, but space is limited, so separate registration via the CSP website is required. This will surely be a memorable experience for eBITUG attendees.

We hope to see you there!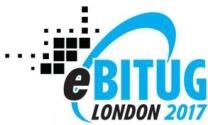 ---

NTI announces evolution, enabling the seamless migration from Oracle GoldenGate to DRNet®

evolution enables Oracle GoldenGate platforms to be converted to DRNet® platforms with zero customer facing outages, zero programming, and zero loss of transactions. The evolution fabric, installed in about a day, enables seamless migration.

LiveLink p

rovides full 7x24x365 End to End Evolution support. LiveLink experts provide full support for both Oracle GoldenGate and DRNet® platforms, resulting in true project start to completion coverage for any issue that may arise.

FOCUS provides an in-depth analysis of your existing Oracle GoldenGate environment. By understanding what works and what doesn't work, our experts can suggest changes/improvements for your data protection environment.

evolution projects begin with FOCUS, a detailed review and analysis of your environment and your business goals. We share the FOCUS findings in a written report and online presentation.

Once you make the decision to evolve your

LiveLink support begins. Our experts immediately enable true 24x7 support with Real Engineers who will answer the phone and work to solve any Oracle GoldenGate problems. LiveLink remains engaged thru all phases of your evolution. Once fully converted to DRNet® the LiveLink team will transition your account over to our world class support group. With 35+ years of data replication support, NTI's Real Engineer support group offers the finest support services in the world.

When you are ready we will install the

evolution network fabric. Evolution is designed to install in about a day, will not interfere with your business transactions, will not impact customer facing transaction performance, requires no business outage, and sets up the environment to begin seamlessly migrating from Oracle GoldenGate to DRNet®.

MIGRATION

is the final step in your evolution experience. Our expert teams will assist you with the analysis of your business transactions and the planning for the migration of these transactions over to the new platform, one business function at a time.

evolution

enables upgrades and transformations at a relaxed pace. There's no longer a need for a big bang overnight conversion. Customers can take their time shifting their transaction flows, all the while being covered by the evolution network fabric.

evolution

is available today. Contact Evolution@Network-Tech.com for product briefs, to arrange introductory webcasts, and to learn more about evolving to the next generation NonStop.

DRNet® is world class NonStop Data Replication technology.

· Real-time Active/Active Data Replication

· Real-time Tandem to OPEN Data Replication

· Real-time File Synchronization

· Refreshingly Real-Time Support from Real Engineers

+1 (402) 968 3674
---
NonStop Technical Bootcamp 2016 – Five Great Take Aways - XYPRO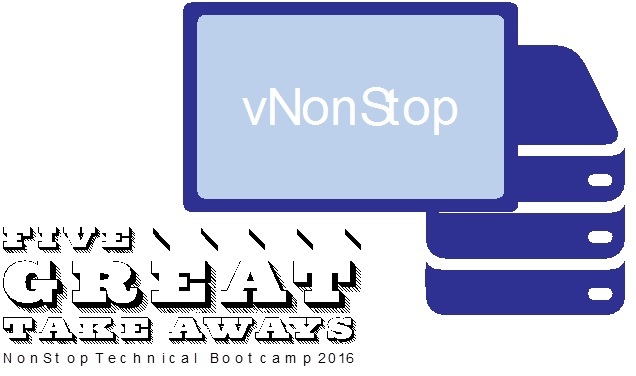 XYPRO - NonStop Technical Bootcamp 2016 – Five Great Take Aways
vNonStop
In early 2016 at Mobile World Congress in Barcelona, HPE demonstrated the virtual NonStop (vNonStop) concept. vNonStop is HPE's advance in virtualizing the NonStop operating system. vNonStop enables customers to take full advantage of all the fault tolerant capabilities of a NonStop server, without the upfront investment in hardware.
Steve Tcherchian
Chief Information Security Officer
XYPRO Technology

---
eBITUG - London May 2017 Register Now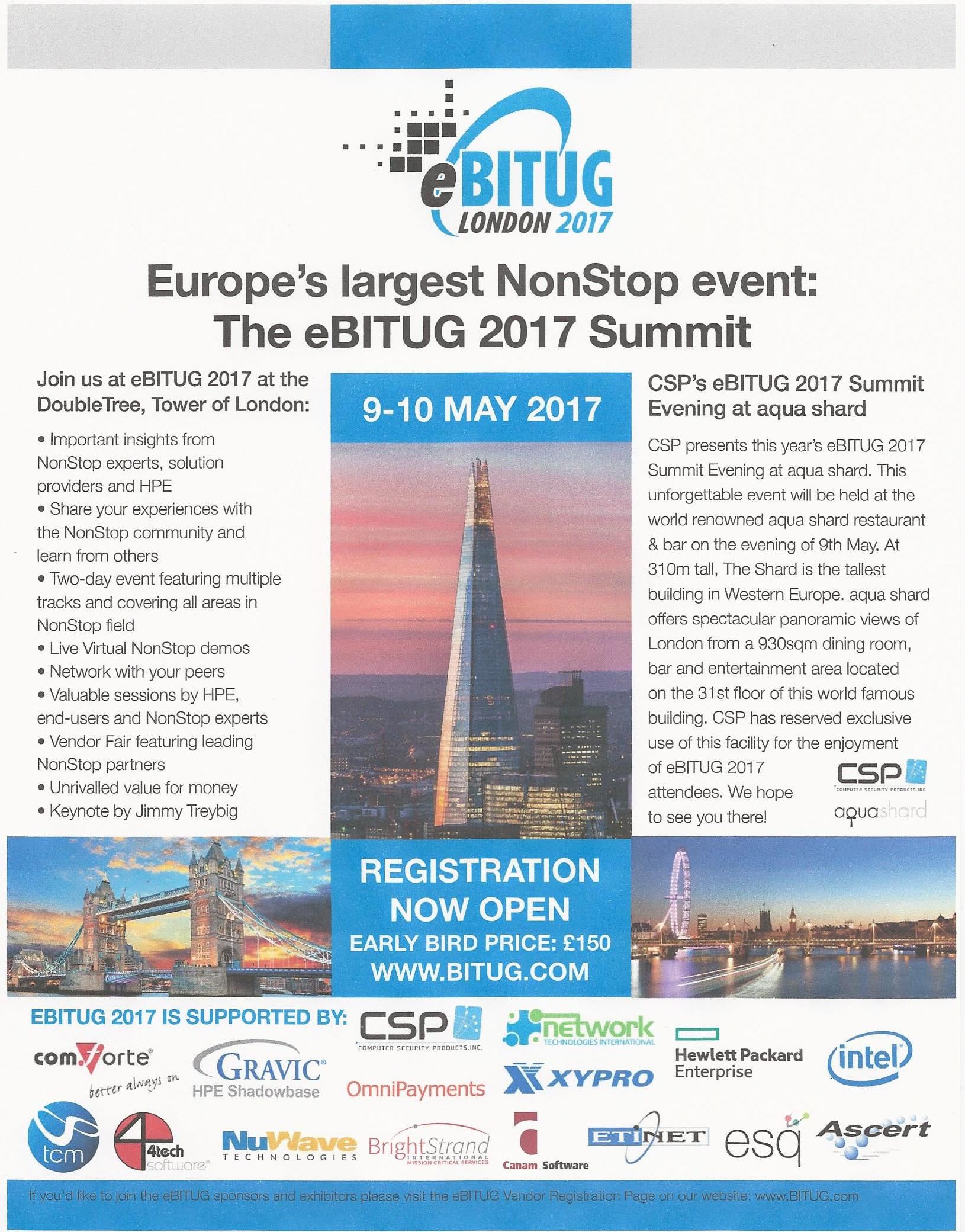 Click Here to Register your attendance
---
Gravic Publishes New Case Study on Datacenter Migration Using HPE Shadowbase Zero Downtime Migration

Gravic recently published a new case study, A Large Financial Institution Migrates Datacenters with No Downtime Using HPE Shadowbase ZDM.

A major financial company offers person-to-person money transfers, money orders, and business payments. The company implemented an active/active system with two NonStop systems located 1,000 miles apart, and the databases were synchronized with a legacy bi-directional data replication solution.

When the company decided to move its systems to other cities, upgrading them in the process, it could not tolerate an application outage during the move, so it relied on HPE Shadowbase Zero Downtime Migration (ZDM) software to avoid application downtime and provide full business continuity protection while the move took place.

Its customers were able to make money transfers and use all applications as the servers and services were relocated. The company also relied on HPE Shadowbase ZDM to replace its legacy data replication software product and position itself for continuous availability into the future.

To speak with us about your data replication and data integration needs, please visit us at www.ShadowbaseSoftware.com, email us at SBProductManagement@gravic.com, or call us at +1.610.647.6250. Hewlett Packard Enterprise directly sells and supports Shadowbase solutions under the name HPE Shadowbase. For more information, please contact your local HPE account team or visit our website.

Please Visit Gravic at these Upcoming 2017 Events

SunTUG Sunshine Summit—Tampa, 17 March

MRTUG Meeting—Chicago, TBD May

OTUG Meeting—Columbus, OH, TBD May

N2TUG Meeting—Dallas, TBD May

KNUG Conference—South Korea, TBD May

eBITUG Symposium—London, 9-10 May

MATUG Meeting—Herndon, VA, TBD June

NYTUG Meeting—Berkeley Heights, NJ, TBD June
---
From CLX to X, Tributary and NonStop together!

By Glenn Garrahan, Director HPE Business for Tributary Systems

Tributary Systems and NonStop, partners for over 20 years; through Tandem, Compaq, HP and now HPE, one thing has never changed, TSI has supplied reliable, cost effective backup storage subsystems for all NonStop servers. TSI's OEM tape, libraries, extenders, converters and Media Manager software continue to be necessary and valued components in the NonStop ecosphere.

While HPE continues to invest in the NonStop product line, with NonStop X and now Virtualized NonStop, Tributary Systems has evolved it's Storage Director, the most cost effective and flexible backup appliance available for NonStop . But why would NonStop customers consider Storage Director? Really, there are a couple of key reasons:
Storage Director connects NATIVELY to all NonStop servers with no middleware or agents or third party software. NonStop servers see Storage Director as a native NonStop device. Storage Director's Operating System is LINUX based, not Windows.
Storage Director is a policy based backup solution enabling users to place data from different applications and host servers into data pools with different retention, location and replication policies. This means that data can be retained in the most cost effective manner. Think of it this way, you wouldn't rent a room in the Four Seasons Hotel to store your old magazines, holiday ornaments or Grandma's furniture, why retain non-critical data on expensive dedup disk storage devices?
Storage Director can securely vault (using built-in AES 256 bit encryption) NonStop customers' data to any cloud object storage. The fact that Storage Director is policy based allows customers to vault appropriate data to the cloud for a second copy or disaster recovery while sending other, perhaps more essential, data to local disk or tape, all concurrently, all securely, with exceptional replication rates made possible by built-in latency management and WAN optimization algorithms. Again, it's a really simple idea, pool the data and send the pools to the most cost effective storage location!
Tributary's long history with NonStop and the NonStop community means that the Storage Director Appliance is specifically designed for fault-tolerant, high availability computing environments, and meets all NonStop backup requirements. These very same Storage Director appliances can also natively (and concurrently) connect to IBM Power Systems (AS/400, i/OS) and IBM Mainframes (z/OS and z/Linux).
Storage Director can virtually present a legacy tape interface to a NonStop system while actually using more modern tape drives and/or libraries on the back end. Conversely, for those with old tape technology, Storage Director can provide "pass-through" functionality, meaning customers don't have to move data to more modern tape media or purchase new tape drives, an important consideration when archived data is not accessed frequently.
These are five good reasons to consider Storage Director before purchasing any VTL sub-systems for your NonStop environment, see if they don't make sense for you!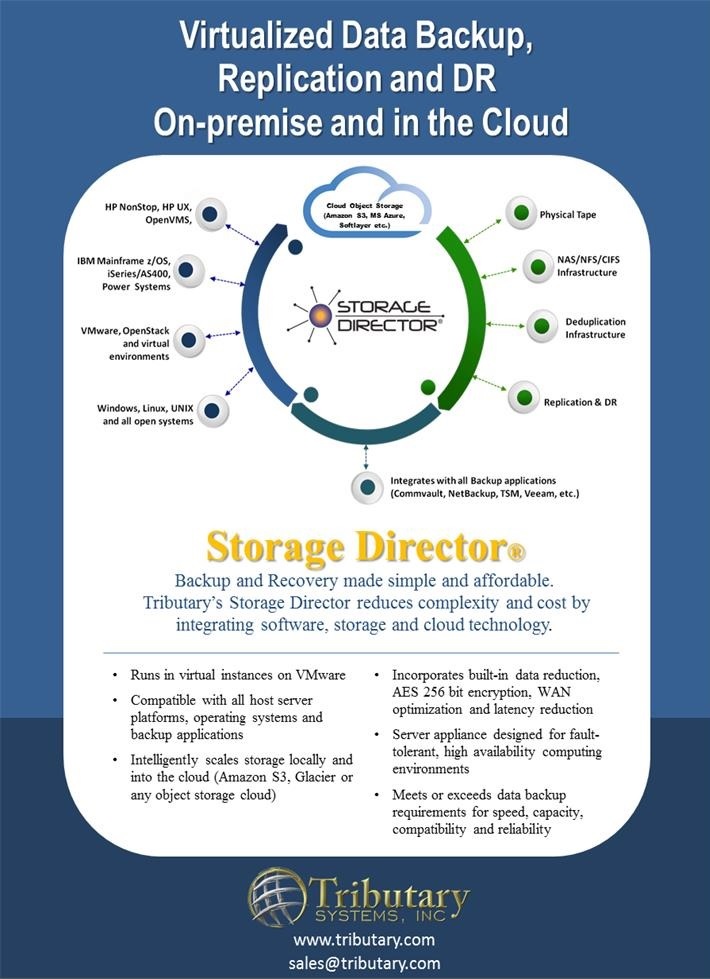 Now let's talk about TSI's ELMM Software, and a free offer NonStop Customers should take advantage of!

You've already made a substantial investment in one or more NonStop LTO Tape autoloaders, not to mention the extensive inventory of LTO tape cartridges. But now the management of this important data, some of which may be on obsolete LTO media, has become a confusing and time consuming task for your Data Center employees. How about a software solution that allows conversion of LTO autoloaders to an easily managed, remote, random access small tape library?

Tributary Systems' ELMM (Entry Level Media Manager) software allows automated and remote management of the LTO 3 thru LTO 6 autoloaders for all current HPE NonStop systems. ELMM provides an intuitive, easy-to-use graphical interface allowing remote accessibility. This software also provides remote automated control and features to help lessen the tedious management and operation involved in backing up data on NonStop systems.

1. ELMM has advanced media management functionality, the same as TSI's other Media Manager products, as OEM'd by HPE

2. Converts HPE NonStop sequential autoloader tape drives to Random Access small tape libraries

3. Allows remote operation for LTO autoloaders, just like NonStop attached physical libraries and VTL's

4. ELMM is the lowest cost methodology for tape library attachment to all current NonStop Servers-retains your existing LTO 3, LTO 4, LTO 5 or LTO 6 ACL tape drive hardware

5. ELMM software features an intuitive and easy-to-use graphical interface

6. ELMM contains an automatic tape labeling feature

And how much for all these features you ask? Just a one-time software license fee of $5000 USD, yes, a one-time license fee! Plus, ELMM software maintenance is optionally available for a small monthly fee.

Now, what's this fee offer mentioned above?

TSI will be pleased to supply a one month trial ELMM license to any NonStop customer who'd like to experience for themselves the advantages of running ELMM in their NonStop environment with LTO 3 thru LTO 6 autoloaders, at NO COST or obligation!

To take advantage of this limited time offer, just contact Tributary Systems, the information is provided below.

Contact Information

www.tributary.com

Tributary Systems, Inc. is a technology solution provider to enterprise computing customers. Tributary develops and sells data protection, backup storage, virtualization, site-to-site replication and disaster recovery solutions. Tributary is an acknowledged global leader in providing backup storage and data protection solutions for fault-tolerant, high availability, enterprise computing environments.

Tributary was founded in 1990 and is a Texas based company with its headquarters, development, integration, and test facilities in Bedford, Texas.

Through its channels and direct sales organization, Tributary has served customers worldwide, predominantly in the banking, financial services, retail, telecom and healthcare industries. Tributary is a HPE business partner and OEM supplier, IBM OEM Partner (iOEM), Solution Reseller (ISR) and Business Partner, Quantum® Value-Added Reseller (VAR), and Oracle® OEM partner.
---
Dataexpress
Will virtualization and cloud computing have as big an impact on financial institutions, just as it is clearly having on telecommunications providers? Will clouds being deployed today inside enterprises as private clouds eventually turn into public clouds as more and more access is given to an enterprises' business partners as well as customers? Has the cloud technology matured to where even the most conservative of companies are finding the pricing model competitive to the point where it's hard to argue against migrating to a popular cloud offering?

This month we have held discussions with a number of NonStop vendors as well as being briefed on recent industry events and the story is beginning to follow a familiar plot. There are so many new things being developed that it is hard for many CIOs to stay current – new things, new ideas and new ways to do things. It was Albert Einstein who once said, "When I was young I found out that the big toe always ends up making a hole in a sock. So I stopped wearing socks." Acknowledged as a classic example of thinking outside the box, amidst all these changes, the NonStop community faces many familiar challenges and perhaps the biggest challenge of all is simply staying abreast of what is happening to NonStop.

In the February 2016 issue of NonStop Insider we wrote that foremost in our minds is the likelihood that by the end of this calendar year we will be dealing with both physical NonStop systems – Itanium and x86 – and Virtualized NonStop (the official product name for what had been referenced to as vNonStop, according to Andy Bergholz, Senior Director of Development, HPE NonStop), running as a guest operating system on a variety of commercial, off-the-shelf x86 servers. Like many Vendors, we have worked diligently to ensure DataExpress works on NonStop X systems (and yes, it has been validated) and so it's now going to be the case of watching where our customers head – will they continue deploying physical NonStop systems or will they move to Virtualized NonStop and begin fashioning private clouds? Will they even look to DataExpress to support them via a DataExpress maintained public cloud with DataExpress accessed as Infrastructure-as-a-Service (IaaS)?
We have written about this in a number of publications of late and by now, the answers to these questions should be more widely known – DataExpress is ready to head in whatever direction our customers elect to take us. As we noted in our article to NonStop Insider, it is these cloud scenarios together with the potential to offer DataExpress on the basis of IaaS that has us very much intrigued, and where we will be totally driven by whatever the NonStop user community elects to pursue. However, we are already aware of some very early investigations of Virtualized NonStop taking place within our installed base and HPE NonStop confirmed that they "have started customer betas at the ATC and will have launched our first on-site beta at a major Telco in Europe," according to the editorial in the Jan – Feb, 2017, issue of The Connection.
Much of the interest in virtualization is being driven by the desire to reduce costs – not just capital expenditures but further investments in skilled human resources as well. With private cloud deployments, awareness of the presence of NonStop diminishes significantly even as you can run your Java and possibly your Server Side JavaScript in a 24 x 7 environment that happens to be a NonStop guest system provisioned for this purpose. Just as we have seen DataExpress move away from many of the former proprietary (indeed, older) networking protocols, including SNA and even BiSynch, where DataExpress worked to reduce file transfer times, networks today rely on industry standard TCP/IP and this has helped reduce the costs of moving files.

However, standards and openness do give our customers opportunities to think outside the box. HPE NonStop for its part is opening the door to different ways to think about NonStop and from our perspective this is just the beginning of a raft of new ideas on how to deploy NonStop applications. There will always be the need to move files; to agencies, customers, vendors and any legitimate entity with a real requirement for information.

However, we are among the first vendors within the NonStop vendor community that acknowledges that this may change our business model in many ways. And that too will be way outside the box, so whether the files you need to move are just a couple of files a month or tens of thousands of files a day, DataExpress will be available for in-house deployment on your physical NonStop system or on Virtualized NonStop, any way you want to set it up. Change is giving NonStop customers a whole new way to think about what runs on NonStop and on what hardware NonStop runs so, as Einstein so eloquently said, knock your socks off! Have a go – rethink your deployments and yes – give us a call!



Contact Info:
1401 Shoal Creek, Suite 250, Highland Village, TX 75077
email: sales@dataexpress.com
Sales: +1. 972.899.3476
Corporate: +1.972.899.3460
---
comForte - Coming soon – eBook on modernization of proven applications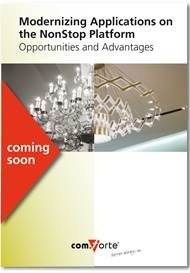 Nowadays, new and rapidly evolving enterprise IT platforms, delivery models, and capabilities provide an opportunity to increase users, innovate delivery, and extend the business value of technology across the enterprise. But to do so, IT departments must adapt, which often entails transforming proven applications to take advantage of emerging technologies.
The key to effective, efficient operations for IT – and the business – is not to change core offerings or functionality of legacy applications, but rather to modernize them. This is increasingly imperative for legacy applications to work within new contexts and technological formats.
The trend toward rationalizing and modernizing applications affects the entire enterprise IT portfolio, including applications running on Hewlett Packard Enterprise (HPE) NonStop systems. Fortunately, with the right tools and expertise, it's possible to cost effectively modernize applications running on the NonStop platform, which itself was recently modernized by HPE.
What do you need to know about modernizing applications on the HPE NonStop platform?
In this eBook, you'll learn the following:
Why modernizing legacy applications on the NonStop platform is good IT strategy, given the evolution of both enterprise computing and the HPE NonStop platform
The business case for modernizing applications
Three potential approaches to modernization, and why one has such a high success rate
Strategies for modernizing, including seven domains on which to focus for customer success
Two case studies that illustrate real life challenges and solutions
Click here to stay tuned: The release of the eBook is planned for second half of March 2017!!
---
Upcoming NonStop Webinar
Join NuWave for their next webinar, "Open Up Your NonStop Using REST Services", March 7, 2017.
This webinar will provide a technical overview and some exciting demos to show how easy NuWave's LightWave products make it for NonStop applications to provide and consume REST Web services.

There are two times offered for your convenience. Register now!
---
Mark Purdy joins the NTI EVOLUTION

Congratulations to Mark Purdy on his appointment to lead NTI's global evolution sales team. Mark joined NTI in 2011 as part of NTI's North America sales team. Over many years of hard work he has earned this next challenging opportunity.

"I have worked with NTI for the past 6 years and this is very exciting stuff. Because Oracle GoldenGate has no NonStop support beyond the NB56000, these customers had no path to the Xbox. They were facing an uncertain future on the Tandem. Evolution helps these Tandem customers evolve to the next gen NonStop with zero impact, zero outage, and zero risk." Mark Purdy, evolution

"When we analyzed the Tandem market we realized that there were 150+ NonStop customers running Oracle GoldenGate who did not have an upgrade path to the Xbox. The NB56000 was the end of their road. We also projected that by early 2019 the NB56k may go "end of sale", causing a real crisis in our market. If these customers were forced to leave the Tandem we saw this as a devastating blow to a platform we have worked on for most of our technology lives. Evolution solves this problem.

Evolution is truly a revolutionary approach to platform migration. Beyond the evolution fabric my team has assembled analysis, support and migration solutions that surround Oracle GoldenGate installations and ensures a successful seamless migration." Jim McFadden, Business Development

Mark and his team can provide product briefs, arrange webcasts, arrange trials, and work with you to understand how you can evolve from Oracle GoldenGate to DRNet®

. He can be reached at Evolution@Network-Tech.com, or contact him directly at Mark.Purdy@Network-Tech.com (+1 970 481 9512).
---

XYPRO kick-off is an important event in our company culture and in this annual blog, I like to include anecdotes about what was covered in this yearly "all-hands in California" gathering and share the excellent news about XYPRO's growth. This year due to a busy calendar, XYPRO's annual corporate kick-off, which usually takes place in January, was delayed until February.

Here at XYPRO we like to celebrate; Donut Day, Ada Lovelace Day, Talk Like a Pirate Day, Customer Service Day, Administrative Professionals Day, Hot Dog Day…. you get the picture. Any excuse to celebrate, we'll take it, we're a pretty happy group! Here are pictures of us enjoying a day of team building games and soap box car building and racing.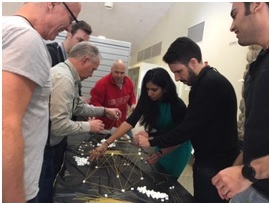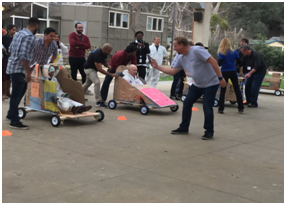 This year we took great pleasure presenting to the XYPRO family on a great many things, not the least of which is being able to enjoy yet another year of record growth for XYPRO.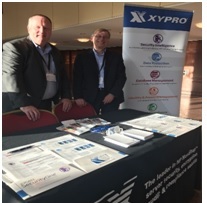 2015 was huge for us and we knew it was going to be hard to match let alone beat in 2016. We did it though, thanks to the hard work of the entire company and some strategic partnerships. In the specific category of revenue, I am happy to thank our sales, marketing & professional services teams! By integrating their activities more closely than ever before, we excelled across all regions to communicate our message, work with customers and meet very challenging sales targets. The success of sales, marketing & professional services allows us to facilitate necessary growth in other areas like infrastructure and personnel.

In 2016 our team grew. XYPRO's increase in our direct customer base over the last several years, coupled with the responsibility of supplying multiple RVU products with the HPE NonStop operating system means we are a customer-focused, deadline-driven engineering team. In addition to meeting our obligations in those areas, it is also imperative we continue to innovate in security solutions, development methodologies and quality assurance techniques. The responsibility XYPRO takes on to ensure we meet current and future customer demand while adopting modern development practices and staying on the cutting edge of technology implores the addition of new skills to our engineering organization. We endeavor to consciously embrace these ideals when adding new team members. The result? A beautifully diverse group of highly skilled people, working together to deliver the best & most useful security solutions to the mission critical server space. It's not always smooth sailing and there are always some bumps when making big changes like this but I am proud of the way it's being handled and I credit the dedication and hard work of our Engineering organization.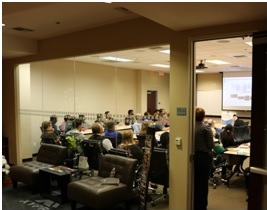 Internal Engineering Lunch and Learn Session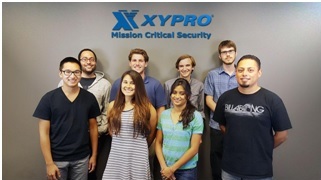 Some of XYPRO's 2016 Interns
"My experience at XYPRO truly sealed the deal in regards to my love for computer science."
– Brady Goldman
---
NonStop Services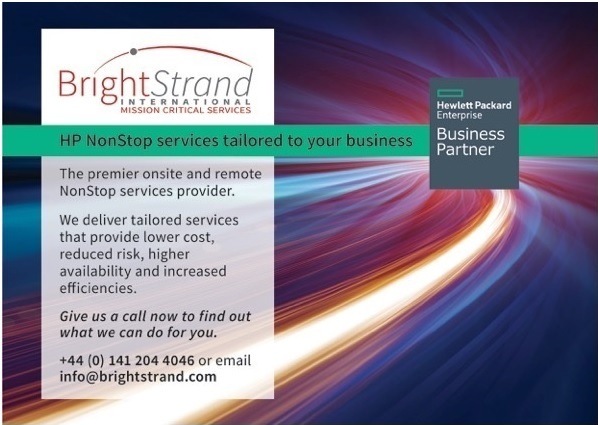 Connect with us at eBITUG
or email us at sales@brightstrand.com
---
comForte - Customers love comForte support, and it shows!
14. Feb 2017 created by Thomas Gloerfeld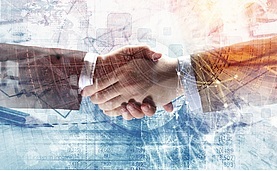 Efficient and competent customer support is very important to any NonStop user and vendors are striving to provide the best support services they can. comForte is no different and we are checking with our customers on how we are doing on a regular basis. We survey all those customers who had a support ticket which was closed within the past 120 days and we ask them one key question 'How likely are you to recommend our support services to a colleague or friend?'. From the scores we calculate the Net Promoter Score and the higher this score the higher the satisfaction level with comForte's support services.
The results of the last survey were very re-assuring with a net promoter score of 74% which is more than 2 ˝ times above the software industry average and higher than the previous score. comForte prides itself to provide excellent support services to its customers and the feedback from the survey confirms this ambition.
We won't rest on our laurels and comForte's support staff will continue to improve the support we provide to our customers.
---
Spring NonStop Events with NuWave
We are excited to begin visiting with friends, customers and our extended NonStop family at the TUGs and events this spring!
You can find us at the following upcoming events:
DUST (March 1)
SUNTUG (March 17)
eBITUG (May 9-10)
To set up a meeting around one of these events, email Dave Ross if you will be attending events in Europe, and Gabrielle if you will be attending any others. We would love to see you!
Our calendar is always changing, and we will keep you updated on dates and new shows on our News & Events page.
---
We Built OmniCloudX on NonStop X for Small to Mid-Size Customers. Now the Big Guys Want It, Too!

OmniPayments built the world's first cloud powered by NonStop. The result is OmniCloudX, which hosts numerous instances of the OmniPayments Financial Transaction Switch at an attractive, pay-for-use price. Starting at only $5,000.00 USD per month, our highly scalable, cloud-based solution became the payments switch of choice for small to mid-size retailers and financial institutions that could not afford their own high-capacity switches, especially ones built on HPE NonStop.

As we introduced OmniCloudX to the marketplace, something interesting took place. Much larger customers also expressed a desire for a cloud-based switching solution. Jessica Nieves, OmniPayments' VP of Client Services, recently said the following in an interview for NuWave Technologies' NonStop Innovations Blog, "…what we have seen in the last couple of months is that the interest in the Cloud goes far beyond the smaller markets. This is something that many industries are looking for, including the big players."

As an example, one large bank is using OmniCloudX on NonStop X as the basis for its private cloud architecture. The bank wanted to migrate to OmniPayments on NonStop from its existing payments switch on a Windows and Unix platform but was reluctant to make the additional investment to learn, maintain, and operate what was to them an unfamiliar system. According to Jessica, this is where OmniPayments' experience as a 24x7 Managed Services provider helped clinched the sale. "We do everything for them. We are the ones that do the administration, the maintenance, the security - everything that is involved in working with the NonStop is done by us. We also maintain our applications and do all the development to ensure they are getting everything they need out of our OmniPayments suite. They save the headache of having to set up and learn the NonStop, and they save costs and time because we know the platform."

The OmniPayments Financial Transaction Switch is a switching solution for the financial and retail industries. It is deployed on NonStop for the highest availability and offers all the requisite functionality to manage credit/debit-card transactions. It manages multiple devices, hosts application interfaces, and interoperates with third-party products or other systems if required. OmniPayments easily expands to provide additional functionality when needed and supplies complete security functions for every financial transaction handled, including encryption-at-rest and encryption-in-flight.

Available 24x7, OmniPayments will survive any single fault, requires no downtime for maintenance or upgrades, and supports a range of disaster-recovery solutions. OmniPayments can be installed either as a complete, off-the-shelf solution or can be enhanced with customer-requested modifications and features to improve cost-effectiveness, efficiency, and risk mitigation. Our team of 100-plus NonStop specialists are skilled at rapid project turnarounds and meeting deadlines.

Preauthorization Services - The OmniPayments Preauthorization Engine is used by financial institutions in conjunction with the OmniPayments Financial Transaction Switch or as a seamless interface to other providers' switches via a custom support module (CSM). We call it the Fraud Blocker!

OmniPayments systems in production today process 700 million transactions per month, generated by point-of-sales terminals and over 14,000 ATMs. A single OmniPayments system can support up to 10,000 transactions per second. Multiple OmniPayments systems can cooperate to provide any capacity required by an application.

From our seven worldwide locations, we serve as a 24×7 managed services provider for remote production monitoring.

For our European customers, OmniPayments satisfies all GDPR requirements.

Visit OmniPayments at the following events:

SunTUG (17 March) – OmniPayments will present "The OmniPayments Preauthorization Engine – Our Customers Call it the Fraud Blocker."

eBITUG (9-10 May) – OmniPayments will present "OmniCloudX on NonStop X: Impressive – and Affordable – Together."

To learn more about OmniPayments, contact Yash Kapadia at +1 408-446-9274 or at yash@omnipayments.com. OmniPayments customers and others interested in our solutions are invited to join the OmniPayments Discussion Group on LinkedIn at http://bit.ly/2bB1AGh.
---
comForte - Ready for the next round of cyber security and privacy protection tasks on HPE NonStop
With new worldwide and regional regulations (e.g., EU GDPR - General Data Protection Regulation), there is a need for a new cyber security and data privacy architecture.
The current hardware, user interfaces, applications, etc., were often designed without privacy in mind. Developers don't have the time or resources to redevelop existing tools; however, poor security and privacy propagates into new applications. This white paper describes how to cope with these challenges, how to design a future-oriented cyber security and data privacy architecture on HPE NonStop and integrate it into a corporate IT infrastructure.
Be prepared for GDPR:
Download comForte's NonStop Cyber Security and Privacy Protection Guide!
---
Availability Digest Says You Can Improve Availability Via the Use of Staggered Systems


A redundant system is not very reliable if both systems fail simultaneously. That well may be the case if both systems have the same failure probability distribution. In other words, they have the same start times and thus are exposed to the likelihood of failing at the same time.

"Improving Availability Via Staggered Systems" offers a solution to the above predicament. By staggering system start times so that their failure probability distributions are not aligned, the time for the systems to fail will be staggered as well. This will improve redundant system reliability and applies to minimizing both hardware and software failures.

In addition to "Improving Availability via Staggered Systems," read the following articles in the Availability Digest's February 2017 issue:

The Zero Outage Industry Standard Organization – The Zero Outage Industry Standard Organization (ZOISA) launched in November 2016 by companies that include HPE, IBM, Hitachi Data Systems, and Dell EMC. Its goal is to minimize the risk of outages by creating standards for processes, platforms, people and security throughout the IT lifecycle. www.zero-outage.com.

Dr. Timothy Chou Was 2016 NSTBC Keynote Speaker – Tim Chou began his career as a Tandem programmer and "retired" as President of Oracle on Demand. "Retired" is in Italics because this Stanford University professor, small start-ups investor, book author, and popular speaker is busier than ever. According to Tim's first boss, Jimmy Treybig, Tim has "always been at the cutting edge of technology." 2016 NonStop Boot Camp attendees were treated to Dr. Chou's presentation on "Precision Planet."

The High-Availability Design Spectrum – Part 3 – In recent Digest issues, we focused on the first thirteen of 23 areas that Dr. Terry Critchley lists as having an impact on the availability of IT business services. In Part 3, Dr. Critchley discusses the next six areas. All can be found in his book, High Availability IT Services, now available for rent or purchase on Amazon's Kindle.

@availabilitydig – The Twitter Feed of Outages - Our article highlights some of our numerous tweets that were favorited and retweeted in recent days.

The Availability Digest offers one-day and multi-day seminars on High Availability: Concepts and Practices. Seminars are given both onsite and online and are tailored to an organization's specific needs. We also offer technical and marketing writing services for a variety of industries as well as consulting services on risk assessment and system architecture. We ghostwrite for others and have years of experience in writing patent disclosures.

Published monthly, the Digest is free and lives at www.availabilitydigest.com. Please visit our Continuous Availability Forum on LinkedIn. We're at 788 members and counting. Follow us as well on Twitter @availabilitydig.


---
Ask TandemWorld
We look forward to meeting you at EBITUG in London, for more information and to register click here
Got a question about NonStop ? ASK Tandemworld
Keep up with us on Twitter @tandemworld
---
Congratulations to the Winners

I

n last month's Tandemworld eNewsletter NTI gave away a handful of Amazon Echo Dots to readers who responded to the article with the phrase "Beam me Up". For us it was a fun way of connecting with other members of the community while telling everyone about a fun new product we discovered.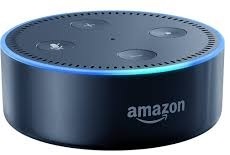 While our software might not be able to tell a joke or control the lights like the Amazon Echo we are just as cool. DRNet® is world class NonStop Data Replication technology. We provide Active/Active replication, OPEN Data Replication and File Synchronization. We do this all with our team of talented support engineers who are available 7x24 to help customers worldwide.
Congratulations to all the winners of our contest! We hope you are enjoying your prizes. For more chances to win other fun prizes make sure to check out our articles in Tandemworld.
---
My Time at XYPRO and How it got me Where I am Today
Other effects of growth are reflected in the infrastructure improvements within XYPRO from an employee engagement perspective. Emphasis is placed on employing more modern HR practices, generous employee benefits, finance & accounting practices. We've come leaps and bounds in the last several years and for that effort and success I credit the Finance & Administration teams! We look forward to implementing even more of these improvements in 2017!
At the 2016 NonStop Technical Boot Camp last November, HPE Security – Data Security introduced the new HPE SecureData Transparent Data Protection solution to the market. HPE SecureData Transparent Data Protection for HPE NonStop is XYPRO's XYGATE Data Protection (XDP)—engineered and deeply integrated with HPE SecureData Enterprise to add new high value data protection features and benefits for the HPE NonStop customer community. This closer partnership with HPE Data Security builds on our previous relationship that already had XDP working exclusively with SecureData to seamlessly enable Format-Preserving Encryption (FPE) and Secure Stateless Tokenization (SST) to NonStop users. Now, with SecureData Transparent Data Protection, customers can get the entire solution from HPE Data Security. In addition, now that XDP is a component of SecureData Transparent Data Protection, our engineering and product teams are working more closely together than ever before, ensuring a easy-to-use, integrated solution that provides the same capabilities on NonStop as the rest of the enterprise.
For those of you familiar with XYPRO, you know that XYGATE SecurityOne (XS1), our new security intelligence & analytics solution, is currently in active beta testing at customer sites. XS1 is by far the most high profile project within XYPRO, taking advantage of resources in every discipline. The project has been such a success that we're already scheduling the GA rollout to our early adopters and we'll be going live very soon.
Finally, and most importantly, we'd like to thank you, our XYPRO customers. Many of you have been with us since the launch of the very first XYGATE security modules in 1991 and have worked with us over the years to improve and expand the product line. We're also privileged to recently welcome many of you to the family. Thank you for your trust and thank you for your business. Meeting the needs of users of the XYPRO solutions is paramount as we continue improving, innovating and growing to meet the needs of the market. Innovation without sacrificing customer satisfaction is our primary objective.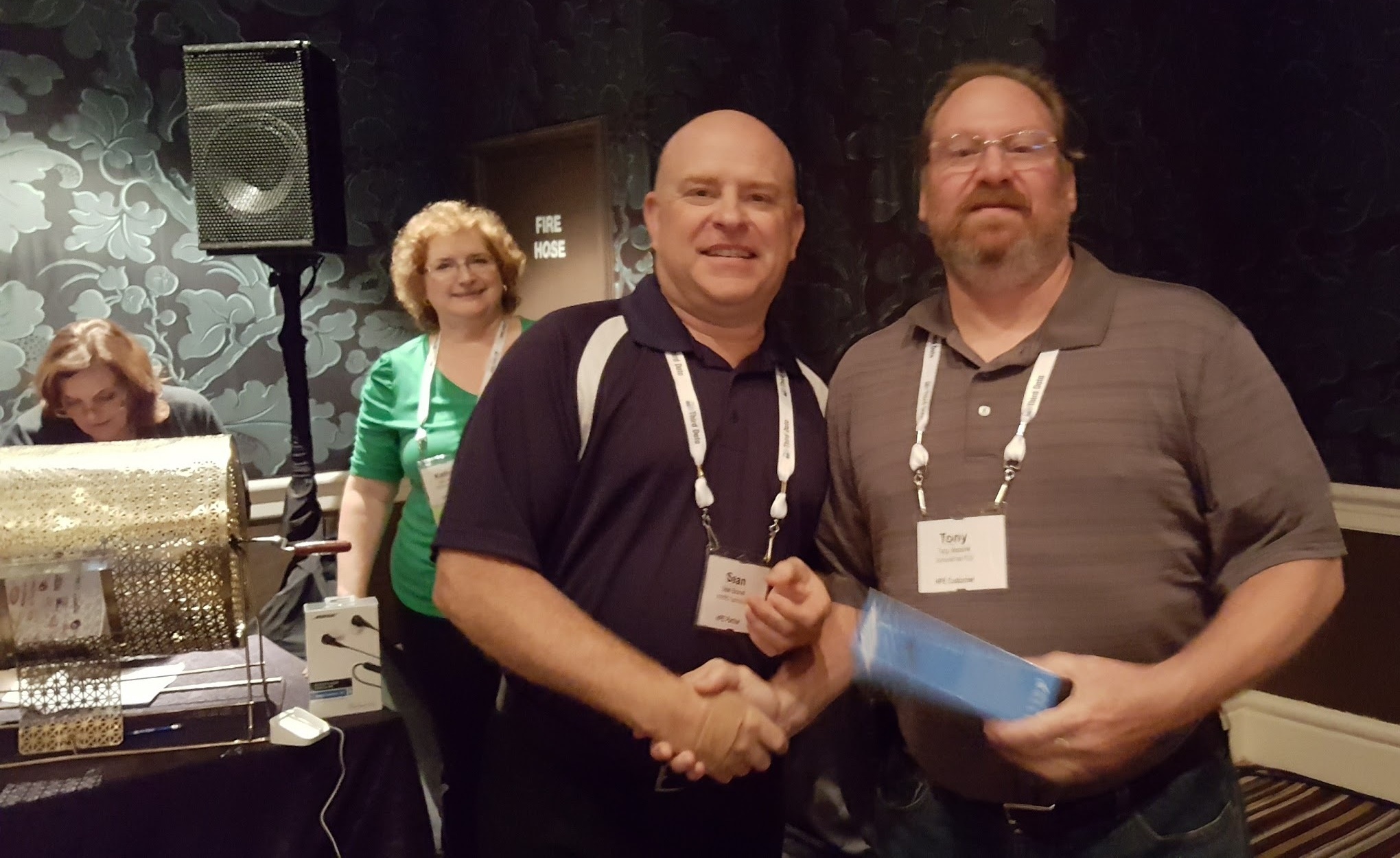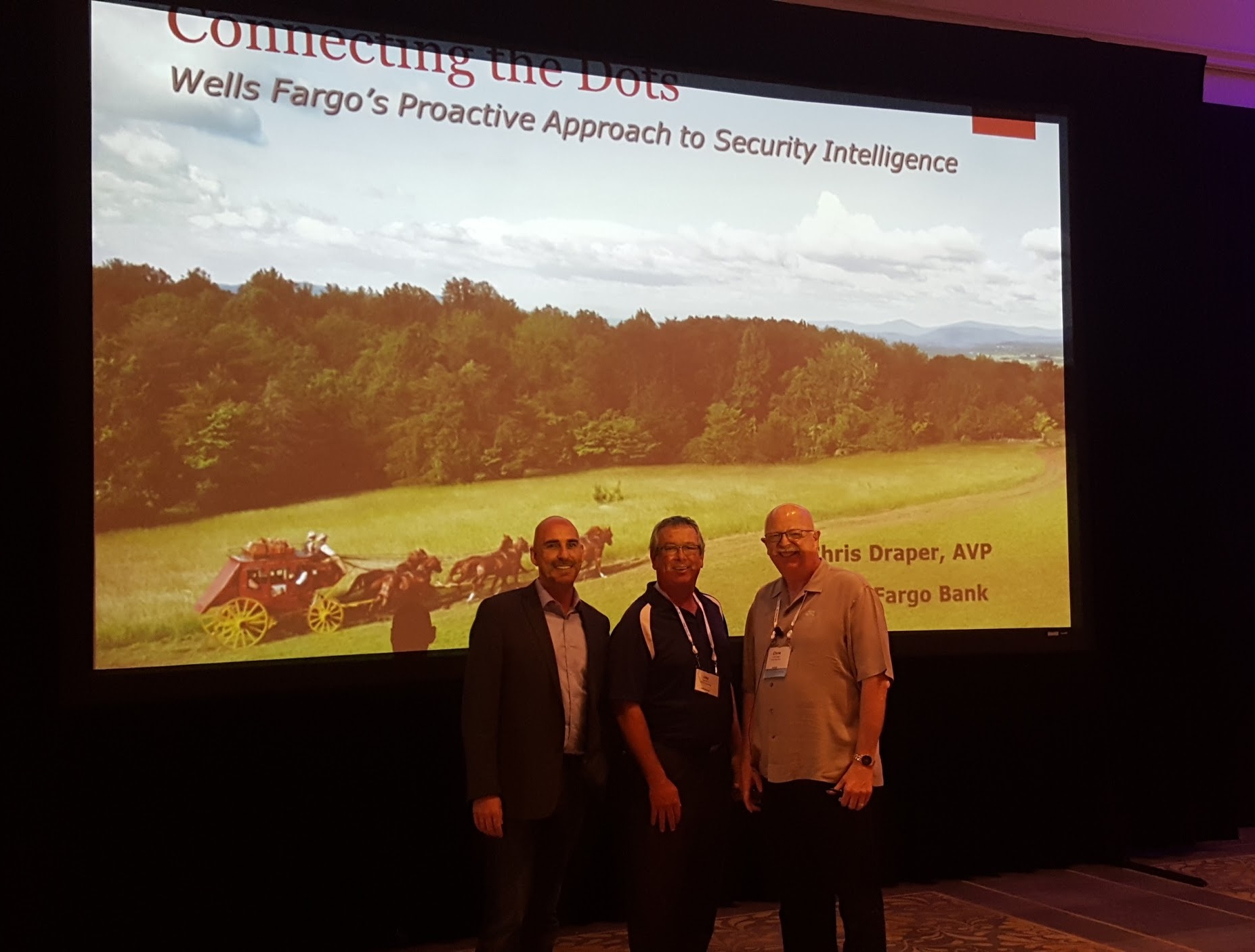 We begin 2017 with a great deal of optimism, enthusiasm and excitement. If 2016 proved anything, it's that the NonStop market continues to be viable and we will be introducing new products, new services and new people into our family. For a look back at 2016 and to follow along in 2017, I invite you to visit the XYPRO Technology Blog page: https://www.xypro.com/blog/
Lisa Partridge
CEO

---
comForte - Event Calendar
| | | | |
| --- | --- | --- | --- |
| Event | Location | Region | Date |
| DUST | Tempe, Arizona | USA | March 1 |
| SUNTUG | Tampa, Florida | USA | March 17 |
| HPE Partner Symposium | Palo Alto, USA | USA | March 22 |
| GTUG | Hannover, Germany | EMEA | April 26-27 |
| E-BITUG European NonStop Event | London, England | EMEA | May 9-10 |
| cF Asia-roadshow Jakarta | Jakarta, Indonesia | ASIA | May 16 |
| cF Asia-roadshow Bangkok | Bangkok, Thailand | ASIA | May 18 |
---
Musings on NonStop! -February, 2017
The opinions expressed here are solely
those of the now self-employed author
The past couple of weeks have simply gotten away from me as the workload ramped back up after the holiday season, a little more quickly than I had expected. On the other hand, it's good to have clients and meeting their deadlines is always a priority for Margo and me. As far ahead as we can see, including summer when I expect 2017 HPE Discover will dominate the headlines, there will be more than enough work for Pyalla Technologies, LLC, to keep us on our toes.
The event season is now well and truly on us with RUG and Industry events already under way. Having returned from the ATMIA US Conference in Orlando I was pleased to see many NonStop vendors well represented. OmniPayments, FSS, and ESQ all making their presence felt even as a number of big NonStop users were exhibiting – FIS, Pulse, and Visa among them. And here's the thing I found interesting; cash is still king, the ATM continues to have a presence (even as new ATMs don't look like ATMs of the past) and yes, virtualization and clouds were the hot topics. I think HPE with NonStop X and vNonStop, is timing the market very well …
The digital magazine NonStop Insider is a complementary digital media channel to many current media channels including Tandemworld and it's pleasing to all involved to see I gaining traction with the NonStop community. We are often asked – why another digital publication? Why focus on the NonStop marketplace? The answers are obvious as the more publications there are supporting NonStop the better chance of a CIO or Business Manager seeing something positive about NonStop that otherwise they may have missed.

By the time you read this month's Tandemworld you will have seen the Jan – Feb 2017 issue of The Connection. As busy as the event season is turning out to be, I found time to write an article that captured my own thoughts about Virtualized NonStop – turn to page 26 to read the full story, Virtual world beckons – vNonStop is the only ticket we need! This is a really big deal for the NonStop community and I fully expect vNonStop to find a home in places physical NonStop hasn't gone before – and that may lead to a sizeable expansion of the NonStop community. Watch for further updates on Virtualized NonStop as more information is forthcoming from those users and vendors now in Beta programs with this product.
If you did miss the posts and commentaries for January (and into February – as I am rescheduling the appearance of this update to later in the month) check out the following posts:

Real Time View:
Lights are shining and NonStop takes center stage!
http://itug-connection.blogspot.com/2017/01/lights-are-shining-and-nonstop-takes.html
An end to a boisterous year … ready for the fun times ahead?
http://itug-connection.blogspot.com/2017/01/an-end-to-boisterous-year-ready-for-fun.html
Transformation – let's look at how far NonStop has come!
http://itug-connection.blogspot.com/2017/01/transformation-lets-look-at-how-far.html
NonStop doesn't age; NonStop simply keeps on processing …
http://itug-connection.blogspot.com/2017/02/nonstop-doesnt-age-nonstop-simply-keeps.html
LinkedIn blog / Pulse:
https://www.linkedin.com/pulse/now-established-number-subscribers-passes-1000-richard-buckle
https://www.linkedin.com/pulse/does-nonstop-have-role-hyperconverged-computing-just-wait-buckle
https://www.linkedin.com/pulse/build-your-own-nonstop-close-you-only-ever-nearly-good-richard-buckle
NonStop Insider – issue #4 and #5 now published:
Issue #5 – February, 2017
http://www.nonstopinsider.com/editorials/February-editorial/
And if you missed it, Issue #4 – January, 2017
http://www.nonstopinsider.com/editorials/january-editorial/
ATMmarketplace:
Comfort in cash?
https://www.atmmarketplace.com/blogs/theres-comfort-in-cash/
BankingTech:
And late breaking news, for all of 2016, a post ranked 9th overall in this organizations Top 10 List:
http://www.bankingtech.com/679281/top-ten-fintech-opinion-pieces-in-2016/

Striim:
The Long Term Future of NonStop That Strikes a Chord With Striim!
http://www.striim.com/blog/2017/02/the-long-term-future-of-nonstop-that-strikes-a-chord-with-striim/
DataExpress:
And a post that proved interesting for many NonStop users -
WOULD YOU LIKE TO SEE DATAEXPRESS PROVIDED AS AN INFRASTRUCTURE AS A SERVICE (IAAS)?
https://dataexpress.com/2017/01/27/like-see-dataexpress-provided-infrastructure-service-iaas/
TCM Solutions:
An end to a boisterous year … ready for the fun times ahead?
https://www.linkedin.com/groups/8546566/8546566-6226438898789216257
It's Business Solutions driving NonStop sales - not simply because it's the best platform
https://www.linkedin.com/groups/8546566/8546566-6235384260400947201
Buckle-Up-Travel:
And, of course, there are many of you who continue to follow the "interests" of Pyalla Technology as they are reported to Buckle-Up -
http://buckle-up-travel.blogspot.com/2017/01/retreat-repair-rebuild-restore.html
http://buckle-up-travel.blogspot.com/2017/02/winter-sunshine-we-almost-forgot-where.html
Cheers,
Richard Buckle
Founder and CEO
Pyalla Technologies, LLC


Email: richard@pyalla-technologies.com
Mobile: +1.720.289.5372
---
XYPRO looks forward to seeing you at the upcoming shows!
Dust – March 2017 March 1, 2017
SunTUG – 2017 March 17, 2017 Tampa, FL 33607
HPE Partner Conference March 21, 2017 - March 23, 2017
GTUG – 2017 April 26, 2017 April 27, 2017
EBITUG – 2017 May 9, 2017 May 10, 2017, London
ACI User Group Exchange – 2017 June 26, 2017 June 29, 2017, Phoenix, Arizona, U.S
NonStop Technical Boot Camp – 2017 November 13, 2017 November 15, 2017, San Jose, Ca.
---
Find out more about us at
www.tandemworld.net
---