Contents
comForte becomes comForte 21
BRIGHTSTRAND NONSTOP SERVICES
Consorzio Triveneto Deploys SecurTape from comForte to Meet PCI Requirements
Function Points Analysis at no additional cost
NonStop Software Check with 30 days trial period
PCI DSS Compliance for HP NonStop Servers – Update for PCI DSS v2.0
C support
Replicate ACI BASE24 transaction data
Shorter time to market for changes in software, lower cost.
Availability Digest Examines Medical Center's Multiday Outage
NSWi
Win an iPad!
TANDsoft and Gravic Finalize Distributorship Agreement for FileSync
Ross Systems International - Replay
System Forecast:
NonStop - A Running Commentary - February, '11
Improve Security with
User Access Control and Audit
Extend your HP NonStop S-Series life !!
User Groups
Tandemworld eNewsletter on LinkedIN
Employment
Current Subscribers 12,639
---
comForte becomes comForte 21
comForte GmbH, a global provider of connectivity, middleware, and security solutions for the HP NonStop platform, today announced the formation of comForte21 GmbH based in Wiesbaden, Germany.
comForte21 GmbH was founded by a group of shareholders who are mainly comForte GmbH employees. comForte21 GmbH will assume its business effective February 1, 2011 and will acquire all of comForte's assets, with the exception of those security software products which are part of the HP NonStop Operating System since September 1, 2010.
The entire management team and all employees will transfer to comForte 21 GmbH effective February 1, 2011 ensuring that there is no change to the trusted cooperation with its valued customers and partners.
The shareholders of comForte21 GmbH appointed Dr. Michael Rossbach (CEO), Michael Horst (Chief Architect) and Michael Weilbacher (CFO) as the directors of the company. Read the full story here.
Visit us at these upcoming events in 2011
SCTUG, Los Angeles, March 3
SATUG, Johannesburg, March 7-10
SUNTUG, Florida, March 11-12
EBUG, Berlin, April 12-15
BITUG Modernization SIG, London, May 11
GTUG, Boeblingen, May 11-12
NonStop Security Customer Council, HongKong, April 27- 29
ACE, San Diego, June 5-8
Discover, Las Vegas, June 6-10
VNUG, Stockholm, Sept 5-7, 2011
CTUG, Toronto, October
GTUG, Germany, Nov
http://comfortelounge.blogspot.com/
http://www.linkedin.com/groups?mostPopular=&gid=3129511
<![if !vml]>
<![endif]> <![if !vml]>
<![endif]>
---
BRIGHTSTRAND NONSTOP SERVICES
BrightStrand International employs the largest critical mass of HP NonStop specialists in the UK today. All our consultants typically have between 15 and 25 years of HP NonStop experience. BrightStrand is the only HP Business Partner accredited to sell the HP NonStop range of servers in the UK. This provides a high level of knowledge and ensures that BrightStrand is the premier NonStop services provider in the UK and has the capability to deliver tailored services which provide lower cost, reduced risk, higher availability and increased efficiencies.
BrightStrand International's service portfolio covers the full service lifecycle from initial design through to service operation and continual service improvement thereafter. The services include:
· Systems and Operations Management
· Performance and Tuning / Capacity Planning
· Automation
· Systems Design
· Solutions Architecture
· Database Design and Administration
· Communications Subsystems
· Web Services
· Security Reviews
· IBM WebSphere MQ Series environments.
· NonStop Integrity and Blade Migrations
· System Healthchecks (Pre or Post-Migration)
· Specialist Consultancy
· Disaster Recovery and Service Continuity Planning
All, or some of these elements can be brought together in a Fully Managed Service that can be tailored to the particular needs of the customer – including remote bridging, system hosting, 24/7 Systems and Operations support, Applications Management and Converged Infrastructure, adding further value to the BrightStrand quality services.
Call Dave Stewart today on +44 (0)7831 775115 or Email Dave for more information.
---
Consorzio Triveneto Deploys SecurTape from comForte to Meet PCI Requirements
Every hour, every day, merchants rely on Consorzio Triveneto S.p.A., a leading e-payment service provider.
These customers count on Consorzio Triveneto, not only to deliver reliable, convenient payment services, but to safeguard the vitally sensitive payment data that customers submit.
To strengthen the security of sensitive data on backup tapes, while minimizing the administrative effort required, Consorzio Triveneto turned to SecurTape from comForte. Read the full story here.
Visit us at these upcoming events in 2011
SCTUG, Los Angeles, March 3
SATUG, Johannesburg, March 7-10
SUNTUG, Florida, March 11-12
EBUG, Berlin, April 12-15
BITUG Modernization SIG, London, May 11
GTUG, Boeblingen, May 11-12
NonStop Security Customer Council, HongKong, April 27- 29
ACE, San Diego, June 5-8
Discover, Las Vegas, June 6-10
VNUG, Stockholm, Sept 5-7, 2011
CTUG, Toronto, October
GTUG, Germany, Nov
http://comfortelounge.blogspot.com/
http://www.linkedin.com/groups?mostPopular=&gid=3129511
<![if !vml]>
<![endif]> <![if !vml]>
<![endif]>
---
Function Points Analysis at no additional cost
The common use of Function Point methodology is estimating the complexity of a new application or program during the design phase. The factor the designer is using is influencing the result. It's just a guessing and can be right or wrong.
While scanning the sources with ITP-PANORAMA, all statements are split to their details. Then, the value of Function Points are computed and stored in the statement. This is reliable, because it cannot be influenced by the designer.
These values are used:
• Read = 0.28
• Write = 0.56
• Control = 1.00
This is an example:
• MOVE 0 to A = 0,56 (1 write)
• MOVE A to B = 0,84 (1 read = 0.28, 1 write = 0.56)
• IF A = 0 = 1.00 (1 Control)
Function Points are shown with each selection, search or analysis. The result is showing the real complexity of the software. So, before changing, re-writing or migration an application or program the Function Point Value gives over time a reliable figure to judge the effort.
Implementing Function Point Analysis in an It shop is a significant investment so far. With ITP-PANORAMA Function Points are available at no extra cost.
It only takes one day to install ITP-PANORAMA, scan your sources and train your developers.
For more information go on www.itp-panorama.com or
Call Juergen at US +1 941 475-2883 Europe +49 89 6691-9067
---
NonStop Software Check with 30 days trial period
Why performing a Software Check?
Applications have grown in number and size. There are very few IT shops that can state to have 100% knowledge of what is going on in their complex software system.
Legacy Modernization needs a solid understanding of the running system.
• Integration of systems after a merger
• Migration to more modern hardware
• Replacing individual written software by packages
• Finding and deleting dead code
• Detection missed links and other errors
Repository of ITP-PANORAMA is:
• An online, real-time, daily updated, technical documentation of your entire software.
The Software Check will show you:
• The current state of your software
• The software architecture, as it is
• Graphical call hierarchy of applications
• Procedure calls within programs
• All relationships and dependencies
• Erroneous (Incompilable) code
• Missing modules
• Potentially unused (dead) programs
• Programming practices you better avoid
You will gain from the Software Check:
• A deeper understanding of your IT system
• Correction of detected errors
• One month of experience in finding any detail of the software in less then a Second with all its relationships.
ITP-PANORAMA covers all common languages (legacy and modern) all operating systems and all databases.
Comment of a NonStop user after the trial was over:
"After completing a 30-day trial of ITP-Panorama, we had to revert back to the old, slower ways of performing impact analysis (Oh, the pain!).
It was like giving someone a Ferrari for 30-days and then asking them to settle for a scooter from now on.
I cannot imagine we have ever had so much success with a trial copy of software.
We're starting the purchase process right away."
Bob C., IT Solutions Architecture
It only takes one day to install ITP-PANORAMA, scan your sources and train your developers.
For more information go on www.itp-panorama.com or
Call Juergen at US +1 941 475-2883 Europe +49 89 6691-9067
---
PCI DSS Compliance for HP NonStop Servers – Update for PCI DSS v2.0
With more than 1,000 downloads from all around the world, the initial release of the PCI DSS Compliance for HP NonStop Servers technical whitepaper has been widely acclaimed as the definitive resource for any organization trying to achieve PCI compliance on the HP NonStop platform.
Knightcraft Technology* and Witham Laboratories* are currently working on a new version of the whitepaper to take in changes for PCI DSS version 2.0. The update to the QA Scoring Matrix (a document released only to QSAs detailing what information needs to be gathered when performing a PCI DSS assessment) has not yet been finalized by the PCI Security Standards Council and so, has not yet been provided to QSAs for PCI DSS 2.0. As our whitepaper specifically addresses what is required by a QSA during a PCI DSS assessment, we will hold off on releasing the new version of the whitepaper until the new QSA matrix has been published. In the meantime, we seek your feedback and suggestions for inclusion in the new updated document.
The PCI DSS Compliance for HP NonStop Servers technical whitepaper can be downloaded free from the Knightcraft Technology website (www.knightcraft.com). If you subscribe on the site (also free) you will receive notification when the new version of the whitepaper has been released and you will be able to provide feedback for inclusion in future releases of the document.
* Witham Laboratories (www.withamlabs.com) is a PCI Qualified Security Assessor (QSA), a PCI Payment Application – Qualified Security Assessor (PA-QSA) and one of the eight accredited PCI PIN Transaction Security Laboratories (PCI PTS) in the world.
* Knightcraft Technology (www.knightcraft.com) is a leader in security consultancy services for the HP NonStop Server platform and is the Asia-Pacific distributor of the XYGATE® suite of security and compliance products and also of PANfinder PAN detection software ™ to assist with PCI compliance.
---
C support

Making program changes with Tedit is a boring job
You only see a small part of the functionality and the use of the function keys is very archaic.
Changeover to Eclipse.
The CommitWork Developer Suite now supports
Cobol85, NMCobol, Screencobol, Tal, Ptal, C
To make programming more comfortable Eclipse offers you:
historical comparsion
Additional our CDS offers you:
Syntaxhighlighting
Marking of compiler errors in the source
Outlineview (shows the procedure names and sections in a separate view)
Integrated Peruse(Spooler)
DDL-Browser
SQL-Statement generator
Comment toggle
Library-Browser
Utilization of your existing compile macros
Additional Macro funktion
using Includes (only for C)
System requirements:
You only need the compiler on the NonStop Server. No additional cross compiler is needed.
So you can create code 100, code 700 or code 800 objects.
If you want to changeover to Eclipse, just go here and ask for a 30 day evaluation:
http://www.commitwork.com/en/products/commitwork-developer-suite.html
For any further Information please visit us at http://www.commitwork.com/
Contact: Hans-Fried Kirschbaum

+49 231 94116910
---
Replicate ACI BASE24 transaction data
There are several good tools to replicate NonStop data. They are comprehensive solutions, supporting the replication of (almost) every type of data, to several destinations. At the same time they may be quite complex, sometimes offering rich functionality that is only partly used in a certain installation.
If you happen to need only a BASE24 transaction log file replication, you have one more option: the "LF COPY" software. It focuses on the PTLF/TLF replication and offers a quite simple solution regarding the installation and operation. The hardware resource requirements are also notable low.
It has a great open interface that makes it possible to handle any destination database management system you can access from the Microsoft Windows environment. The replicator engine, after reading from the NonStop PTLF/TLF, "pass over" the data to the plugin and the data transfer into the destination database is managed by this plugin.
The plugin interface is quite simple, the source is provided for the existing plugins, they can be easily tailored, or grand new plugins can be created. The DBMS does not have to reside on a Windows platform, it only have to be accessible from the Windows based plugin module.
The NonStop to NonStop replication is also supported.
Currently the following destinations are supported through the Windows plugin system:
- Microsoft Sql Server
- The SAS system
The SAS system destination can be useful if one would like to use the SAS System's Fraud Prevention and Detection solution.
There is also a plugin for txt file destination for demonstration purposes.
The Replicator engine uses the same software components on the NonStop server as Stefi does.
Stefi is a Windows based Graphical User Interface frontend to NonStop Enscribe files and Sql/Mp tables to browse and edit them. It provides a new level to access Enscribe files and also acts as a great Windows client for Sql/Mp tables. It also has an extra support for BASE24 files, making it ideal for BASE24 developers, testers and operators.
More information:
http://www.audit-profit.hu/
---
Shorter time to market for changes in software, lower cost.
Ageing applications are a burden for most financial institutions, particularly if developers that wrote the software are no longer with the company or are about to retire. Documentation is often either poor or not up to date. The code is the only reliable source for the support of business processes.
Investment in application modernization is usually high and usually takes years to gain a decent ROI.
If you jump over the "to good to be true" barrier, you can have technical documentation for applications in a day or two. After four hours of training, developers will save 90% of their analysis time, which will cut maintenance time and cost by a third or even more. References of large financial institutes and industry leaders prove that we keep our promises.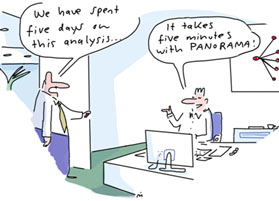 After only a couple of days, your team will experience, that even old applications, can be made transparent, easy to understand, easy to change or to modernize. We guarantee this for an unlimited amount of code, all common languages, operating systems and databases.
Efficiency of your developers will increase immediately. This will save jobs in the US. Before you explain to someone abroad how to make changes in complex applications, you have done it already.
So, please contact us to make modernization and maintenance more efficient and less expensive.
---
Availability Digest Examines Medical Center's Multiday Outage
A recent system crash disabled for days a major academic medical center's IT services, causing $ millions in lost revenue. Financial records, patient medical records, clinical laboratory test ordering and reporting, imaging ordering and reporting, and pharmacy systems were all down. All elective procedures were cancelled, and ambulance traffic was diverted to other hospitals. It turns out that system changes made during an abandoned upgrade two years prior were never backed out, and no one knew. Later, when a hardware failure required server reboots, the reboots failed and crashed the entire data center. The Availability Digest conducts a postmortem review on the issues that contributed to this "Never Again" type of outage.
Other topics in February's Digest include:
Fire Suppressant's Impact on Hard Disks – a recent article on disk failures at web-hosting provider WestHost's data center led to this follow-up article on fire suppression. WestHost suffered the failures during the annual test of its fire-suppression system when a maintenance error triggered the discharge of a large blast of Inergen gas. It turns out that what damaged the disks was not the gas but the ear-splitting fire alarms that accompanied the discharge.
Data Deduplication – Marketed as a technology that can reduce disk storage-capacity requirements and replication bandwidth requirements by a factor of 20:1, data deduplication possesses obvious strengths but is not a cure-all for every data-storage need. Read this "Best Practices" article to learn more about what data deduplication is, what it can do, and what it was never designed to accomplish.
Remembering Ken Olsen – the Editor's Message offers a brief insight into an upcoming Digest article about the late Ken Olsen. Ken was Digest Editor Bill Highleyman's supervisor when during his graduate studies at MIT, Bill worked as a research assistant at MIT's Lincoln Laboratory. Ken later left Lincoln Labs to found his own company, Digital Equipment Corporation.
Published monthly, the Digest is free and lives at
www.availabilitydigest.com
. Please visit our
Continuous Availability Forum
on LinkedIn. We're at 219 members and counting.
---
NSWi
Are you a European NonStop User?
Do you require a Full Time / Part Time Resource boost to Cover New Projects, Maternity / Paternity leave etc.?
Do you have NonStop Customers based in EMEA that require Local Support of Hardware and Software?
Nonstop World International (NSWi) can help.
We are currently providing Local Support to Vendors outside of the EMEA region for their NonStop Customers based in EMEA.
Contact us to see how we can assist you with highly skilled NonStop professionals, whether Long Term or Part Time on a 24*7 basis.
Launching Shortly
www.nonstopworldinternational.com
---
Win an iPad!
At XYPRO, we are committed to not only improving our existing product line but also paying close attention to our customers' requests.
We've always enjoyed an open communication with our customers and the market and in 2011 we plan even more dedication to that cause.
One of the ways we're doing that is through our Quarterly Surveys.
They're short (5 questions) and painless. But what's in it for you?
Well, besides helping us to continue providing you with the best HP NonStop security, auditing, Fips-validated encryption and compliance products on the market, you get a chance to win a shiny new iPad.
And unlike your odds for appearing on X Factor or American Idol, you have a great chance to win! Give us your feedback at www.xypro.com/survey.
Hurry, drawing for the first quarter iPad winner is on March 9th
---
TANDsoft and Gravic Finalize Distributorship Agreement for FileSync
TANDsoft, Inc., is pleased to announce that Gravic, Inc., will now serve as a global distributor of FileSync™, TANDsoft's popular file replication and synchronization product. FileSync automatically monitors, replicates and synchronizes source files, program environments, application environments, configuration files, programs – anything non-database that needs to be kept current across the network. Use FileSync for disaster recovery, system migrations, upgrades, and backups.

Gravic is an international leader in innovative data collection, transformation, and distribution solutions. Gravic's Shadowbase® family of database replication solutions provides business continuity and disaster recovery, real-time business intelligence, compliance reporting, data synchronization, active/active processing, and zero downtime migrations and upgrades. Use Shadowbase and FileSync together to replicate all data changes to a target system.

FileSync's feature-rich offerings include:

- Enables synchronization of operating environments with same node name (e.g., /prod to /prod) for system upgrades.

- FileSync's unique filtering capability utilizes qualified fileset lists to define files to be synchronized. The fewest commands possible are used.

- Can be operated in History/Report mode to obtain a complete list of synchronized files or in Verify/Report mode for a list of out-of-sync files or files designated for purging.

- Supports a wide variety of file types, including all Enscribe files, all OSS files, and NonStop SQL/MP tables.

- Synchronization can be scheduled or automatic. Your choice.

- Supports Expand and TCP/IP.

- FileSync Audit replicates only Enscribe file modifications, not entire Enscribe files, in order to efficiently synchronize all files across the network.

TANDsoft products require minimal or no application modifications and are available for all HP NonStop servers.

TANDsoft's "best of breed, best in price" philosophy offers highly competitive value for all TANDsoft solutions.
They include the OPTA2000 virtual clock and time-zone simulator, the Enscribe-2-SQL and TMF-Audit Toolkits, and Command Stream Replicator, which automatically replicates DDL structure and other environment changes to target systems – changes and settings that normally are not replicated because they sit outside the TMF Audit Trail.
Visit www.tandsoft.com, or call us at +1 (514) 695-2234.
Visit Gravic at www.gravic.com, or call them at +1 (610) 647-6250.
---
Ross Systems International - Replay
As a result of the problems which have been encountered in demonstrating any NonStop products, owing to the difficulties encountered in to setting up demonstration systems on any temporary site, i.e. establishing on demand communications with NonStop systems, Ross Systems International have developed a the Tandem Replay Product for demonstration purposes.
Replay is a simple interactive replay program which gives the impression of a NonStop session. It has two modes
1. Input mode,
In this mode the replay file was displayed character by character on the screen and to give realism and to go over what had previously been output, Page Up and Down provide paging.
2. Display mode
Here the replay file was simply displayed o the screen without interaction.
The program naturally terminates on the end of the input file or receiving an EOF (Ctrl C) from the keyboard.
The initial version of Tandem runs under MS-DOS on a 24 bit screen, which means that it is useable up to Windows XP. It has a 1000 line paging buffer, which is about right for any demonstration purpose.
To create a replay file:
a) The Input file is captured from the session
b) Stripped of all special characters and
c) STX (0x1) Inserted after prompts when input mode is required and
d) ETX (0x3) Inserted after the input stream has completed, immediately before the response to be output.
The Operations Management and Systems Management SIG at 88 Wood Street in London SIG on the 16th February 2011 which was kindly hosted by HP and ably managed by Ian Liston-Brown from HP and Neil Barnes and Matt Whiteman from BITUG provided an ideal venue to launch Replay which was used at to demonstrate the changes which had been made in FINFO last year.
If you would like to look at this demonstration again please download the replay and the capture file, start a command prompt screen and enter
REPLAY BITUGFEB.TXT
You can then step through the demonstration by pressing any key, using Page Up and Page Down keys for paging through the displayed text. You can exit at any time by pressing Ctrl C. The capture program will work until 31st March 2011 and you can also use it to replay your own captured files, annotated as described above.
In conclusion this is good but it will get better with the SPI interface(s), round trip engineering and the GUI interface to go. Life is getting exciting!
We are also looking for distributors and resellers of our products and are also interested in any parties who would like to become partners with a view to using our products as part of their offerings. Please use the contacts below for further information or to make contact.
Email: Rupert Stanley, rupert@rsi-ns.com
Telephone: +44-1206-392923
Web: http://www.rsi-ns.com/.
---
System Forecast:
The Next Four Months
Based On the Last 24 Months
System Available: 100%
Hardware Status: OK
Application Service Levels: D**
OS Tuning Parameters: OK
System CPU Capacity: A
Processor Balance: B**
Available Memory: B
Paging/Swaps: A
Paging/Swap Space: C**
Disk Busy: A
Disk Cache: B
Disk Balance: B
Disk Space: C**
Legacy Communications: C**
Ethernet Capacity: A
Network Response: B**
A - Adequate
B - Basically adequate
C - Cause for concern
D - Deficient - should be fixed
F - Failure - caused a problem or outage
** - A Recommendation or Incident Report is associated with this category
Bringing Clarity To Performance And Capacity:
The report card above is the top level of a Ban Bottlenecks report. It is the beginning of a process which answers the question: "Is my system ready for the business that's coming?" Each grade and link above is the starting point of a discussion with our performance experts.
Ban Bottlenecks®:
Dedicated NonStop performance and capacity experts.
1440x730 coverage (every minute, every day, with a 2-year historical perspective).
Implementing effective, disciplined, proactive capacity management programs.
Meet Us At DUST and NENUG!
1.415.256.8369
---
NonStop - A Running Commentary
February, '11
The opinions expressed here are solely
those of the now self-employed author
Following my blogs? Check out:
Real Time View at http://www.itug-connection.blogspot.com/
…. And check out the Group on LinkedIn, Real Time View
comForte Lounge at http://comfortelounge.blogspot.com/
…. And check out the Group on LinkedIn, comForte Lounge
Buckle-Up at http://www.buckle-up-travel.blogspot.com/
…. And check out the SubGroup on LinkedIn, Pyalla Track Days
Last month I made a brief reference to the HP strategy update to be given by the company's new CEO, Leo Apotheker. There's a lot of anticipation over what it will address and while I suggested in my last article that it was too early to speculate, some early indications have already surface.
The HP board of directors is being restructured with new members already named, and the first new products under Apotheker's stewardship announced. Not surprisingly, leveraging the webOS, which HP gained with the purchase of Palm, a new line of tablet PCs (and shortly phones, and even a new PC all supporting webOS) - the TouchPad.

At the center of all that's being discussed preparatory to the HP strategy update (expected early in March, but on March 2nd when Apple is expected to announce updates to the iPad, is shifting the focus away from the pure hardware play – in particular, PC's and Printers. Look to more energy in support of software, services, and integration!

As I have been told by several sources this will anchor the new HP – but don't rule out Servers (including the more complex hybrid variety), Storage, and Networking continuing to play an important role, or fail to see how quickly Dave Donatelli consolidates his position at the top of the HP technology tree in the post-Ann Livermore era!

This is worth watching of course as it is being rumored that Ann Livermore will join the board (is it already a done deal?) and take up the post of Vice Chairman. It's also worth watching as this is the group where Business Critical Servers (BCS), of which NonStop is a part, resides and where the future of NonStop will be determined.

But the purpose of this article is not to dwell on this possible outcome as there will be ample opportunity to cover it more accurately in next month's update to the running commentary. What has been the focus of my attention this month has been Product Roadmaps and the upcoming SATUG user event.
In the March / April issue of The Connection, there will be published a feature article on my perspective on the topic of product roadmaps. Readers of my blog, Real Time View may recall that in the January 11, 2011 post, "Product Roadmaps! Still required?" I posed the question of whether we value product roadmaps today as highly as we once did.

I also observed how at user events, product roadmap presentations continue to draw the biggest crowd and of how it's not uncommon for us to first witness a change in direction or the embracement of a new technology, during a roadmap presentation. Perhaps a little less glamorous than what used to take place on the main stage of ITUG events of the past but still of vital importance to all users relying on the NonStop platform for support of mission critical applications.
I continue to have a lot of respect for the product managers within HP's NonStop Enterprise Division (NED) and the time they spend with NonStop customers identifying user requirements that gives them the requisite "feature boxes" which we see today sprinkled liberally throughout the product roadmaps.

Perhaps there's more that could be done to market the growing NonStop "stack" to a wider community, in particular, but still a recognizable and valuable pursuit much-appreciated by the NonStop community. Yes, we still value product roadmaps as highly as we have done in years past, but we are a little wiser and have become more selective in what we consider as being important!
To drive home the value I see in product roadmaps, I made the comparison between product roadmaps, and the road maps we take with us (whether in hardcopy or as presented by modern GPS systems) whenever we venture out on the highways and journey to places that just aren't well-known to us and where we may not be clear about the route!
Check out this feature when you get your copy of the March / April issue of The Connection. And yes, there's a connection to the presentation I have been creating for the upcoming SATUG user event to be held in a few days' time. Rather than being an official portrayal of what to expect from NED, my SATUG presentation will draw from my own observations of the past year and pull content directly from these articles.

In preparing for this presentation, and building on the earlier work referenced above, there have been two additional posts to the Real Time view where I present my case for my next three wishes for the NonStop platform. And it follows my earlier thoughts on this topic that first appeared in the October issue of this e/Newsletter, Tandemworld.Net.

These additional two posts develop the storyline include the posting of November 30, 2010 'Nothing seems to last …" followed a few months later by the posting of February 13th, 2011 "Three years on, and three more wishes!" Coming almost three years to the day of my posting of February 12, 2008 "'My Wish' for NS Blades" I took time to critique my own performance in terms of what has transpired over the past three years before assembling my new list of top three priorities for future NonStop development.

Perhaps the most important conclusion that I make from the work I have done on product roadmaps and that I will cover (in part) in my SATUG presentation is that NonStop is rapidly becoming a pure software play, that NonStop will come to mean a lot more than just a combination of hardware with the operating systems (where the NonStop "stack" will be even more widely promoted than ever before), and that other organizations within HP will begin to leverage some of the NonStop fundamentals and incorporate what we traditionally thought of as a Tandem, into the broader HP product offerings out of BCS.
The message of commoditization carries with it an end-game where NonStop will be relying on exactly the same server blades package as every other group within BCS and where it will become increasingly more difficult to figure out what's in the data center by looking at the boxes – a client recently emailed my how there's little to identify a NonStop server when it is shipped as a blade's server!
Then again, I am excited by the implications and where this could all be headed as I am excited by the opportunities this will present to solutions and infrastructure vendors alike. For now though, I will leave further discussion on this subject for a later feature and turn my attention to the slides I will take to South Africa. And to all those planning on attending, I look forward to catching up with every one of you!
Richard Buckle
Founder and CEO
Pyalla Technologies, LLC
Email:
richard@pyalla-technologies.com
LinkedIn - Real Time View user group:
http://www.linkedin.com/groups?gid=1878133&trk=hb_side_g
LinkedIn - Pyalla Technologies User Group:
http://www.linkedin.com/groups?gid=2396887&trk=hb_side_g
---
Improve Security with
User Access Control and Audit
Establishing an access control system that restricts access based on user's need-to-know, is an important PCI DSS requirement.
CSP PassPort provides enhanced security on HP NonStop™ servers by permitting a much higher degree of control over user access and activity than is possible with Safeguard. PassPort controls user access to programs and restricts the user to specific commands based upon their profile and can provide audit reporting capability down to key stroke level.
CSP PassPort can control the access of each alias differently, even for the same underlying user ID or Safeguard alias; thereby offering superior control over individual user by granting or denying access to individual subcommands or functions within a subsystem, program or application
Apart from the benefits of terminal and commands restrictions, an access matrix facility is also included, which can be used to limit access to specific days of the week or even times of the day
Key Features:
· Sophisticated security controls beyond those offered by Safeguard
· User and Group profiles can control process priority and available CPUs for any process the user or group can create
· Supports Node to Node communication
· Password quality checks that can be enforced
· Each individual person having access to the SUPER ID can have a different list of commands that are allowed / restricted. No need to know the SUPER ID password.
· Individual user accountability for shared and powerful IDs
· Commands entered from within the system utilities (e.g. SQLCI, SCF, FUP, etc.) can be controlled and Audited
· Detailed auditing of every keystroke and response sent to and from a terminal for a specific user or set of users.
Please contact Sales@cspsecurity.com for more information on these products or any questions you may have about NonStop system security.
---
Extend your HP NonStop S-Series life !!
Greatly improve your Return On Investment with S-Series New Life support Plans from TCM Solutions
TCM offers reliable, quality, and accredited support and supply of all S-Series hardware through 2017.
TCM has accredited, HP-trained NonStop Hardware Engineers, System Consultants and ITIL Service Managers.
TCM is proactive – with our comprehensive TCMAlertTM service we'll find the issue and fix it before incidents affect you.
Reduce the level of Hardware Incidents - our experience shows that utilising hot-spares standby systems reduces hardware failures in the field over traditional manufacturer cold-replacement strategies by around 20%.
TCM secures and assigns dedicated hot spare systems to all Customers – these can be held on Customer premises - this significantly reduces fix times.
You choose the level of service you require. With all levels of service, we will provide you with measurable benefits:
* Improved SLAs
* Lower Cost
* Considerable Investment savings
* Ability to sweat the asset
Save time and money with TCM's Active Service Desk - single point of call. Within 15 minutes you'll be speaking to hardware and system experts, not unskilled call-centre operatives.
TCM Solutions has been delivering Complete HP NonStop Managed Software and Hardware services to Major Financial Institutions for over 14 years.
TCM Solutions is certified to ISO9001:2008 Quality Management and itSMF ISO20000:2005 IT Service Management standards
Contact TCM Solutions today to see how we can start saving you money and help get more out of your existing investments – www.tcmsolutions.com, email info@tcmsolutions.com, call 01592 770081.
The complete solutions for S-Series and NS-Series Hardware and Software support.
---
User Groups
Information on User Group events can be found at http://www.connect-community.org
SCTUG, Los Angeles, March 3 - Email for More Info
---
SATUG, Johannesburg, March 7-10 - www.satug.org
---
SUNTUG, Florida, March 11-12 - Email for More Info
---
OTUG Meeting Agenda
Thursday, March 17, 2011

J.P. Morgan Chase
1111 Polaris Parkway
Columbus, OH 43240

08:30 – 09:00 Registration & Continental Breakfast – provided courtesy of Attunity

09:00 – 09:05 Welcome, Opening Remarks, OTUG business
Joe Florian, OTUG HP Liaison, will kick off the meeting.

09:05 – 10:00 HP Presentation – Next Generation of Multi-Core processors and CLIM's - John Sesolak.

10:00 – 10:15 Mid morning break

10:15 – 11:00 Partner Presentation – XYPRO. Kevin Boham will discuss the SafrguardPRO product for enhanced NonStop security management.

11:00 – 11:45 Partner Presentation – Attunity. Kevin Maguire will discuss Modernizing Applications using Attunity Integration Suite: strategies for harmonizing non-relational and relational data systems.
.
11:45 – 12:45 Lunch – provided courtesy of XYPRO
.
12:45 – 1:45 HP/CONNECT update – "HP Discover" what happened at NonStop Symposium, what's coming in Las Vegas plus latest product news – John Sesolak/Joe Florian/Keith Moore.

1:45 – 2:30 Partner presentation - ESQ. Darryl Porter will discuss POS/ATM Transactions Analyzer, OperationsBridge & Data Analyzer - near real-time insight to the overall POS/ATM transactions with ACI BASE24 & FIS CONNEX, network health from transactions standpoint & Business Intelligence Made Easy & Live Dashboards offer instant snapshots of key performance indicators.

2:30 – 2:45 Mid afternoon break – snacks and beverages provided courtesy of ESQ

2:45 – 3:45 HP presentation – Remote Performance Analysis- Bob Boltralik will cover the new HP NTS Services (visit www.NonStopTechnicalServices.com ) and how HP can assist in remote performance monitoring.

3:45 – 4:00 Prize drawings and closing. To include grand prize giveaway courtesy of our sponsoring partners.
http://www.connect-community.org
---
EBUG, Berlin, April 12-15 - www.ebug.net
---
BITUG Modernization SIG, London, May 11 www.bitug.com
---
GTUG, Boeblingen, May 11-12 - Email for more Info
---
Discover, Las Vegas, June 6-10
VNUG, Stockholm, Sept 5-7, 2011
CTUG, Toronto, October
GTUG, Germany, Nov
Discover, Vienna, Nov 29 - 1 Dec
---
Tandemworld & LinkedIN
Tandemworld have created a Group on LinkedIN through which you can view the latest Tandemworld eNewsletter.
We cuurently have a number of highly experienced NonStop Specialists seeking new roles within the EMEA region. Should you have a requirement for a short term specialist (Contract) or a more longer term resource (Permanent) please Contact Us to enable us to assist you swiftly.
Please view this at http://www.linkedin.com/groups?gid=2602432&trk=hb_side_g
---
Tandemworld within EMEA
+44 (0) 20 8304 7979
To place article(s) within our future eNewsletters please Email us.
For Future Sponsorship opportunities please Email us.
---
For More on Employment in EMEA Go Here
For More on Positions in the Americas Go Here (to advertise your positions here please contact us)
For More on Positions in AsiaPac Go Here (to advertise your positions here please contact us)
---
Looking for a Solution or an answer to a particular problem ASK Tandemworld. We will contact the vendors for you and find a suitable solution that meets for current and future needs.
---