Disasters Happen, Will You be Ready?
At the last minute the Level 4 hurricane veers to the west and misses the bank service bureau's main data center.
After the shock of the near-miss wears off, management dictates that it must support its customer banks around the clock with no interruption whatsoever in service, be it from disaster, system failure, operator error, nor scheduled downtime.
To find out how the bank achieved this goal, click here for the rest of the Active/Active whitepaper covering the Shadowbase® technology for active/active database replication solutions available from Gravic, Inc., Malvern, Pennsylvania, USA
Gravic, Inc
+1.610.647.6250
---
Seamless Guardian / OSS Operation
CAIL News Update:
As the NonStop platform evolves, there is an increasing need to support both Guardian and OSS environments seamlessly. Because of this, there is a requirement to communicate with both operating systems in their native mode – 6530 for Guardian and Vtxxx for OSS.
New CAIL Suite has been enhanced to support having both 6530 and VT communications within the same executable on the PC. Therefore it is now simple to define a new command to switch between modes. In conjunction with providing seamless 6530 / VT communications, CAIL includes an executable that resides on the NonStop. This enables you to switch to VT mode, do what is needed in OSS, and then exit to return to 6530 mode.
For more information please contact CAIL at 1-800-668-5769 or 905-940-9000 or send a message to info@cail.com.
---
Ross Systems International
Ross Systems International supplies Tandem based systems programming, testing and operations support products and services.
They have a proven track record in developing solutions, using NonStop(tm) Communications and Security Know How (Smart Card & Host Security Modules) to some very well known names in the Financial Services, Manufacturing and Telco Industries and have built their reputation on supplying their clients with the right solutions, on time and in budget.
Their chief strength, in supplying their project services - consultancy, management, implementation and maintenance on a time and materials or fixed price basis, is their use of industry accepted standards of quality assurance, reporting and documentation as well as their excellent development and test products including TELOS, RSI TEST, HSSPOOL and HSEMM.
Their responsiveness to their customers and their ability to find practical and effective solutions to some of the most difficult problems experienced on the NonStop(tm) platform is encapsulated in their saying - "Intelligent Technical Innovation".
They have been long term partners of the suppliers of the Tandem platform since 1989 and are currently Hewlett-Packard DSPP partners. They are also active members of BITUG and and have good relationships with the major HSM suppliers (Atalla, Thales, nCipher and Banksys).
More information about this company can be found on their web site: www.rsi-ns.com
or Email info@rsi-ns.com
---
EBUG 2006: Insider Technologies launches "RTLX REACTOR", the missing part of your BASE24 architecture!
Insider Technologies are proud to announce at EBUG 2006, Lisbon a major new development for the BASE24 community.
Your BASE24 TLF, PTLF, Journal and other transaction logs contain your most valuable Business information, yet reacting to this data in real-time is not always possible, due to the performance implications it may have on your BASE24 system.
Insider's new RTLX product is a whole new extension to the BASE24 engine, containing a uniquely fast method of streaming data off your BASE24 host onto a dedicated Reaction Server, running Microsoft Windows SQL Server.
Based on Insider's proven and successful SENTRA architecture, RTLX lets you probe and analyse the real-time flow of your business data by setting Rules and Triggers via point and click techniques.
Alerts can be activated for any rule combination, e.g. "Alert me if an account has activated multiple transactions within a short time-period"; "Show me the next time any cards within this range are used in this / these locations". Rules are processed against data on arrival, ensuring ultra-high performance of the data-driven environment and removing overheads from your BASE24 host.
Various reporting tools are supplied with RTLX, including drill-down graphical output and a dynamic Management Information reporting subsystem. Service Rules are also provided which trigger visual, SMS, Pager, or e-mail alerts, incorporating certified support for major Enterprise Management regimes.
Come along and visit Insider Technologies at Booth 18 for further information and product demonstrations. 'Flash' demonstrations of RTLX can also be viewed and copies provided on CD-ROM for you to take away and analyse at your leisure.
As well as discussing RTLX with Insider representatives at Booth 18, why not also attend the following sessions, where we will gladly provide further details of our exciting new product:
Welcome Reception, with 'Port Tasting' hosted by Insider Technologies: 19:00 - 21:00, Tuesday, 25/04
Technical Track - "Real-Time Monitoring Tools": 10:30 - 11:15, Thursday, 27/04
Vendor Session with Insider Technologies: 12:00 - 12:30, Thursday, 27/04
If you are unable to attend EBUG 2006, then please visit our website to obtain the following product documentation, or to request copies of the 'Flash' demonstrations:
White Paper
Datasheet
Insider's RTLX product link: http://www.insidertech.co.uk/html/messaging_rtlx.html
EBUG Conference link: http://www.ebug.net/lsb2006/lsb_main.php
Insider Technologies Limited, Spinnaker Court, Chandlers Point, 37 Broadway, Salford Quays, Manchester, M50 2YR, United Kingdom. Tel: +44 (0) 161 876 6606.
www.insidertech.co.uk
Quality Certified to ISO9001 / 2000 (DNV). All Trademarks acknowledged.
---
Enhanced tool from GreenHouse: SECINFO

When doing a security review I always ask the customer, to allow me a logon as e.g. NULL.NULL (= a user, that does not have any extra access rights) to the system – and to perform a: FUP PURGE $*.*.* …

Nobody lets me do this – for good reasons: Because nobody really has a system, where all security attributes are set OK!
What I try to make the customer aware of is, that a purge like the one described above may cause a massive system problem when executed - and that it is possible by any interactive system user! I do not think it will be done by intention (I would …), but by error!

One of my FreeWare products named SecInfo allows generating a list of all disk file access rights, a given user has on a given set of files. This tool answers questions from the auditors like: Who is allowed to access which file, and why.

SecInfo became enhanced with the key word PURGE: It causes SECINFO to display only those disk file, a given user is allowed to purge.
Give it a try and you immediately see, where your system has weak security settings!

The command is: [run] SECINFO $*.*.*,PURGE

The tool can be down loaded for free from: http://www.greenhouse.de/program.php?tool=freeware&id=97
Have a good day, and kind regards for Happy Easter holidays,
Carl Weber
GreenHouse Software & Consulting
www.GreenHouse.de
Phone +49 2363 72566
FAX +49 2363 66106
Mobile +49 172 23 18248
---
Quality System Associates, Inc. (QSA), is proud to announce the official release of Q/RESTORE.
Q/RESTORE is a RESTORE ACCELERATOR that provides fast access to BACKUP tape data used in conjunction with the HP NonStop RESTORE product. Q/RESTORE acts as a tape server that positions the tape to the location containing the requested fileset(s) and then feeds the data from the tape to a RESTORE process.
You HAVE restore time issues if you currently run restores that require the restoration of specific fileset(s) from backup media. Depending upon the size of the backup, Q/RESTORE can improve restore times by up to 85% (tests and associated results available upon request).
Accelerated restore data location for multi-volume backups

Accelerated restore data location for high capacity media

Compatible with all NonStop drive peripherals, silos, etc.

Stand-alone version & QTOS component version

Specifically designed for high capacity media where "scanning" for restore data my take hours.
Data extraction/transmission rates should not be confused with data location rates. Until now, the lengthy data location process has been the bane of restore operations. Q/RESTORE provides the acceleration of location by starting at the requested data as opposed to "scanning" to it.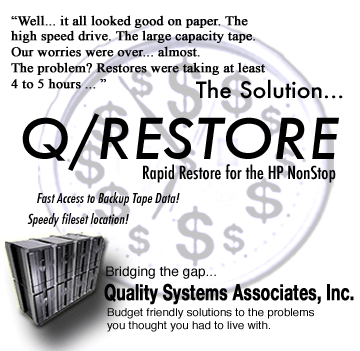 Contact:
Robert Mahoney
Quality Systems Associates, Inc.
267.261.8959
---
ETI-NET Ships EZX-BackBox

(R) 1.60

New features incorporated in Version v1.60 of ETI-NET's

EZX-BackBox(tm) extend functionality and availability, responding to customer input. EZX-BackBox provides a powerful virtual tape robot solution for all HP NonStop servers and allows NonStop systems to use existing corporate storage environments and physical tape resources.

With EZX-BackBox 1.60, ETI-NET continues to expand interoperability, fault tolerance, security and seamless integration within our EZX product family.

Key new features include:

I

ntegration with the EZX-Gateway(R) Now both EZX-BackBox and the EZX-Gateway high-performance cross-platform file-transfer/file-sharing products can share the same hardware platform and connection to the NSK system, resulting in significant cost/performance benefits when both products are combined.

Automatic release of virtual tape storage allocated to expired volumes When volumes are expired by DSM/TC or TMF their storage as virtual tapes on disk or in Veritas, Legato, TSM or other "Enterprise Backups" can be released and storage space reclaimed.

Improved fault tolerance and automation of error recovery The capability for remote disaster recovery sites has always been a standard feature of EZX-BackBox. With this release, operation of recovery in single as well as in multi-site configurations is simplified.

Support for NonStop Integrity systems and Fibre Channel attachment

Ability to write and read IBM labeled tapes

Improved Data Store integrity checking and security

Improved routing of multi-system EMS messages

Protection against missed tape mount requests

These enhancements help NonStop users to meet the increasingly stringent security and availability requirements of today's IT environments.

For more information, contact ETI-NET at

information@etinet.com.
---
SafeWatch(TM) Security Violations Tracking Made Simple
Established security policies and regulatory standards make security compliance management and reporting of security events a never-ending battle. SafeWatch(TM) is a security compliance innovation that reduces the cost of security compliance management and reporting through automation.
SafeWatch(TM) also reduces potential issues by quickly identifying security violations which may require further analysis.

TCM Solutions' SafeWatch(TM) application, was designed to meet the needs of customers who require security audit reporting for HP NonStop(TM) server environments whilst offering flexibility and ease of use for staff with little or no HP NonStop(TM) experience.

SafeWatch(TM) determines which information sources would best help you focus on the vulnerabilities that could affect your HP NonStop(TM) systems and applications. SafeWatch(TM) also evaluates the actual risk to your organisation's HP NonStop(TM) security and produces standard and custom reports which translate complex audit data into a readable format for use by both technical and non-technical staff.

Security audit reporting for HP NonStop(TM) Servers can be performed by two distinct methods:

By making use of HP's legacy reporting language, SafeArt. This method requires an in-depth knowledge of HP's Safeguard product and also produces a large amount of output, which then requires interpretation.

Alternatively, making use of a small-footprint GUI client, which runs on a PC under Windows to manipulate the raw data and present the analyzed data in a format that can be understood by anyone with a general knowledge of Security, and not specifically HP NonStop(TM) security.

Many of the client-based reporting tools available today can be daunting to support staff as they offer a range of options that would require a full understanding of HP's Safeguard product to be of any value. SafeWatch(TM) is a new product that generates only the pertinent reports that security and audit departments require to allow compliance with today's increasingly stringent security policies. In developing this product, TCM Solutions used customer feedback, which indicated that only specific, key reports were ever used. This finding, led to the focused development of SafeWatch(TM).

SafeWatch(TM) mode of operation is unique; by collecting and archiving the complete HP NonStop(TM) audit record TCM could provide further, in-depth analysis of the audit trail to assist the customer as required. Where a customer requires a regular, non-standard report, TCM can tailor that report into the installation package and provide ongoing support.

SafeWatch(TM) archives the audit data on the client PC, which allows historical data to be recalled online without the need to revert to HP NonStop(TM) disk or backup tapes. Once again, this eliminates the need for support staff to be HP NonStopTM literate.

One of the key features of SafeWatch(TM) over other products is the Cost to Benefit relationship. SafeWatch(TM) provides pertinent data at realistic cost compared to other products that may provide additional data at additional cost.

SafeWatch(TM) can report on any of the following parameters, which will exceed the requirements of most current security policies:

Date / Time Range
Userid
Login / Alias Name
System
Terminal

SafeWatch(TM) Benefits:

Meets all security reporting requirements for HP NonStop(TM) servers
Greatly reduced security administration costs over legacy reporting
Optimum Cost v Benefit
Uses standard HP NonStop(TM) audit trail
Audit Trail data archived on the client PC
Easy to learn, easy to use

For further information or to request a free demonstration of SafeWatch(TM) please email SafeWatch@tcmsolutions.com or visit www.tcmsolutions.com/SafeWatch.htm

TCM Solutions is a HP Business Partner and HP DSPP member and is fully certified to ISO9001:2000.
TCM Solutions has qualified for the Deloitte Fast50 awards for innovative technology companies for the past 5 years.

© 2006 TCM Solutions Ltd. The information contained herein is subject to change without notice. The only warranties for TCM Solutions products and services are set forth in the express warranty statements accompanying such products and services. Nothing herein should be construed as constituting an additional warranty. TCM Solutions shall not be liable for technical or editorial errors or omissions contained herein.

---
TSI Enables LTO Gen3 Attachment to S-series servers
Tributary Systems Inc. (TSI) announces the tested capabilities of connecting the M8501, M8502 and M8503 FC tape drives to S-series servers with the CT9800FC converter.
This allows the latest in tape technology to be utilized on all NonStop platforms without requiring an IOAME on the S-series platform. Please visit Booth #16 at the upcoming ITUG Europe 2006 Conference in Amsterdam on May 15-17 to learn about all the storage solutions available from TSI.
For additional information, contact Larry Meyers at +1 (817) 354 8009, ext. 32, or email TSI at salesusa@tributary.com.
---
Marshall Resources - April 2006 / Second User CPU Modules
We continue our series of articles from Marshall Resources about the state of the Second User Market with a look at S Series PMF Modules. On the surface, this may seem to be a dynamic and unpredictable segment within the Second User Market, however, these CPU modules tend to hold value, and are available in quite a predictable manner.
2006 has begun with a strong supply of S74000 PMF Modules. Both the 2GB and 4GB Memory types are readily available. The S74000 and S7400 processor types represent the best value of all the S Series hardware currently sold in this market. These PMFs provide good performance and are priced substantially lower than the next level of Processors. We have also seen S7600, as well as S86000 PMFs come available recently. Pricing and demand remain fairly high for both of these CPU types. Availability is predictable, but you may need to plan on 30 to 60 days for delivery of these PMFs. Currently, S76000 PMFs are only available in very limited amounts, so plan ahead for these. The S7800 and S88000 PMFs are simply not available in the second user market.
We do have a very large supply of S72000, S7000, and S70000 Processor Modules. These are all available at bargain prices. Call us with your requirements.
At Marshall Resources, we strive to provide the highest quality service with the highest quality equipment. Our repeat customers are our greatest compliment. Please visit our website at www.marshallresources.com for our company information, and find a sales representative in your area to assist you. We can always be reached at 800-443-0128, or by e-mail. We are looking forward to working with you.
---
ITUG User Group News
ITUG Europe 2006
15-17 May 2006
Amsterdam RAI International Exhibition & Congress Centre, Amsterdam, The Netherlands.
New Conference Format - Bridging Business and Technology.
Go Here to Register www.itug.org/secure/forms/euro/2006/
---
ATUG May 19th www.itug.org/regions/atug/index.html
N2TUG May 31st www.itug.org/regions/n2tug.cfm
SUNTUG June 2nd, 2006 www.suntug.org
INUG 8 June 2006 www.itug.org/regions/inug.cfm
GTUG 20. June 2006 www.gtug.de/home.htm
BITUG July 12th 2006 Soultion/Middleware SIG www.bitug.com
SATUG 18th July - Johannesburg - 20th July - Cape Town - www.satug.org
OZTUG Conference & Trade Show 24 - 25 July 2006 www.oztug.org
Viking NonStop User Group Event September 6-7 2006 www.vnug.biz
FTUG 14 Septembre 2006 : Réunion FTUG chez HP France www.ftug.org
---
For More on Employment in EMEA Go Here
For More on Positions in the Americas Go Here (to advertise your positions here please contact us)
---