Tandemworld eNewsletter for August 2013
---
Contents
comForte - BASE24 and PCI 3.4 explained: Why should you care?
Driven to Perfection

Brightstrand Health Check Service - Maximise your hp NonStopÔ Server enviroment

comForte's TOP dramatically improves productivity and flattens learning curve for HP NonStop developers and administrators

XYGATE Data Protection - Enterprise-wide- data protection. No Application Changes

Featured Gravic Video on New HP NonStop Website

Being audited? Find and fix whats non-compliant before the auditors arrive!

Third Data Corporation - High Performance Switching and Secure Data Storage

Musings on NonStop! - August, '13

CAIL at VNUG

Heading to the NonStop Boot Camp? Dont Miss TANDsoft's "interception technology enhances application functionality"

NonStop Technical Boot Camp

Availability Digest

Current Subscribers 14

887
---
comForte - BAES24 and PCI 3.4 explained: Why should you care? - Free comForte videos on YouTube
"
BASE24 and PCI 3.4: now what?" – That is a question many BASE24 users may be asking themselves. After all, BASE24 is PA-DSS certified - the Payment Application Data Security Standard. Or is it? Well, yes, it is certified but in the past it did not meet PCI requirement 3.4 which demands PANs to be "rendered unreadable anywhere it is stored" by encryption, tokenization or other suitable mechanisms. Now,
SecurData/24 provides a fully compliant solution for the protection of PANs in BASE24-classic, enabling processors to take complete control of their sensitive data, lowering compliance costs and significantly reducing the risk of data breaches – all without requiring any changes to BASE24 itself.
comForte put together a series of whiteboard sessions on this topic which will help you understand why you might want to start looking at options sooner rather than later. The series then explains the solution comForte is offering:
· In Part 1, we explain why you should care about tokenization of PAN data – please see
https://www.youtube.com/watch?v=NGpCNHmP9sU
· In Part 2, we take a look at how you can get PCI 3.4 compliant using SecurData/24 from a high level – see
https://www.youtube.com/watch?v=7Q2lL1rd6bs
· And lastly, in Part 3, we'll show you how SecurData/24 works in detail – this video is currently being finalized and will be available soon.
Visit
www.comforte.com/securdata24
to learn more about the SecurData/24 product.
Group on LinkedIn - join the discussion.
Stay connected and follow the discussion:
comForteLounge
BlogSpot
comForteLounge
LinkedIn Group
comForteLounge
Twitter
comForte on
YouTube
---
Driven to Perfection
While I know I am supposed to be writing an article about the amazing things DRNet can do for you (and I will get to that), I thought I would head in a completely different direction and tell you about something unusual and fun that just happened to me.
These days I call Texas home, but I have friends and family in Omaha Nebraska. I have a friend in Omaha who is involved in the film industry. Tom Elkins is a 40 year old graphic artist who in his early 20's decided he wanted to be involved in Hollywood movie productions. He packed up and moved his young family to Hollywood California to pursue his dream. He got a job fetching coffee and running errands for a movie production company. This was the very definition of starting at the bottom.
His dream was to one day edit a film. Editing is where the scenes that have been shot become the movies you see on the big screen. Tom was patient and eventually found an opportunity to be an assistant to an assistant to an editor. Hard work over many years led to senior editing positions. Three years ago a friend approached him and asked him to rescue a film that was a total disaster. They were getting ready to throw it away, never to see the light of day. Tom took up the challenge, brought the digital mess back to his basement in Omaha and went to work. Six months later, work complete, you might have had a chance to see "The Haunting in Connecticut". Tom received an Academy Award nomination for his work and subsequently was given an opportunity to Direct last year's "The Haunting in Georgia".
Hard work, focus, and the pursuit of perfection took him on a 15 year journey from fetching coffee to directing a Hollywood movie. He never lost his focus, and continues to be passionate about what he does.
Unusual as this story is, there's a further twist. A couple of weeks ago I had an opportunity to attend a dinner with Tom and his friend Mike Hill. Mike is another Omaha guy who followed his dream to Hollywood. Mike was lucky enough to find an entry level job with Ron Howard (Night Shift, A Beautiful Mind, Angels & Demons, Splash, Cocoon, Parenthood, Curious George, etc.). Mike also started out fetching coffee, eventually working his way into film editing. Mike is now in his early 60's and has edited all of Ron Howard's films for the past 25 years.
In 1995 Mike won an Academy Award for editing "Apollo 13". He found himself on stage, being handed the top award in his field, reflecting on his college days in Omaha and the constant pursuit of perfection. Mike brought his award to our dinner. Here is a photo of my wife Kelly holding Mike Hill's Academy Award. It was pretty cool to pick up the 5 pound statue and realize the history behind such a prestigious award.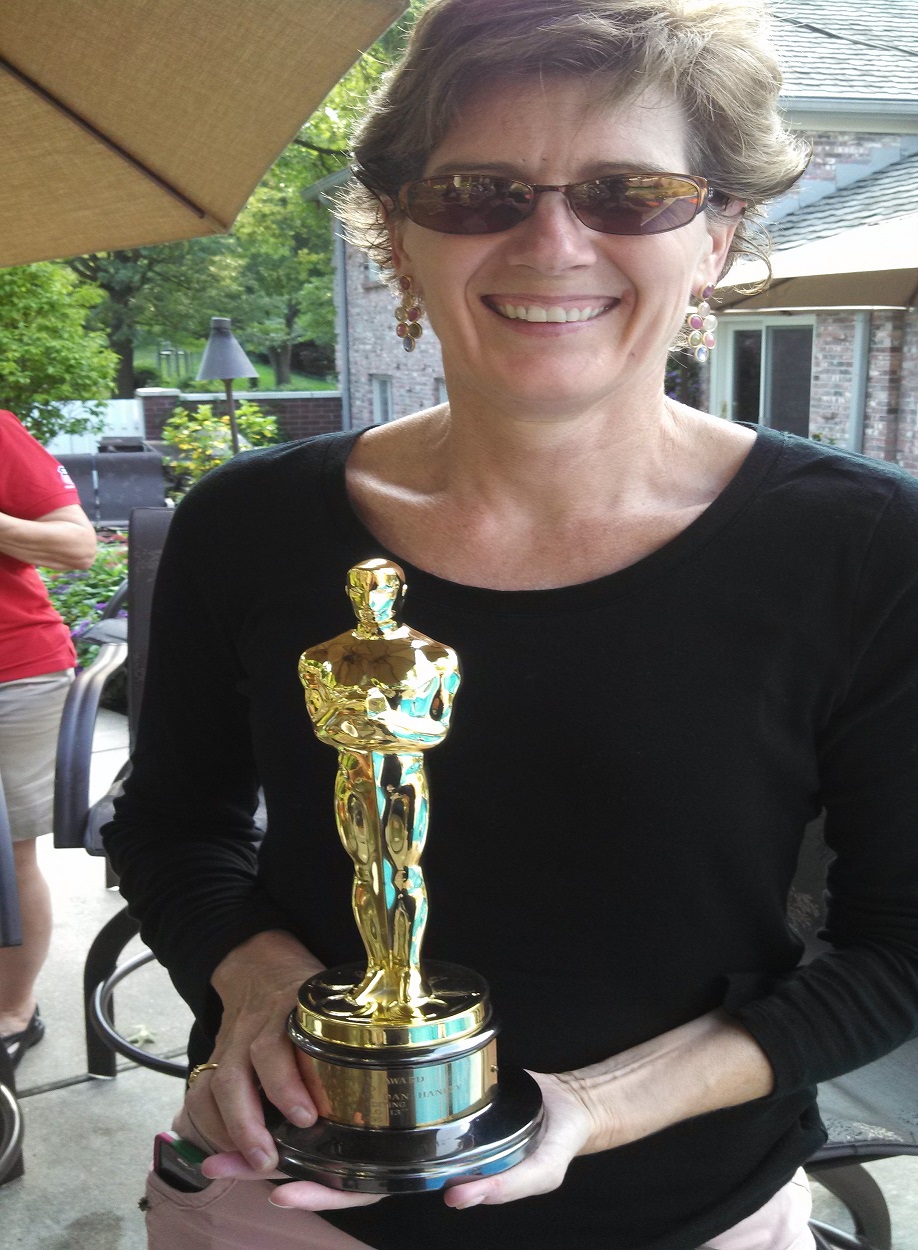 This finally brings me to the subject of software. Way back in the early 1980's Mike Nee (NTI Founder) was hired by a customer to develop software to copy transaction data from a production Base24 system to a backup location, without impacting the programs or the transactions. From that simple beginning followed 25 years of the pursuit of perfection. Small discoveries grew into major features. Customer by customer the client base grew to the point that every hour of every day DRNet is protecting millions of IO's across hundreds of customers that span the globe.
DRNet® is world class NonStop Data Replication technology.
· Real-time Active/Active Data Replication
· Real-time Tandem to OPEN Data Replication
· Real-time File Synchronization
· Refreshingly Real-Time Support from Real Engineers
+1 (402) 968 3674
---
Brightstrand Health Check Service - Maximise your hp NonStopÔ Server enviroment

The BrightStrand

International hp NonStop Server Health Check Service has been created in order to provide users of hp NonStop Servers

with a situation report as to the status of their hp NonStop systems and service environments.

The service has been designed by BrightStrand, to assure customers that they are getting the optimum from their current hp NonStop

Server environments. The Health Check will provide a guide to assist customers in making improvements to various service areas. It can also be used as a tool to aid the decision-making process in such key areas as hardware purchasing, system migration and Service Level Agreement (SLA) planning.

The service will take into account a number of factors depending on the pre-defined scope. These may include - procedures, strategies, system performance, configurations and security. The service will involve the monitoring of system metrics, an assessment of general procedures, a review of software revision levels and a general check of the installation.

Service Objective

The objective of the Health Check is to provide high quality reviews of service areas that have been identified, by the customer, as being of concern or of interest. The main goals of the service will be:

·

To advise on compliance with standards.

·

To report on efficiency and performance.

·

To identify possible problem areas and recommend solutions.

·

To advise on current or future strategy.

This will be achieved by engaging a fully qualified and experienced BrightStrand consultant that will work closely with the customer to agree the scope of the engagement and to identify areas of special interest or concern, use BrightStrand tools and solutions to gather the necessary information and documentation, analyse the information and deliver the agreed reports. Consultancy will be provided in the areas of Performance, Capacity Planning, Disaster Recovery, Operations, Database Management, System Security, System Management and Hardware Maintenance.

For further details please contact Dave Stewart today on +44 (0)7831 775115 or email him on

dstewart@brightstrand.com

.
---
comForte's TOP dramatically improves productivity and flattens learning curve for HP NonStop developers and administrators
Successful software-hardware solutions last decades, whilst failures are cast-aside in a few years or months. Many HP NonStop customers have applications that have been in use for two decades or longer. Long-term success brings its own problems: an experienced pool of expert developers and system administrators often locked into a tool-set that also dates back a few decades. This tool lock-in provides a barrier to new staff and prevents experienced staff from benefitting from some of the productivity gains of the last 20 years.
On the HP NonStop platform, most system administrators and developers rely solely on the command shell ("TACL") for tasks such as file browsing, file editing, getting a list of processes and so forth. While this is effective for certain tasks, other tasks are much easier done using modern, GUI-based tools which are tightly integrated with the Windows platform. For example, using TOP, users can compare and merge two folders on different disks or systems with a few mouse-clicks and immediately see what files are different, then drill down to use a file compare tool to view the line-by-line differences. This is invaluable for systems that run in active-active or hot stand-by mode, when configuring new servers or applying customisations to new third-party software releases. Without TOP, such a task becomes a laborious exercise in copying file details and then comparing them manually, before typing any remediation commands. The folder comparison is a small part of TOP's functionality, but the productivity gain is typical of all areas covered by TOP.
comForte's TOP product provides a modern alternative to the terminal-based tools still used by many NonStop server end-users, providing a rich user interface for both common and esoteric tasks.
comForte's MR-Win6530 terminal emulation is used by many Fortune 500 companies world-wide, and is also delivered on the console of each HP NonStop system. Now, MR-Win6530 is built right into the TOP product. Thus, for the technical users on the NonStop, using TOP in collaboration with MR-Win6530 provides the best of both worlds – the flexibility and familiarity of the command line with the productivity gains of a GUI.
For more information, please watch the following short videos on YouTube to see how TOP can improve the productivity of system administrators and developers.
For a free trial copy please simply send an informal e-mail to sales@comforte.com or go to the TOP product page on the comForte web site, search for 'Downloads' and click on "TOP Software and Manuals".
HP NonStop [Tandem] Security Group on LinkedIn - join the discussion.
Stay connected and follow the discussion:
comForteLounge BlogSpot
comForteLounge LinkedIn Group
comForteLounge Twitter
comForte on YouTube
+++
comForte near you in 2013
comForte is travelling far and wide to be at an event near you.
Come and join us at these events in 2013:
VNUG, Stockholm, Sweden, Sept 4-5, 2013
DUST, Scottsdale, AZ, USA, Sept 10, 2013
EBUG Knowledge Forum, London, UK, Sept 23-24, 2013
GTUG, Frankfurt, Germany, Sept 23-25, 2013
PCI US Community Meeting, Las Vegas, USA, Sept 24-26, 2013
InNUG, Goa, India, Oct 3-5, 2013
PCI EU Community Meeting, Nice, France, Oct 29-31, 2013
CONNECT Advanced Technical Boot Camp 2013, San Jose, USA, Nov 3-5, 2013
PCI AP Community Meeting, Kuala Lumpur, Malaysia, Nov 19-20, 2013
BITUG BIG SIG, London, UK, Dec 5, 2013
---
XYGATE Data Protection - Enterprise-wide- data protection. No Application Changes
Join us for a Webinar
The very best way to Encrypt or Tokenize your valuable and confidential PII (Personally Identifiable Information) across your enterprise WITHOUT any application changes!
From PCI to SOX to HIPAA, if you want to remain compliant with your industry's regulations, you must encrypt personal information. Moreover, this data must be encrypted whether it's travelling between two points (data in flight) or simply residing in a database (data at rest).
XYGATE Data Protection (XDP) provides encryption for just about any type of data or communications on or between computer systems. XDP is the ideal solution for protecting both data in transit and data at rest and provides the following:
✓ Enhanced data security for HP NonStop
✓ Encryption and tokenization solution
✓ Two methods for application support
· Application API
· XYGATE Intercept Library
✓ Support for native and non-native applications
✓ Cross-platform enterprise support
After registering you will receive a confirmation email containing information about joining the Webinar.
System Requirements
PC-based attendees
Required: Windows® 7, Vista, XP or 2003 server
Mac®-based attendees
Required: Mac OS® X 10.6 or newer
Mobile attendees
Required: iPhone®, iPad®, Android™ phone or Android tablet
Space is limited.
Reserve your Webinar seat now:
September 4 (Americas)
Title: XYGATE Data Protection- Enterprise-wide data protection.
No Application Changes
Date: Wednesday, September 4, 2013
Time: 11:00 AM- 12:00 PM PDT
September 5 (EMEA)
Title: XYGATE Data Protection- Enterprise-wide data protection.
No Application Changes
Date: Thursday, September 5, 2013
Time: 11:00 AM- 12:00 PM BST
September 10 (Asia Pacific)
Title: XYGATE Data Protection- Enterprise-wide data protection.
No Application Changes
Date: Tuesday, September 10, 2013
Time: 11:00 AM- 12:00 PM AEST
---
Join XYPRO at these NonStop & Security events this fall
<![if !vml]><![endif]>

September 4-5, 2013

VNUG

Stockholm, Sweden

<![if !vml]><![endif]>

September 18-19, 2013

CTUG Conference

Mississauga, ON Canada

<![if !vml]><![endif]>

September 24-26, 2013

PCI Security Standards Council

North American Community Meeting

Las Vegas, NV, USA

<![if !vml]><![endif]>

October 29-31, 2013

PCI Security Standards Council European Community Meeting

Nice Acropolis, Nice, France

<![if !vml]><![endif]>

November 20, 2013

PCI Security Standards Council Asia-Pacific Community Meeting

Shangri-La Hotel, Kuala Lampur, Malaysia

<![if !vml]><![endif]>

September 10, 2013

DUST

Arizona, USA

<![if !vml]><![endif]>

September 23-24, 2013

EBUG

Westminster, London, GB

<![if !vml]><![endif]>

September 25-26, 2013

GTUG

Hotel Steigenberger

Bad Homburg, Germany

<![if !vml]><![endif]>

November 3-5, 2013

NonStop Technical Boot Camp

San Jose, CA, USA

<![if !vml]><![endif]>

December 5, 2013

BITUG Big SIG

London, United Kingdom

<![if !vml]><![endif]>

December 10-12, 2013

HP Discover

Barcelona, Spain
---
Featured Gravic Video on New HP NonStop Website

G
ravic Shadowbase is the featured video on the Partners tab of the new
HP NonStop web page
. The footage, produced by HP and featuring Bill Holenstein, Senior Manager of Product Delivery, was shot at last year's Mission-Critical Innovation Awards Celebration in Frankfurt, Germany, where Shadowbase won as the best in the New Application category. Video:
tinyurl.com/kkkmb38
.
Gravic Shadowbase is Now on Twitter!
Please follow us at
Gravic Shadowbase @GravicSB
and you will be the first to have access to our latest white papers, case studies, articles and news. We look forward to utilizing this medium to its fullest potential in communicating with all of our customers, HP personnel and groups, TUG/RUG user groups, and fellow vendors. We welcome your tweets!
Gravic Publishes New Article on Why Your Business Continuity Plan May be Inadequate
The key points of the article are:
·
Stuff happens
· Disaster recovery is not business continuity
· Business continuity technologies are not all equal – some technologies are "more equal" than others
· Time for a reassessment?
Even though you may already have a business continuity plan in place, it may not be adequate, well-tested, or well-supported. Worse, it may be providing you with a false sense of security and will fail when called upon. Your business' data must be available at all times from anywhere, and it must be current. Your IT infrastructure must be continuously available, with an adequate business continuity solution for planned and unplanned circumstances. If you rely on active/passive architecture, does it really provide sufficient availability? Avoid taking this risk by utilizing other replication technologies, such as sizzling-hot-standby and active/active architectures. Synchronous replication may be utilized for the highest levels of availability with no data collisions and zero data loss. You may want to consider moving to one of these higher level replication architectures. To read:
Why Your Business Continuity Plan May be Inadequate
.
I
nterested parties may contact us at +1.610.647.6250 or
SBProductManagement@gravic.com
to discuss their specific situation and to learn more about the solutions we offer.
Please Visit Gravic at these Upcoming Meetings
Please stop by Gravic's booth or table at these fall tradeshows and meetings to speak with us about your data replication and data integration needs or just to say hello. We look forward to attending and/or presenting at the following events:
Toronto, Canada, 18-19 September
, London, England, 23-24 September
, San Jose, CA, 3-5 November
, London, England, 5 December
FTUG Meeting, Paris, France, 9 December
For more information, please visit:
www.gravic.com/shadowbase
.
<![if !vml]>
<![endif]> http://www.linkedin.com/company/gravic-inc./shadowbase-data-replication-305119/product
<![if !vml]>
<![endif]> http://www.facebook.com/pages/Gravic-Shadowbase/116969767814
Trademarks mentioned are the property of their respective owners.
---
Being audited? Find and fix whats non-compliant before the auditors arrive!
Preparing for an audit is always a challenge. You will need to provide full records of activity and change, at the same time as ensuring compliance to the many regulations and standards.
To properly prepare, you need to:
1.

Determine all non-compliant issues in a consistent manner.
2.
Identify and apply corrections.
3.
Confirm the corrections and monitor for any further variance.
CSP provides a comprehensive solution for these issues, with:
1.
A formalized reporting structure that combines:
a.

Standard regulatory tests (PCI/DSS for example) for regulatory compliance.
b.

Effective checks for security and system settings that may represent vulnerabilities.
c.

Customization that can take into account local requirements, applications and usage.
2.
A Data Repository of historical events, including :
a.

All changes made to sensitive files.
b.

Detection and correction of non-compliant security and system settings.
c.

Full audit of activity and events.
CSP security products enable you to run your own full audit, review and analyse the results and then take corrective action. As well, CSP enables you to present a full accounting of all this activity for external review.
Find out how CSP can help you meet the auditors requirements – before they even arrive. Visit www.cspsecurity.com for more information.
---
Third Data Corporation - High Performance Switching and Secure Data Storage
888-301-2431 / sales@thirddata.com
Third Data Corporation provides numerous products which can reside on HP Nonstop and other HP and Non-HP hardware platforms. In addition we provide custom high performance software design and development for our clients.
FastBuild Switch
– When building a switch be it ATM-POS, Wire Transfer, EFT, Medical, or any other type of data that needs to get from one place to another, you are usually faced with three choices. Take an existing package and modify your system to match it. Get the vendor to "enhance" their system to meet your needs. Write a new system from scratch. The FastBuild Switch integrates with your existing system, or if you are building from scratch gives you a great start. The switch is also built around the latest HP technology to maximize performance. It integrates several of our other products to maximize cost savings and security in a fault tolerant manner. In a cross platform environment it also runs on other non-Guardian HP supplied platforms.
SecureStore
– If you are security conscience trying to become compliant (PCI, HIPAA, etc) then you know that you can not leave sensitive data readily viewable. SecureStore does three things for you. The data is encrypted so that you can become compliant. The data is compressed so that your hardware costs are reduced. As part of disaster recovery your data is sent to multiple locations so it will be available when you need it. As a bonus for those having trouble with Guardian 4K limits there is no record size. It supports Big Data with up to 18 Exabytes. It can also integrate with SQL systems (SQL MX/MP, Oracle, Postgres etc).
NxLib
– NxLib provides a platform and utility libraries for developing a high performance multi-threaded applications on NonStop Guardian. The platform provides threading, queuing and network capabilities. This enables development of an application written single threaded style to perform as multi-threaded. Extensible command processing and help are supported. Development time can be cut to a fraction of the time it would normally take. This results in fast application development with consistent look and feel across multiple projects.
NxWeb
– A high performance web server which provides support for NxLib applications. It also can be used without NxLib. It provides for secure connections, virtual domains, full http support and interfaces to pathway and IPC communications.
NxFile+
– NxFile+ provides compression and encryption to Enscribe structured files. The files are configured through a GUI interface and the results are provided seamlessly to your applications, typically without any code changes. In addition this provides for dynamic key changes on the fly so data stored at-rest may have its encryption keys changed as required. Because the records can be compressed prior to encryption, it's also possible to have records which significantly exceed the 4k record size limitations.
NxSSL
– NxSSL is an SSL proxy which may be used to provide SSL encryption and authentication services to TCP/IP connections. It provides full support for certificates and multiple encryption standards. It has been carefully tuned to provide the highest performance available for any NonStop SSL connection.
NxUndelete
– Files accidentally deleted can be a real problem. Even when a backup is available, it is frequently a significant effort to retrieve it from a backup tape. NxUndelete implements a recycle bin function on the the HP NonStop system. Files deleted may be easily recovered using its GUI interfac
e
---
Musings on NonStop!
August, '13
The opinions expressed here are solely
those of the now self-employed author
Last month I wrote of intersections and this month I saw my fair share of intersections. Out on America's interstate highways! August sees many folks away from their offices on vacation, but just as often, attending events. The catalyst for our most recent road trip was an event in Atlanta as well as the need to check out the viability of New Orleans as a possible future venue, given how many folks were talking-up the value of the location of late.

I am often asked why I like to travel and why it's seldom that I fly anywhere these days. Expressed as simply as I can put it, for a writer, there's little ongoing inspiration coming from sitting in a home office, looking at the same old furniture. Inspiration comes from meeting people and visiting new places. As for flying, I suspect many Americans are somewhat jealous that I can drive to most cities in less than three days, as the fun of flying has well and truly passed me by. Reaching into to grab my luggage off a carousel while on a trip to Singapore some years ago, my fellow passenger sighed, looked across at me, and remarked "don't you just love the romance of travel!"

On the other hand, on the highways you begin to get a feeling for just how much data is out there – arterial highways loaded bumper to bumper with eighteen-wheelers every one of which sporting a communications dome on its roof. At night it's not hard to pick out those with keyboards and screens updating drivers with a constant stream of information, be it highway conditions, the weather, or how much further they have to drive. As for passenger cars, rarely does one pass these days without the shark fin antennae visible on the rear of the roof pulling in entertainment from satellites overhead.

Giving the collection of magazines piled high on the kitchen counter after we returned home; it was a column in the September, 2013, issue of the magazine, Motor Trend that stopped me in my tracks. The story, "Your car's contribution to the 'Big Data' Cloud" talked in more detail about what I had observed, but went much further when it came to what was really happening. "The government's $2-billion, million-plus-square-foot Bluffdale, Utah, data storage and analysis facility opening this month is equipped to handle yottabytes of data."

OK, so we have yottabytes and as the columnist then points out, "Yotta signifies 10 to the power of 24 – that's the largest numerical prefix coined to date, and it equals a million exabytes." However, that's not the only item of interest as the columnist explains how "The typical new car today generates 15 gigabits of information per hour – a number that's climbing as sensors proliferate. A little back-of-the-napkin figuring suggests that 250 million such vehicles would produce around 2000 exabytes (0.002 yottabytes) per year, most of which never leave the car. But that's changing."

This, mind you, doesn't include the flow of data coming into the car for entertainment purposes nor does it include the latest in watching over our personal health. As the columnist also observed, there are now products that "monitors for heart rate, blood glucose levels, and the like (that) can be tapped to warn a driver of an impending blackout and summon help". Big Data doesn't get much bigger than this and it's just early days for the auto industry, as legislators begin to demand even more information be collected, stored, and available for analysis even as insurance payouts (particularly for fraudulent whiplash claims) continue to climb.

Big Data, and indeed Big Data Cloud, as in the magazine headline above, will impact every NonStop system deployed today. Of that I have no doubt. Whether it's HP itself automatically collecting a whole lot of information in real time about the performance characteristics of individual components or simply other systems in the data center capturing meta-transactions (transactions about transactions) necessary for producing more accurate (and usable) business analytics.

In the upcoming issue of The Connection (Sep – Oct, 2013) I write of just how many NonStop vendors are either building Big Data related products or have investigations under way. Last week I wrote that Attunity would be attending the HP Vertica Worldwide User Conference in Boston and of how Lawrence Schwartz, VP of Marketing, Attunity, would be hosting a "Birds of a Feather" breakfast round table. It's not over and it would be worth checking the web site Attunity.com and look at the blog for Schwartz blog updates – the first one now posted "Birds of a Feather" Breakfast Summary: Best Practices for Loading Data to HP Vertica.

While you are on the Attunity web site and reading the blog posts, look for the most recent post from April Healy. Known to most of the NonStop community for the time she spent with GoldenGate (and as the wife of former ITUG Chairman, Scott Healy), April Healy touched on a topic dear to my own heart - sailing. Look for the post A Sailor's Reflection on the Big Data Lake and yes, that really is a photo of the yacht she and Scott now sail. More importantly perhaps, it includes some of the information she shares in the upcoming feature to The Connection.
For the NonStop community perhaps the best quote in the feature was taken from the July 8 – 15, 2013, issue of Time magazine that included the feature story, Big Data, Meet Big Brother. Reporter, Fareed Zakaria, makes the very important observation that, "We are living with the consequences of two powerful, interrelated trends. The first is digital life. Your life today has a digital signature. Where you eat, shop and travel; whom you call, e-mail and text; every website, café and museum you visit even once is all stored in the great digital cloud. And you can't delete anything, ever … The second is Big Data. Today, data is so readily available and computers are so fast and powerful that experts can analyze entire data sets, every last piece of information, to find needles in haystacks."

Attunity is not alone when it comes to vendors within the NonStop community participating in the Big Data space. I can firmly predict that by the time 2014 HP Discover rolls around many more will be providing products, and very likely, also leveraging Cloud computing. To me, the two are very much siblings and there will be many instances where Clouds are tapped to hold Big Data frameworks. The mechanics and timing here matter less than the fact that the NonStop vendor community is already aggressively pursuing the creation of products.

As I wrote last month, just having NonStop middleware and infrastructure vendors openly discussing the challenges that (these initiatives represent) is encouraging and heartwarming – NonStop remains a platform warranting continuing investments. For this, the NonStop community should be extremely thankful.
Richard Buckle
Founder and CEO
Pyalla Technologies, LLC
Email: richard@pyalla-technologies.com
Following my blogs? My web publications? My discussion Groups?
Check out (copy and paste to your browser):

Real Time View at http://www.itug-connection.blogspot.com/
…. And check out the Group on LinkedIn, Real Time View
comForte Lounge at http://comfortelounge.blogspot.com/
…. And check out the Group on LinkedIn, comForte Lounge
Realtime.ir at http://realtime.ir.com/
…. And check out the Group on LinkedIn, realtime.ir

ATMmarketplace at
http://www.atmmarketplace.com/blogger.php?id=130763
buckle-up at http://www.buckle-up-travel.blogspot.com/
…. And check out the SubGroup on LinkedIn, Pyalla Track Days
---
CAIL at VNUG
With the upcoming VNUG meeting in Stockholm on Sept 4 & 5 , this is to confirm CAIL is presenting " NonStop in the Enterprise " - to highlight the categories and products that demonstrate NonStop supports Standards.
Supporting an Enterprise Standardization strategy is important since it enables NonStop to -
A. contribute to the significant advantages associated with " Standards "
B. be more integral in Corporate IT infrastructure
C. increase relevance to the business
Given these huge benefits, looking forward to sharing further insights at the conference.
For those interested in additional information on better positioning NonStop in the enterprise, please contact CAIL at -
info@cail.com
or call 800-668-5769 / 905-940-9000 or visit
www.cail.com
---
Heading to the NonStop Boot Camp? Dont Miss TANDsoft's "interception technology enhances application functionality"
Interception specialist and long-time NonStop partner TANDsoft, Inc. invites you to attend "Interception Technology Enhances Application Functionality" at this year's Connect NonStop Advanced Technical Boot Camp. The Boot Camp will take place November 3rd – 5th in San Jose, California USA. Here's the abstract:


Interception Technology Enhances Application Functionality

"Companies make massive investments in both third-party and in-house applications in order to operate their mission-critical NonStop environments. However, those applications come with limits to their functionality – limits that often cannot be altered without prohibitively expensive, system-wide modifications. How does a company address application enhancement requirements? Interception technology is one solution. Interception technology enables the capture of a variety of system and database calls in order to enhance application behaviors. The result is the creation of new application functionality without the need to make source code changes, of particular importance when the source code is unavailable. This session will define interception technology and its benefits, the architecture of interception, the interception solutions that currently exist in the NonStop space, and the areas in which interception technology is being employed today. They include application modernization and development, system consolidation, security, business continuity, and PCI compliance."
TANDsoft also will exhibit at the Boot Camp (Table #12), and we encourage you to stop by our table at the 2013 CTUG Fall Conference on September 18th and 19th in Mississauga, Ontario, Canada. Visit us at either conference to learn more about TANDsoft's product suite as well as about our most recent technology, SDI (Sensitive Data Intercept) for Enscribe and SQL/MP.
TANDsoft's "best of breed, best in price" philosophy offers highly competitive value for all TANDsoft solutions. In addition to FileSync, they include the OPTA2000 virtual clock- and time-zone simulator; the OPTA suite of interception and trace utilities (OPTA­Trace Online Process Tracer and Analyzer, Recycle Bin, EMS Alerts Online Startup and Termination Capture Utility, Low Pin Optimizer); Stack Monitor, which alerts developers to the impending threat of a stack overflow; Command Stream Replicator, which logs and automatically replicates TMF-audited/unaudited FUP, SQL/MP and SQL/MX DDL structure and other environment changes to target systems; AutoLib, which automatically loads a user library or a DLL for executing processes; the Enscribe-2-SQL and TMF-Audit Toolkits, which offer flexible, affordable alternatives to more expensive conversion products or manual conversion techniques; E2S-Lite, which permits efficient, low-cost Enscribe modifications without the need to change a program's source code; and SDI (Sensitive Data Intercept) for Enscribe and SQL/MP.
TANDsoft products require no application source-code modifications, are available for all HP NonStop servers, and support major third-party applications. Free trials are available. For information about TANDsoft solutions, contact Jack Di Giacomo at +1 (514) 695-2234. Our Enscribe to SQL Migration Forum on LinkedIn is at 165 members and counting.
www.tandsoft.com
.
---
Please join us at the HP NonStop Advanced Technical Boot Camp!

26 Vendors Exhibiting:
| | |
| --- | --- |
| Attunity | Ascert |
| BlackWood Systems | Canam Software |
| Carr Scott | comForte |
| Crystal Point | ESQ |
| ETI-NET | Gravic |
| Merlon | Network Technologies |
| NuWave | Odyssey |
| OmniPayments | Oracle |
| QSA | Resource 1 |
| RiverRock Software | TANDsoft |
| Third Data | TIC |
| Transaction Design | Tributary Systems |
| WebAction | XYPRO |
| | |
| HP NED | HP Networking |
Example HP Breakout Sessions:
HP

: NonStop hardware and software roadmaps

HP

: Open System Services (OSS) and NonStop OS update

HP

: NonStop security update

HP

: Manage NonStop using HP Operations and Performance Management Bundles

HP

: Multiple Providers on the CLIM
Example Vendor Sessions:
Carr Scott

:

NonStop AutoTMF installation, configuration and operation workshop (Pre-conference)
ETI-NET

:

Optimizing Continuity with BackBox Advanced DataStore Functionality (Pre-conference)
Gravic

: Recent Advances in High and Continuous Availability Architectures for NonStop Systems (Pre-conference)
XYPRO

:

Make the Most of your HP NonStop Security Bundle

(Pre-conference)
XYPRO

:

Everything You Need Know for PCI Compliance on HP NonStop

(Pre-conference)
BPC Group

:

How We Broke ATM/POS Performance Barriers with NonStop's MPP architecture
Crystal Point

:

Securely leverage mobile connectivity for NonStop host access
ETI-NET

:

BackBox Deconstructed: Hardware, Firmware, and Software – A look under the Hood
Gravic

: Leveraging Data Replication Technology for Business Continuity, Data Integration, and Application Integration
Oracle

:

Achieve Continuous Access to Real-Time Information
XYPRO

:

Encrypt Your Application Data - Its Easier Than You Think
Early Bird Price:
$895: before 9/1/13
Register now! http://www.connect-community.org/?TBC2013
See you soon!
Kathy Wood
NonStop Partner SIG/Vendor Chair
kwood@blackwood-systems.com

---
Availability Digest
Availability Digest Challenges You to "Try Doing This Today"
So much is made of the remarkable computing capabilities we enjoy currently that we forget how extraordinary were the accomplishments of the 1960s and 1970s. "Try Doing This Today" reminds us with examples of how PDP-8s, IBM 360s, Honeywell H200s and similar technologies sent men to the moon, computerized our stock exchanges, revolutionized race-track wagering, and made possible other complex, continuous availability systems at a time when memory was measured in kilobytes and processor speed was measured in megahertz.
Also in the August Digest:
Malicious Apple Chargers – Now we have to worry about the chargers. Researchers at the Georgia Institute of Technology recently discovered an unlikely back door into Apple devices. Their demonstration of how easy it is to build an Apple device charger that can infect an iPhone or iPad generated a rapid response from Apple, which quickly released an upgrade to close the security flaw.
Software Reliability Models – It has been a while since the Digest published a "Geek Corner" article. If you qualify as a math geek and relish the thought of content that some of your colleagues will studiously avoid, "Software Reliability Models" will be a good read. Guest author Dr. Terry Critchley offers his expertise on the use of defect density as a basis for the prediction of software reliability.
@availabilitydig – the Twitter Feed for People Obsessed with Outages, Failover Faults, 9s, and Redundancy – A challenge every issue for the Availability Digest is to determine which of the many availability topics out there win coveted status as a Digest article. We always regret not focusing our attention on the topics we bypass. With our new Twitter presence, we don't have to feel guilty. This article highlights some of the @availabilitydig tweets that made headlines in recent days.
The Availability Digest offers one-day and multi-day seminars on High Availability: Concepts and Practices. Seminars are given both onsite and online and are tailored to an organization's specific needs. We also offer technical and marketing writing services as well as consulting services for achieving high availability.
Published monthly, the Digest is free and lives at www.availabilitydigest.com. Please visit our Continuous Availability Forum on LinkedIn.
We're at 565 members and counting. Check out our most recent thread, "
How to measure data availability."
Follow us on Twitter @availabilitydig.
---
Find out more about us at
www.tandemworld.net
---